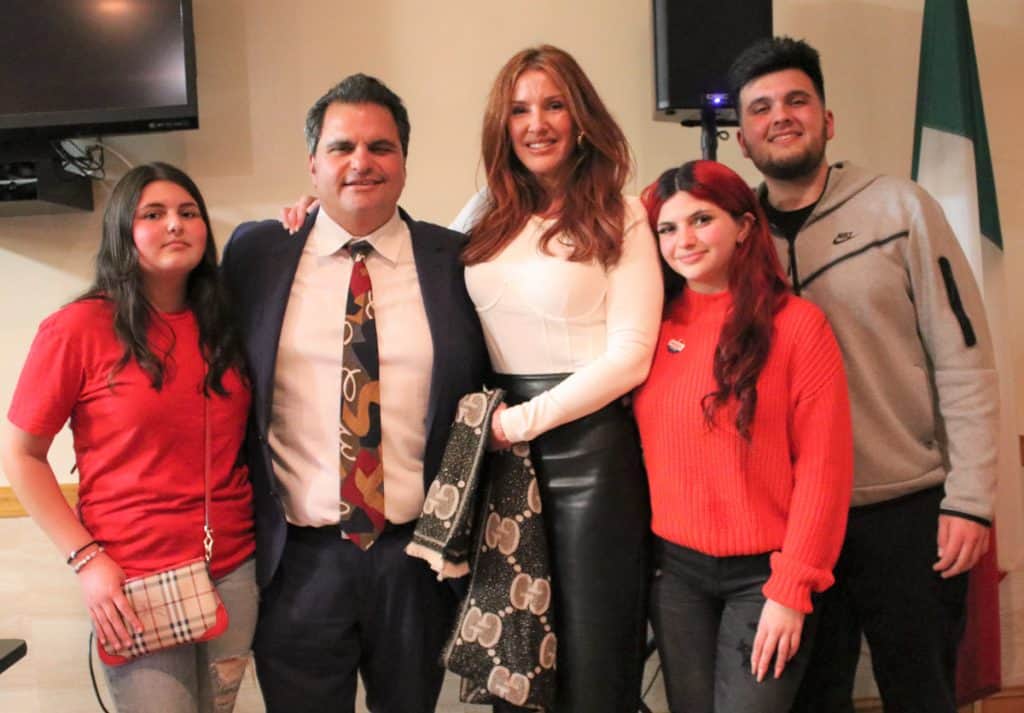 Mayor Carlo DeMaria will remain in the corner office of City Hall for another four years, having narrowly defeated challenger Fred Capone by 210 votes in this year's General Election. The unofficial results of the November 2 race showed DeMaria with 3,735 votes while Capone received 3,525 votes.
  "I'm honored to continue to represent my lifelong home, the city of Everett," said DeMaria. "We will continue to accomplish our goals of making housing more affordable and transportation more equitable because that is what all our residents deserve. Thank you Everett, I am grateful."
  The mayor's strongest showing was in Ward 3, where he garnered 779 votes. As with the September Primary Election, DeMaria received the greatest number of votes of any other candidate.
City Council
  Councillor-at-Large Michael Marchese topped the ticket in the City Council at-large race with 3,402 votes. He was followed by Councillor-at-Large John Hanlon with 3,248 votes, challenger Stephanie Smith with 3,241 votes, Councillor-at-Large Richard Dell Isola with 2,104 votes and challenger Irene Cardillo with 1,987 votes.
  "I am humbled by the support I received from the residents of Everett," said Smith. "I'm eager to begin to work with Mayor DeMaria and the other councillors to continue to make Everett a great place to live and work."
  Looking ahead, she said her priorities will include affordable housing, senior services and youth programming.
  Dell Isola is also looking forward to the new term. "The next two years are going to be very important," he said. "I'm excited to have colleagues that will work together; we haven't had that in a while."
  Going forward, Dell Isola said, two major priorities will be to redevelop Glendale and Everett Squares. "There's no reason, right now, to go to Everett Square or Glendale Square," he said.
  In the ward races, Ward 3 Councillor Anthony DiPierro topped the ticket with 791 votes, easily defeating challenger Darren Costa by 363 votes. In Ward 4, Councillor Jimmy Tri Le was reelected with 754 votes over challenger Holly Garcia, who garnered 461 votes.
  "I know a lot of candidates say they are humbled by their election, but I really mean it. Let's face it, I was lucky two years ago when Councillor McKinnon decided not to run and I was the only candidate left," said Le. "I did my best to learn quickly about how to be a good councillor. I gave it my all and to receive a vote of confidence, like I did Tuesday, is indeed humbling."
  Unlike the 2019 race, Ward 5 Councillor Rosa DiFlorio was not able to hold off returning challenger Vivian Nguyen. This year, Nguyen received 711 votes from Ward 5 residents to take DiFlorio's seat on the council. DiFlorio finished the race with 442 votes.
  Ward 6 will have new representation under Al Lattanzi, who received 737 votes. His opponent, Ross Pietrantonio, finished with 385 votes. City Council President Wayne Matewsky ran unopposed and received 691 votes to represent Ward 1. Ward 2 Councillor Stephanie Martins was also unopposed and garnered 772 votes. 
School Committee
  The School Committee races were much tighter, particularly in the wards, where the average margin of victory was 66 votes. The closest race was in Ward 2 where Jason Marcus received 492 votes, sneaking by Caitlin Steinberg by a razor-thin margin of 24 votes. The Ward 3 race was decided by 29 votes with Jeanne Cristiano finishing with 598 votes and Samantha Hurley finishing with 569 votes.
  "First and foremost, I am humbled, honored and grateful to the voters of Ward 3 for allowing me this incredible opportunity to represent them on the Everett School Committee," said Cristiano. "I am excited to bring a new, fresh perspective and a strong, independent voice to the Everett School Committee. It's all about the kids and making sure they have all the tools in the toolbox to ensure lifetimes of success."
  The spread was somewhat larger in Ward 6, where Michael McLaughlin topped the ticket in contested ward races. He finished with 603 votes to defeat Catherine Tomassi Hicks, who received 522 votes. The Ward 4 race had the largest margin of victory with 131 votes. In that race, challenger Michael Mangan received 637 votes to unseat incumbent Member Dana Murray who finished with 506 votes. In Ward 1, incumbent Member Millie Cardello was unopposed and finished with 657 votes. Incumbent Ward 5 Member Marcony Almeida-Barros was also unopposed and received 806 votes.
  In the at-large race, incumbent Member Cynthia Sarnie topped the ticket with 2,997 votes. "I just would like to first thank everyone that voted and supported me. I would like to continue working together as a team and working on making our schools safer," said Sarnie. "I am very interested to see what programs we have in place in regards to addiction, not only for the children but also how to deal with family trauma. I am interested in learning more about the changes that need to be made to help us continue moving our schools in the right direction."
  Incumbent Member Samantha Lambert received 2,584 votes and will return for another two years on the committee. She and Sarnie will be joined by challenger Margaret Cornelio, who garnered 2,494 votes.
  From Everett's 22,042 registered voters, 7,298 ballots were cast in this year's General Election for a voter turnout of 33.1 percent.