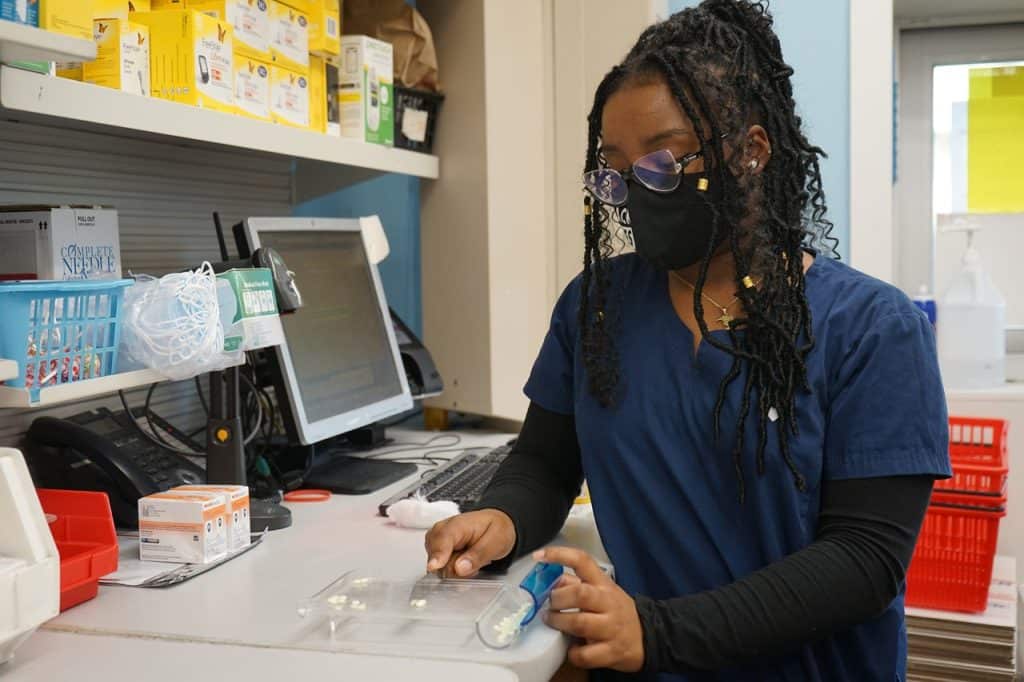 Working full time as a CVS pharmacy technician, Everett resident Shakira Fedna, a student at the University of Massachusetts Lowell, was tempted to drop her major course of study in biology and switch to public health. However, Professor Khalilah Reddie convinced Fedna to scale back her work hours and continue focusing on biology.
  "I was working so much trying to pay for school that half the time I didn't even know why I was doing what I was doing," said Fedna. "I went into biology because I love biology and I knew if I opted out of it, I'd be disappointed in myself. So I decided to stick with it."
  Her perseverance paid off, as Fedna was recently accepted into the elite Baccalaureate MD Pathway Program (BaccMD) at UMass Medical School. The program is designed for first-generation college students as well as for students with financial difficulties. In preparation for the Medical College Admission Test, the BaccMD introduces students to various medical specialties. This is accomplished through residential summer programs, a monthly book group and physics instruction.
  Fedna's dive into healthcare began when she started working at Walgreens while she was a student at Everett High School. "I witnessed a lot of emergency situations and I wanted to be the person who could help in those situations," she said.
  From there, she developed a growing desire to become a pharmacy technician and began asking area drug stores if they had openings and if they were willing to put her through the arduous two-week course required for pharmacy work. After a time, CVS in Medford gave Fedna a chance.
  "I was so determined to get the job because I really wanted to learn," she said. "I knew that being a pharmacy tech would help me understand the reasons for prescriptions and I knew that would help me when I become a doctor."
  The River Hawk Scholars Academy (RHSA) is what drew Fedna to UMass Lowell. "I felt like I could find somewhere to fit in and meet people with similar stories and similar backgrounds who could help me understand and navigate higher education, because I didn't have anybody at home who could help me do that," she said. "It's more than what I hoped for. I love the RHSA, all the faculty, all the students: It's literally like a family. Everybody you come into contact with in the RHSA wants to see you succeed."
  Fedna went on to become a peer leader in the RHSA, taking 10 freshmen biology students under her wing. In addition, Fedna became a licensed Emergency Medical Technician while she was home during the COVID-19 quarantine.
  Back on campus, Fedna is a member of the Haitian American Students Association, the Association of Students of African Origin and the Medical Profession Admission Gap Initiative and Collaboration program.
  Looking ahead, Fedna remains excited to make her contribution to the medical community. "The doctor career fits my personality so well because I'm always looking to learn something new," she said. "Doctors have to be lifelong learners. With every virus that comes out, every new disease and all the new medications, you learn something new every day."