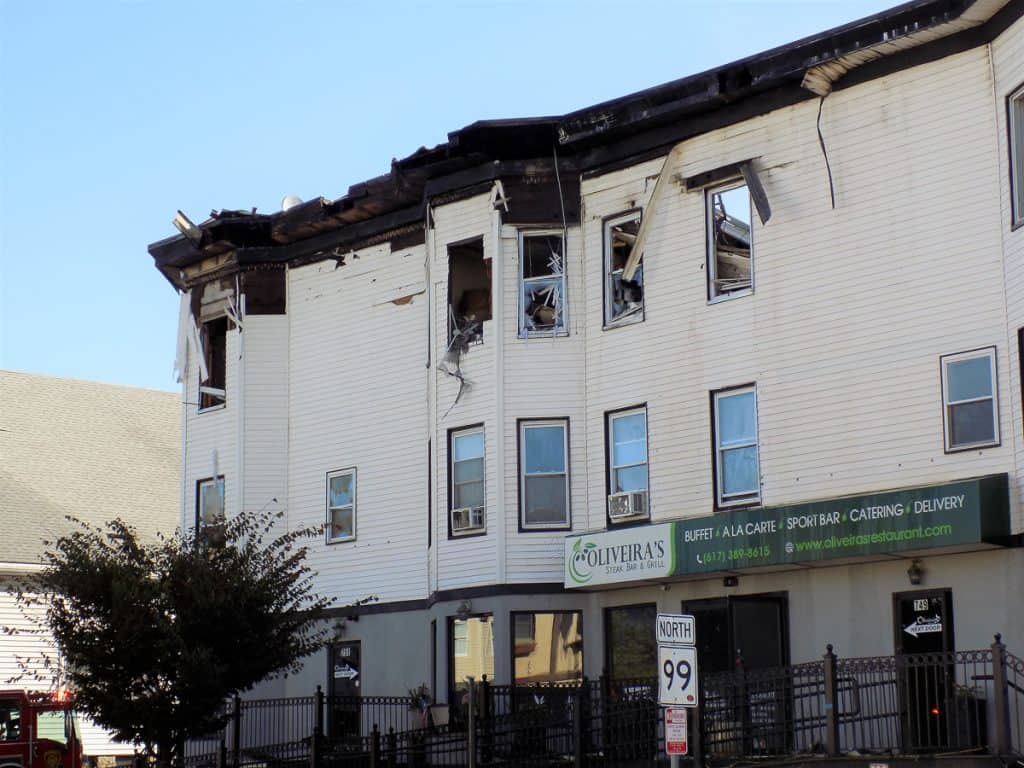 In the predawn hours of November 3, firefighters encountered heavy flames ravaging the mixed-use building at 749 Broadway.
  The fire was reported at approximately 4:30 a.m. by an Everett Police officer who was travelling on Broadway. Firefighters remained on the scene more than six hours later, searching for hot spots.
  "It was a labor-intensive fire," said Deputy Fire Chief Sean Dattoli.
  To make matters worse, Dattoli said, the solar panel on top of the building gave way and crashed into the third floor. "It restricted our access to the roof," he said. Although the third floor took the brunt of the fire damage, he said, the lower two floors suffered extensive water damage.
  Fortunately, no injuries were reported; however, approximately 24 residents lost their homes in the fire. The building, which is also home to Oliveira's Steak Bar & Grill, is most likely a total loss, according to fire officials.
  Firefighters from surrounding communities, including Revere, Malden, Medford and Chelsea, were called in to assist.
  Although the blaze remains under investigation, surveillance video showed fire climbing up the side of the buildingfrom a dumpster.
  The fire also caused plenty of traffic snarls as Broadway was blocked off from Ferry Street to Gledhill Avenue. Ferry Street was also blocked off between Broadway and Sycamore Street.