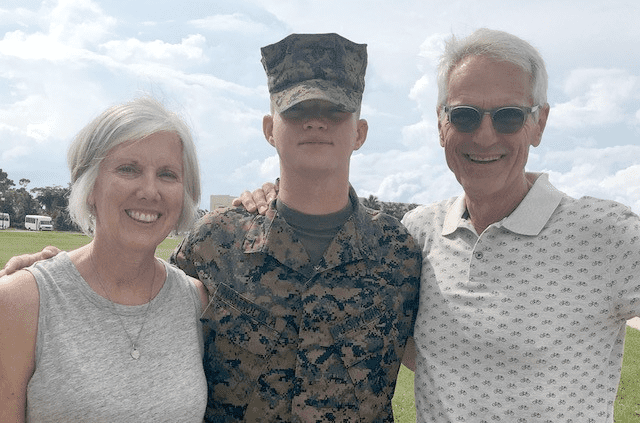 A few months ago, local businessman and Everett Kiwanian Frank Mastrocola, Jr. announced that his son, Kirill Mastrocola, enlisted in the U.S. Marine Corps, which was a surprise to his parents, him and his wife, Judy. Frank said the thought of his son entering into the military was never mentioned up until his announcement. He knew Kirill was always fascinated by his grandfather's stories about serving in the famed military branch but never thought his son would choose that path. Frank Sr., a longtime Everett Kiwanian and local businessman, passed away in 2018.
  "My son enlisted in the Marine Corps because he had so much respect for my father," said Mastrocola. "He fought as a Marine in the Pacific during WWII."
  Kirill also follows his cousin, Ed Mastrocola, who enlisted in 2013 for the same reason.
  Kirill left home for boot camp at Parris Island in early January. Because of Covid restrictions, his graduation was closed to family and friends, and he could not get the customary "leave" after boot camp to come home. As he could not leave his new base, proud parents Judy and Frank, Jr. traveled to Florida to see him over the July 4th weekend. He is stationed at the Naval Base in Pensacola for training as an avionics technician.
  He recently said to his parents: "It's too bad grandpa couldn't see me as a Marine…but he was with me in boot camp. During my toughest times, I thought of him, and found the strength to keep going."
  It goes without saying that his proud grandfather is smiling down on his grandson. Semper fidelis.