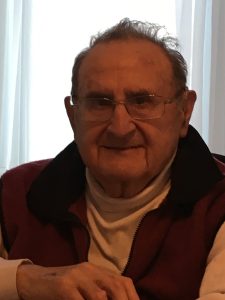 Veteran of the U.S. Army and devoted man of faith and family passed away peacefully at home surrounded by his loving daughter Christine and her husband Paul Gumbrecht in the early afternoon of October 26. He was 92 years old.
Richard was born in 1929 in Everett to Hagop and Takouhy (Musserian) Mangerian, both survivors of the Armenian Genocide. He was the devoted husband of his predeceased wife for 55 years, Eleanor (Clifford) Mangerian. He is survived by his only child Christine (Mangerian) Gumbrecht and son-in-law Paul Gumbrecht.
Dick was a graduate of Everett High School. He earned his B.A. at Northeastern University and his Master's Degree and a Certificate of Advanced Graduate Studies from Boston University. Dick also did course work at Syracuse University, Trinity College, Clark University, Fitchburg State and Framingham State Colleges. He was one of the founding members and President of the Tri-City mental health organization for 25 years.
Dick dedicated his summers for more than 20 years as director of Camp Harmony Hill for disabled children. He was a civic activist and elected member to the Stoneham School Committee, Board of Selectmen, and Board of Assessors for 30 years.
Dick dedicated his career in education to the city of Everett. He was a teacher and Principal at the Parlin Junior High School for 35 years. Dick had a passion for teaching and coaching football. He coached at Matignon High School, Keith Academy and Watertown High School.
Upon retiring from Everett Public Schools, he served as an administrator for the Sacro Corp for 25 years.
Dick is survived by his brother Berge Mangerian and his wife Elisabeth and their children, his sister, Queenice Stewart and her children. He is predeceased by his siblings: George, Hemenyaq, Hiak, Arpeen, Irene, Sarah, Mary and Elizabeth.
The trademark of Dick's life was his strong interest in assisting people, including his parents, siblings, nieces, nephews, and his many friends.
Family and friends are kindly invited to gather and share memories with the Dick's Family on Monday, November 8, 2021 in the Barile Family Funeral Home 482 Main St. (RT 28) STONEHAM from 8am to 9:30am followed by a Funeral Mass Celebrating Dick's Eternal Life in St. Patrick Church 71 Central St. Stoneham at 10am. Interment Glenwood Cemetery, Everett.