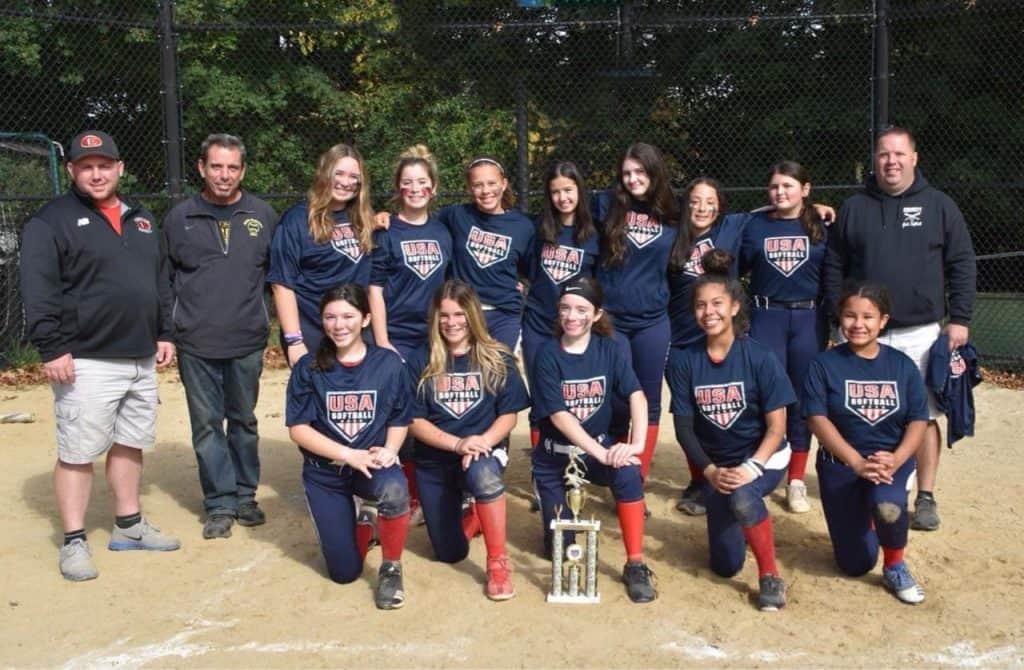 On Saturday, October 23, the Everett Girls Softball 14U travel team traveled to Peabody to play in the USA Massachusetts Middle-Essex Division 1 championship. Unfortunately, the girls came up one run short of becoming back-to-back champions after trailing 3-0 in the top of the seventh inning – with a final score of 4-3.
  The team never gave up and trailed the entire game leading up to the last inning. On three different occasions, they stopped Peabody from scoring with bases loaded. In the third inning, Alex DeMaria tracked down a fly ball in right field to retire the side and prevent Peabody from scoring; in the fifth inning, Luiza Velev caught a deep fly ball with bases loaded to prevent the Tanners from putting the game away, and then in the sixth inning Kassidy Rivera caught a deep fly ball to center followed by an incredible scoop at first by Alexa Morello, the very next batter. These girls never quit and kept fighting back. Their strong defense, smart base running and positive attitude are their strongest attributes.
  In the prior week, Everett beat Gloucester in the semifinals 15-4.
  "I'm extremely proud of these girls – regardless of the outcome they're champions in my eyes," said Head Coach Nicholas Olson.
  He continued, "We lost a couple of girls from last year's 12U team but these girls kept working hard and they never quit. I've coached these girls for the last couple of seasons and watched them grow like they were my own and I'm proud of them. They have tremendous team chemistry and they have each other's backs and that's what sets them apart. Just like last year I could rely on Jayla Davila, Kassidy Rivera and Alexa Morello to be leaders and keep the team focused. Sophia Clarke and Daisy Perez did great on the mound. Emilia Marie-Babcock was dominant behind the plate; Michaela Marchant, Alex DeMaria and Jordyn Sikora have improved tremendously and have had some clutch hits throughout this season. Mia Allen and Lindsey Sylva were great additions to this team and helped out in all aspects of the game throughout the year, especially in the playoffs. For these girls to all move up an age level and a division and still make it to the championship is a huge accomplishment. Every one of these girls except one can play in this division again. I'm sure they will be back again."