Mystic Valley Baseball Sweeps Minuteman and Nashoba Valley
The now undefeated Mystic Valley Regional Charter School baseball team swept a pair of home games against Nashoba Valley Tech, 8-4 and Minuteman 11-1.
In game one against Nashoba Valley, Sophomore Jack Mangone pitched five scoreless innings, letting up only two hits while striking out six. The offense for Mystic Valley started in the very first inning as Sophomore Joshua Stover walked and was then driven in by Junior Vishant Chawla on a base hit to center field. In the 3rd inning, Chawla laid down a perfect bunt that scored Liam Powers from third base to take a 2-0 lead. Mystic Valley took advantage of two walks, two errors, two hits and three stolen bases to open a 7-0 lead in the fourth inning. Mystic Valleys only error of the game led to a four-run inning for Nashoba. Junior Liam Thompson eventually scored on a wild pitch in the 5thinning to run away with an 8-4 lead. Senior relief pitcher Riya Tanazaki buckled down in the 7th inning to officially seal an opening day victory.
In the second game of the season, Tim Rosell pitched 6 innings and got his first win of the season. Rosell let up 1 un-earned run while striking out a season high 11 batters. The Eagles raced out to a 1st inning lead as Powers lined a base hit to center field and stole 2nd. Two batters later, Stover drove Powers in with a hard hit to right field. Mystic Valley added two more runs in the next two innings behind a triple from Rosell and another single from Stover. Mangone highlighted the offense in the 4th inning, hitting a triple with bases loaded. Powers and Mangone continued to drive runs in the victory while teammates Chawla and Stover reached on errors. Lukas DeGuire scored the final run after a hit from Tanazaki.
Mystic Valley is now 2-0 at home this season.
For the latest on Mystic Valley Athletics, follow the Eagles on social media on Facebook, Instagram, and Twitter.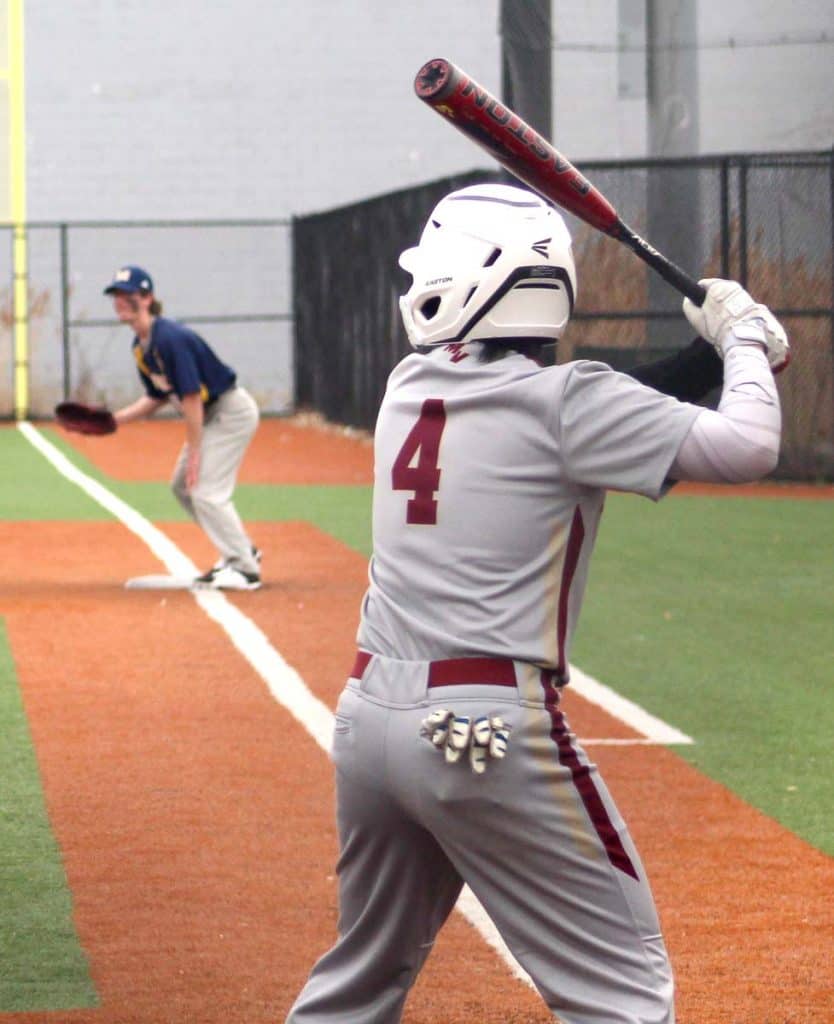 Mystic Valley Tennis Defeats Shawsheen
Mystic Valley cruised to a 4-3 victory over Shawsheen at the Rotundi Park Tennis Courts on Wednesday. The Eagles raise their record to 2-0 on the season, and pride themselves as the first team to beat Shawsheen in over six years.
Jay Raj earned points for Mystic Valley with a 10-0 win over Bobby Dodge at No. 1 singles. Rakshit Rangaprasad and Nathan Tessema earned an 10-8 victory at No. 1 doubles over Will Lamonica and Christian Rivera. Ally Manseau and AJ Rutkauskas lost a competitive match at No. 2 doubles, 4-10 to Nate Barnes and Jasmine Johansen.
Mystic Valley's Wes Cunningham lost 4-10 over Ethan Hines while teammate Ethan Co earned a 10-6 victory against Trevor Engel. Jonathan Yip closed out the match with a 10-1 win over Faith Martin.
Tennis Downs Greater Lowell on Opening Day, 5-2
The Mystic Valley co-ed tennis team defeated Greater Lowell, 5-2, on Monday afternoon at the Rotundi Park Tennis Courts.
Rakshit Rangaprasad and Nathan Tessema teamed up and earned a hard-fought 10-1 victory to help the Eagles complete the sweep. Tabitha Manseau and Brandon Zhao posted a 6-10 win, while AJ Rutkauskas and Shravya Medarametla notched an 11-9 triumph to conclude the doubles scores.
In singles, Wes Cunningham completed a perfect opening day with a 10-2 victory at No. 1. Ethan Co followed with a 10-4 triumph at No. 2 to clinch the match, while Jonathan Yip (No. 3, 10-5), and Ally Manseau (No. 4, 1-10) also collected wins for the Eagles.
"I am so proud of my team," said Mystic Valley co-ed tennis head coach Stacy Smith. " They love the sport and come together, as a team, to support one another."
The Eagles are now 1-0 at home this season. For the latest on Mystic Valley Athletics, follow the Eagles on social media on Facebook, Instagram, and Twitter.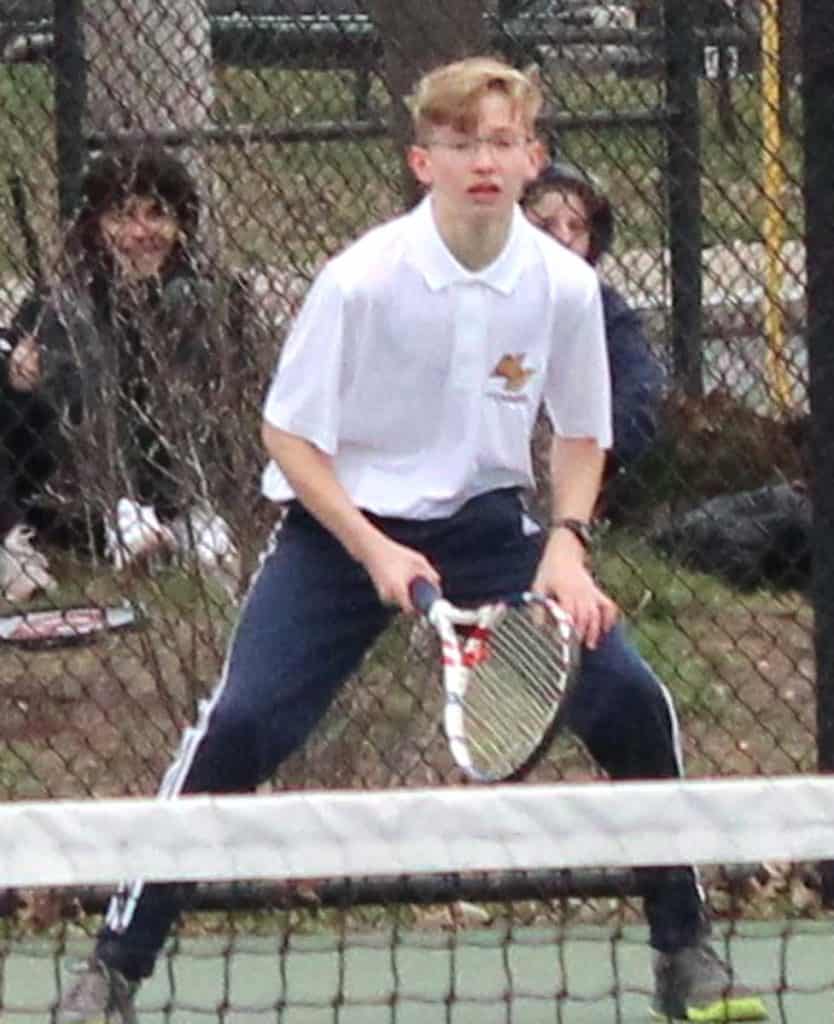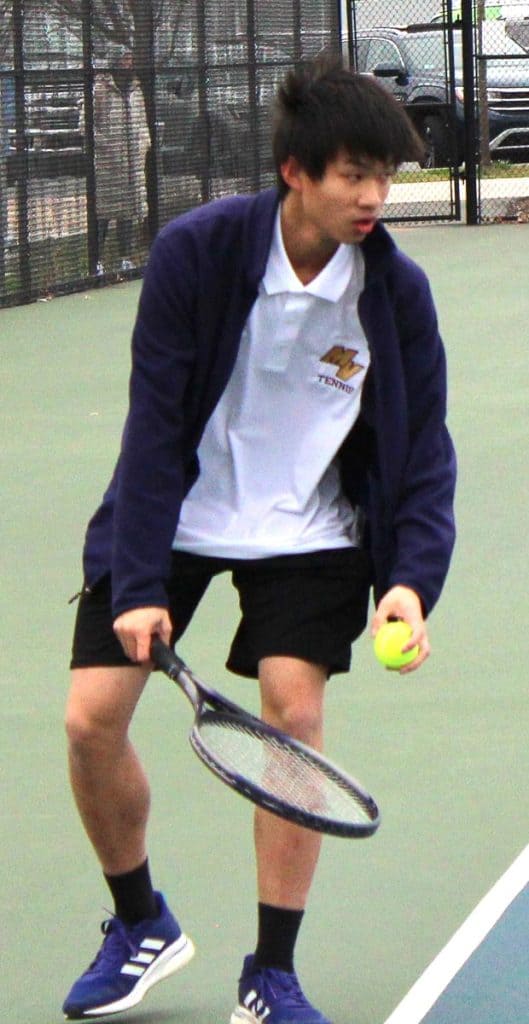 Mystic Valley Steals 13-5 Victory at Home
Mystic Valley girls' lacrosse found themselves back at home Wednesday afternoon as they hosted Northeast to take on the Golden Knights. After 50 minutes of back-and-forth action, the Eagles snuck away with a 13-5 victory over the Knights to notch their first win.
Lucia Antonucci netted six goals while Oliva Neal and Maeve Collins each netted three goals for the Eagles. Lola Velic rounded out the scoring with one goal.
How it Happened:
After exchanging shots, the Eagles were able to land the first goal of the game at 22:33 when Antonucci was able to sneak one past the Northeast keeper. Less than five minutes later, Mystic Valley was able to build on their lead as Neal found the back of the net to give the team a 2-0 tilt. Northeast won the draw after Mystic Valley's third goal and went on the attack, racing in to score their first goal of the game. Back-to-back goals by Neal sent the Eagles into a 4-point lead with 13:45 left to play.
Goalie Gynessa Melendez turned away two Northeast shots before the Knights found the back of the net twice, but the unanswered goals would be short lived as Collins would convert an Antonucci pass to bring the game to 6-3 with 7:27 left to play in the half. Northeast delivered a critical go-ahead goal, driving past defenders inside the 8-meter arc and firing in their fourth goal of the game.  The Eagles went on to score one more unanswered goal to take the slight 7-4 advantage heading into the break.
After a quick break, The Knights put their last goal into the net to make it 7-5. The rest of the second half remained scoreless for Northeast, as goalie Dannie Hughes turned away five shots to keep the home team at bay. Collins scored again to make it a three-goal game (8-5) heading into the final fifteen minutes.
Neal and Antonucci put their team back in the driver's seat after four back-to-back goals bringing the score to 12-5 in favor of the Eagles. After playing very well on defense, Velic switched to her preferred position of attack, and immediately scored to secure the 13-5 victory.