Revere still unbeaten atop GBL Boys Volleyball standings; Malden also perfect (5-0); Tornado boys and girls tennis teams lead GBL race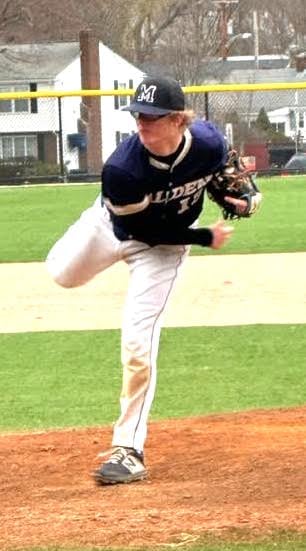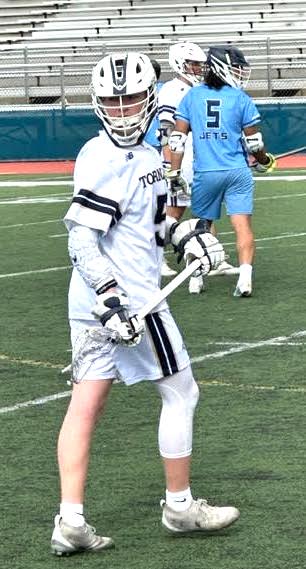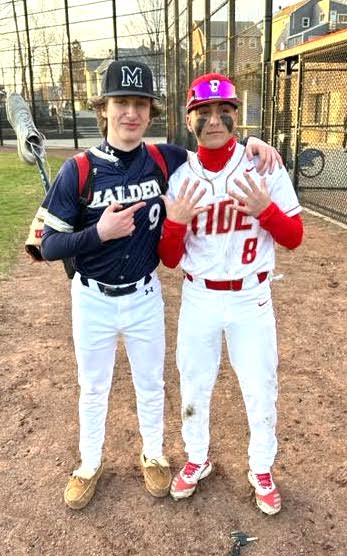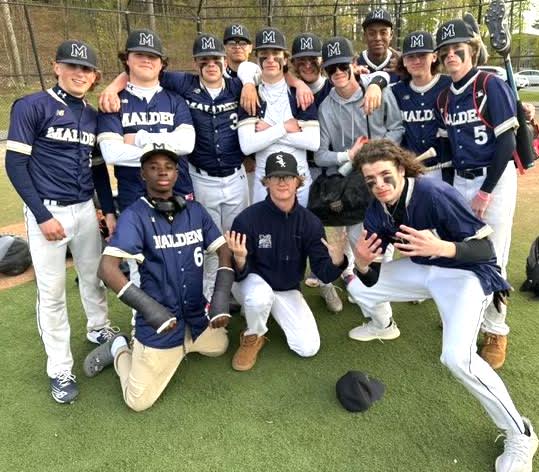 Malden High senior right-hander Brandon McMahon has drawn many accolades in his high school career. He has twice been a league All-Star and also twice recognized as a Mass. Baseball Coaches Association State All-Star. With all that and a pile of outstanding performances under his belt, still, Wednesday was some of his best work. For sure.
  The lanky veteran was dominating and at the same time economical in a complete-game, 5-0 victory over visiting Everett at Pine Banks Park in Malden on Wednesday. In these days of mandated pitch count rules, McMahon hurled a bona fide gem, going the distance for a complete-game shutout, featuring 13 strikeouts and 4 scattered hits. The most impressive statistic might have been the actual pitch count itself, as McMahon went the whole way on just 87 pitches.
  Malden could have scored more runs early, stranding 10 baserunners on the day, but was able to scratch across the necessary scores due to the hitting and baserunning efforts of sophomores Aidan Brett and Bo Stead (RBI double) and juniors Jake Simpson, Ryan Coggswell and Ezechiel Noelsaint – all three of them co-captains along with McMahon. Freshman Billy Gavin also scored a run for Malden.
  "I felt really good all day and I knew I had to go the whole game today. I know a lot of players on the other team [Everett], and that was a big motivator for me today," McMahon said afterward.
  With three double-digit strikeout games under his belt, McMahon leads the Greater Boston League (GBL) in several categories, including pitching wins (3-1 overall), innings pitched (23) and strikeouts (42), as Malden's season hits the midpoint.
  With the win Malden improved to 7-4 overall and 4-2 in the GBL, good for second place behind league-unbeaten Lynn Classical (6-0 GBL, 7-1 overall).
  Everett's pitcher Lara kept the Crimson Tide in the game by getting out of a couple of bases-loaded jams with no runs and pitching into the fifth inning. Gilbert, Lara and Saia all had hits for Everett.
****
Malden took a 10-4 win over Somerville in 9th Annual Serino Tournament
  Malden scored seven runs in the first inning and never looked back in a 10-4 non-league win on Friday in the Consolation game of the 9th Annual Christie Serino Baseball Classic, which was held at Rotondi Field and Maplewood Park on April 21. Freshman Ryan McMahon and sophomore Aidan Brett combined on a three-hitter for Malden on the mound, with McMahon pitching the first four innings and Brett the final three innings. Brett was especially impressive, striking out eight of 11 batters he faced.
  East Boston won the tournament for the second year in a row with a 1-0 win over Greater Lawrence Tech.
  The Tornado baseball team ran into a late innings' buzzsaw in a 15-7 loss to Lynn English at home on Tuesday, following an impressive, four-hit performance over five innings pitched by Jake Simpson, who left with Malden leading, 6-3, at the time.
  Greater Lawrence defeated Malden in the semifinals of the tournament, 6-4.
****
Revere Boys Volleyball sweeps up two more wins to lead GBL at 7-0
  The Revere High Patriots Boys Volleyball team swept a pair of three-game sets, 3-0 – over Everett on April 19 and Somerville on April 24 – to roll out to a perfect 7-0 in the Greater Boston League, 7-1 overall.
  The long-awaited showdown between Revere and Malden, which appears to be the one that will decide the league title, is on May 10 and May 12. Malden will travel to the Revere Patriots on May 10 and then complete the away and home slate 48 hours later when it hosts Revere at Malden High on Friday, May 12. Both matches are at 5:00 p.m.
****
Tornado Chad Robertson leads GBL in Boys Lacrosse scoring with over 30 goals
  Malden High junior Chad Robertson, who scored 10 goals in one game earlier this season to tie a school record, continues his assault on the 2023 Greater Boston League scoring title. Robertson has tallied over 30 goals in eight games to lead his team and the GBL so far this season.
****
Both Malden Boys and Girls Tennis Teams are unbeaten in the GBL
  Malden High boys' tennis, led by unbeaten #1 Singles and co-captain Navenn Nevalpuri, leads the Greater Boston League with a perfect 4-0 league record. Malden High girls' tennis is also undefeated in GBL play, with a 5-0 mark.
GBL STANDINGS
BOYS VOLLEYBALL
School            LEA     Overall
Revere             9-0       10-2
Malden            7-0       7-3
Medford           4-3       5-3
Chelsea           4-4       5-4
Somerville       3-4       3-5
Everett             2-6       2-7
Lynn Classical 2-6       2-7
Lynn English   0-8       0-8
BOYS BASEBALL
School            LEA     Overall
Lynn Classical 8-0       9-1
Malden            5-3       8-4
Lynn English   5-3       6-4
Revere             6-4       6-6
Somerville       5-4       5-8
Everett             4-5       5-5
Medford           2-6       4-7
Chelsea           0-10     1-12
GIRLS SOFTBALL
School            LEA     Overall
Everett             9-1       12-1
Lynn Classical 6-2       6-3
Medford           6-2       7-4
Malden            4-4       5-4
Lynn English   3-5       3-6
Somerville       2-4       2-6
Revere             2-6       3-8
Chelsea           0-8       1-9
BOYS LACROSSE
School            LEA     Overall
Medford           5-0       7-1
Lynn                3-2       4-3
Somerville       3-4       3-6
Malden            2-3       2-6
Revere             0-4       1-6
GIRLS LACROSSE
School            LEA     Overall
Somerville       3-0       4-1
Revere             1-0       2-2
Malden            1-2       1-3
Medford           0-1       0-4
Everett             0-3       0-5
BOYS TENNIS
School            LEA     Overall
Malden            5-0       5-0
Medford           2-0       2-1
Lynn Classical 2-1       3-2
Somerville       1-1       1-2
Lynn English   1-2       1-2
Everett             1-3       1-4
Revere             0-3       0-4
GIRLS TENNIS
Team              LEA     Overall
Malden            7-0       7-1
Somerville       5-1       5-3
Medford           2-2       2-3
Revere             2-3       2-4
Lynn Classical 1-3       1-4
Lynn English   1-4       1-4
Everett             1-4       1-5