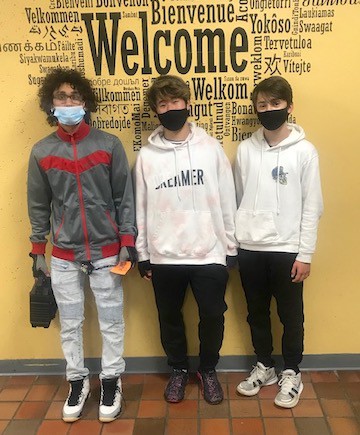 The three freshmen had never met before they arrived at their new school in September. Like all ninth-graders, they had a lot to take in, going from top of the heap middle school kids to first-year students in a freshman class of over 450. Who knew that high school newcomers Deric Tse, Gabriel Garcia and Slade Harding would have even more in common?
  When Malden High School Principal Chris Mastrangelo and his MHS administrative team and faculty teamed up to introduce a state-of-the-art curriculum enhancement called "Flex Block" for the 2021-22 academic year, they must have had students like Deric, Gabriel and Slade in mind.
  The Flex Block is split into two separate, 40-minute sessions of varied academic pursuits, one titled "Enrichment," the other "Joy." The Flex Block runs in three-week cycles, is built into the class schedules on alternating days and is assigned to each of Malden High's 1,800-plus students entirely by choice. Enrichment is closer to the traditional "nuts and bolts" of academia, with session offerings surrounded by coursework and academic support. "Joy" is, well, just as it sounds: Students selecting something they either already love to do… or would like to try.
  So what brings Deric, Gabriel and Slade "Joy" on their "Gold Days"? Well, it involves two wheels and some pedals: biking. The three new-to-MHS ninth-graders signed up for MHS educator Mitch Abbatessa's bicycling "Joy" session – outdoors, of course – the very first time it was offered. Every other day, the ever-growing bicycling Joy Session students gather and go out and explore the Northern Strand Community Trail/bike path, which runs adjacent to the Malden High building. They are now repeat customers, and have continued to "Flex" their interests.
  Furthermore, on a recent sunny Tuesday morning, Slade and Deric relayed an anecdote from the past weekend. "We met up over the weekend and went on a ride all around Malden and the paths near Encore in Everett," Slade revealed, noting that other members of Abbatessa's Bicycling Joy Session class hooked up for the ride with him and Deric as well.
  "Yeah, we have all become friends pretty quickly," Deric confirmed. "We all like to ride around and it's fun to see each other on the weekends now, since we started biking together in school."
  For Principal Mastrangelo, who recently learned of the students' narrative, this was simply jackpot material. "That is a fantastic early result of the Flex Block program and really personifies the types of goals we have been hoping to achieve," Mastrangelo said. "I can't wait to share that with our Flex team as we continue to monitor and review the program."
  "Fortunately, we have been getting lots of positive feedback from everyone associated with Flex Block, most importantly our students," Mastrangelo added. "Helping students build relationships with both their peers as well as with their mentors has been at the top of our list from the start."
  The bicycling program got a welcome boost recently through a generous donation from a natural source, the Bike to the Sea group founded by longtime Malden resident and Councillor-at-Large Stephen Winslow. During one of his recent visits to MHS, Councillor Winslow presented Principal Mastrangelo with a generous donation of four refurbished bicycles suitable for young adult riders as well as six new bicycling helmets. Winslow said he got some assistance from local students from the Malden Teen Enrichment Center (MTEC) in fixing up some bicycles that had been in storage at the Malden Police Station and the helmets were donated by Bike to the Sea.
  Councillor Winslow said he was excited to hear of the new Malden High program and its emphasis on bicycling. "I have been a bicycling enthusiast since I was these students' age and I'm very pleased to see our local high school students involved in programs such as these," he said.
  Bike to the Sea was instrumental in moving forward the push to build the Malden portion of the Northern Strand Community Trail, which stretches from the Everett-Malden line on Medford Street, across the city to the Malden-Revere-Saugus town line, and is used by the MHS students.
  "We are so grateful to Councillor Winslow and his generous donation which will enable students who may not have their own bike to now take part in this class," Mastrangelo said. "We truly value community partnerships such as these with our school and district."