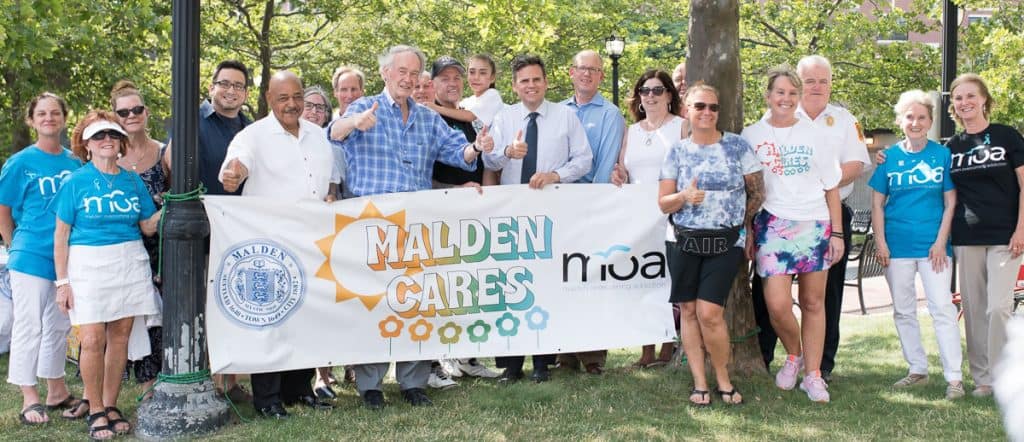 U.S. Senator Edward Markey, Mayor Gary Christenson, State Senator Jason Lewis, City Councillors Neal Anderson and Barbara Murphy and School Committee Member Adam Weldai were on hand at the Malden Center MBTA station for the recent Malden Cares kickoff. During his visit Lewis pledged his continued support for funding and programs which address the needs of our most vulnerable residents.
  Malden Cares is a grant-funded collaboration between the City of Malden and Malden Overcoming Addiction (MOA) with the goal of outreach, education and support. Recovery Coaches will be on-site at Malden Center every Monday through Friday from 3:30-5:30 p.m. for the next 12 weeks. There will be a resource table, snacks and water, and the Recovery Coaches will be engaging with the public each afternoon. The program will be overseen by Certified Addiction Recovery Coach/Supervisor Dawna Aiello and Malden Addiction Recovery Resource Specialist/MOA President Paul Hammersley.
  The Malden Cares campaign emanated from discussions held at a recent city Opioid Task Force meeting when the conversation shifted to outreach in the community. By being a presence at Malden Center, Malden Cares will support residents who struggle with homelessness and substance use disorder.
  All Task Force members were on hand Monday afternoon to kick off the start of the program. City of Malden Opioid Task Force membership includes Mayor Christenson, Police Chief Kevin Molis, Fire Chief William Sullivan, Hammersley, Weldai, Councillor Murphy, Data Specialist for the Malden Police David Ritchie, MOA Board Member Dana Brown and Pastor Gerry Whetstone of the Nazarene Church of Malden, who is also the Director of the Malden Warming Center. Also in attendance at Monday's Malden Cares opening were more than a dozen MOA volunteers.
  For more information on Malden Cares or Malden Overcoming Addiction, please contact Hammersley at 781-838-2203.