Proud 'Wearers of the Blue and Gold' to gather at sellout 34th Hall of Fame banquet & induction; MHS has produced NFL Super Bowl champ, MLB World Series pitcher and hundreds of college athletes
  The long, rich history of Malden High School sports teams will once again be on display Saturday night when the Golden Tornado Hall of Fame Committee hosts its 34th Annual Banquet and Induction ceremony.
  Malden High has long been regarded as the region's most successful sports program since its inception in the early 1900s, with many state and Eastern Mass. champions in football and many other sports, as well as prominent professional and collegiate athletes through the years. Malden High School has produced:
An NFL Super Bowl Champion (Breno Giacomini, Class of 2004, Seattle Seahawks 2014 Super Bowl Champs)
A World Series pitcher (Kevin McGlinchy, Class of 1995, Atlanta Braves, 1999 NL pennant winner, World Series vs. NYY)
Twelve other MLB baseball draftees since 1985 and pros in the NFL and other sports
Hundreds of college scholarship and other collegiate players in virtually every sport offered at that level
  The proud "Wearers of the Blue and Gold" and their friends, family members and supporters will gather at the Malden Moose Hall (562 Broadway) to usher in the newest class of Hall of Fame inductees. A reception will be held from 6:00-7:00 p.m., and a full course dinner will be served at 7 p.m. sharp. The induction ceremony will be held immediately after dinner.
  Honored tomorrow night will be the following:
Seven individual inductees, including six former Malden High standout student-athletes and a Distinguished Service inductee, longtime Boys Basketball head coach Don Nally; the six individuals are Michael Byrne (Class of 1972), Mario Fosco (Class of 1991), Kaitlyn DeVincentis (Class of 2005), Rachel (Timmons) Henderson (Class of 2005), Anthony Pappagallo (Class of 2006) and Annie Abber (Class of 2009).
Also being inducted into the Hall of Fame tomorrow night are the members of the 1973 Boys Hockey Team, head coach Bill McCormack and assistant coach Joe Bogan.
Present Malden HS head Boys Volleyball Coach Dan Jurkowski will receive his second Golden Eagle Award since he began coaching six years ago. The Golden Eagle Award goes to an MHS coach who has been inspirational to a player.
  Golden Tornadoes players can submit essays on this topic, and a winner is selected by a committee and is awarded the $1,000 Peter Donoghue Scholarship, which was named in honor of the late Hall of Famer Peter Donoghue, who served as an inspiration to many before his passing. The 2020 scholarship presented tomorrow night will be to MHS 2021 graduate and Boys Volleyball captain Kenny Nguyen.
*****
This year is the 68th Anniversary of the founding of the Golden Tornado Club
  This year, 2021, represents the 68th Anniversary of the founding of the Golden Tornado Club, which was established in 1953 as the booster club for Malden High School and all its sports teams. Roy Finn, for whom the Malden High School gymnasium is named, is regarded as the chief founder of the Golden Tornado Club, along with others such as then football coach Eddie Melanson.
  The very first Malden High School Golden Tornado Athletic Hall of Fame banquet and induction ceremony was held in 1986 at the Malden Moose Hall with 21 charter inductees. Since then the Hall of Fame banquet was held annually from 1986 through 2017, when it was voted by the Golden Tornado Club Board of Directors to hold the event biennially (every two years). The last Hall of Fame banquet was held in 2019, and after tonight's induction, the next event will be held on November 18, 2023.
  Over the past 20 years, in addition to its Hall of Fame hosting, the Golden Tornado Club has been intricately involved in the awarding of scholarships to deserving student-athletes on an annual basis. Since the late 1990s, under the leadership of former Golden Tornado Club President Domenic Fermano, himself a Hall of Famer, the Club has awarded over $300,000 in scholarships to deserving student-athletes – unmatched by any sports booster organization or alumni group in Eastern Mass.
****
Nearly 250 former Malden High greats now enshrined in Hall of Fame
  Since 1986, nearly 250 former Malden High Golden Tornado athletes have been inducted into the Hall of Fame. The earliest athlete inducted is the late David Morey, Class of 1909, a football and baseball standout. The youngest and most recent inductee will be tonight's honoree, former three-sport Malden High standout (soccer, basketball, softball) Annie Abber, Class of 2009. There have also been 10 teams (11 counting tonight's 1973 Boys Hockey Team), inducted into the Golden Tornado Hall of Fame.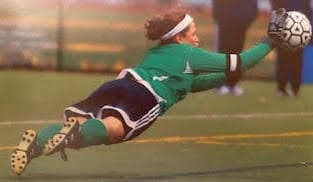 Pages from 2021 Golden Tornado HOF Program