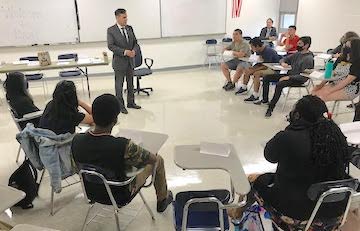 Mayor on hand to greet new freshmen
  The early teenage years are challenging enough for those making the switch from kids to burgeoning young adulthood. Taking the first steps as a high school student can present its own set of challenges and tribulations.
  One of several programs under way this summer directed by the Malden Public Schools (MPS) Guidance Department is the popular Malden Adventures & Academic Program (MAAP). The program is geared to giving incoming ninth-graders a bird's-eye view on what to expect and how to prepare for life as a high school student at Malden High School. A group of 30 former middle-schoolers are participating in this summer's program, which is based at Malden High and under the direction of MHS ninth-grader guidance counselors Amy Yu and Allison MacDonald. The MAAP Program is a two-week transition program which began Monday and continues through July 22, Monday through Friday, 8:00 a.m. to noon.
  According to MPS Director of Guidance Erin Craven, the MAAP Program has been very successful in helping incoming ninth-graders get acclimated to Malden High and have a better understanding of "what to expect." "We know it is a big change and an important transition for these former eighth-graders, who are coming to the high school for the first time," said Craven. "This program is especially valuable following the pandemic year, since a lot of these students were not in the school buildings for most of the school year.
  The MHS ninth-grade counselors, Yu and MacDonald, lead the freshmen-to-be in a variety of activities each day of the program, along with mini-"field trips" around and outside the school, all to help acclimate them with the school and to get an early look at how they will fare as ninth-graders.
  As part of the program this week, the students got a treat when they got a visit from Malden Mayor Gary Christenson, who stopped by to greet them and then participate in a question & answer session. In his session, the Mayor described how a typical day would go for him, starting with a 5 a.m. wakeup, a walk to work which entails his now trademark litter pickup, followed by a jam-packed day of meetings (now mostly in-person, after many months of Zoom-style remote ones). Often, as he did on Tuesday, Mayor Christenson includes visits to various places around the community, now that the protocols regarding the COVID-19 pandemic have shifted to more open gatherings and events.
  The Mayor told the incoming ninth-graders they are embarking on "an eventful journey with plenty of great experiences ahead."
  He encouraged them to "become involved, try as many new things as you can."
  "Of all the recently-graduated Malden High seniors I have spoken to, they all had the same response: 'I was happy to have been involved in so many different things… and I wish I did more,'" the Mayor said.
  He also encouraged them to give it their best effort, using a personal note. "I have always found that you get as much as you put in," he said. "I have tried to live by that motto and it has been successful for me."
  Mayor Christenson handed out signature City of Malden protective masks to all present on Tuesday as part of his visit.
  The MAAP Program is part of a robust series of events planned for incoming ninth-graders, including:
Malden High School building tours being planned for Thursdays
Malden High Pre-Orientation Week (POW), a three-day program from Tuesday-Thursday, July 27-29 from 8:00 a.m.-noon
Transitional 9th Grade Orientation, during the first week of school, two-days of intense orientation so all Grade 9 students will know everything they need to know to be successful in their first year of high school