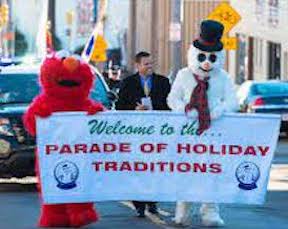 One of the most popular local annual events of the past two decades will remain on the shelf this year, but a new tradition will begin in its place to help Malden kick off the holiday season. The Malden Parade of Holiday Traditions held annually on the Saturday after Thanksgiving Day in November from 2004-2019, and as the Christmas Parade for a number of years before that, was cancelled last year for the first time since 2004 due to the COVID-19 pandemic. It is not returning for the 2021 holiday season. Mayor Gary Christenson announced this week that the City of Malden will host an outdoor Winter Festival on Saturday, December 4 from 12-4 p.m. in the heart of Malden Square.
  The Winter Festival will be modeled after the highly successful Summer Festivals, which were held twice monthly in June, July and August and drew droves of visitors to the multifaceted events. This time around, the one-day Winter Festival will once again be chockful of local and regional artists and artisans who will have a wide array gift ideas for purchase at booths lining up and down Pleasant Street. Pleasant Street in Malden Square will feature over 50 artists displaying their wares, and you'll find perfect handmade crafts, gifts, cards and jewelry as well as delicious baked goods.
  "We hope you will also visit some of our great restaurants to sip on winter cocktails and hot chocolate and have a bite to eat as we continue to work to invigorate our downtown businesses," said Kevin Duffy, Strategy and Business Development Officer for the City of Malden.
  According to Malden city staff, "As you shop you will enjoy festive carolers, music, costumed characters, and some special performances. There will be free parking [at] the Central Business District (CBD) Garage, 170 Centre Street (across from Walgreens on Route 60)."
"At 3:30 p.m. we invite everyone to gather on City Hall Plaza for a special performance before we officially light the Holiday Tree, which will be followed by a festive and colorful ending to the day!" said Mayor Christenson.
  This will be first time since 2017 that the Tree Lighting has been held at City Hall Plaza; the last several years it has been on the lawn at the Malden Public Library while the new City Hall was under construction.
  For more information, please email kmanninghall@cityofmalden.org.