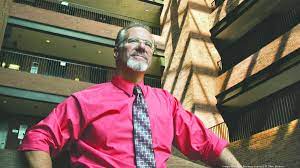 His name is Kevin. He is Malden's best friend. He is also the Strategy and Business Development Officer for the City of Malden. Hence, Malden's best friend. On any given day he can be found strutting through Malden Square waving to friends, small talking Malden Square regulars and shaking hands with grateful merchants, all the while not breaking stride or a sweat. He is that cool – not as cool as his dad, though. Brendan Duffy was a legend. He had mad cool. He would also be extremely proud of his son Kevin were he alive today.
  Because this column is all about deep, probing questions on everything from life, to love, to liberty, the questions that follow, which Kevin so kindly answered, had to be asked. It's Kevin's world and we just live in it. For your reading pleasure, take it away, Mr. Duffy:
My full name is… Kevin John Duffy.
I am currently… getting my kids ready for their school transitions (HS & College).
I am saving up for… my next long-distance ride.
My home is in… Malden, of course!
I love people who… say, "Yes, and…"
Something I say a lot is… "Call me if you need me!"
I consider myself to be… flawed but trying.
I need to have… my early morning time (coffee, paper, workout).
My favorite movie of all time is… Seven Samurai.
My all-time role model is…Atticus Finch/Jason 'Furious' Styles.
I respect people who…work the job and not the clock.
The best thing anyone has ever said to me is… "That was the most Brendan thing you've ever done."
I am happy when… I am with my wife and kids.
I find the absurd/ludicrous funny/hilarious.
I am named after… my Uncle John, who was a longshoreman, so it explains a lot.
I have two kids.
The furthest I've ever been from home is… Italy visiting my mom's family.
My special talents are…bringing energy and enthusiasm.
I have 0 pets now but had two dogs live to 18 years old each. Can't do that ride again.
I played sports as a youngster at… Amerige Park.
  It is said in Malden today, tomorrow and yesterday…
  A local oral sports historian and well-known raconteur, who may be related to everybody in Edgeworth from the past 100 years or so, John Trischitta, took pencil to paper and reached out to me after reading my Joe & Nemo's column. Take it away, Trixie: "Peter, my Joe & Nemo story goes like this; the late Paul Murphy and I, after Bill Tighe and Lou Racca took attendance in gym, slid out of the school. We were walking towards the Square when we turned the corner around the bank (the bank that just got torn down) heading towards Pleasant Street and who was walking towards us but M.H.S. Principal Arthur Boyle and basketball coach/teacher Jack Hussey. We turned around and ran across the street to Joe and Nemo's. Needless to say we both got caught. Boyle said 'Trischitta go wait for me in my office and Murphy wait for me in your father's office.' Mr. Murphy was the truant officer. Long story short the slowest kid in the school cuts class with the truant officer's kid!"
  Word round town is that the lovely Gina and Aerialicious Entertainment stole the show two weeks back at the inaugural of the Malden Square Summer Festival extravaganza. Kids as well as grownups were amused and entertained with even Police Chief Molis and the Mayor getting in on the action. Gina and her crew were with the Saint Rocco Feast a few years back. Amazing company, amazing performers. Next Festival is July 24th; hope to see all of Malden there.
  Malden Square bringing joy to the world once again – a short cruise through the Square on Wednesday night (June 23) saw many happy faces enjoying all the great restaurants the Square has to offer. Inside diners at All Season's Table, Pho 99 and Tous les Jours, as well as outside diners at Hugh O'Neill's, Mystic Station, Exchange Street Bistro, brought happiness to my heart! Way to go, Malden Square, for the great comeback! Foregetaboutit!
  Stop the presses! Rave reviews from across the city for Evviva Trattoria, the Italian restaurant newly opened at 200 Exchange St. The Parking Director for the City of Malden, Ron Hogan, was like "madonna mia!" when he dug into his orecchiette at a recent lunchtime visit. Don't forget that Charlie DeMarco at the (sorely missed) Rosebud Farms adopted Ronny as his unofficial Italian son many years ago when Ron worked for him, so Ronny knows Italian! Forgetaboutit?! City Controller and renowned "foodie" Chuckie Ranaghan also made a visit with his lovely wife Stacy and had a similar reaction. Seems like we got a winner here, Malden! Check it out for yourself.
  "This is the end, beautiful friend, this is the end, my only friend, the end" – the immigrant story, isn't it a wonderful thing? Malden is such a welcoming city. Always has been if you think about it. Most of us are proof of that. Each one of us living here today has benefited from that. The turn of the century saw an influx of Italians and Jews into the Malden mix, eventually helping to create Malden, the All-American city it was/is today. Police Captain Glen Cronin explained to me at the Juneteenth Celebration how he did some research and discovered that 50 languages were spoken at Malden High School in 2021. Amazing to think a mere 40 or so years ago, during my high school days, only one language was spoken (and that one not even very well by many of us – insert smiley face). We all have a story. Each. And. Every. One. Of. Us. Case in point: You would not have the pleasure of reading these informative, fun and fact-filled articles if it weren't for the immigrant story. If it weren't for the immigrant story, hundreds of students' lives in Malden would not be quite the same. They would never have met one of the most caring, one of the most giving, one of the most loving people ever to have existed, my sister Barbara (Levine) Scibelli, Administrative Assistant to the Principal at Malden High School. Imagine a Malden without Malden Rec Director Joe Levine?! Yes, I know, hard to do. If my grandfather's people (on my father's side) had not fled Czarist Russia, we'd have no Levines (or "Lewins" as it states on the naturalization papers.) Long story short, one wintry evening in 1917, my grandfather's brother Sam overheard a conversation amongst a group of "drunken Cossacks" in a tavern on the outskirts of town (Kovno Gobanya, Lithuania) – rumors of war and forced conscription. Being from a long line of pacifists who abhor violence (insert smiley face), Sam fled to America. My grandfather Harry (Hersch Julius) followed shortly after, arriving in Boston from Liverpool, England, on the Andania. Harry settled in the West End of Boston first on North Russell Street, then in Mattapan not far from the legendary G&G Deli on Blue Hill Ave. Sam became a tailor and set up shop in Union Square, Somerville.
  Harry was a self-made man (and very kind from what I remember) who instilled in his three boys a strong work ethic, my father especially. He came over as a shoemaker but switched careers to become a truck driver after he learned how to drive, distributing food and vegetables by horse and buggy first before purchasing a truck and starting his own business. On the side, he drove a cab. A very religious man, Harry studied Torah at the North Russell Street Shul, where he also sang in the choir. He had vocal chops! I remember many weekends at the house on Charles Street being entertained by Grandpa, who felt he was the second coming of Yossele Rosenblatt. In 1928 Meyer Wolf (a baker from Brookline) and Jacob Goldberg (a real estate agent from Boston) attested that Harry was of "good moral character" and signed the affidavit for his naturalization papers. The rest is history, as they say. The immigrant story, isn't it a wonderful thing?