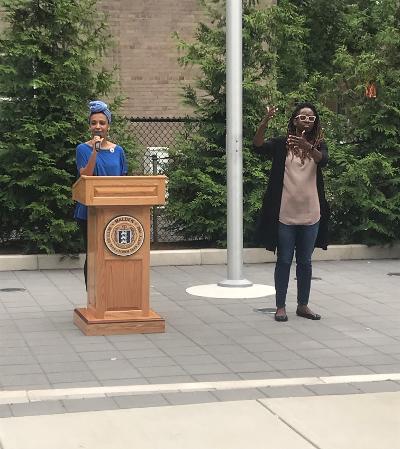 It is said in Malden today, tomorrow and yesterday…
  At Malden City Hall Plaza on Saturday, June 19, Maldonians stood elbow to elbow and shoulder to shoulder in celebration of Malden's Fourth Annual Juneteenth Flag Raising Celebration. Yes, you heard that right, Malden's Fourth – as Mayor Gary Christenson proudly explained to the gathering. Not our first, as many cities in the Commonwealth celebrated – Malden way ahead of the curve as usual. A very nice crowd showed up, the plaza was full. With about 80,000 people living in Malden, though, I'd love to see all of Pleasant Street occupied for next year's event. Spread the word.
  Bob and Diana Cataldo spent 60 years together, 56 of them married. Bob passed on in March of 2019 (yes, I know, hard to believe two years now) and left an enduring legacy behind. Bob and Diana started their ambulance service in 1977, opening the doors of Somerville Ambulance Service in August of that year. The business thrives today because of Bob's and Diana's loving and caring natures. Cataldo Ambulance was recognized today as an industry leader. Bob loved life. This short story illustrates that: In 1958, Bob met Diana Della Piana of Malden; ironically, the two chose to drag race each other down Revere Beach Parkway. As fate would have it, Diana won the race, but Bob won Diana's heart. Bob would later go on to joke that Diana had a big V8 and he had only a total "crap box" and that is why he lost. Bob Cataldo, remembered.
  Great to see Douglas Tran on a recent late-night visit to Malden's happy place, All Season's Table. He looked tanned and rested with that trademark Douglas Tran personality and smile in full effect. My Cosmo was prepared by our regular mixologist, whose name, I am ashamed to admit, I do not know. Nobody in the city is better at preparing a cocktail than this young man, by the way. This kid could give Brother Cleve a run for his money. (Google Brother Cleve!) Our night was made when we ran into the always affable Captain Paul Hopkins of the Malden Police Department and Mr. and Mrs. Edgeworth, Dom and Sheila Fermano. Maldonians! A.S.T. is open and ready to serve you! Please make sure you find time to support Douglas and the rest of the other outstanding restaurants in the Square this summer.
  Councillor-at-Large Craig Spadafora attended the Juneteenth celebration, not because he had to but because he cares – his heart and soul fully invested in the city that he grew up in – a community and event he takes to heart, in the city that he and his whole family have made a better place to live for decades, generation after generation of Spadaforas giving back to the community and the country.
  So, we're trying to determine what we should order at A.S.T. – my brother Joe, Greg "Son of Paul" Phaneuf and myself. Everything looks so good. Everything is good. So, we figured because there were two Levines present one "All Season's Table Sampler" would not suffice. We decided on two A.S.T. Samplers and some chicken fried rice. Shortly after ordering our food arrives (but not like Kowloon where 30 seconds after you order, your food is on the table) – gone in a flash with three content and satisfied Maldonians calling it a night. Thank you, A.S.T., for all that you do for Malden.
  I have received so many wonderful emails from people letting me know how much they appreciated and enjoyed the "Happy Mother's Day Newland Street Moms" article I published a little while back. Cathy MacMullin was the impetus for me leaving my comfort zone (Edgeworth) and venturing outside of Ward 2 for an article. For that, I thank her. But I must also thank her for providing me with the bones for the article. It was Cathy's words and heartfelt sentiments that made that article work. It was Cathy's life story, and the story line of her many friends and family members, that made that a joy to read (and write). Cathy, thank you for that and thank you for sticking around Malden and making it the fab city it is today. (And I hope your moms liked the article!)
  I know I do not mention City of Malden Cemetery Director Jimmy "Stinger" Cahill enough. I have been told by so many readers that they would like to see more of their favorite cemetery director, Mr. Cahill. Over the years the community at large has come to know Jimmy's work ethic as unmatched within these five square miles. Many remember him as one of the best hoop players Amerige Park ever produced. Many also remember him as the finest bartender the Highland Café ever employed (besides Dave Angelo, Paul Gennetti, Pete Trabucco and Richie Morando, of course.) With that in mind, I'd like to personally thank Jimmy for the outstanding job he did organizing the Memorial Day celebration at the Forestdale Cemetery. His Herculean effort turning the Forestdale Cemetery into a welcoming urban paradise, coordinating the outstanding entertainment, acquiring the two magnificent bronze memorial statues, ensuring that the festivities were ADA-compliant and generally watching over the proceedings like that protective mother swan watching over her cygnets that had taken residence at the pond in the cemetery (since departed for greener pastures). Malden is very fortunate to have Mr. Cahill (and his wife, "The Fabulous Judy"). Jimmy, we salute you.
  I've lived in Malden since 1963. I consider myself lucky to know and to have known a lot of wonderful people growing up here. Looking out over the crowd at the Juneteenth celebration, I realized I did not know a lot of my neighbors and realized I didn't know as many people as I had previously thought. That's why I love going to these Malden events; that's why it is important to attend these Malden events – to get out of my/our comfort zone. It's an amazing city with a lot of amazing people just around the corner.
  Never knew the significance or the history of Tea Cake and how it pertains to the Juneteenth celebration and African American history, until last week. Around for about 200 years and created by the enslaved with the most rudimentary ingredients to become a historically significant part of A.A. heritage. Amazing.
  "This is the end, beautiful friend, this is the end, my only friend, the end" – on a serious note, someone who I reallydo not write enough about is Malden's most indispensable employee, Special Assistant to the Mayor Maria Luise. Voted Most Valuable Employee many times in many of my previous columns, Maria goes about her business much like the fixer Ray Donovan; she just gets things done. Many of the most important things that happen in Malden have Maria's fingerprints on them. But you wouldn't know because Maria's never been one to toot her own horn. That's what I get paid the big bucks for! This one is for you, Maria Luise. We thank you for all your hard work, for your calling to become a Public Servant and for your dedication to Malden. Oops, almost forgot; and she's wicked nice! Malden is very lucky indeed.
  Postscript: As I stood with my sister Barbara listening to speakers at the Juneteenth flag raising, both of us realized just how far we've come, and how much further we need to go.