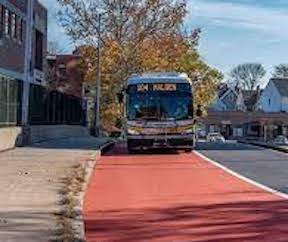 A $750,000 project that will dramatically transform the shape and look of one of Malden's main travel routes was approved by the MBTA and Mass. Department of Transportation (DOT) and is expected to begin construction later this summer.
  The cities of Malden and Somerville are among six communities partnering with MassDOT and the MBTA on a series of bus priority projects that will build close to five miles of bus lanes and other infrastructure upgrades that are designed to relieve transit congestion along Centre Street/Route 60.
   The project was supported primarily at the city level by Mayor Gary Christenson, Councillor-at-Large Stephen Winslow and Ward Four Councillor Ryan O'Malley.
   The City Council approved proceeding with the project, which will change Route 60 to one lane of travel, while installing bus and bicycle lanes.
  The partnership also includes Boston, Brookline, Revere and Lynn. These quick-build projects are designed to address transit delay on some of the region's most congested roadways in order to improve bus travel time and reliability.
  "Malden Center is the heart of our city," Mayor Gary Christenson said. "The quick-build improvements coming to Centre Street, Main Street, and Eastern Ave., in addition to those made last fall on Florence Street, will make it easier and more reliable for our residents to travel by bus, bike, or walking to essential businesses, services, and connections there."
Projects in Malden and Somerville will build on recently completed, adjacent projects, further building a network of bus priority facilities in communities that have seen durable transit ridership throughout the pandemic.