A Malden dentist for 52 years, avid sportsman, Korean War veteran and bona fide 'straight shooter'; recently passed, at 90
  How many people do you know who did any (or all of) the following?
  – Served the people of Malden as a practicing medical professional for more than 50 years
  – Was a valued and respected member of his community's Board of Health for nigh on 35 years
  – Left an Ivy League college to whet his patriotism and enlist in the military when the Korean War broke out… and ended up discovering his life's work after being assigned to a hospital in Japan, instead of his anticipated role as infantryman in Seoul
  – Did a complete professional about-face when he earned a bachelor's degree in Botany from Dartmouth College… then turned in an entirely different path, pursuing and obtaining a Doctor of Dental Medicine degree from Tufts University Dental School
  – Raised the roof by hitting a hole in one at his local golf course at the age of 75 years "young"
  – Played on the 1947 National Championship High School football team, Lynn Classical, a team quarterbacked by none other than "The Golden Greek" himself, Harry Agganis!
  A life well lived, indeed. So it was for Dr. John R. Horne, Jr., an active and popular Malden dentist and man about town for the over 50 years he practiced and lived in this community, until his retirement in 2014, at the age of 83. Dr. Horne passed away recently, on February 4, peacefully, after a long illness. He was 90.
*****
Call this one the 'Six Degrees of Harry Agganis'
  Personally, I am fortunate to have crossed paths with Dr. Horne, whom I got to know quite well during the "home stretch" of his years of dentistry in the Malden community. I first met him in the late 1970s when I sought him out during an emergency when I broke a back tooth on an errant piece of bone that was hidden in a piece of souvlaki I had purchased in the city of Lynn one summer long ago. Now, souvlaki, of course, is a Greek fast food. Who would have thought the guy I went to, looking for some quick dentistry, would himself have a direct connection to: the words "Greek," "fast" and "Lynn." It was ironic.
  Call this one: "Six Degrees of Harry Agganis."
  Who would have guessed that Dr. Horne was himself a Lynn native… who had attended Lynn Classical High School (Class of 1949)… played football for Classical… with the great Harry Agganis… called "The Golden Greek" and who was fast and talented!
  I went to see Dr. Horne at his office/home right there on the corner of Clifton Street and Highland Avenue late in the summer of 1979 or so, and we hit it off pretty well. He fixed my tooth for a fair price and off I went.
  Had to admit, though, I was struck by the totally unique take on a dentist's office I got that day. It was like sitting in someone's living room, literally, waiting to go into the actual dentist's chair. Didn't actually put it together until later that Dr. Horne lived there as well, with his family.
  Fast-forward 24 years later. I had gone to Dr. Horne sporadically in the time from 1979 to the late 1990s, not as much as I should have, though. By 2003, I was in trouble. My teeth were a mess. I had been going to a local corporate dental operation, and they had told me I needed a lot of work on my teeth, quoting me a cost figure well north of $3,000.
  Not able to afford that, I decided to reconnect with Dr. Horne and see what this dentist might have to say. He agreed there was work to be done… but instead laid out a plan where I could come once a week, for 10-12 weeks, but for about one third of the cost of the other estimate I received. Sold!
  "We'll take care of it, Stevie," Dr. Horne said, in his reassuring way, adding, "Just bring what you can, until you get caught up." This was in reference to the payments, giving me the impression he used this "pay what you can" installment plan with more patients than just me. To this day, I think he was the only person who ever called me "Stevie" on a regular basis. I got "Steve" most of the time, or my last name, more than that. But from him? It kind of fit, coming from Dr. Horne, and I didn't mind.
  The 10-12 weeks in the spring of 2003 when I was getting my whole mouth redone, basically, coincided with the time the high school baseball team I coached, the Malden Catholic Lancers, was marching through a season to remember, one that eventually ended in a special way – top of the heap as State Champions.
  Every week I went back to Dr. Horne's office where he was working on my messed up teeth and he would get an update as we progressed further and further to the ultimate prize. I think it must have spurred recollections of his own past high school tales of glory. He started talking about his football days at Lynn Classical, where he was on a team led by who many call the "greatest high school football player who ever lived," Harry Agganis. Wow! My dentist played on the National Championship Team in 1947 with Harry Agganis! He showed me pictures he had around the office from the 1947 and 1948 Lynn Classical teams. What a treat!
*****
A personable guy with magnetism and good ear to listen
  Through the years that followed, I stayed a regular patient of Dr. Horne's, right up until I received a notice in the mail that he was retiring. I got the letter in early fall of 2013. Dr. Horne was closing his Malden office for good at the first of the year in 2014.
  All those biannual visits for checkups in the office that never changed from the 1970s to the 2000s where we traded stories and updates came to mind. "How's it going with the baseball, Stevie," it would always begin. Then he might tell me a story from his own past, from his days at Lynn Classical or his later years at Dartmouth College, or his time at the military hospital in Japan, where he served as a dental assistant, unexpectedly, just after the Korean War broke out in 1950.
  He always had a tale or two to tell, whether it was regaling over his hole in one at the age of 75 in the mid-2000s, or a recollection of a past night out to dinner at the old Kernwood in Malden Square, with David and Estelle Brickman, the late publisher of the former Malden Evening News and his wife, with whom we shared mutual acquaintance and friendship. Dr. Horne's late wife, Jeanne, served many years as "the gatekeeper" to Mr. Brickman as his personal administrative assistant for many years.
  I found Dr. Horne to be a unique person who had a certain personal magnetism, with the uncanny ability to connect the past to the present – a real "character" with a way about him that was disarming, charming and just good, old-fashioned "down to earth." We of the "Old School" would refer to John Horne as a bona fide "straight shooter" who said what he meant and meant what he said, and did not have to "talk in circles" because he had earned the right to say what was on his mind and not have sugar coat or belabor points when he spoke.
  In doing a little research before writing my own recollection here, I came across this absolute gem from an old "Ratings Chat" I found online about Dr. Horne, and I quote, from 2005: "This dentist is a straight shooter. His expenses are low, his kids are grown so he can afford to give his patients what they need and at a price they can afford. His office and manner do not particularly inspire a sense of the modern, but his peers (endodontists etc) marvel at his energy in keeping up with his field. At about 70 he is still fascinated by his own field and its advances. He gave me 20 years plus of my upper teeth when all the 'experts' said at 32 yrs old I should extract them all. I drive an hour each way to see him and have been for 15 yrs."
  Wow!! I just found this on Tuesday of this week, and it fits my own remembrances to an absolute "tee." Spot on, all the way.
  When I got the note in the mail when he announced he was retiring and closing the office on Clifton Street, in 2013, I drove by there about two weeks later, hoping to see him and wish him well, as there had been little notice other than the note. But he had already moved from the city. So I just mailed my own note of thanks, wishing him well and appreciating all the kindnesses he had shown me through the years.
  Then, two weeks ago, I learned of his passing, on February 4, at the age of 90. A second "goodbye," this one, for the last time.  I had always intended on writing something about my own thoughts on this remarkable man who went about his business for over half a century right in our midst, touching so many lives and most certainly leaving his mark in our fine community.
  Thank you, Dr. John R. Horne, Jr., for all you shared with me and so many others in Malden and surrounding communities for nearly six decades. You are and will surely be missed. Congratulations on being blessed with a life well lived.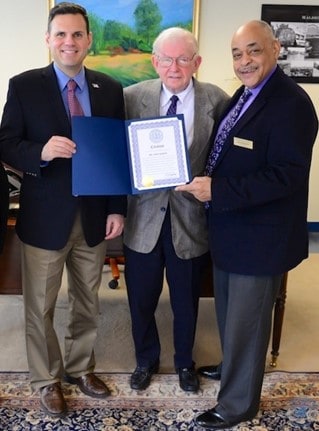 Dr. John R. Horne, Jr. longtime Malden dentist, Board of Health chairman, at 90
  Dr. John R. Horne, Jr., of Derry, N.H., formerly of Malden and Lynn, Mass., a dentist in Malden for 52 years and chairman of the Malden Board of Health for 25 years, passed away on February 4, peacefully at home after a long illness.
  John was born on July 30h, 1931 in Lynn, Mass., and was the son of the late John R. Horne, Sr. and Katherine (Dewey) Horne. As a child, he was active in the Boy Scouts of America and earned the rank of Eagle Scout at an early age. He spent summers at Camp Pow Wow in Amesbury, Mass., as a camper, counselor and waterfront director.
  John attended Lynn Classical High School, graduating in the Class of 1949, and was a member of the 1947 championship football team.
  He entered Dartmouth College with the Class of 1953, where he was a member of the Delta Kappa Epsilon fraternity. While at Dartmouth, the Korean Conflict began, and he was granted a leave of absence from the college to enlist in the United States Army, where he served for two years. After basic training, while fully expecting to be assigned to the infantry, he was unexpectedly assigned to be trained as a dental assistant. This assignment would shape the rest of his life, and he served the remainder of his enlistment helping to care for troops at a U.S. Military Hospital in Japan.
  While home between his discharge from the Army and returning to Dartmouth, he met Jean A. Bourque of Malden, Mass., who would become the love of his life. The couple were married on June 17, 1956. He and his new bride moved to Hanover, N.H., where he completed his undergraduate education at Dartmouth and was awarded a Bachelor of Arts degree in Botany, and Jean was awarded her PHT (putting husband through!) degree. After Dartmouth, John was accepted into the Tufts University School of Dental Medicine, where he graduated as a Doctor of Dental Medicine in 1961.
  After graduation, they purchased a home in the west end of Malden, where he established what would become a successful and well-respected dental practice, and the home where they raised their family.
  Dr. Horne was very active in the Malden community. He served on many boards and commissions over the years, including the Malden Youth Commission, the Malden Recreation Commission and the Malden Chamber of Commerce. He was also appointed to the Malden Board of Health, where he served for over 30 years, 25 years of which he served as Chairman of the Board.
  John was a loving husband and father who was very supportive of and active in his wife's and children's activities. In his free time, he enjoyed spending time with his family and friends while snowmobiling and skiing throughout the Northeast as well as sailing at the Boston Harbor Sailing Club and golfing at the Bellevue Golf Club in Melrose, Mass., where he and Jean were longtime members. He was also a longtime member of the Moultonborough and Baker River Valley Snowmobile Clubs in New Hampshire, George Page's Colonial Health Club, the Malden Kiwanis Club and Malden American Legion Post 69.
  Dr. Horne was the loving husband of Jean A. (Bourque) Horne, who preceded him in death. He leaves behind his two beloved children, his son, John III and his wife Kathleen M. and his daughter, Andrea. He was the loving brother of the late James T. Horne and his wife Dianna. Dr. Horne is also survived by many nieces and nephews.
  The funeral was held from the A. J. Spadafora Funeral Home (865 Main St., Malden) on Wednesday, February 9 followed by a Mass of Christian Burial in the Immaculate Conception Church (600 Pleasant St., Malden). Interment was in Forest Dale Cemetery in Malden.
  Donations in his name can be made to the Dartmouth Class of 53: To Dartmouth Class of 1953 C/O Richard T. Fleming, Treasurer, 201 Linden Ponds Way, # 601, Hingham, MA 02043-8718.