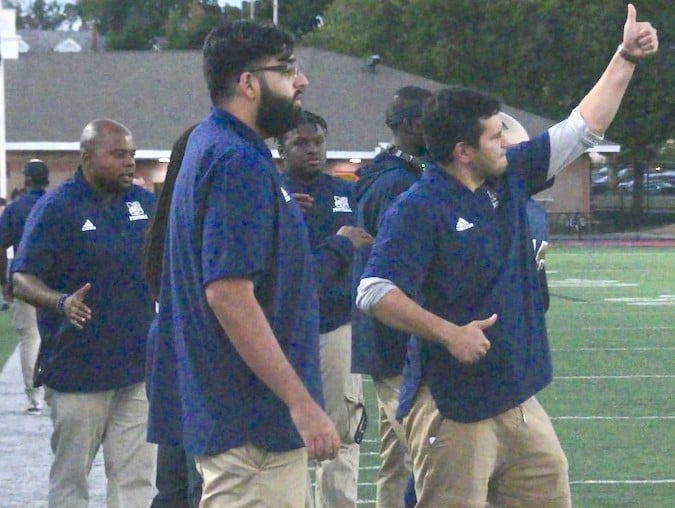 During last year's football season, there was a new face on the sideline and one that was quite recognizable. Serving as an assistant coach was Malden High School (MHS) alumnus and first-year teacher Witche Exilhomme. The reason he was back down on Macdonald Stadium's field last year would have big implications for this year. In the offseason, now former Head Coach Steve Freker would step down from his head football coaching duties and pass them on to Exilhomme.
  Before coming back home to Malden, Exilhomme was the Defensive Coordinator at Milford Academy, which is one of the top prep schools in the nation. Last year during remote learning, Exilhomme had become one of the new teachers at MHS and was teaching History.
  According to Malden High School's Athletic Director, Charlie Conefrey, a committee was formed to interview candidates for the football position and four candidates were finalists. One of the qualities that stood out to Conefrey about Exilhomme was "he is a Malden High School graduate and he played football for the program." He said that "it is always good to have someone return to help out who is familiar with his surroundings, so we are really excited to have him as head coach."
  Freker expressed tons of appreciation for Exilhomme and his new achievement. "I was thrilled when Malden High selected Coach Exilhomme" because "I was hoping we got the right coach to lead the team forward and someone who had the right qualities we were seeking."
  "Coach Exilhomme was the right guy we needed to lead the program and help our student athletes," Coach Freker added. "[Coach Exilhomme] has an incredible amount of football knowledge, and most importantly, knowledge of dealing with life issues and with young student athletes who need direction."
  Coach Freker said, "He is an excellent role model and has so much to share from his own life experiences that will be so valuable for these players as he coaches them this year and in the future." He continued on, saying that Coach Exilhomme "developed a good relationship with the students and fellow coaches which will help the team succeed."
  Commenting on his own experiences with Malden's football program, Freker said, "It was a big honor to serve as head coach" since "I played for Malden High when I was in high school" and "I was a assistant coach for Malden High football for 19 years in the 80s and 90s." Freker expressed how he has been "able to come back to coach baseball and football for the past several years and I was happy that I was able to see some of the student-athletes develop to become good citizens of the school."
  One of Freker's new responsibilities still has him contributing to the game in some form. He explained how he is assisting Athletic Director Conefrey at home games for football and other sports as a site coordinator to help with game management at the various fall events and venues.
  Coach Exilhomme was upfront and passionate about his feelings about becoming the Head Coach and what he plans to do with the program going forward. He explained how he felt "extremely proud; it is something I am very excited about, and I am excited about the future that we have as a coaching staff for the program. It is going to be very fun for the next few years."
  Coach Exilhomme said he is pleased with his coaching staff's commitment to help the team "compete to be the top team in the state, and we are ready to put in the work that is required on and off the field to reach that."
  "Our coaching staff wants to teach kids how to be football players and that football does not stop on the field," since "it continues to the classroom and when they become grown men and then if they want to start a family." Exilhomme further stated that "we do not want it to just be on the field, but how the kids act in and out of school."
  Talking more about his student-athletes, Exilhomme said, "I am excited about the number of players we have because last year we finished with around 30 players in the middle of one of the toughest parts of the pandemic; this year we have had about 80 kids sign up … This is a team that has been together for only around 10 weeks and not 10 months." And so "putting things together like our weight lifting program or installing new plays and teaching kids what goes into a football team has been a little difficult, but I am proud of our players, especially our younger players since they are stepping up and competing with everyone."
  "We are excited for next year because these young guys will have more experience and they can come back to the field a lot stronger and faster than they did their first season," the new coach said.
  The goals Exilhomme said he wants for his team and the coaching staff are the things you want to hear from someone who is a new head coach. "I am bringing in a culture shift to change the mindsets that we have" as "winning will be a mindset here, hard work will be a mindset here, discipline will be a mindset here," said Exilhomme. Our goal this season is to get better every week; it is to give our young players a lot of experience and knowledge to bring into the offseason."
  The new era of Malden High School Football looks bright with Coach Exilhomme and his staff at the helm. Everybody should be looking forward to Malden and their future.
—The Blue and Gold is the school newspaper of Malden High School