Seniors Bell (35), Joseph (10 pts., 7 blocks), freshman Phejarasai (11) lead Tornados to dominating victory to start the campaign
  Malden High senior captain Justin Bell pumped in a career-high 35 points and fellow senior Jonald Joseph scored 10 points and blocked seven shots to lead the Tornado boys basketball team to a dominating, 76-54 victory in the season opener for both teams Tuesday night at Finn Gym in Malden.
The win was Malden's first on Opening Night since 2016 and was its first over Medford in two seasons.
Malden head coach Don Nally said he and his coaching staff were impressed with the first performance of the season, as they had hammered home the importance of getting off to a good start this season.
"We really wanted to have a positive and exciting start to this season, and we got it," Nally said. "We got contributions from a lot of guys, starting with Justin (Bell) and Jonald (Joseph), but then right down the line with Zeke Noelsaint and Ethan (Phejarasai)."
Nally said Bell, who had the monster scoring night, which included seven "threes," was deserving of such a loud start to the season due to the hard work he has put in this past offseason, coming off an injury that dramatically shortened last year's season for him, personally. See Related Story, this edition.
Also impressive on this night was the contributions of Malden's starting point guard Tuesday, freshman Ethan Phejarasai. The Malden ninth-grader played major minutes and produced equally major results, including 11 points, 7 assists and 2 three-pointers.
Easily the biggest number of the night was "3" as in only three turnovers for the speedy (and shifty) freshman guard.
"We needed to take care of the ball and we really did that with Ethan (Phejerasai) limiting our turnovers," Nally said.
In addition to the scoring prowess of the backcourt duo of Bell and Pherjarasai, the one-two punch of 6-6 Joseph and 6-4 junior Ezechiel Noelsaint under the basket for Malden made it a formidable task for Medford to try and score if they dared venture into the paint.
Joseph was a force with 7 blocked shots and Noelsaint was not far behind with 4 blocks. The fact that neither Malden "big" even sniffed any foul trouble all game is a credit to their athleticism and toughness underneath.
"Zeke (Noelsaint) and Jonald (Joseph) were awesome underneath," Nally said. "They never let Medford establish any type of consistency or pressure under the basket. We will need that type of presence every night in the GBL (Greater Boston League)."
Malden came right out of the gate meaning business Tuesday night, running out to leads of 9-2, 11-4 and 15-5, largely due to Bell's early, red-hot shooting, running out to a 19-7 lead after the first quarter.
In the second quarter, Phejarasai also heated up, burying a "three" when Medford began to launch a mild comeback, cutting the lead to 9 at 28-19. Phejarasai then sunk a "three" from the left elbow to stake Malden to 31-19 and Medford never got any closer.
Bell hit two more threes in the second quarter (4-of-7 in the half), to stake Malden to a 39-20 lead at the halftime break. It was more of the same in the third quarter, as Phejarasai hit another three-pointer to extend the Malden lead even further.
Nally was able to empty the bench with about 5 minutes left to play as the reserves got some liberal game action.
****
Schedule gets very challenging, very quickly for Malden
With the big win in the books for Malden over Medford, the team and coaches now turn their attention to the next game and upcoming portion of the schedule.
  For the Tornados, it gets very challenging, VERY quickly.
  Last night, after press deadline, Malden hit the road to take on host Lynn English for a 7:00 tipoff. Lynn English is the preseason co-favorite, along with Everett.
  Everett actually comes the game after that, with the Crimson Tide, OT winners over Revere Tuesday, coming to Malden this coming Tuesday, December 20 (6:00 p.m. start). After that? A non-league game on the road against Woburn (Thursday, December 22, 7:00 p.m.).
  Woburn is the Middlesex League favorite this season.
   ****
NOTHING BUT NET — With 18 Opening Nights now under his belt, Malden Head coach Don Nally is the longest-serving Malden High boys basketball boss in Tornado history…  Besides the starters, Justin Bell and Ethan Phejarasai, a third starting guard, and a fellow senior also contributed valuable minutes to the win—Peyton Carron and Aiden Tham…. Junior 6-4 forward Zeke Noelsaint was Malden's best player in its set of three preseason scrimmages and he was right at that level Tuesday night, dominating at times both under the basket and defending close to the three-point line. Noelsaint is also a talented baseball player and will be a junior captain in the spring, his third year in the starting lineup for the Varsity team…. Malden will once again be competing in the Tewksbury Christmas Tournament this year. playing Burlington in the Semifinals on Tuesday, December 27 (5:00 p.m. start. Consolation and Championship games are the next night, Wednesday, December 28… Malden christened a brand-new scorer's table the same night it welcomed a new scoreboard operator to the list, Eddie Farrell. The two "old" fixtures of John Finn on the 30-second clock and PA Announcer and former Malden head boys' basketball coach Peter Carroll returned for their 18th season along with Coach Nally. Finn has been for more than 18 years, though, we believe. Coach Carroll preceded Coach Nally at the helm for Malden High from 1999-2003.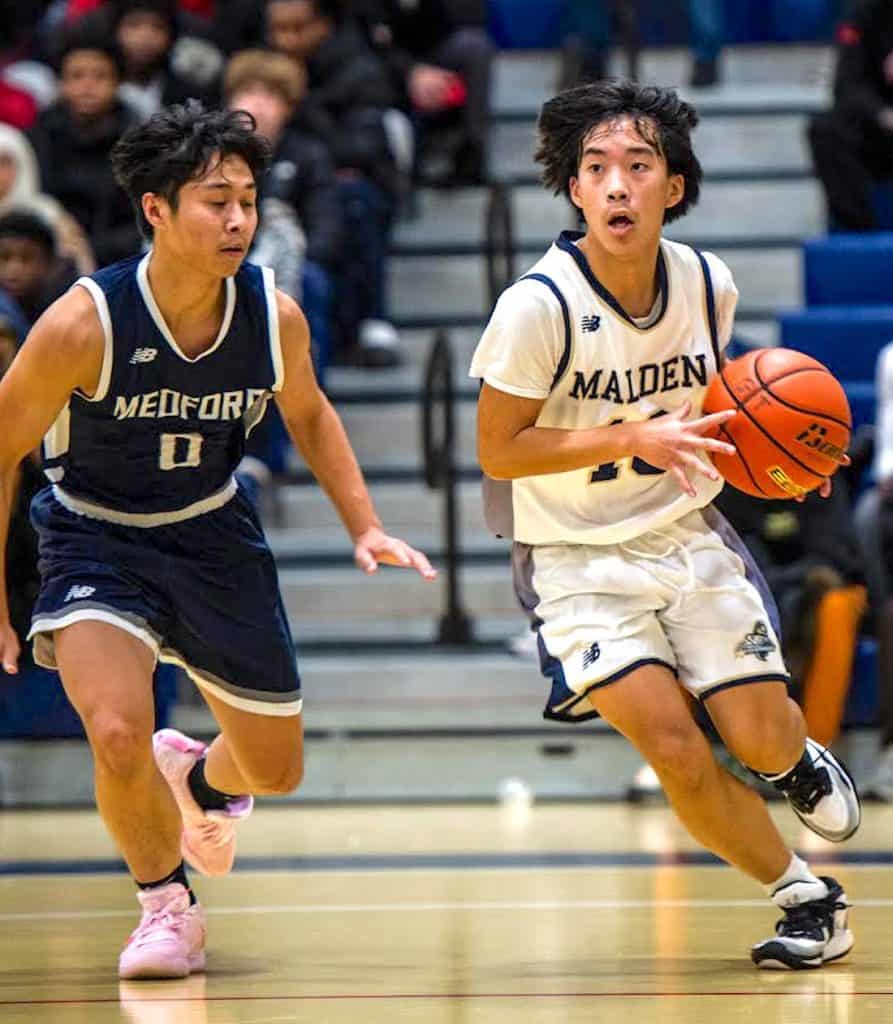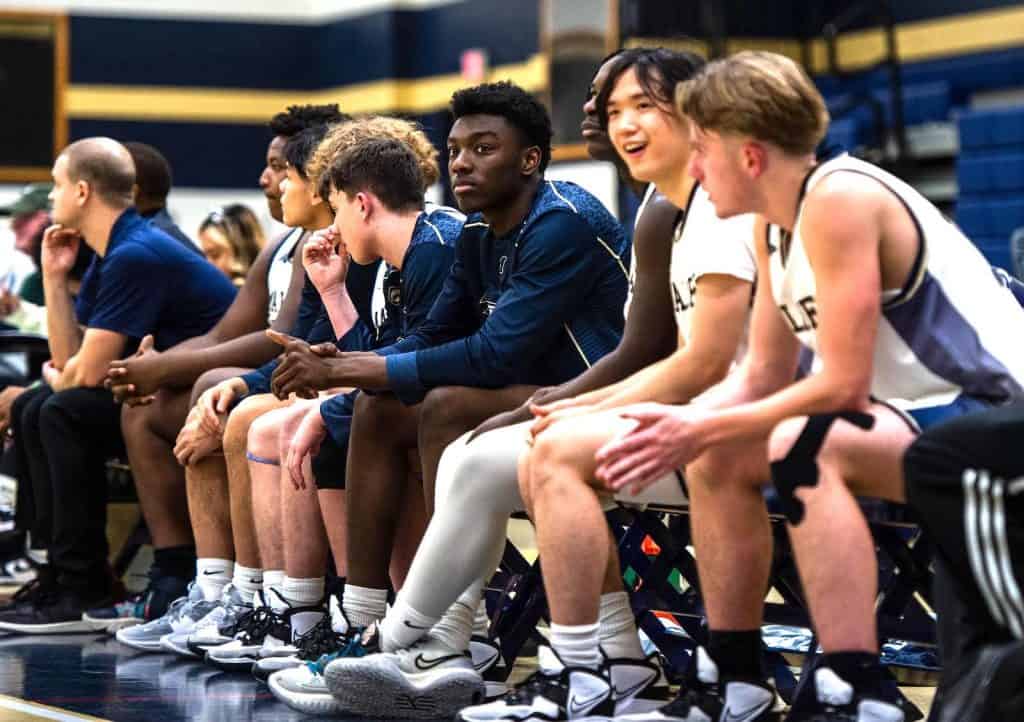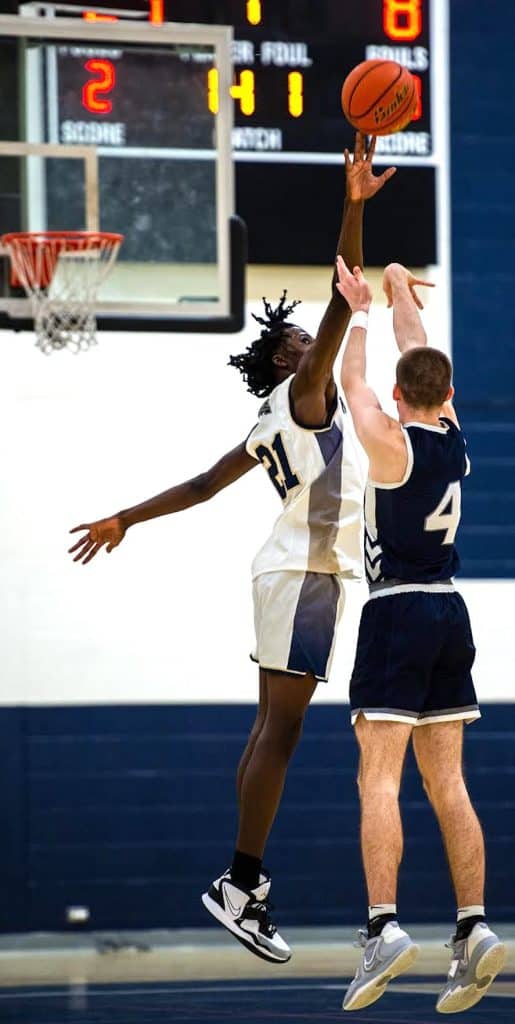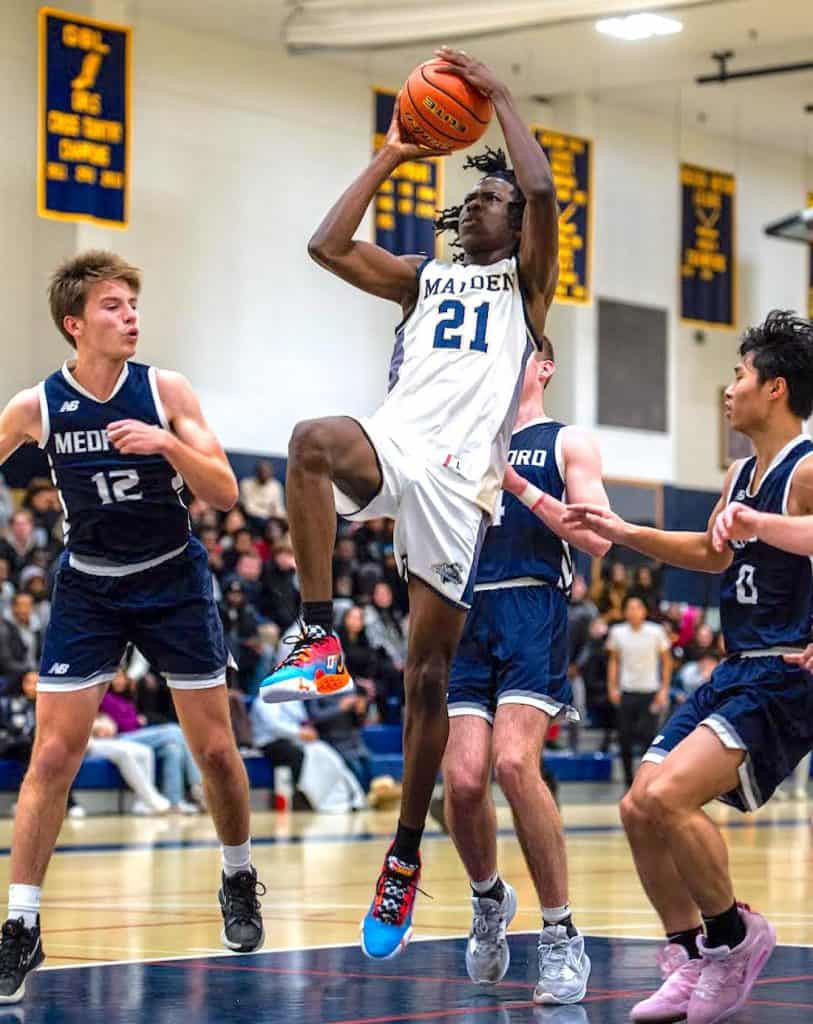 Malden High senior Justin Bell drops career-high 35 points in victory over Medford
  A running cliche in sports — and in life— is this: "If it was easy… everyone would do it!"
   After watching Malden High senior 2-guard Justin Bell torch Medford High for a career-high 35 points Tuesday night in the Golden Tornado season opener, you might wonder why every basketball player on the planet doesn't shoot "Threes" every time down the court.
   The kid made it look THAT easy!
   A whopping SEVEN three-pointers speaks volumes about the big night, a 76-54 win for Malden (1-0, 1-0 Greater Boston League) over visiting Medford.
   Bell, who was one of the millions of present-day high school seniors whose career basically got kidnapped the past two seasons due to COVID-19, dropped the big point number to help Malden to its biggest opening night win in years, first season opener victory since 2016.
     Malden High head coach Don Nally, who embarked on his 18th season at courtside, said it was great to see Bell, a 6-0 shooting guard, have a breakout, career game on the first night of his senior season.
    "(Justin) has had his ups and downs, like probably every kid who has gone through these COVID years," Coach Nally said, "So it was so impressive to see him have a game like that."
    Nally said it was a big credit to Bell to open up his last year as a Tornado like he did Tuesday, since the senior guard made a determined effort to come into this year in great physical shape and looking to lead.
    "He (Bell) has been our best player since his sophomore season, but lost all that time in 2020 to work on his skills in the offseason due to the pandemic," Nally said. "Then last year, he got injured in the third week of the season and never was healthy enough to come back.
     "That really affected our season, obviously," Nally recalled, as his team went through a painful, one-win campaign. "(Bell) was a junior captain and was our first scoring option every time down the court."
      This season was different. Bell was on a personal mission. He ramped up the offseason workouts, dropped close to 20 pounds and came into this winter season leaner, quicker with his feet and with an enhanced ability to get up to the basket.
    "I wanted us to come back this year and have a great season my senior year," said Bell, who buried seven three-pointers among his career-high 35 points. "This is our last chance as seniors to win the GBL and make the state tournament. I am ready and so is our team."
    Judging from the loud start to the season in Tuesday's impressive win, no one's going to argue that one.