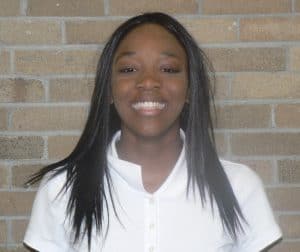 One of 32 American students recognized for academic achievement, leadership and commitment to service
Mystic Valley Regional Charter School announced that Tania N. Fabo, Class of 2014, is among only 32 college students across the nation awarded a 2018 Rhodes Scholarship. Fabo credits Mystic Valley with preparing her for academic achievement.
"I am beyond stunned and honored to be one of the Rhodes Scholars this year. This has been the culmination of many years of support, including the incredible teachers I had during my time at Mystic Valley, who worked to make each classroom I entered a fun and lively educational experience. They helped prepare me to succeed in Harvard's rigorous academic environment and achieve this incredible honor," said Fabo.
According to Alex Dan, Mystic Valley's interim director, Fabo's achievements come as no surprise to the school's faculty and staff: "Tania was active, motivated and engaged throughout her time at Mystic Valley. She was recognized as a natural leader with a keen intellect and a commitment to her peers and the broader community."
At Mystic Valley, Fabo was involved in numerous extracurricular activities. A standout on the school's basketball and track teams, Fabo was also a leader of and delegate to the Model United Nations, co-president of the Latin Club and the recipient of the prestigious International Baccalaureate diploma, the culmination of two years of college-level coursework while still in high school at Mystic Valley.
At only seven years of age, Fabo and her parents, natives of Cameroon, moved to the United States from Germany. Despite starting school with only basic English language skills, Fabo quickly excelled.
According to Allison Haas, college counselor at Mystic Valley, Fabo is "top-notch" as a student, friend and community member. Haas said, "In addition to her academic prowess, I was always impressed by Tania's dedication to maintaining a healthy balance between school, friends and activities. Her maturity and sense of humor made her a pleasure to be around, and she was admired by her peers and Mystic Valley faculty alike."
Through the Rhodes Scholarship, Fabo, now a senior at Harvard University studying human development and regenerative biology, will have the opportunity to study at Oxford University in England. "During my two years at Oxford, I plan to do a one-year oncology research MSc [Master of Science], followed by a 1-year MSc in Medical Anthropology. My interests are in mobilizing science, particularly cancer research, as a tool to address the health disparities facing the Black community," said Fabo.
Similarly to her daughter, Anastasie Kweudjeu-Fabo connects the dots back to Mystic Valley and acknowledges the school's many contributions to her daughter's success: "Tania would not have made this accomplishment without the support of Mystic Valley Regional Charter School."
About Mystic Valley Regional Charter School
Founded in 1998, Mystic Valley is a public charter school located in Malden, Mass. The school serves more than 1,600 students in grades K-12 on three campuses in Malden: Kindergarten at 576 Eastern Ave., the lower school (1-8) at 770 Salem St. and the high school (9-12) at 306 Highland Ave. The school draws students primarily from the communities of Everett, Malden, Medford, Melrose, Stoneham and Wakefield. Mystic Valley has adopted an extended day and extended school year model in which classes go from 8:00 to 3:30 each day of a 200-day school year.