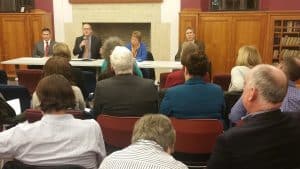 Dozens of local residents attended State Senator Jason Lewis's latest Community Conversation in Winchester on mental health & wellness in our schools and communities. Attendees took part in another very engaging conversation.
State Representative Michael Day emphasized the prevalence of mental health & wellness challenges across families and communities, along with the importance of parents raising these vital issues to reduce stigma and strengthen communication with kids. Commissioner Joan Mikula of the Massachusetts Department of Mental Health discussed the breadth of mental health challenges across age groups from school-aged to senior citizens, and priorities to help address these challenges. Principal Dennis Mahoney of Winchester High School highlighted alarming findings in the Youth Risk Behaviors Survey, the 24-hour-a-day pressures for youths and approaches and strategies for addressing them. And Dr. Michael Miovic, Vice Chair of Psychiatry at Lahey Hospital and Medical Center, offered invaluable perspective as a care provider, giving a look at the challenges and trends he's seeing on the ground and what he sees as working toward progress in wellness.
Senator Lewis thanks the Winchester Public Library for hosting the forum, as well as Representative Day, State Senator Pat Jehlen, Winchester Coalition for a Safer Community, and the National Alliance on Mental Illness (NAMI) of Massachusetts for cosponsoring the forum. Senator Lewis also greatly thanks the expert panelists and all who attended, especially those who brought thoughtful and illuminating questions for the panel.