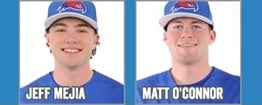 The North Shore Navigators will welcome a pair of Futures Collegiate Baseball League veterans back to the team in the summer of 2018, as general manager Bill Terlecky announced the signings of UMass Lowell freshman outfielder Jeff Mejia and sophomore pitcher Matt O'Connor on Monday.
"There is no substitute for experience on a summer collegiate baseball roster, so we're excited to have both Jeff and Matt returning to the team after strong showings last summer," Terlecky said. "I know they will do a great job helping to lead the group we're putting together, which includes several younger players."
Mejia was the lone rising freshman position player on North Shore's roster at the end of last summer as he joined the club after graduating from North Reading High School. The former Cape Ann League All-Star played in 44 of the Navs' 53 games across all three outfield positions, hitting .248 while finishing second on the team with 25 walks. He recorded six extra-base hits, 11 RBI, and was one of four Navs to reach base in 10 consecutive games at any point in 2017.
O'Connor made seven of his nine appearances out of the North Shore rotation last summer and was one of three pitchers on the team to record more than two wins, earning his three in succession from June 23 to July 10. Before making his Navs debut, the Malden native pitched one scoreless inning and recorded a strikeout during his freshman season with the River Hawks. He also captained the basketball team and was a two-sport Commonwealth Athletic Conference All-Star during his high school career at Mystic Valley Regional Charter School.
UMass Lowell has been the collegiate home of eight players in North Shore's franchise history, but Mejia and O'Connor join three-year pitcher Steve Xirinachs as the only River Hawks to spend more than one summer in Lynn during their careers at the school.
The Navigators will be announcing more additions to the roster in the coming weeks and months in preparation for the 2018 season, which begins on May 31.