Will request rules for videotaping of meetings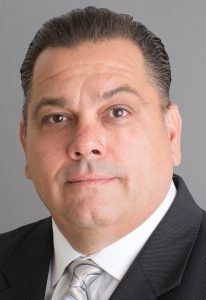 Four police officers lined the walls of the City Council Chambers on Monday night (May 23) as Council President Gerry Visconti laid down the law about recent outbursts in the City Council Chambers and the rules moving forward.
During a May 16 Committee of the Whole meeting, there were numerous outbursts from attendees in protest of a proposed life sciences building at the new Suffolk Downs development.
"Before we begin, what I want to do is go over some of the open meeting laws that we are going to abide by moving forward for video recording rules as well as addressing the City Council and the audience behavior," said Visconti at the top of Monday's meeting. "Due to some of the behavior that happened at our last meeting, I think it's necessary."
Moving forward, anyone who wishes to video record a City Council meeting will have to provide their name and address for the record to the council from the public speaking podium. "You would have to indicate that you are using a device, and then there are some reasonable requirements not to interfere with the meeting," said Visconti. "If you do not notify the chair that you are recording, then you shall not be able to record the meeting, and in doing so, if you refuse, you are going to be asked to leave."
Video recordings will also not be allowed at the podium, and certain seats are set aside that are dedicated to people recording the meeting.
"The notification serves as a clear warning; this is the warning, okay," said Visconti. "If these rules are broken, you are just going to be asked to remove yourself because you are being disruptive, and if you refuse, you will be escorted by one of the police officers."
In order to address the council, Visconti said, speakers will need to provide their name and address for the record. "If the person refuses to provide their information, then they are not granted permission to address the City Council," he said. "If the person attempts to speak without permission, then that is also a direct disruption of the proceedings, and you will be asked to leave."
If people refuse to remain silent during the meeting, Visconti said, that would also be a direct disruption of the meeting.
Two people asked to videotape Monday's meeting, and neither were too happy about the new rules. "I feel like I am in communist China, but thank you," said East Boston resident Dee Barrasso, who goes by the nom de video "Stiletto Dee."
Revere resident Wayne Rose said he would be recording from a seat not set aside for video recording, but Visconti said he would have to sit in one of the assigned seats if he wishes to tape the meeting. "What is this, communist China? Are you going to tell us where to sit?" Rose said. "This is not right; so we can't pick and choose where we want to sit?"