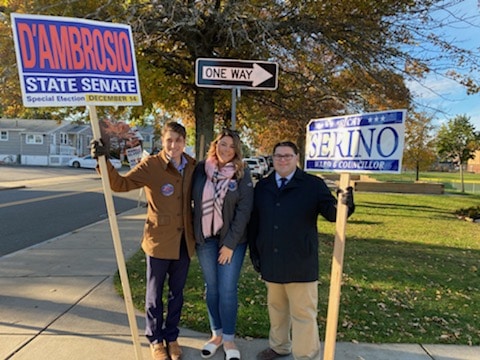 The City Council and School Committee will both look a little different next year, as voters on Tuesday elected four new councillors and two new School Committee members.
  On the council side, two incumbents were voted out of office, with current City Council President Anthony Zambuto the odd man out in a six-person race for the five at-large seats. In Ward 5, longtime Councillor John Powers was unseated by Al Fiore, a former council president. The big winner of the night was former Mayor Dan Rizzo, who topped the ballot for the at-large race, where he will be joined by incumbents Steven Morabito, Gerry Visconti and George Rotondo, as well as city Veterans Services Director Marc Silvestri. In the other contested ward races, incumbent Ward 2 Councillor Ira Novoselsky held off a challenge from Manuel Carrero, Jr., and Anthony Cogliandro defeated Al Terminiello, Jr. to replace Arthur Guinasso in Ward 3. Ward 1 Councillor Joanne McKenna, Ward 4 Councillor Patrick Keefe and Ward 6 Councillor Richard Serino all ran unopposed and were returned to office.
  In a tight School Committee race, four incumbents were returned to office while incumbent Frederick Sannella came up short in his reelection bid. Carol Tye topped the ticket and was joined in reelection by Michael Ferrante, Susan Gravellese and Stacey Bronsdon-Rizzo. The newly elected members to the School Committee were John Kingston and Aisha Milbury-Ellis.
  "The tide turned in Ward 5," said Fiore. While turnout was fairly low across most of the city, Ward 5 was the hotspot for voters, with Fiore outpacing Powers 912-677.
  "We worked hard and I think people were tired of all the out-of-town developers running our city, and they are looking for someone who is going to stand by them and not the political insiders," said Fiore.
  Fiore thanked the voters in the ward and said he is ready to hit the ground running with the other newly elected City Councillors. "We hit the ground running – it's nothing new to us, having served as a councillor-at-large for eight years," he said.
  In Ward 2, Novoselsky said he is looking forward to continuing to serve in a city that is growing and changing. "I just look forward to doing the best for my ward and to keep moving forward," said Novoselsky.
  Novoselsky said he would have liked to see greater turnout for the election. In Ward 2, only 585 of about 4,200 registered voters made it to the polls, he said.
  In Ward 3, Cogliandro said he is thankful for the support he got from friends, family and voters. "There are a lot of issues going on in the neighborhoods, just small things like improving the quality of life for people," he said. "I have some great ideas for Jacobs Park, which is on Hastings Ave. I just want to bring some new things to the ward."
  Rizzo said he is happy to see tremendous support from voters giving him the ability to serve the city again. As in the past, Rizzo said, he will be keeping a close eye on the municipal budget. "In my opinion, the budget has just run way out of control; I definitely want to dig into the budget," said Rizzo. "When I left [the Mayor's Office] the budget was $167 million, and the last I checked, it was up to $241 million." Rizzo said he isn't sure what the city is getting with the additional $74 million.
  He said there are also serious issues to address in Revere regarding the building of new schools and issues with zoning. "It's no secret to anyone how I feel about zoning and how I feel we should stay in conformance with zoning," he said. "I think we are giving away too many special permits and variances."
  As a new councillor, Silvestri said, he's looking to bring unity to the council and the city. "One of the first things we need to tackle as a council is that we all need to bring the city together," said Silvestri. "We've been divided for a while, and now is the time we need to work together to make Revere the best possible place for everyone who calls it home."
  On the School Committee, new member Kingston trailed only longtime member Tye in the voting. "I'm very much looking forward to being part of the School Committee and getting a new high school built for the residents and the students," said Kingston. "That's the thing I was most interested in running for. I'm very happy that I came in second, and I'm looking forward to getting to work as soon as possible."
  Milbury-Ellis, the other new member of the School Committee, said she is grateful for the opportunity to positively influence the shaping of the education system for Revere's children. "It is my intent that through that process of advocating for our kids and educating and informing the parents and residents, that I am also able to encourage and inspire parents, caregivers and residents alike to become more involved in our children's education and in our community in general," she said. "I envision an overall shift, an influx of positivity, accountability and productive conversations. I imagine a system where the students feel safe and are well prepared for their next steps and where teachers are appreciated and supported with high morale and job satisfaction."