Town Meeting supports the sale of recreational marijuana in Saugus, overturning a 2018 vote that rejected pot money
The Annual Town Meeting voted unanimously in 2018 for an article that banned the operation of any marijuana retail establishments in town. But much has changed over the last four years – particularly a decline in town revenue in the midst of two-plus years of coping with the COVID-19 pandemic – which contributed to this week's overwhelming approval of an article that allows for the recreational sale of marijuana.
"We should reap the benefits just like any other community," Selectman Jeffrey Cicolini said, imploring Town Meeting members to enable Saugus to join the growing list of communities in Massachusetts that are tapping into recreational marijuana sales as a lucrative revenue stream.
Cicolini noted that the Saugus Public Schools is in need of more funds as it attempts to achieve a five-year goal of rising from the bottom 10 percent in the state in academic performance to the top 10 percent. The town will also need to figure out a way to fund its share – estimated to be as high as $41 million over the next 30 years – of the proposed new $317 million Northeast Metro Tech School.
"We have a lot of needs in this community. We have a lot of big-ticket items coming up," Cicolini said.
"We have a revenue problem. We have to get creative and find new alternatives," he said.
During Monday's fourth and final session of this year's Annual Town Meeting, members voted 31-13 (with five members absent) for Article 36 – an amendment to the town's Zoning Bylaws to allow for marijuana establishments in town.
Cogliano cites "deplorable" parks and playgrounds
Board of Selectmen Chair Anthony Cogliano, who authored the article, lobbied for support with a video he made which documented "deplorable conditions" at Saugus parks, including Golden Hills Park, Saugus Elks Park, Oaklandvale Park, Lynnhurst Park, Stocker Park, Anna Parker Playground, Waybright Elementary School and Stackpole Field.
"We should not have our parks and playgrounds that our children play on be looking like this," Cogliano said.
Conditions at several of these parks violated local safety codes in addition to being unkempt and in need of repairs. It's a recipe for disaster. There's no need of this," Cogliano said.
Cogliano acknowledged that the town doesn't have the money or manpower to address the abundance of deficiencies at the parks. And any money generated by recreational marijuana sales would go into the general fund. Furthermore, it's the prerogative of the town manager and his staff to determine how to address the widespread park deficiencies. Cogliano cited the substandard parks as an example of unmet town needs that could be addressed with the revenue generated from recreational marijuana sales.
Provisions to protect the public
The following conditions apply for marijuana establishments within the Business Highway Sustainable Development Zoning District (BHSD). The amended version of the approved regulations state that marijuana establishments:
May not be located within 1,000 feet of a pre-existing public or private school providing education in kindergarten or any grades 1 through 12. The buffer zone distance shall be measured along the shortest publicly accessible pedestrian travel path from the Marijuana Establishment entrance to the school entrance.
May not be located within 1,000 feet of a park or playground. The buffer zone distance shall be measured along the shortest publicly accessible pedestrian travel path from the Marijuana Establishment entrance to the park or playground.
May not be located within 1,000 feet of each other.
May not be located in buildings that contain any residential units, including transitional housing, such as hotels, motels and dormitories.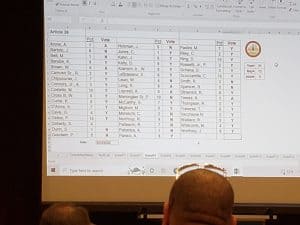 Opponents make their case
About a third of the members expressed opposition to allowing recreational pot shops to locate in Saugus. Those voting against Article 36 include Mark J. Bell, Susan C. Dunn and Susan Paloma of Precinct 1; Christine M. Moreschi of Precinct 2; Rick A. Smith of Precinct 3; William Leuci and Robert C. Northrup of Precinct 4; Pamela J. Goodwin, Jaclyn A. Hickman and Brenton H. Spencer of Precinct 5; Jeanie Bartolo of Precinct 6; Robert A. Palleschi of Precinct 7; and Peter Manoogian, Sr. of Precinct 10.
"I'm not really buying it," Precinct 7 Town Meeting Member Robert A. Palleschi said, disputing the argument that the recreational pot sales would be in the community's best interests.
"What does it really add to the community … We shouldn't have it because we don't need it and we don't want it," he said.
Precinct 10 Town Meeting Member Peter Manoogian offered an amendment to refer the article to the Board of Selectmen so they could put the measure on the ballot for residents to vote on. Manoogian cited statistics showing that seven of the town's 10 precincts voted against the legalization of marijuana back in November of 2016 and that the town voted 7,652 to 6,710 – 53 percent – against the measure.
Meanwhile, voters statewide approved Question 4 by a 54 percent margin, allowing the possession, use, distribution and cultivation of limited amounts of marijuana by persons age 21 and older.
Manoogian noted that two precincts – 9 (318 more opposed) and 7 (220 more opposed) – have the greatest margin of opposition to Question 4 and happened to be located near Route 1. That would be the location set aside for future marijuana establishments. "I think the numbers are compelling, particularly in those precincts surrounding Route 1," Manoogian said.
"I see this as an issue of democracy," Manoogian said.
"Refer this back to the entire Board of Selectmen to place on the ballot," he said.
But School Committee Member John Hatch took umbrage to Manoogian's "democracy" argument. "I disagree with the speaker," Hatch said.
"We have an elected Town Meeting. This is a democracy," he said.
He noted "the structural deficit" in the town's fiscal situation, which he said has made it difficult for the School Department to put its budget together this year.
Board of Selectmen Vice-Chair Debra Panetta said she is sensitive to the public vote that was taken in 2016, showing that 53 percent of Saugus residents opposed the legalization of marijuana. "All in all, it comes down to what the residents want," Panetta said.
"I don't see an issue with putting this on the ballot," she said.
Manoogian's motion failed 16 to 28.
Panetta pointed out that the neighboring communities of Lynn, Malden and Melrose already have marijuana facilities in their communities. Yet, several other communities located near Saugus – Lynnfield, Revere and Wakefield – have not adopted regulations allowing for the sale of recreational marijuana.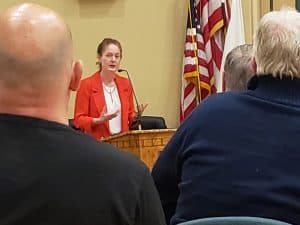 Sacrificing Celtics playoff tickets
Precinct 8 Town Meeting Member William E. Cross III, who is a Saugus Fire Department captain in the Fire Prevention/Investigation Unit, said he received calls from residents in his precincts requesting that he attend Monday night's session because of the vote on Article 36. "I gave up my Celtics tickets to be here tonight," Cross told his colleagues. He spoke in opposition to the Manoogian amendment and in support of Article 36.
Cross said he voted against legalizing marijuana in 2016, but has since changed his mind. "People didn't know what they were voting on," Cross said.
Precinct 2 Town Meeting Member Christopher P. Riley said he didn't regard the 2016 vote as the wrong vote back then. "It was a different time. Recreational marijuana was not proven," Riley said.
"This is here, whether we like it or not," Riley said, adding that he thinks it is an opportunity to develop more revenue for the town.
Cogliano said he is convinced that the marijuana facilities he's reviewed "are extremely professionally run."
Cogliano introduced Attorney Jonathan Capano, who has been working with the cannabis industry since 2017. He cited statistics which show lucrative benefits reaped by communities that have accepted the sale of recreational marijuana. For instance, between December 2018 and May 2019, adult use marijuana brought in $2.9 million in local tax revenue. In the following fiscal year which ended June 2020, marijuana sales generated $14.4 million for cities and towns. In fiscal year 2021, the local option brought in $31.3 million. Between May 9 and May 15, recreational marijuana sales generated $27.2 million. Since the legalization of marijuana in 2018, the industry has surpassed $3 billion in sales.
With Saugus having 12 liquor licenses, the community would qualify for about three dispensaries, according to Capano.
Saugus Public Schools Superintendent Erin McMahon shared her concerns about the potential impact of marijuana establishments on Route 1. During her time as a superintendent of Denver Public Schools in Colorado, she observed a 5 to 10 percent increase in students skipping or being absent from classes in 2012. McMahon asked the Town Meeting to consider increasing the allowable distance between the establishments and the schools. Article 36 was amended to accommodate the superintendent's request, as the minimum distance was increased from 500 feet to 1,000 feet.