U.S. Marine veteran Michael Arsenault knows it will be a moving experience when he returns to Washington, D.C., later this month to view the Vietnam Veterans Memorial again. "When you see the names of men you were with when they died, it gets emotional," the 74-year-old Saugus resident said in an interview this week as he sat at a table at Saugus VFW Post 2346.
  "I've been there before; it has a personal impact and it's something worth revisiting. I was with the third Battalion, third Marines. We lost over 100 guys – seven of them who I knew. I have the tracings of seven names on the wall, and I got to lay a wreath on the wall the last time I was down there," he said.
  Arsenault, a Vietnam veteran E-4 corporal, was among a group of 40 Vietnam Era Veterans from Saugus, Wakefield and Melrose who enjoyed a "Roll to Washington 2022" orientation breakfast at the VFW Post on Tuesday (Aug. 30). They will board a bus early on Sept. 11 and depart on a five-day, four-night coach bus trip to the nation's capital to see and feel "The Wall."
  The trip will also include wreath-laying ceremonies at the Vietnam Veterans Memorial and at the Tomb of Unknown Soldier at Arlington National Cemetery and visits at various memorial sites as well as other stops in the D.C. area. All attendees will be staying at Embassy Suites in Vienna, Va.
  Joining Arsenault at the Tuesday morning breakfast was Joe Johnson, 72, of Saugus, a Vietnam Era veteran who served as a Specialist 4 with the U.S. Army. "I was in Washington years ago, but that was before they built 'The Wall.' So, I'm looking forward to going down to see it," Johnson said in an interview.
  "Just being with guys from the same era is going to be part of the healing process for me. These are guys who served their country during crazy times – during a period when the veterans were not treated well," Johnson said. "I'm thankful to all of the sponsors who made this trip possible. I'm looking to learn a lot and bring back what I learn from this trip."
  Arsenault and Johnson are longtime Saugus residents and friends who grew up in Chelsea, a community that suffered significant tragedy during the Vietnam War. "We had 10 people who died during the Vietnam War," Arsenault said.
A trip to promote self-healing and recognition
  This will be the third "Roll to Washington" trip for Joseph "Dennis" Gould, a Vietnam Era veteran who helped organize the previous two trips and this one.
  "We raised $64,000 out of the goal of $70,000 we had set for ourselves. And if we need the full $70,000, we already have an offer from one of our donors to fill the need," said Gould, who is serving as chair of this year's "roll" committee and will be part of the group that's bound for Washington.
  "This is all about thanking the Vietnam Era veterans for their service and welcoming them home," Gould said.
  "I hope this trip promotes self-healing and gives the veterans some recognition for their service," he said.
  Assisting Gould and also joining him on the trip is retired Saugus Veteran Services Officer Jay Pinette, who retired as an E-9 Master Gunnery Sergeant after his 23 years in the U.S. Marines. "It's great to be able to get this group together for some much-needed recognition," Pinette said.
Thanking the trip's chief supporters
  The Saugus residents who will be participating in the trip include three Purple Heart recipients – Arsenault, U.S. Marine Corps; William Boomhower, U.S. Army; and Lester Markovitz, U.S. Marine Corps. Other Saugus residents who will be participating in the "Roll to Washington" include Joe Dion, U.S. Navy; John Sullivan, U.S. Navy; Bruce Mauch, U.S. Army; Dan Roden, U.S. Army; John Cannon, U.S. Navy; and Don Jacobs, U.S. Army.
  One Vietnam Veteran who won't be joining the trip but was credited with helping to organize it and was a generous donor is VFW Post Commander Jim Marshall. He volunteered for the Seabees after graduating from high school and served from 1969 to 1972 – including eight months in Vietnam, where he was a gunner on an 81 mm Mortar team. "Jim was the biggest individual supporter," Gould said.
  "Our top supporters were WIN Waste Innovations, GLSS [Greater Lynn Senior Services], an anonymous donor who gave $5,000 and VFW Post 2346 – especially Commander Jim Marshall," he said.
  "WIN Waste Innovations employees are passionate about making a difference," said Michelle Nadeau, senior marketing strategist at WIN Waste in Saugus, who attended the Roll to Washington 2022 kickoff event at the VFW in Saugus. "We're proud to partner with Saugus veterans to honor those who have served our country, especially through an event such as the Roll to Washington that brings the community together," she said.
  WIN Community Relations Specialist Jack Walsh joined Nadeau at Tuesday's breakfast.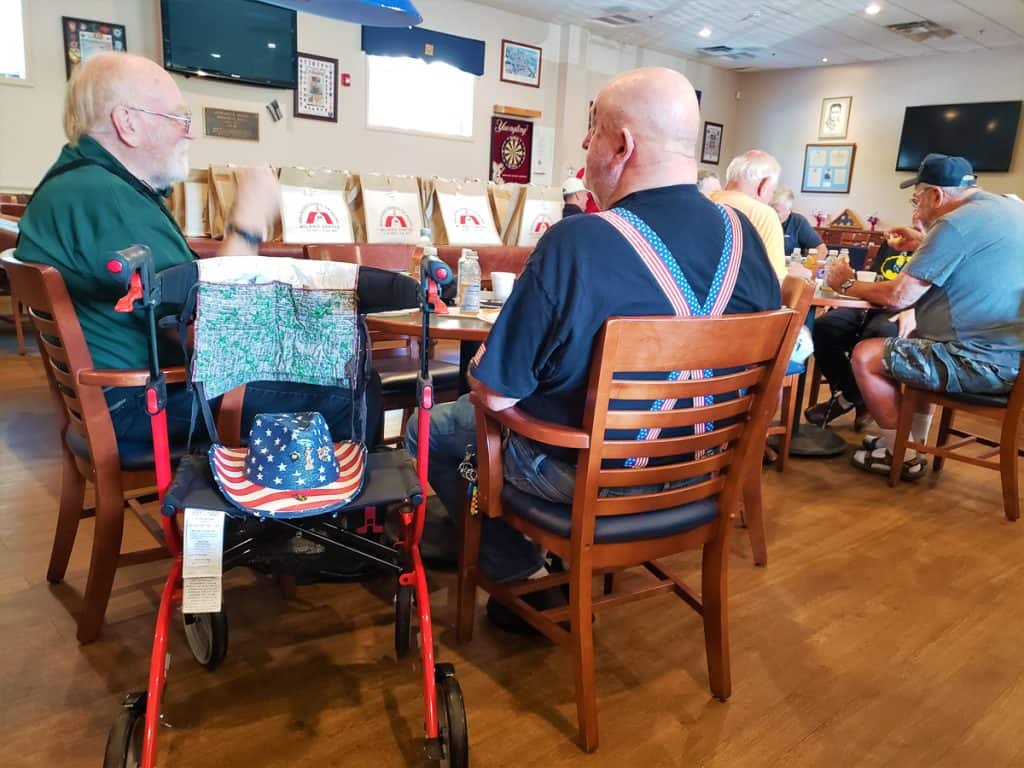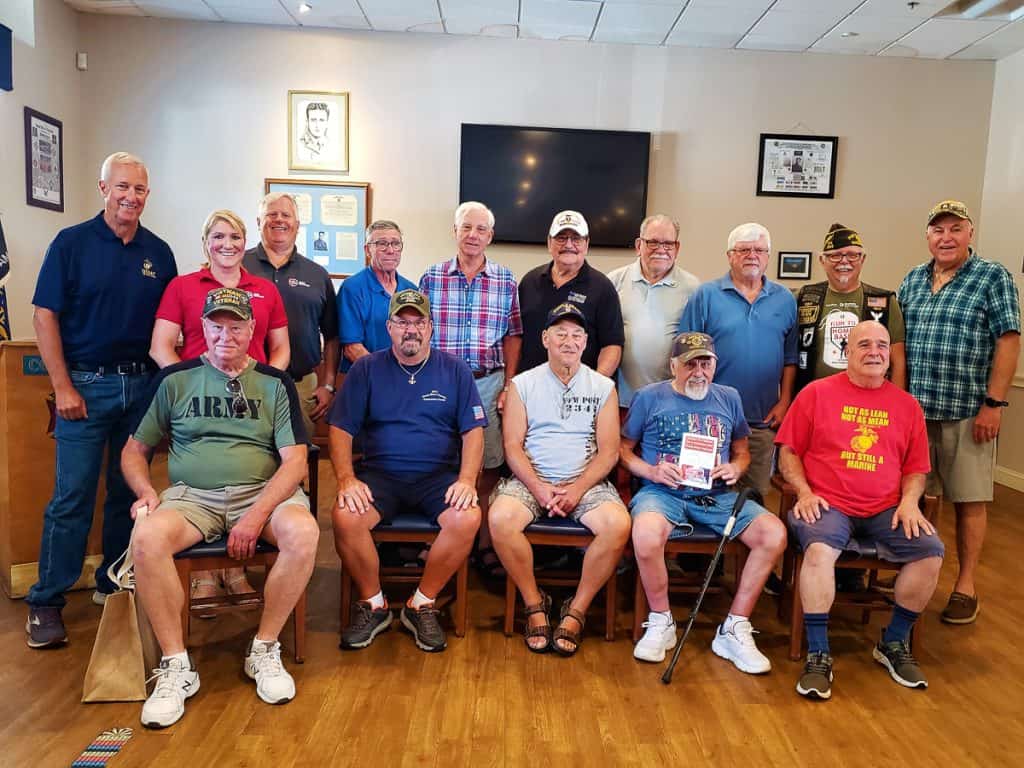 (Saugus Advocate photos by Mark E. Vogler)