What will WIN Waste Innovations offer town?
  The Board of Health's Landfill Subcommittee is set to hear an offer from representatives of WIN Waste Innovations next week on a potential new host agreement related to the operation of its trash-to-energy plant and the adjacent ash landfill on Route 107. WIN, the town's top taxpayer, is expected to pay $3.1 million in taxes this year. But town officials believe the company could be paying even more to Saugus, which is struggling to develop new revenue streams to support the rising costs of local government services.
  WIN Waste officials are scheduled to make a formal presentation to the town on Wednesday, July 27 at 7 p.m. in the second floor auditorium at Saugus Town Hall. It's a meeting that's been in the works for a while, but has been delayed for months because of the Board of Health being shorthanded as well as disruptions related to COVID-19 over the past two and a half years.
  "We look forward to continuing our discussions with the Landfill Committee on ways in which the Town can maximize the benefits of our public-private partnership with Saugus," WIN Waste Innovations Vice President of Environment James Connolly said recently.
  WIN will make its presentation Wednesday night and the public will have a chance to ask questions later, according to Board of Selectmen Chair Anthony Cogliano, who co-chairs the Landfill Subcommittee with Board of Health Chair William Heffernan. No vote will be taken on Wednesday night. Cogliano says the Landfill Subcommittee will hold a meeting on another night to make a vote, which would wind up being a recommendation to the full Board of Health to consider.
  The Landfill Subcommittee was created by the Board of Health in late 2020 to promote a better working relationship with WIN (formerly Wheelabrator) on issues related to the incinerator and ash landfill. A main focus of the committee members over the past year has been the development of a new host agreement that addresses a wide range of health, safety, environmental and community issues. It would also include the payment of additional money to the town, which could help fund new projects and services that the town currently can't afford, according to Cogliano. Like a long sought-after third fire station to serve the west side of town, Cogliano said in an interview this week. (See page one story.)
  Saugus, stay tuned.
Back-to-School countdown
  Hey, Saugus kids!
  Enjoy your summer while it lasts. Read a little. Have fun. Relax, because you only have about six more weeks left until it's back-to-school time!
  The 2022-23 School Year Calendar was recently posted on the Saugus Public Schools website. School begins on Aug. 30 for students in grades 1 to 12. Kindergarten and Pre-K classes begin on Aug. 31.
  If you are interested in local places to visit to spice up your summer, go to the Saugus Public Library, the Saugus Iron Works National Historic Site, Breakheart Reservation, the Youth & Recreation Department or the Saugus Senior Center. Collectively, these places offer a lot of summertime options for Saugus residents.
2015 Student Records will be destroyed
  The Cumulative Record Folders for the Saugus High School Graduate Class of 2015 are scheduled for destruction on Aug. 1. Any 2015 Graduate of Saugus High School who wishes to obtain their records before they are destroyed, please email Kim Alba at kalba@saugus.k12.ma.us. The pick-up dates and times will be given to you via email.
We have a winner!
  Congratulations to Debbie Cox for making the right identification in last week's "Guess Who Got Sketched" contest. Debbie was one of several readers answering correctly. But she was the only one to have her name picked in a drawing from the green Boston Red Sox cap.
  Here's the correct answer, offered by the person who goes by the name of The Sketch Artist:
  "Dusty roads, long flights and highways, two parents ventured into unknown lands and a future, seeking a better life.
  "Across the board and in a wide spectrum, they found all they sought!
  "In 2004, Jean- Martin and Linda Kembo left Cameroon Africa with Crystal, their 10-month old baby in order to provide her with a solid school foundation; a chance for Higher Education.
  "In 2022, Crystal Fosung Kembo graduated with the Saugus Class of 2022! Crystal applied herself at every step, achieving accomplishments and graduating a TOP TEN Student! Crystal's been accepted at an Ivy League College. She will be in Brown's University Class of 2026, studying International and Public Affairs. As far as Public Affairs go, Crystal has established quite the resume of achievements!
  "Further reading about Crystal is available in The Saugus Advocate's June 10th edition, on pages 4, 5, 6 article, "Saugus High Graduate Crystal Kembo discusses her scholastic success and her parent's journey from Cameroon to America to obtain higher Education."
  "Crystal credits and acknowledges her parents with great gratitude. She credits her younger sister Saugus High junior, Maeva Atsamo Kembo, with helping her through stressful times with fun & laughter!
  "Thankyou & Congratulations!
  "Yours Truly,
  "The Sketch Artist"
"Shout-outs" to Advocate volunteers
  We didn't receive any nominations from our readers this week for Saugus residents deserving of high praise, so we'll dedicate this week's "shout-outs" to key contributors to The Saugus Advocate who volunteer their time to our readers with special features that make the newspaper more interesting and fun to read:
  Laura Eisener's "Saugus Gardens" is a well-researched and well-written feature of the paper that is particularly beloved by folks who enjoy working in their garden and non-gardeners who appreciate flowers, plants, trees and wildlife they encounter in their travels throughout the town, especially on walks. Laura writes with expertise, drawing on her career experience as a landscape design consultant. She also has a great knack for mixing in fascinating local history about people as well as the flowers, plants and trees she's writing about. She also includes interesting scientific tidbits as well as garden advice to readers. Many times when I'm doing yard work at my house, I'll look at a plant or wildflower and recall what Laura wrote about it.
  The local artist who goes by the name of "The Sketch Artist" adds another dimension to the paper, getting people to recognize and talk about unsung heroes in the community and the outstanding contributions they make to the betterment of Saugus. Most of the sketches created by this artist (who prefers to remain a mystery to most readers) focus on the kind acts and goodness of the subjects which contribute to the betterment of the community. "Guess Who Got Sketched" has indeed developed a following among our readers, especially down at the Saugus Senior Center. Like The Advocate's Trivia Challenge, it entertains people and gives them something to talk about. It's all positive while augmenting our weekly "Shout-Out" feature of "The Sounds of Saugus" column. Certainly, The Sketch Artist's answers are very similar to the impact of "Shout-Outs," which capture the positive aspects of Saugus people.
Want to "Shout-Out" a fellow Saugonian?
  This is an opportunity for our paper's readers to single out – in a brief mention – remarkable acts or achievements by Saugus residents or an act of kindness or a nice gesture. Just send an email (mvoge@comcast.net) with a mention in the subject line of "An Extra Shout-Out." No more than a paragraph; anything longer might lend itself to a story and/or a photo.
Summer Concert Series continues Wednesday
  The National Parks Service and Saugus Public Library are co-sponsoring a free Summer Concert Series that continues next Wednesday (July 27) at 6 p.m. at the Saugus Iron Works National Historic Site (located at 244 Central St. in Saugus). Jump Street will perform Pop, R & B, Blues, Jump and Classic Rock next week in the Wednesday evening series, which will last through Aug. 24.
  Here is the rest of the Summer Concert Series at a glance:
August 3 – Squeeze Box Stompers: Cajun & zydeco.
August 10 – Memorylaners: 50's, 60's & 70's music.
August 17 – Decades of Rock Band: classic rock 70's, 80's & 90's.
August 24 – Marina & Bernardo: acoustic folk.
  Each concert will be held outdoors, weather permitting. (See SaugusPublicLibrary.org for updates/cancellations.) Bring your own chair or blanket. Picnics welcome!
"Zoom" Book Study
  The Rev. John Beach of St. John's Episcopal Church wants to get the word out to Saugonians who might be interested in participating in a new book study, via Zoom videoconferencing. The book is called "The Violence Project: How to Stop a Mass Shooting Epidemic" – by Jillian Peterson, PhD and James Densley, PhD. It's the Winner of the 2022 Minnesota Book Award.
  "Using data from the writers' groundbreaking research on mass shooters, including first-person accounts from the perpetrators themselves, The Violence Project charts new pathways to prevention and innovative ways to stop the social contagion of violence.
  "Frustrated by reactionary policy conversations that never seemed to convert into meaningful action, special investigator and psychologist Jill Peterson and sociologist James Densley built The Violence Project, the first comprehensive database of mass shooters. Their goal was to establish the root causes of mass shootings and figure out how to stop them…"
  "If you ever wondered how can we stop mass shootings, this is the book for you. By mixing compelling first-person interviews with mass shooters and significant data analysis, The Violence Project illustrates the tangible ways we can intervene and prevent a tragedy from occurring. No one is helpless-read this book and help stop violence before it starts."
  Rev. Beach says the book study meets on Wednesday evenings from 7:30-8:30 East Coast Time, from Sept.7 through Oct. 5. For more information, contact The Rev. John Beach at revjbeach@gmail.com.
What's happening at the Saugus Public Library
  For school children looking for interesting projects and programs to participate in this summer, there's plenty to do at the Saugus Public Library. Here are this month's highlights:
  Disney Dance Party at the Saugus Ironworks, Monday, July 25 at 4:30 p.m.with Miss Toniann. Stories and Dancing.Wear your favorite dress up clothes.
  3-D Fish Bowl Crafts, Wednesday, July 27th, from 3:30 to 4:15 p.m. in the Craft Room. Create and decorate your own 3-D fish bowl. Ages 4 and up. Registration required, at the Children's Desk or email nshmueli@noblenet.org.
  Check out the Whalemobile, Thursday, July 28, at the Saugus Ironworks. Four time slots available: 10, 10:30, 11 and 11:30 a.m. Ages 5 and above only. Registration required. Backup location for rain or extreme heat: Saugus YMCA. Check the event calendar the morning of the event for weather updates.
  Coming events:
  Princess Ariel Storytime at the Saugus Ironworks, Wednesday, Aug. 3, from 10 to 11 a.m. Stories, songs and activities with Ariel. All Ages. Registration not required.
  Tie-Dye with Zoe, Thursday Aug. 4, 3:30 to 5 p.m. in the Craft Room. Ages 8 and up. Registration required. Email melton@noblenet.org to register. Please bring one item to tie-dye.
Another scam to beware of
  If you have a loved one you are advocating for who lives in an assisted living facility, a nursing home or even in their own home, here's a scam you might want to be on the lookout for.
  I discovered this new scam only by reviewing my brother Wayne's Medicare Summary Notice. A company based in Coral Gables, Fla. had recently billed Medicare for more than $4,000 for some durable goods, including a knee brace and a back brace. Medicare approved more than $3,000 of the amount and indicated that Wayne may be billed close to $700 later.
  What?! Why is a Florida-based company billing Medicare for goods that Wayne's doctor never ordered? And how is that my brother, who lives in an assisted living home in Southeastern Massachusetts is dealing with a Florida company?
  It's either a billing mistake or a scam or outright fraud, especially if Wayne never received the goods. An attorney friend advised me to check and make sure the package of unnecessary durable goods wasn't stashed in his closet. Unfortunately, it was.
  As I later learned, a telemarketer for a company called POS Med Corp. somehow got a hold of Wayne's cell phone umber and called him. He thought he was talking to somebody from Medicare, who influenced him to order "free" medical devices he didn't need.
  At minimum, this was the kind of misrepresentation and deception that gets written up by the Better Business Bureau. And my attorney friend located one such review for POS Med Corp.
  After about four hours of talking to several Medicare representatives on the phone, I learned that this company did indeed do something improper: they are not supposed to solicit business over the phone when selling durable goods. Medicare told me that's a violation and encouraged me to file a complaint with the Federal Trade Commission.
  Meanwhile, I took the package of unnecessary durable goods to UPS to be shipped back to the company. The task of writing complaints to Medicare and several other agencies remains to be done. My brother's improper Medicare billing will eventually be corrected.
  But I believe this scam is more widespread than people may know and I wanted to share this experience with our readers so other senior citizens don't become victims of this consumer scam directed at elderly people.
Saugus seeks student poll workers
  Town Clerk Ellen Schena is circulating that "Uncle Sam needs you" flyer again, in search of student poll workers.for the town's fall elections.
  "I am looking for 16, 17 & 18 years-old Saugus Students to work the September and November Elections," Schena wrote in a recent email to The Saugus Advocate.
  "Both are Tuesdays and there will be no school. Attached is the flyer I have used in the past."
  The flyer includes a facsimile of a poster with a pointing "Uncle Sam," and the declaration "I WANT YOU To Become a Poll Worker Today!"
  The flyer, titled "Calling all Saugus High Juniors and Senior," promises to accommodate any hours the students want to work. It notes that the students can work as Community Services volunteers to fulfill their High School hours, or they can get paid as election workers:
  16-year-olds can work part-time shifts of 6 to 8 hours.
  17 & 18-year-olds can work full-time shifts of 8 to 12 hours.
  Interested students can stop by Town Hall or contact the Town Clerk's Office to apply for work. Ask for Andrew DePatto, the Saugus Election Coordinator. He can be reached at 781-231-4102.
  Another bonus for participating students: "Great to have on your College Appliations/Resumes."
Food pantry seeks volunteers
  Here's a message from Pastor Joe Hoyle of the Cliftondale Congregational Church about a collaborative community commitment to help needy Saugus residents:
  "The Saugus United Parish Food Pantry is a partnership between the churches in Saugus to ensure that no one in our community faces food insecurity.
  "With faithful donations and volunteers, we have been able to give out thousands of meals to our neighbors in need throughout the years. The Food Pantry is open every Friday from 9:30am-11am, distributing pre-packaged groceries (including meat and produce) at 50 Essex St.
  "We are always in need of volunteers. If you would like to volunteer or donate, please contact Pastor Joe Hoyle, Executive Director at office@clindalecc.org or 781-233-2663."
Compost site now open
  The community's compost site will be open to residents on Wednesdays and Saturdays from 8 a.m. to 2 p.m. The site is located behind the Department of Public Works at 515 Main Street.
  Stickers are required to gain seasonal access to the site. Stickers may be purchased for $25.00 at the Department of Public Works (DPW) located at the Compost Site when making your visit to the Compost Site. The Town accepts checks only for payment of the $25.00. No cash will be accepted. Kindly bring a check when visiting. Thank you!
  Compost site stickers must be permanently placed on the lower left corner of the residents' automobile windshields. Vehicles registered out of state are not permitted.
  Yard waste must be disposed of in brown compost bags or open containers. The Town will accept grass clippings, leaves, and brush. As in years past, no branches or limbs larger than three inches in diameter are permitted.
  We ask all residents to please wear a mask, maintain and respect social distancing from others while visiting the site. Residents may call Lorna Cerbone at the Solid Waste and Recycling Department at 781-231-4036 with questions or for more information.
Concerts for vets
  Rockin 4 Vets presents 'Homegrown Rock Concerts' and 'Throw Back Thursdays' for New England Vets this summer at the Kowloon Restaurant's outdoor venue, Route 1 North in Saugus. For tickets and prices go to Tickets@GIMMELIVE.COM.
  Home Grown Rock Lineup – Doors open at 3 p.m. – Concert at 4 p.m.
  JULY: July 24 – ft. Johnny A; July 31 – Anthony Gomes
  AUGUST: August 7 – Ronnie Earl and the Broadcasters; August 14 – Rockin the House! Deric Dyer; August 21 – James Montgomery – Christine Ohlman; August 28 – Veronica Lewis.
  Tribute Bands – Doors open at 6pm – Concert at 7 p.m.
  JULY: July 28 – Aerosmith
  AUGUST: August 4 – Chicago; August 11 – What A Fool Believes – Doobie Brothers; August 18 – Another Tequila Sunrise – Eagles; August 25 – Panorama – The Cars.
  SEPTEMBER: September 1 – Being Petty – Tom Petty; September 8 – Studio Two – The Beatles; September 15 – Completely Unleashed – Van Halen
  If you would like to attend a show, please call Lauren at 617.247.4112. Band photos available upon request.
More outdoor music at Kowloon
  The Kowloon Restaurant announces their outdoor concert series for July with a variety of live bands at their Route 1 North in Saugus outdoor venue. For tickets call the Kowloon Restaurant at 781-233-0077.
  July Outdoor Concert Lineup:
  Up All Night!
  A dance band with dynamic vocalists
  Saturday, July 23, 7 to 10 p.m.
  Eric Grant Band
  Country music band
  Friday, July 29, 7 to 9 p.m.
  Fevah Dream
  Dance party band
  Saturday, July 30, 7 to 10 p.m.
Buy a brick to honor a Saugus veteran
  The Saugus War Monument Committee once again is sponsoring the Buy A Brick Program to honor all those who have served their country.
  If you would like to purchase one in the name of someone who is presently serving or has served, in the memory of a loved one, or just from your family, school, etc., the general pricing is $100 for a 4″ X 8″ brick (three lines), $200 for 8″ X 8″ brick (five lines). Each line is a maximum of 15 characters.
  The improvement and upkeep of the monument on the corner of Winter and Central streets rely on the generosity of donors through fundraising.
  The brick application must be in by Sept. 15th to ensure the bricks will be ready for Veterans Day. Please contact Corinne Riley 781-231-7995, for more information and applications.
SHS Class of '62 plans 60th reunion
  Leaders of The Saugus High School Class of 1962 would like you to "SAVE THE DATE."
  "Their 60th Class Reunion will be held on Saturday, Sept. 10, 2022, from 1 to 5 p.m. at Prince Pizzeria in Saugus. They are reaching out to contact fellow classmates as well as other years who would like to join them.
  The well-known 50's and 60's music group of Howie Conley will be there for their musical enjoyment. Those of you who have heard them know what a performance they put on.
  There will be pizza and salad combinations plus soft drinks. The price includes all you can eat, tax, gratuities, plus Howie Conley's group and is $29 per person.
  There is a bar available for wine, beer and mixed drinks. There is no need to purchase tickets at this time.
  Please let one of the following people know of your interest either by a phone call or a text message so that you can be easily reached when the time draws near.
  No commitment is necessary. They are just exploring the number of interested classmates.
Donna "Cann" Olivera 781-987-4308
Jonni "Giantonio" Matrona 781-439-4200
Janice "Cristiano" Pomeroy 617-512-2097
Larry Seavers 704-906-2606
Looking for book donations
  The New Friends of the Saugus Public Library are asking for donations of gently-used adult hardcover and softcover Fiction for the ongoing book sale in the Community Room. They would also appreciate donations of gently-used Children's Books.
  Please limit donations at this time to ONLY Fiction and Children's books; we do not have storage space for other genres or media.
  Please….clean and newer books only. No tattered pages, bad odors, stains, or dirty covers!
  Books may be dropped off at the Main Circulation Desk during business hours. Please DO NOT place donations in the outdoor book drops.
Want to be a Knight?
  The Knights of Columbus is looking for new members to join. If interested in becoming a member of this local organization, please call 781-233-9858.
Let's hear it!
  Got an idea, passing thought or gripe you would like to share with The Saugus Advocate. I'm always interested in your feedback. It's been nearly six and a half years since I began work at The Saugus Advocate. I'm always interested in hearing readers' suggestions for possible stories or good candidates for The Advocate Asks interview of the week. Feel free to email me at mvoge@comcast.net.
  Do you have some interesting views on an issue that you want to express to the community? Submit your idea. If I like it, we can meet for a 15 to 20 minute interview over a hot drink at a local coffee shop. And, I'll buy the coffee or tea. Or, if you prefer to continue practicing social distancing and be interviewed from the safety of your home on the phone or via email, I will provide that option to you as the nation recovers from the Coronavirus crisis.
  If it's a nice day, my preferred site for a coffee and interview would be the picnic area of the Saugus Iron Works.
CONTEST SKETCH OF THE WEEK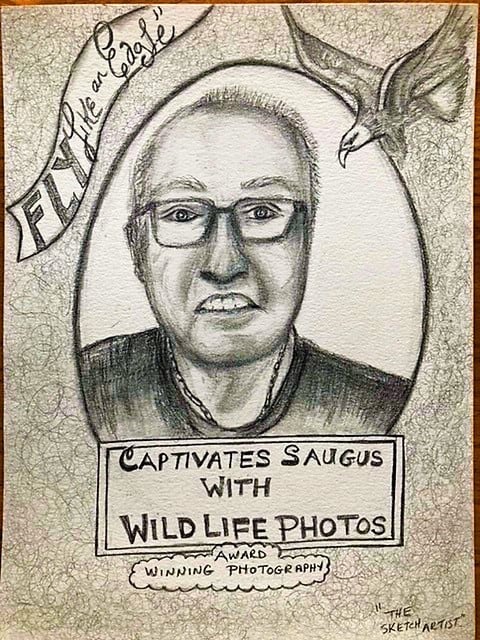 GUESS WHO GOT SKETCHED? If you know the right answer, you might win the contest. In this week's edition, we continue our weekly feature where a local artist sketches people, places and things in Saugus. Got an idea who's being sketched this week? If you do, please email me at mvoge@comcast.net or leave a phone message at 978 683-7773. Anyone who identifies the Saugonian sketched in this week's paper between now and Tuesday at Noon qualifies to have their name put in a green Boston Red Sox hat with a chance to be selected as the winner of a $10 gift certificate, compliments of Dunkin' Donuts in the Food Court at the Saugus Square One Mall. But you have to enter to win! Look for the winner and identification in next week's "The Sounds of Saugus." Please leave your mailing address in case you are a winner. (Courtesy illustration to The Saugus Advocate by a Saugonian who goes by the name of "The Sketch Artist")