A "Pink Out" fundraiser for Sunday
  If you are in a caring and generous mood on Sunday and are game to help out a good cause, head down to the Christie Serino, Jr. Memorial Athletic Complex. Greg Bluestein, president of Saugus Youth Football and Cheer, and his supporters have a special afternoon and evening of fun in store for folks who head to the stadium. It's a nice community event for families with children, particularly in the Middle School grades.
  I'll yield to Greg, sharing the article he wrote about Sunday's (Oct. 9) event:
  "Saugus Youth Football and Cheer will be hosting its annual Pink Out Night, this Sunday, Oct. 9th, from Noon to 7 p.m. at the Christie Serino, Jr. Memorial Athletic Complex. This community fundraiser aims to donate $3,000 to the Dana-Farber Cancer Institute from donations and raffle proceeds collected at the event. Some examples of raffles that guests of the event will be eligible to enter for are: a Jason Tatum-signed basketball, a scratch ticket basket, and various gift card baskets.
  "One of the biggest nights of the year for Saugus Youth Football and Cheer, Pink Out Night offers players and cheerleaders, grades 1 to 8, the opportunity to play on Saugus's beautiful new field, culminating with the 7th and 8th grade team playing under the lights. Players and cheerleaders will be sporting pink socks, bows, and other accessories in support of cancer research. Cancer has affected so many families throughout Saugus and the world and the Saugus Youth Football and Cheer family plans on acknowledging survivors or anyone affected by cancer personally at halftime of each game. Saugus Youth Football and Cheer wants the Pink Out Night to be a night of solidarity, fun, and community bonding. Everyone is invited to this special occasion so please come support our young student-athletes and go Sachems!"
One-day holiday trash pickup delay
  Town of Saugus trash and recycling collection will run on a one-day delay from Tuesday (Oct. 11), through Saturday (Oct.15), due to the observance of Columbus Day. There will be no collection on Monday, Oct. 10, 2022, due to the holiday. Services will resume on a one-day delay from Tuesday, October 11, 2022, through Saturday, October 15, 2022. Residents whose collection day falls on Monday will be collected from on Tuesday. Collection will continue to run on a one-day delay for the remainder of the week.
  The compost site will be open normal hours, from 8 a.m. to 2 p.m., on the following days: Saturday, Oct. 8, Wednesday, Oct. 12. The Town of Saugus would like to thank everyone for their cooperation.
Town-wide Fall Street Sweeping begins
  Town Manager Scott C. Crabtree and the Department of Public Works are pleased to announce that the Town's Annual Fall Street Sweeping Program will begin on Tuesday, Oct. 11, weather permitting. Sweepers will start in the area of north Saugus (Precincts 5 and 7) and work their way across town, working from 7 a.m. to 3:30 p.m.
  The town asks that residents keep vehicles off the street when sweepers are in the area. Locals may assist the Department of Public Works by sweeping their driveways or sidewalks into the gutter area prior to the program's start. But they should not sweep driveways and/or sidewalks once the sweepers have swept.
  Residents should keep in mind that street sweepers are unable to collect stones, branches, leaves or other foreign objects. In addition, residents are asked to be mindful that sweepers cannot pick up large piles of sand.
  Please contact the Department of Public Works at 781-231-4143 with any questions.
Historical Society meets next week
  The October meeting of the Saugus Historical Society will feature Andrew Biggio, whose March 2022 program had to be canceled due to exposure to COVID. It will be held on Wednesday, Oct. 12, at 7 p.m. at 30 Main St. in Saugus. Andrew Biggio is the author of "The Rifle: Combat Stories from America's Last World War II Veterans, Told through an M1 Garand," which was published in 2021.
  Biggio, the former Veterans Service Officer from Saugus, is currently a Boston Police Officer. He served as a Marine in Iraq and Afghanistan. He founded the "Wounded Veterans Run" and is president of "New England Wounded Veterans, Inc.," a nonprofit organization.
  To gather material for the book, Biggio interviewed Army, Navy, Air Corps and Marine veterans from around the country, bringing an M1 Garand rifle to trigger memories of their experiences. Two hundred veterans signed the rifle, and the book includes personal experiences of many of them, including the longest surviving Marine Medal of Honor recipient, Hershel "Woody" Williams, who passed away in June of this year at 98 years old.
  Biggio will have copies of his book available at the meeting. Light refreshments will be provided.
Autism Eats and Wally
  Lenard Zohn, owner of Prince Pizzeria, is hosting the restaurant's annual Autism Eats With Red Sox Wally event on Oct. 13 at the restaurant on Route 1 South in Saugus from 6 to 8 p.m.
  Zohn and Delphine Zohn were motivated to create "an autism friendly environment" at the restaurant "where all behaviors are welcome" – as the parents of a child with autism. Their son Adin got stressed out by the dining experience several years ago, so the family stopped dining out. Then they came up with the idea of "Autism Eats." They trained staff on how to make customers with autism feel comfortable. And they made adjustments in the restaurant environment as well.
  "Autism Eats is here to give autism families an opportunity to enjoy restaurant meals without the stress that often accompanies these outings," a promotional poster says about the special dining program. "Since everyone in our private room 'gets it,' there's no need to explain any behavior or feel that all eyes are on us. It is a wonderful way to spend time with other families in an autism-friendly, nonjudgmental environment."
  Reservations are required at www.autismeats.org
Calling Saugus 4-1-1 – Oct. 15!
  Selectman Corinne Riley and a number of volunteers in various segments of the community continue to push forward with their ambitious "Saugus 4-1-1" event, which is set for Saturday, Oct. 15, from 9 a.m. to noon at the Saugus Middle-High School. This is shaping up to be a classic mega-orientation session for Saugus newcomers as well as a refresher course for folks who are already rooted in the community but might be interested in getting reacquainted with their hometown.
  In case you missed it, Selectman Riley was a subject of an "Advocate Asks" interview that was published in last Friday's (Sept. 30) edition of The Saugus Advocate. The article can still be accessed online through www.advocatenews.net
  "Saugus 4-1-1 is putting on the finishing touches," Riley wrote in an email this week.
  "The event is scheduled for Saturday, October 15th, 9:00 a.m. to Noon. The plans for the day itself are to have a welcome/sign-in table inside the main entrance, the tables of information of each non-profit/houses of worship, and school district and town information will be throughout the first floor," she continued.
  "A video loop is planned showing videos as well as still pictures by Charles 'Zap' Zapolski, Jim Harrington and Chris Riley being presented during the event. I've met with Andrea Wheeler and Gosia Janik-Knupp from the Saugus Middle High School, and I'm grateful for their help and input," she said. "The setup is finalized, tour schedule of the complex will be displayed, art students will be creating the placards of the groups that registered, and students are being asked to volunteer to interpret for our English as a second language families to help with any questions they may have. To every new family 'Welcome to Your New Home' and to all who may have lived here longer, reacquaint yourselves with our town, and see what has replaced the old SHS."
  Sounds like a real neighborly and collaborative way for the town, the School Department, the Saugus Faith Community and various community-minded people and agencies to reach out to people – whether newcomers or old-timers – and make them feel welcome and more knowledgeable about their hometown.
Wayne's winning the weight war
  About this time two years ago, I had huge concerns about whether it was possible for my older brother Wayne to gain control of his weight problems before it is too late. On Oct. 5, 2020, his weight was already at 377 pounds. I was at wit's end, worrying that he had a better chance of surpassing 400 pounds than he did getting under 300 pounds. As I recall, the future looked pretty grim.
  I placed my faith in Wayne's longtime primary care physician – Dr. Mark A. Ringiewicz of Swansea – that he could do something to address Wayne's troublesome health issues. Dr. Ringiewicz referred Wayne to Dr. Jessica Inwood of Fall River, a doctor who specializes in weight loss and diet issues. Essentially, that was a major turning point, as Wayne's weight problem became an ongoing priority for two doctors. Both of them scheduled follow-up appointments every three months.
  Dr. Inwood played a reinforcing, positive role while educating and encouraging my brother to reduce or avoid the consumption of certain foods – bread, pasta, sugar, potatoes and heavy carb-laden foods. She also encouraged him to get physically fit besides eating healthy. Meanwhile, Dr. Ringiewicz reinforced me as I played the heavy as I monitored his weight loss progress.
  Last Friday, Wayne had another good quarter – perhaps his finest. He lost another 14 pounds and dropped down to 278 pounds and 9.6 ounces – good for a whopping 98 pound weight loss over a two-year-period.
  Absolutely, Dr. Ringiewicz said, for a 70-year-old man who is 5-foot-10.5 inches tall, he could stand to lose another 70 to 80 pounds. In Wayne, that would be under 200 pounds. Wayne told Dr. Ringiewicz that he hasn't been at that low weight since his High School days. To that, the doctor replied, there's no reason why he can't reach that goal. He just has to continue with his daily exercise and diet.
  Originally, our goal was for Wayne to reach 270 to 275. If he continues the way he's been going, it would be realistic to see him in the 230-240 range next year. Still heavy, but headed in the right direction, thanks to Dr. Ringiewicz and Dr. Inwood – and of course, Wayne, for dedicating himself to tackle the weight loss challenge.
Saugus Lions Club fundraiser on Oct. 22
  The Saugus Lions Club is hosting a Halloween dinner/dance on Saturday, Oct. 22 at 7 p.m. at the Saugus Knights of Columbus (57 Appleton St.). There will be a full buffet, cash bar, DJ, raffles and door prizes. Costumes are optional but there will be a prize for best costume.
  Tickets are $50 with proceeds supporting the Lions' efforts in funding eye research. For more information or to purchase tickets, email pattyfierro@hotmail.com or call 781-640-9176.
This week's "Shout Outs"
  It's always a great week whenever we receive more than one "Shout Out." We received two this week:
  Lillian Johnson, a 92-year-old Saugonian, recognized last Friday's sketch of 2022 Saugus "Man of the Year" Thomas Sheehan and is this week's winner. But she also wanted to heap a mountain of praise on Sheehan, a fellow classmate from the Saugus High Class of 1947.
  "I am proud to say the sketch is noted author Tom Sheehan," Lillian wrote to me in an email.
  I figured it was worth a phone call to her to see what else she had to say about Tom.
  "I sat right in back of him in English Class," the former Lillian Woodell told me.
  "He was a wonderful classmate and we had a great time at our 70th reunion (2017). He's a wonderful poet and a good friend and we usually talk mostly every day. We enjoy chatting on the phone."
  Sounds like a nice tribute from a longtime friend.
  The Sketch Artist: "A BIG SHOUT OUT to Saugus Dunkin Donuts at the Square ONE Mall (Food Court) left side all the way in the cozy nook corner area. Owners Mike, Partner, wife Celina & Family! Thank you for being our Generous sponsor and Thank you for sponsoring week after week of "The Guess Who Got Sketched Contest's $10.00 Dunkin Donuts gift card for our winners prize! Much gratitude to you all. Yours Truly,
  "The Sketch Artist."
  We have a new sponsor for our "Guess Who Got Sketched" contest. Welcome to the folks at Hammersmith Family Restaurant at 330 Central St. in Saugus.
Want to "Shout Out" a fellow Saugonian?
  This is an opportunity for our paper's readers to single out – in a brief mention – remarkable acts or achievements by Saugus residents or an act of kindness or a nice gesture. Just send an email (mvoge@comcast.net) with a mention in the subject line of "An Extra Shout Out." No more than a paragraph; anything longer might lend itself to a story and/or a photo.
American Legion breakfasts
  Saugus American Legion Post 210 is hosting its popular breakfasts again – from 8-9 a.m. on Fridays. The price is $8 for those who are looking for a delicious meal at Legion Hall. Bon appétit!
A chance to vote early
  The Town Clerk's Office has posted the early voting hours for the Nov. 8 general election on the town website.
  The First Week of Early Voting
  Saturday, October 22 – 9 am to 3 p.m.
  No Sunday
  Monday, October 24 – 9 a.m. to 3 p.m.
  Tuesday, October 25 – 9 a.m. to 2 p.m.
  Wednesday, October 26 – 9 a.m. to 2 p.m.
  Thursday, October 27 – 9 a.m. to 2 p.m.
  Friday, October 28 – 9 a.m. to 11 a.m.
  The Second Week of Early Voting
  Saturday, October 29 – 9 a.m. to 5 p.m. (last day to register to vote)
  No Sunday
  Monday, October 31 – 8:30 a.m. to 7 p.m.
  Tuesday, November 1 – 8:15 a.m. to 5 p.m.
  Wednesday, November 2 – 8:15 a.m. to 5 p.m.
  Thursday, November 3 – 8:15 a.m. to 5 p.m.
  Friday, November 4 – 8:15 a.m. to 12:30 p.m.
We have a winner!
  Congratulations to Lillian Johnson for making the right identification in last week's "Guess Who Got Sketched" contest. Lillian is one of several readers answering correctly. But she was the only one to have her name picked in a drawing from the green Boston Red Sox cap. Here's the correct answer, offered by the person who goes by the name of The Sketch Artist:
  "The answer for last week's sketch is Person/ Man of the Year 2022 Mr. Thomas F. Sheehan!
  "Thomas Sheehan was awarded a plaque and the Title of 'Man of the Year' alongside Laura Eisener, our 'Woman of the Year 2022' at the Saugus Founders Day celebration last month.
  "In The Saugus Advocate Sept.16th edition, a photo of Thomas was on the front cover, with articles and other photos inside about Thomas, Class of 1947 Saugus High, Korean War Veteran, Graduate of Marianapolis Preparatory School in CT. And Boston College. He authored more than 50 books and countless publications of stories! Many of Thomas's books are best sellers of many genres, of narrative storytelling, reflections, poems and intense historical reads; he has the ability to captivate his audience.
  "Thomas has been a successful, numerous time, nominee for the prestigious Pushcart prize.
  "A few of his books are listed on Amazon for purchase:
  "In the Garden with Long Shadows" "Alone, with the Good Graces" "A Collection of Friends" pictures of Saugus Cemetery. "A Gathering of Memories: Saugus 1900-2000 (This book was Co edited with John Burns) Thomas published his 53rd book when he was 94 years old.
  "He has been a major supporter of our Saugus Events. This sketch artist had a few opportunities to be a part of his audience at his public readings and as his story unfolded; it felt like I was watching a painting being formed with words!
  "Thomas has been featured in publications in England and Ireland and on websites as well.
  "Throughout the years, Our Saugus humble high achiever Thomas has been in several papers and featured articles, I would encourage you to seek these out!
  "Thank you Thomas for all you have done and do for Saugus! You are exceptionally talented and a vivid descriptive gifted author; it was a joy to read about your Public praise and reviews as well.
  "Yours Truly,
  "The Sketch Artist"
Fall Curbside Leaf Collection dates
  The Town of Saugus announced that fall curbside leaf collection will take place during the weeks of Oct. 24-28, Nov. 14-18 and Nov. 28-Dec. 2. Residents may dispose of leaves curbside on their regularly scheduled collection day. Leaves should be left outside by 7 a.m. on the appropriate days.
  Please ensure that leaf containers are physically separated from trash and recycling. Paper leaf bags are the preferred method of leaf disposal. If using barrels, however, they must be clearly marked with yard waste stickers. Barrel covers must remain removed so that the leaves are visible. Plastic bags, cardboard boxes, branches and brush will not be accepted.
  Please note that separate trucks collect the rubbish, recycling and leaves, so the leaves may be collected at a different time of day. "Missed pick-ups" will not be conducted.
Household Hazardous Waste Collection
  Residents are invited to dispose of their household hazardous waste in an environmentally responsible manner during a collection event on Saturday, Oct. 29, from 9 a.m. to noon. This event will be held at the Belmonte Upper Elementary School located at 25 Dow St. The rain-or-shine event will allow residents to dispose of a series of household waste products, including rubber cement, airplane glue, fiberglass resins, aerosol cans, photo chemicals, furniture polish, floor and metal polish, oven cleaner, drain and toilet cleaner, spot remover, rug and upholstery cleaner, hobby and artist supplies, photography chemicals, turpentine and chemistry sets.
  This year will be a contactless event; there will be no preregistration. Residents must stay in their vehicles and hold up a driver's license, and all materials must be placed in the trunk or rear of the vehicle.
  The following garage supplies will also be accepted: fuel, gasoline, kerosene, engine degreaser, brake fluid, carburetor cleaner, transmission fluid, car wax, polishes, driveway sealer, car batteries, antifreeze, cesspool cleaners, roofing tar, swimming pool chemicals, motor oil and car batteries. Accepted workbench waste includes oil-based paints, stains, varnishes, wood preservatives, paint strippers or thinners, solvent adhesives and lighter fluid. Residents may also bring the following yard waste: weed killer, chemical fertilizers, flea control products, moth balls, poisons, insecticides, herbicides, pesticides and fungicides.
  Residents are urged to take caution when transporting household hazardous materials. Locals may do so by keeping the materials in their original containers, tightening caps and lids, sorting and packing products separately and packing containers in sturdy upright boxes padded with newspaper. Please remember never to mix chemicals or to smoke while handling hazardous materials.
  The hazardous household waste collection will not accept commercial waste. Residents will be limited to two carloads, the equivalent of 50 pounds or 50 gallons, of hazardous waste. The following items will not be accepted: empty containers or trash, latex paint, commercial or industrial waste, radioactive waste, smoke detectors, infectious and biological wastes, ammunition, fireworks, explosives, fire extinguishers or syringes. TVs, computers and car tires may be recycled at the drop-off site located at 515 Main St. on Wednesdays and Saturdays from 8 a.m. to 2 p.m.
  The Town of Saugus would like to thank everyone for their cooperation. Please contact Jeannie Meredith 781-231-4111 with any questions.
What's happening at the Saugus Public Library
  For schoolchildren looking for interesting projects and programs to participate in this fall, there's plenty to do at the Saugus Public Library.
  Makeup FX 101: Check out Halloween makeup by Decimated Designs, which is set for Thursday, Oct. 13, from 6-7 p.m. in the Brooks Room. Grade 6+, please. Please sign up in advance. We will cover the do's and don'ts of effects makeup, hygiene, how to get started and how pros make monsters jump to life, and some tricks to improve your costumes/makeup at home. Volunteer to be used in a demonstration and get your makeup done! To register, go to the Saugus Public Library (295 Central St., Saugus), call 781-231-4168 or go on your computer to sauguspubliclibrary.org
  Just Sew! Saugonians are welcome to join a monthly sewing class for adults that is held the third Monday of each month from 6:30 to 7:30 p.m. in the Community Room of Saugus Public Library. The next meeting is Monday, Oct. 17. The class will cover basic topics like sewing buttons, hemming clothing and mending torn fabric and will move onto more advanced topics in the coming weeks. This class is free. (See sauguspubliclibrary.org)
  A neat, new teen club: The Manga & Anime Club began recently. Chat with friends! Make crafts! Try Japanese snacks! Grades 6 & up. Club meetings will continue on Saturdays, through May, from 10-11 a.m. They will be held on Nov. 12, Dec. 10, Jan. 7, Feb. 4, March 4, April 1 and May 13. Please sign up in advance; call 781-231-4168 or stop by the Reference Desk. https://www.sauguspubliclibrary.org/new-manga-anime-club…/
Youth Cross Country
  Hey parents! If you have a child or several kids who could use an opportunity to get into a healthier lifestyle, which might, in turn, lead to better academic scores, consider getting them to sign up for Youth Cross Country. Here's a simple outline of what this entails:
  Who: any Saugus child in grades 1 through 5.
  When: Tuesdays and Thursdays, 3:45 to 4:45 p.m., at the Belmonte Track; Saturdays, 10 to 11:30 a.m. at the Visitor Center at Breakheart Reservation.
  Dates: The program will last through Nov. 15.
  Why: to learn to enjoy cross-country running and make new friends.
  Cost: $100 for new runners, $50 for returning runners.
  This weekly program will be guided by Coach Steve Boudreau and Coach Chris Tarantino. Children will learn good stretching techniques and the basics of exercise and cross-country running. Best of all, this will be a great way to make new friends.
  Participants need to wear a good pair of sneakers, dress in comfortable running clothes and bring a water bottle. For more details, contact Coach T (not Mr. T.) at 781-854-6778.
  Sounds like a worthwhile and affordable fitness program with lots of upside for grade school kids.
Healthy Students-Healthy Saugus Program
  (Editor's Note: The following info is from an announcement submitted by Julie Cicolini, a member of the Board of Directors for Healthy Students-Healthy Saugus.)
  Who we are: Healthy Students-Healthy Saugus (HS2) is a nonprofit group of volunteers who are helping to offset food insecurity in households. HS2 provides students/families who enroll in the program a supply of nutritious food for when school lunches and breakfasts are unavailable to them on weekends.
  How HS2 can help you: HS2 bags are distributed at Saugus Public schools on Fridays to take home. Bags include such items as peanut butter, canned meals/soups/tuna/vegetables, pasta, fruit cups, cereal, oatmeal, goldfish, pretzels and granola bars. All food is provided to children free of charge. It is our hope these resources will support the health, behavior and achievement of every student who participates.
  To sign up go here to complete online form: https://forms.gle/gmMGguycSHBdziuE9
  Want to partner with us: We would love to partner with organizations, sports teams, youth groups, PTOs, businesses and individuals to assist in feeding students of Saugus. To learn more about how you can partner with us, visit the Healthy Students-Healthy Saugus Facebook page or email us at HS2Saugus@gmail.com
  HS2 relies on donations to create take-home bags for a weekend full of meals. Checks can also be sent directly to: Salem Five C/O Healthy Students-Healthy Saugus, 855-5 Broadway, Saugus, MA 01906. Online donations can also be made at: https://givebutter.com/HealthySaugus
Saugus seeks student poll workers
  Town Clerk Ellen Schena's Office is looking for student election workers. It is a great way for them to learn how their government functions and how important it is to vote. Sixteen-year-old students are eligible to work a half day (six to eight hours); 17-18-year-old students may work a full day (eight to 12 hours). All students can receive community service, which is imperative to them in order to satisfy their High School requirement mandated for graduation, or they can be paid for their hours worked. In addition, the Town Clerk's Office will gladly write letters of recommendation for National Honor Society, Colleges, etc.
  Interested students can stop by Town Hall or contact the Town Clerk's Office to apply for work. Ask for Andrew DePatto, the Saugus Election Coordinator. He can be reached at 781-231-4102.
Food pantry seeks volunteers
  Here's a message from Pastor Joe Hoyle of Cliftondale Congregational Church about a collaborative community commitment to help needy Saugus residents:
  "The Saugus United Parish Food Pantry is a partnership between the churches in Saugus to ensure that no one in our community faces food insecurity.
  "With faithful donations and volunteers, we have been able to give out thousands of meals to our neighbors in need throughout the years. The Food Pantry is open every Friday from 9:30am-11am, distributing pre-packaged groceries (including meat and produce) at 50 Essex St.
  "We are always in need of volunteers. If you would like to volunteer or donate, please contact Pastor Joe Hoyle, Executive Director at office@clindalecc.org or 781-233-2663."
Looking for book donations
  The New Friends of the Saugus Public Library are asking for donations of gently used adult hardcover and softcover fiction for the ongoing book sale in the Community Room. They would also appreciate donations of gently used children's books. Please limit donations at this time to only fiction and children's books; they do not have storage space for other genres or media. Please…clean and newer books only – no tattered pages, bad odors, stains or dirty covers!
  Books may be dropped off at the Main Circulation Desk during business hours. Please do not place donations in the outdoor book drops.
Let's hear it!
  Got an idea, passing thought or gripe you would like to share with The Saugus Advocate? I'm always interested in your feedback. It's been six and a half years since I began work at The Saugus Advocate. I'm always interested in hearing readers' suggestions for possible stories or good candidates for "The Advocate Asks" interview of the week. Feel free to email me at mvoge@comcast.net.
  Do you have some interesting views on an issue that you want to express to the community? Submit your idea. If I like it, we can meet for a 15- to 20-minute interview over a drink at a local coffee shop. And I'll buy the coffee or tea. Or, if you prefer to continue practicing social distancing and be interviewed from the safety of your home on the phone or via email, I will provide that option to you as the nation recovers from the Coronavirus crisis.
If it's a nice day, my preferred site for a coffee and interview would be the picnic area of the Saugus Iron Works National Historic Site.
CONTEST SKETCH OF THE WEEK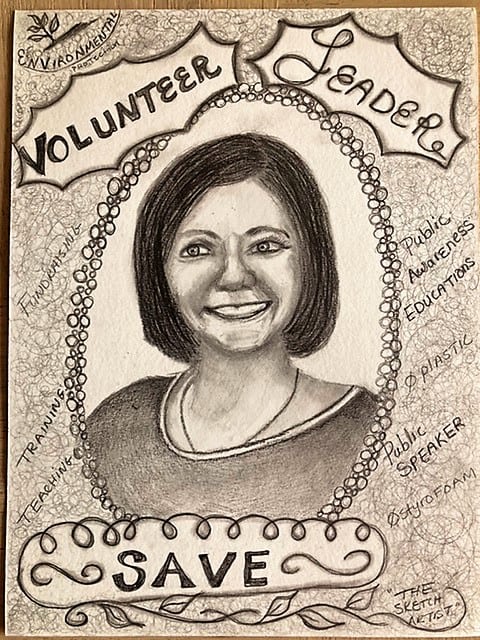 GUESS WHO GOT SKETCHED! If you know the right answer, you might win the contest. In this week's edition, we continue our weekly feature where a local artist sketches people, places and things in Saugus. Got an idea who was sketched this week? If you do, please email me at mvoge@comcast.net or leave a phone message at 978-683-7773. Anyone who between now and Tuesday at noon identifies the Saugonian sketched in this week's paper qualifies to have their name put in a green Boston Red Sox hat with a chance to be selected as the winner of a $10 gift certificate, compliments of Hammersmith Family Restaurant (330 Central St. in Saugus). But you have to enter to win! Look for the winner and identification in next week's "The Sounds of Saugus." Please leave your mailing address in case you are a winner. (Courtesy illustration to The Saugus Advocate by a Saugonian who goes by the name of "The Sketch Artist")