Preparing for a new school year
  School begins next month. Summer vacation started just a couple of weeks ago. But the 2022-23 School Year Calendar was recently posted on the Saugus Public Schools website. School begins on Aug. 30 for students in grades 1 to 12. Kindergarten and Pre-K classes begin on Aug. 31.
Public misses virtual pot meeting
  So much for Community Outreach. The public either was not interested in or didn't know about last Thursday's "virtual Community Outreach Meeting" organized by a Lynn-based pot manufacturer that wants to locate a marijuana retail store on Route 1 in Saugus. Other than members of the Board of Selectmen and a few staff of Bostica LLC – and this reporter – no Saugus residents tuned in to watch Bostica LLC unveil its plans for a store at 44 Broadway, Unit A, located near Oye's Chinese Restaurant, or answer questions from the public.
  And nobody bothered to email questions in advance to Jonathan Capano, an attorney and Saugus resident who's working as Bostica LLC's chief compliance officer. The Saugus Advocate had published a page one story titled "Marijuana company seeks Saugus location" in our June 24 edition. But nobody bothered to email questions to Capano, whose email appeared on the front page as part of that story.
  But it's no big deal, according to selectmen. No vote was taken, and there will be plenty of public hearings for citizens to express themselves before selectmen decide whether they want to grant Bostica LLC a license. And of course, there won't be any votes cast anytime soon, at least not before the state Attorney General's Office approves the measure passed by this year's Annual Town Meeting that allows for a marijuana establishment to locate in town.
We have a winner!
  Congratulations to Michele Kelley for making the right identification in last week's "Guess Who Got Sketched?" contest. She was one of several readers answering correctly, but she was the only one to have their name picked in a drawing from the green Boston Red Sox cap.
  Here's the correct answer, offered by the person who goes by the name of The Sketch Artist:
  "Our last week's answer to the sketch contest is Roberta Perry! Roberta is a Longtime Saugonian since 1959! She raised 3 Saugonians, and now after 63 plus years, she celebrates 7 Grandchildren and one Great Grandson baby!
  "As a Fiore bus driver for 17 years, she drove many of our K-12 Saugus students to school & Field-trips. For 20 years, she worked for the Registry of Motor Vehicles covering the areas of Lynn, Reading, Woburn, Boston, and Malden.
  "Many see her on Sunday's at St. Margaret's as the church Lector. Roberta has been a caretaker 45 plus years.
  "She bakes many treats and meals and delivers to those in her care freely. She loves making breads and soups; her favorite soup to make is the "Italian Wedding soup."
  "Roberta enjoys puzzles, card games (whist) and entertaining with her pool parties and good cooking! Thankyou Roberta for ALL you do!
  "Yours Truly, The Sketch Artist"
Huberman's donates vegetable plants
  This just in from Laura Eisener about some great news at the Community Garden managed by St. John's Episcopal Church:
  "Huberman's Greenhouses on Vine Street in Saugus, one of New England's leading growers for 4 generations, has donated some wonderful vegetable plants free to Saugonians who would like to grow their own food. They will be available at the St. John's Church Community Garden on Friday, July 15 from 9-11 a.m. and Saturday July 16 from 9-11 AM.
  "The garden is diagonally across Central Street from the church behind 276 Central St. The plants are in 4 1/2″ pots and include zucchini, tomatoes, cucumbers, varied squash, cabbage, cauliflower, sweet corn, eggplant, dill, green beans, broccoli, and watermelon. Come on over to pick up your free plants next Friday or Saturday and see the community garden. If any plants remain after those 2 pickup dates arrangements can be made to pick up by calling this number 781-231-5988 and Laura Eisener will return your call.
  "Huberman's still has some beautiful flowering perennials, annuals, hanging pots, and more to beautify your garden, porch or patio this summer. Buy local! If you are new to town, Huberman's is on Vine St. and has been supplying local gardeners with beautiful plants for many years."
Summer Concert Series continues Wednesday
  The National Park Service and Saugus Public Library are cosponsoring a free Summer Concert Series that continues next Wednesday (July 13) at 6 p.m. at the Saugus Iron Works National Historic Site, which is located at 244 Central St. in Saugus. Atwater & Donnelly: American & Celtic Folk Music & Dance will perform next week in the Wednesday evening series which will last through Aug. 24.
  Here is the rest of the Summer Concert Series at a glance:
July 20– Ditto Band: American rock and folk from the 60s & 70s
July 27– Jump Street: pop, r & b, blues, jump, classic rock
August 3 – Squeeze Box Stompers: Cajun & zydeco
August 10– Memorylaners: 50s, 60s & 70s music
August 17– Decades of Rock Band: classic rock – 70s, 80s & 90s
August 24– Marina & Bernardo: acoustic folk
  Each concert will be held outdoors, weather permitting (see SaugusPublicLibrary.org for updates/cancellations). Bring your own chair or blanket. Picnics welcome!
What's happening at the Saugus Public Library
  For schoolchildren looking for interesting projects and programs to participate in this summer, there's plenty to do at the Saugus Public Library. Here are this month's highlights:
  Lighthouse STEAM Challenge, next Wednesday (July 13) from 3:30 to 4:15 p.m. in the Craft Room. Kids can learn about lighthouses and build their own using craft supplies. Recommended for ages four and up. Registration is required. Register at the Children's Desk or email nshmuell@noblenet.org
  The Reading Squad, for ages 9-12, meets next Thursday (July 14) from 4:30 to 5:30 p.m. in the Community Room for discussion, activities and a snack. Participants will read Newbury Award-winning "Bridge to Terabithia" by Katherine Patterson. Copies of the book are available at the Children's Desk.
  Wildlife Encounters at the Saugus Iron Works, next Thursday (July 14) at 10:30 a.m. Learn about wild animals in this fun and humane educational outreach program for all ages. Registration is not required. In case of rain, check the online event calendar after 9 a.m. on the day of the program.
  Firetruck Storytime at the Saugus Iron Works, Thursday, July 21 from 10:30 to 11 a.m. Head to the Saugus Iron Works for a chance to meet Saugus firefighters, see their fire engine and listen to a firetruck story with Ms. Amy. Open to all ages. Registration is not required. Please check the online event calendar the morning of the event for weather-related updates.
  Shark Week Storytime and Craft with Kelly, Thursday, July 21, 3:30 to 4:30 p.m. in the Craft Room. Ages four and up. Registration is not required.
  Disney Dance Party at the Saugus Iron Works, Monday, July 25 at 4:30 p.m. with Miss Toniann. Stories and Dancing. Wear your favorite dress-up clothes.
  3-D Fish Bowl Crafts, Wednesday, July 27 from 3:30 to 4:15 p.m. in the Craft Room. Create and decorate your own 3D fish bowl. Ages four and up. Registration required at the Children's Desk or email nshmueli@noblenet.org.
  Check out the Whalemobile, Thursday, July 28, at the Saugus Iron Works. Four time slots available: 10, 10:30, 11 and 11:30 a.m. Ages five and above only. Registration required. Backup location for rain or extreme heat: Saugus YMCA. Check the event calendar the morning of the event for weather updates.
  August events:
  Princess Ariel Storytime at the Saugus Iron Works, Wednesday, Aug. 3, from 10 to 11 a.m. Stories, songs and activities with Ariel. All Ages. Registration not required.
  Tie-Dye with Zoe, Thursday Aug. 4, 3:30 to 5 p.m. in the Craft Room. Ages eight and up. Registration required. Email melton@noblenet.org to register. Please bring one item to tie-dye.
Saugus seeks student poll workers
  Town Clerk Ellen Schena is circulating that "Uncle Sam needs you" flyer again, in search of student poll workers for the town's fall elections. "I am looking for 16, 17 & 18 years-old Saugus Students to work the September and November Elections," Schena wrote in a recent email to The Saugus Advocate. "Both are Tuesdays and there will be no school. Attached is the flyer I have used in the past." The flyer includes a facsimile of a poster with a pointing "Uncle Sam," and the declaration "I WANT YOU To Become a Poll Worker Today!"
  The flyer, titled "Calling all Saugus High Juniors and Seniors," promises to accommodate any hours the students want to work. It notes that the students can work as Community Services volunteers to fulfill their High School hours, or they can get paid as election workers: 16-year-olds can work part-time shifts of six to eight hours; 17- & 18-year-olds can work full-time shifts of eight to 12 hours.
  Interested students can stop by Town Hall or contact the Town Clerk's Office to apply for work. Ask for Andrew DePatto, the Saugus Election Coordinator. He can be reached at 781-231-4102.
  Another bonus for participating students: "Great to have on your College Applications/Resumes."
"Shout-outs" to Zap
  We didn't receive any nominations from our readers this week for a Saugus resident deserving of high praise. So, we'll borrow a few "shout-outs" from last week's Advocate Newspapers' Facebook Page. Our "Advocate Asks" interview with Saugus Photographer Charlie "Zap" Zapolski received a heap of praise.
  The article focused on Zap's patriotic photos, particularly those of the bald eagle – the symbol of America's strength and freedom. Using two Facebook websites to post his photographs, Charlie has been entertaining Saugus residents for years with his neat photos of bird and nature scenes. And he's been doing this for free. So, here's a dozen loud "shout-outs" to Zap.
Want to "Shout-Out" a fellow Saugonian?
  This is an opportunity for our paper's readers to single out – in a brief mention – remarkable acts or achievements by Saugus residents or an act of kindness or a nice gesture. Just send an email (mvoge@comcast.net) with a mention in the subject line of "An Extra Shout-Out." No more than a paragraph; anything longer might lend itself to a story and/or a photo.
Food pantry seeks volunteers
  Here's a message from Pastor Joe Hoyle of Cliftondale Congregational Church about a collaborative community commitment to help needy Saugus residents:
  "The Saugus United Parish Food Pantry is a partnership between the churches in Saugus to ensure that no one in our community faces food insecurity.
  "With faithful donations and volunteers, we have been able to give out thousands of meals to our neighbors in need throughout the years. The Food Pantry is open every Friday from 9:30am-11am, distributing pre-packaged groceries (including meat and produce) at 50 Essex St.
  "We are always in need of volunteers. If you would like to volunteer or donate, please contact Pastor Joe Hoyle, Executive Director at office@clindalecc.org or 781-233-2663."
Compost site now open
  The community's compost site will be open to residents on Wednesdays and Saturdays from 8 a.m. to 2 p.m. The site is located behind the Department of Public Works at 515 Main St.
  Stickers are required to gain seasonal access to the site. Stickers may be purchased for $25.00 at the Department of Public Works (DPW) located at the Compost Site when making your visit to the Compost Site. The Town of Saugus accepts checks only for payment of the $25.00. No cash will be accepted. Kindly bring a check when visiting. Thank you!
  Compost site stickers must be permanently placed on the lower left corner of residents' automobile windshields. Vehicles registered out of state are not permitted.
  Yard waste must be disposed of in brown compost bags or open containers. The Town will accept grass clippings, leaves and brush. As in years past, no branches or limbs larger than three inches in diameter are permitted.
  We ask all residents to please wear a mask and maintain and respect social distancing from others while visiting the site. Residents may call Lorna Cerbone at the Solid Waste and Recycling Department at 781-231-4036 with questions or for more information.
Concerts for vets
  Rockin' 4 Vets presents "Homegrown Rock Concerts" and "Throw Back Thursdays" for New England Vets this summer at the Kowloon Restaurant's outdoor venue on Route 1 North in Saugus. For tickets and prices, go to gimmelive.com.
  Home Grown Rock Lineup – doors open at 3 p.m. – concert at 4 p.m.
  JULY: July 10–Fat City; July 17–Victor Wainwright and the Train; July 24–Johnny A; July 31–Anthony Gomes.
  AUGUST: August 7–Ronnie Earl and the Broadcasters; August 14–Rockin the House! Deric Dyer; August 21–James Montgomery–Christine Ohlman; August 28–Veronica Lewis.
  Tribute Bands – doors open at 6 p.m. – concert at 7 p.m.
  JULY: July 14–Cold Spring Harbor–Billy Joel; July 21–Shot of Poison–Poison; July 28–Aerosmith.
  AUGUST: August 4–Chicago; August 11–What A Fool Believes–Doobie Brothers; August 18–Another Tequila Sunrise–Eagles; August 25–Panorama–The Cars.
  SEPTEMBER: September 1–Being Petty–Tom Petty; September 8–Studio Two–The Beatles; September 15–Completely Unleashed–Van Halen.
  If you would like to attend a show, please call Lauren at 617-247-4112. Band photos are available upon request.
More outdoor music at Kowloon
  The Kowloon Restaurant announces their outdoor concert series for July with a variety of live bands at their Route 1 North in Saugus outdoor venue. For tickets call the Kowloon Restaurant at 781-233-0077.
  July Outdoor Concert Lineup:
  Closing Time: a dance party band; Saturday, July 9, 7 to 9 p.m.
  The Beautiful Losers: a tribute to Rock n Roll Hall of Famer Bob Seger & the Silver Bullet Band; Sunday, July 10, 7 to 9 p.m.
  The Business Time Band: from "Twist and Shout" to contemporary hits; Saturday, July 16, 6 to 9 p.m.
  Up All Night! – a dance band with dynamic vocalists; Saturday, July 23, 7 to 10 p.m.
  Eric Grant Band: country music band; Friday, July 29, 7 to 9 p.m.
  Fevah Dream: dance party band; Saturday, July 30, 7 to 10 p.m.
Buy a brick to honor a Saugus veteran
  The Saugus War Monument Committee once again is sponsoring the Buy A Brick Program to honor all those who have served their country. If you would like to purchase one in the name of someone who is presently serving or has served, in the memory of a loved one or just someone from your family, school, etc., the general pricing is $100 for a 4″ X 8″ brick (three lines) and $200 for 8″ X 8″ brick (five lines). Each line is a maximum of 15 characters. The improvement and upkeep of the monument on the corner of Winter and Central Streets rely on the generosity of donors through fundraising.
  The brick application must be in by Sept. 15 to ensure the bricks will be ready for Veterans Day. Please contact Corinne Riley at 781-231-7995 for more information and applications.
SHS Class of '62 plans 60th reunion
  Leaders of the Saugus High School Class of 1962 would like you to "SAVE THE DATE." Their 60th Class Reunion will be held on Saturday, Sept. 10, 2022, from 1 to 5 p.m. at Prince Pizzeria in Saugus. They are reaching out to contact fellow classmates as well as other alumni who would like to join them.
  The well-known 50's and 60's music group of Howie Conley will be there for musical enjoyment. Those of you who have heard them know what a performance they put on. There will be pizza and salad combinations plus soft drinks. The price includes all you can eat, tax and gratuities – plus Howie Conley's group – and is $29 per person. There is a bar available for wine, beer and mixed drinks.
  There is no need to purchase tickets at this time. Please let one of the following people know of your interest either by a phone call or a text message so that you can be easily reached when the time draws near. No commitment is necessary. They are just exploring the number of interested classmates.
Donna "Cann" Olivera – 781-987-4308
Jonni "Giantonio" Matrona – 781-439-4200
Janice "Cristiano" Pomeroy – 617-512-2097
Larry Seavers – 704-906-2606
Looking for book donations
  The New Friends of the Saugus Public Library are asking for donations of gently used adult hardcover and softcover fiction for the ongoing book sale in the Community Room. They would also appreciate donations of gently used children's books. Please limit donations at this time to only fiction and children's books; they do not have storage space for other genres or media. Please…clean and newer books only – no tattered pages, bad odors, stains or dirty covers!
  Books may be dropped off at the Main Circulation Desk during business hours. Please do not place donations in the outdoor book drops.
Want to be a Knight?
  The Knights of Columbus is looking for new members to join. If you are interested in becoming a member of this local organization, please call 781-233-9858.
Let's hear it!
  Got an idea, passing thought or gripe you would like to share with The Saugus Advocate? I'm always interested in your feedback. It's been six years since I began work at The Saugus Advocate. I'm always interested in hearing readers' suggestions for possible stories or good candidates for "The Advocate Asks" interview of the week. Feel free to email me at mvoge@comcast.net.
  Do you have some interesting views on an issue that you want to express to the community? Submit your idea. If I like it, we can meet for a 15- to 20-minute interview over a drink at a local coffee shop. And I'll buy the coffee or tea. Or, if you prefer to continue practicing social distancing and be interviewed from the safety of your home on the phone or via email, I will provide that option to you as the nation recovers from the Coronavirus crisis.
  If it's a nice day, my preferred site for a coffee and interview would be the picnic area of the Saugus Iron Works.
CONTEST SKETCH OF THE WEEK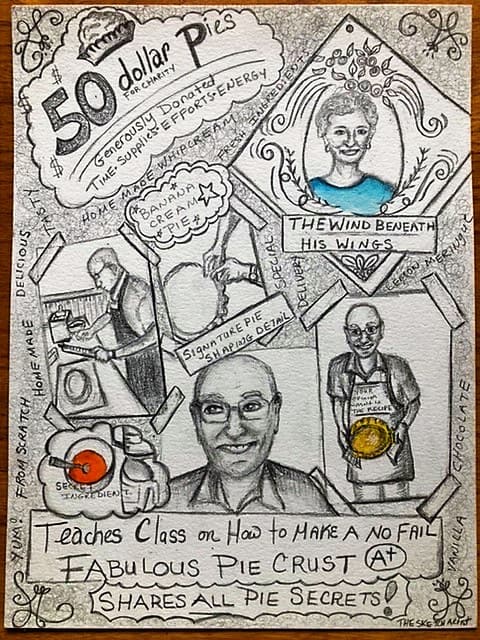 GUESS WHO GOT SKETCHED! If you know the right answer, you might win the contest. In this week's edition, we continue our weekly feature where a local artist sketches people, places and things in Saugus. Got an idea who was sketched this week? If you do, please email me at mvoge@comcast.net or leave a phone message at 978-683-7773. Anyone who between now and Tuesday at noon identifies the Saugonian sketched in this week's paper qualifies to have their name put in a green Boston Red Sox hat with a chance to be selected as the winner of a $10 gift certificate, compliments of Dunkin' in the Food Court at the Saugus Square One Mall. But you have to enter to win! Look for the winner and identification in next week's "The Sounds of Saugus." Please leave your mailing address in case you are a winner. (Courtesy illustration to The Saugus Advocate by a Saugonian who goes by the name of "The Sketch Artist")