Happy Mother's Day to Saugus moms
  If you are a big family person, Sunday (May 8) is one of those special holidays where you would be remiss to not express your love and appreciation to the important "moms" in your life: real mothers, wives, stepmothers, foster mothers, grandmothers, great-grandmothers, aunts, mothers-in-law, daughters, cousins, close friends and the mothers and wives of close friends and relatives who are mothers. It could be something as simple as a greeting card, telephone call, email or text, letting a mother know that you're thinking of her.
  My mom, grandmothers and all but one of my aunts are no longer with us. But I still like to send Mother's Day cards to a handful of women in my life who are special and happen to be moms.
  One of the ladies – a close friend of a college buddy – is in her 90s and in an assisted living place now. I have a couple of cousins and the wife of a cousin who were on this year's card list. All of them are very special in my life – and all of them are good moms.
  Like every town in America, Saugus is full of good moms who make sacrifices for their kids and who give them love and support – which makes a great difference in their current and future lives. Hopefully, a lot of those kids will keep their moms in their hearts this Sunday, by sharing in a special day that honors all moms.
  Hopefully, the kids in college and who are now adults don't forget the love, friendship and support they got from their moms while growing up. If you haven't dropped by your mom's house with a box of chocolates or flowers and also forgot to send a card, at least make an effort to visit your mom. And if time and distance make such a visit impossible on Sunday, at least give your mom a call.
  And for all those folks who have a mom living by herself, in assisted living or a nursing home, a visit or phone call would be nice.
  Americans have been celebrating Mother's Day for about a century now, ever since Anna Maria Jarvis founded the first Mother's Day Service of Worship in Grafton, West Virginia, in 1908. In 1914, President Woodrow Wilson wrote a proclamation declaring Mother's Day as a national holiday to honor mothers with instructions that it be observed on the second Sunday in May.
A remembrance of a loyal Florida mom
  Back in the mid-1980s, while interviewing for a newspaper reporter's job at the now-defunct Miami News down in South Florida, I had the pleasure of meeting a woman who epitomized the best ideals of all moms. Kaye O'Bara gained international notoriety by the care and love she showered on her daughter, Edwarda O'Bara, who lived in a diabetic coma for 42 years before passing away in 2012. As part of my job interview, I was assigned the task of spending a couple of hours at the O'Bara home, interviewing Kaye and writing a story about how she cared for her daughter in her Miami Gardens home. The story was an exercise for each of the job applicants, as countless stories had been written about Kaye and her daughter over the years.
  It's been nearly four decades since my visit. But I still remember the number of personal letters from popes, presidents and personalities and other not-so-famous people taped on the walls of the O'Bara living room where Kaye cared for her daughter for 38 years.
  Edwarda was a 16-year-old high school student who had big dreams in 1970 when she got ill and threw up her diabetic medicine. At the hospital Edwarda asked her mom to never leave her side, before losing consciousness and slipping into a diabetic coma from which she would never recover.
  A lot of families would have put Edwarda in a special hospital or institution. But Kaye kept her promise, never leaving her daughter's side until she died. Edwarda became the center of Kaye's life, at the cost of her own health. It was a 24-hour-seven-day-a-week painstaking task caring for a comatose child. Kaye was only able to muster 90 minutes of sleep at a time, as there is no sleep for mothers who render such loving care in their homes. She had to feed her daughter every two hours and give her an insulin shot every four hours.
  Kaye's story of selfless love motivated Dr. Wayne Dyer to write his inspiring 2001 book – "A Promise Is A Promise: An Almost Unbelievable Story of a Mother's Unconditional Love and What It Can Teach Us."
  My article never got published, of course, since it was just a part of the job screening process – and one of thousands of stories that were written about the mother and comatose daughter. But the time I spent with Kaye O'Bara and her daughter – and her unwavering life of devotion and love to her daughter – has stayed with me nearly four decades later, as a compelling testament to what devoted mothers are all about.
Calling all Saugus servicemen and women
  The Town of Saugus, along with the Saugus Veterans Council and the American Legion Post, extends an invitation to all local servicemen and women to join us at the Memorial Day Parade. Please contact the Selectmen's Office at 298 Central St., Saugus, MA or email the Board at jjarosz@saugus-ma.gov for further information. Come march with town officials, residents, students and fellow soldiers to pay tribute to those who gave their lives for our freedom. The parade – which is scheduled to get underway at 10 a.m. on Saturday on May 28 (Memorial Day will be celebrated on Monday, May 30, the designated holiday) – will be "historical" this year, according to Saugus Veterans Council Commander Stephen L. Castinetti.
  Billie June "BJ" Farrell, the 77th Commanding Officer of the USS Constitution – but the first woman officer in charge during the ship's 224-year history – has accepted an invitation to be the grand marshal of this year's Annual Memorial Day Parade and keynote speaker for the town's Memorial Day Ceremony.
  "This is a once-in-a-lifetime event that you cannot miss!" said Castinetti, a retired U.S. Navy captain.
  "It's historical because Commander Farrell became the first female Commanding Officer of this great ship in 224 years. Come out and welcome Commander Farrell to Massachusetts and, more importantly to Saugus!! Meet the new Commanding Officer of the USS Constitution, Old Ironsides, on May 28," he said.
A spotlight on Civil War soldiers next week
  On Wednesday (May 11), the Saugus Historical Society meeting will have a special program, free and open to the public, at 7 p.m. at 30 Main St. Dexter Bishop, president of the General Lander Civil War Round Table, will present a program on three local Civil War soldiers and their lives before, during and after the war. Two of the featured men, John J. B. Adams and William B. Poole, were Medal of Honor recipients. All three survived the war and joined the Grand Army of the Republic post in Lynn, and their pictures are still displayed in the meeting room of the G.A.R. Hall on Andrews Street in Lynn. Bishop has been working on a series of YouTube videos depicting the lives and times of these local heroes.
  Attendees will also see a project on Saugus history by students in Brigitte Vaudet's fourth grade class, in which the students created postcards based on local monuments that inspired them. Light refreshments will be served.
Find out if you have any Revolutionary War relatives
  There could be a Patriot among us!!!
  Have you ever wondered if there was an ancestor who was a Patriot in your family tree?
  The Parson Roby Chapter, Daughters of the American Revolution (DAR), is hosting a Genealogy Workshop for prospective members and the public to explore your family tree and perhaps find that Revolutionary War hero in your family. The event will take place on Saturday, May 21 from 11 a.m. to 1 p.m. at the MEG Building (54 Essex St. in Saugus). DAR members will be offering helpful tips and assistance to you in your search for family members that may have contributed to service or aid during the American Revolution. Experienced genealogists and researchers will also be on hand to guide you with your search. Plan to drop in and let us help you find that long lost Patriot relative!
  The Daughters of the American Revolution (DAR) is the largest women's service organization in our country!
  For further information please contact Regent Charlotte Line at linesat33@gmail.com.
A yard sale to help the Ukraine people tomorrow
  Dmitry and Lana Sevkovich, the Saugus couple who were featured in our April 8 edition for organizing a collection and shipment of clothing and crucial provisions to Ukraine, continue to organize more projects to help people who have been forced out of their homes by the Russian invasion. Lana sent us the following email message this week:
  "We plan to have another drive on May 7th, 9 a.m. to 4 p.m. Address: 19 Baker St., Saugus.
  "Our humanitarian aid will be shipped to Uzhgorod, Ukraine to The Center for Assistance to the War Victims of Ukraine. These people work hard to evacuate orphan houses from Ukraine. If for some reason they can't evacuate an orphan house, they do their best to provide food and all necessary goods to those houses. This center also helps other Ukrainian refugees who have nowhere to go.
  "This is the list of goods they currently need:
  – "Vitamins (for children and adults, especially with Omega) – new, sealed – crucial item(!)
  – "Ibuprofen – new, sealed – crucial item(!)
  – "Sleeping Bags and Pillows – new
  – "Towels – new, standard size
  – "Underwear and socks (kids and women) – new
  – "Diapers – new, unopened
  – "Baby Formula (dry) – new, sealed
  – "Snack bars and chicken soup cubes.
  – "Tea (in bags).
  – "Instant coffee (only plastic/paper or metal packaging, no glass)
  – "Portable and head flashlights (solar-powered) – working condition.
  – "Phone charging cords (no base, for android, apple) – working condition
  – "Solar power banks – working condition
  "Also, if someone has old smartphones in working condition (android, iPhone model 3-5, for example) that they don't need, we'll be accepting those as well."
  Lana also wanted folks to know that last weekend's yard sale raised $613. She extends her thanks to the people who helped make it a success.
Want to help make a better Library?
  The Saugus Board of Selectmen is accepting applications for appointments to the Saugus Library Board of Trustees. This is a volunteer/nonpaid position for Saugus residents. Those interested may submit a letter of interest/resume no later than June 1 to the Saugus Board of Selectmen, Saugus Town Hall, 298 Central Street, Suite 4, Saugus, MA 01906.
Interested in town zoning matters?
  The Saugus Board of Selectmen is accepting applications for appointments to the Zoning Board of Appeals for the Town of Saugus, This is a volunteer/nonpaid position for Saugus residents. Those interested may submit letter of interest/resume no later than May 13 to:
  Saugus Board of Selectmen
  Saugus Town Hall
  298 Central Street, Suite 4
  Saugus, MA 01906
Compost site now open
  The community's compost site will be open to residents on Wednesdays and Saturdays from 8 a.m. to 2 p.m. The site is located behind the Department of Public Works at 515 Main St.
  Stickers are required to gain seasonal access to the site. Stickers may be purchased for $25.00 at the Department of Public Works (DPW) located at the Compost Site when making your visit to the Compost Site. The Town of Saugus accepts checks only for payment of the $25.00. No cash will be accepted. Kindly bring a check when visiting. Thank you!
  Compost site stickers must be permanently placed on the lower left corner of residents' automobile windshields. Vehicles registered out of state are not permitted.
  Yard waste must be disposed of in brown compost bags or open containers. The Town will accept grass clippings, leaves and brush. As in years past, no branches or limbs larger than three inches in diameter are permitted.
  We ask all residents to please wear a mask and maintain and respect social distancing from others while visiting the site. Residents may call Lorna Cerbone at the Solid Waste and Recycling Department at 781-231-4036 with questions or for more information.
We have a winner!
  Congratulations to Fran Palczynski for making the right identification in last week's "Guess Who Got Sketched" Contest. She was one of several readers answering correctly, but she was the only one to have her name picked in a drawing from the green Boston Red Sox cap.
  Here's the correct answer, offered by the person who goes by the name of The Sketch Artist:
  "The answer to last week's sketch is Brandon Montella. Brandon was featured in The Saugus Advocate April 8th 'The Advocate Asks' article by Editor Mark E. Vogler page 3, 5, 6, 7, with cover photo & 6 photos inside.
  "Brandon competes in several venues of physical strength competitions, some of his fitness challenges are so difficult and labor intensive they are among the select athletic elite to compete! A couple of these challenges are the Navy Seal Obstacle course 'The Bone Frog' and professional Boxing.
  "In this Article Brandon tells The Saugus Advocate that he boxed his last fight on Veterans Day Nov 11, & Nov. 10th is the Birthday of the Marine Corps, making this a significant time for doing his 100-mile run.
  "Another example of Brandon setting out to achieve accomplishments and excelling beyond his goal is his becoming a U.S. Marine! In bootcamp training he received a Commendation as an Honor Graduate (1st in 60 of Platoon 3028!).
  "He has a proven track record, and armed with his mindset and mentality; he's just the person to succeed at a 100 miles for $100,000 run challenge on Veteran's Day (Nov. 11) for his nonprofit cause!
  "As stated by Brandon in the 4/8 The Advocate Asks Interview page 7 'My goal is to raise $100,000 to improve the lives of at-risk youth and under-resourced veterans through fitness training. We strive to build strength & purpose through the fitness training that we offer.'
  "This Saugonian owns The Way LLC, a fitness & boxing gym in Woburn. Brandon is an Active Ordained Minister with Universal Life Ministries. He has a tattoo that displays his wedding date to Tonya May 23, 2010. Brandon's quote 'A wedding band that won't come off!' (page 6 under photo.) *Page 3 shows a beautiful family photo of Brandon & wife Tanya and son Isaiah. Brandon uses his strength as a light to help guide others on the journey to find theirs.
  "Thankyou Brandon
  "Yours Truly,
  "The Sketch Artist"
An update on Brandon Montella's mission
  U.S. Marine Veteran Brandon Montella quietly completed his 50-mile training run late last month, accompanied by a couple of running buddies.
  "We finished in 12 hours and 52 minutes LOL," Montella emailed us this week. "It was pretty rugged and gave me a good idea of what 100 [miles] will hurt like LOL. We started running Saturday [April 23] around 7:30 p.m. or so and finished 12 hours and 52 minutes later."
  Montella added that the local Marine recruiter joined his running group without any kind of training for the double-marathon. "He finished in 17 hours, but now wants in on 100 [mile run]," he said.
  It doesn't really matter what the finish time is – it's the distance that counts, as far as Montella is concerned. Montella still has six months of training before he attempts to do his hundred mile run – which is nearly four times the distance of the Boston Marathon. Stay tuned for more progress reports as the Marine who never ran a Boston Marathon sets his sights on a 100-mile run through five area communities on Veterans Day (Nov. 11) to raise money for his nonprofit cause, "Mission Ready." His goal is to provide military veterans and at-risk students who lack financial resources an opportunity to gain strength and purpose in life through fitness training at his Woburn gym, "The Way LLC."
A course in "Critical Thinking for Saugus Seniors"
  The Saugus Senior Center is pleased to announce a new program offering "Critical Thinking for Saugus Seniors," which is scheduled to begin this month.
  It is well established that engagement in thought and discussion helps promote and maintain good cognitive health. Modern brain research helps prove that engaging in critical thinking skills that include synthesis, analysis, evaluation and judgment can stimulate the brain in a positive way. These cognitive skills will be applied to historical events, literary works and civic dialogue.
  The first program event will take place on May 19 from 12:30 to 3 p.m. It will consist of a showing of the two-hour historical film "Triumph of the Will," produced by Leni Riefenstahl, who was commissioned by Adolf Hitler. After viewing the film, participants will break into teams of four to defend a position, assigned at random, that the film is either propaganda or documentary. Each team will then report their reasoning with supporting evidence to the larger group. Further discussion will take place about contemporary media and the impact of how individuals or events are portrayed.
  This program will be presented by retired educator Peter Manoogian, who has previously led teams of educators in similar activities at the Harvard Graduate School of Education's "Writing, Reading and Civic Education" summer program.
  "Critical Thinking for Saugus Seniors" will be limited to 12 participants per event. But, if there is enough interest among senior citizens, one or more additional classes could be scheduled. To register for the class (admission will be granted to the first 12 seniors to apply), please call (781-231-4178) or drop by the center at 466 Central St., Saugus.
"Shout-Outs" to baseball and softball volunteers
  We received no nominations this week from readers who wanted to nominate fellow Saugonians for "Shout-Outs." So, with the recent start of the Saugus Little League baseball and softball seasons, adult volunteers put in a tremendous amount of work to make the season successful for the town's youngsters. So, hats off to all of those folks who contributed as coaches, organizers and everyone involved.
Want to "Shout-Out" a fellow Saugonian?
  This is an opportunity for our paper's readers to single out – in a brief mention – remarkable acts or achievements by Saugus residents or an act of kindness or a nice gesture. Just send an email (mvoge@comcast.net) with a mention in the subject line of "An Extra Shout-Out." No more than a paragraph; anything longer might lend itself to a story and/or a photo.
Become a part of the Community Garden
  The Rev. John Beach of St. John's Episcopal Church continues to search for a few good men, women and children who would like to join a noble cause – the second year of the church-sponsored community garden.
  "We are inviting all interested persons to join us in producing vegetables for those who are suffering from food insecurity in Saugus," Rev. Beach wrote in a recent letter to the community.
  Rev. Beach is looking for a variety of help, as the garden approaches planting time for its second year:
  "If you are able to grow a few seedlings in your home, we would like to bring the seeds, soil, pots, and instructions in the next few weeks.
  "We would like to invite any who are available to help for an hour to help us prepare the garden on Friday, May 13th and/or Saturday May 14th between 9 a.m. and noon.
  "Assist in the planting of crops on Friday May 27th and/or Saturday May 28th sometime between 9 and noon. We will be having a brief service of the blessing of the ground on the Friday.
  "Assist for an hour a week in the tending of the crops (weeding and watering) over the course of the summer.
  "Assist in the harvesting of the crops in September and delivering them to the Saugus Food Pantry"
  "If you are able to assist, or if you are interested in contributing to the garden, please let me know. I am looking forward to working with you," Rev. Beach said. He can be reached by phone (774-961-9881) or email (revjbeach@gmail.com).
Saugus Kindergarten Registration underway
  Kindergarten registration for students entering the Saugus Public Schools in the fall of 2022 opened this week. Registration packets may be picked up at the Main Office of the Veterans Early Learning Center (VELC), 39 Hurd Ave. in Saugus Monday through Friday during school hours. The packet will also be available on the Saugus Public Schools' website, https://www.saugus.k12.ma.us/.
  Completed forms and required documentation may be returned to the VELC Main Office starting Monday, May 16. Packet drop-off hours will be Monday through Friday from 9:30 to 11 a.m.; kindergarten screening appointments will be scheduled at this time. Screenings will take place on Wednesday, June 8 and Thursday, June 9 and will last about 20 minutes. There is no deadline for registration; however, the district asks families to return the forms by May 20 in order for them to schedule screenings and plan for staffing and programming in the fall.
  Saugus moved to a free, all-day kindergarten model for the 2021-22 school year to better prepare students academically, socially and emotionally. A half-day option is not available.
  "Free, all-day kindergarten levels the playing field and gives Saugus children all of the building blocks they need from day one," said School Committee Member Ryan Fisher.
  Students must be five years old by Aug. 31, 2022, in order to enter kindergarten in the fall of 2022; there are no exceptions. For more information, please contact the Veterans Early Learning Center at 781-231-8166.
Curbside leaf collection next week
  The Town of Saugus recently announced that spring curbside leaf collection will take place during the week of May 9, 2022. Residents may dispose of leaves curbside on their regularly scheduled collection day, between Monday, May 9, and Friday, May 13. Leaves should be left outside by 7 a.m. on the appropriate days. Please ensure that leaf containers are physically separated from trash and recycling.
  Paper leaf bags are the preferred method of leaf disposal. If you are using barrels, they must be clearly marked with yard waste stickers. Stickers, which are free, may be obtained at Inspectional Services in the lower level of Town Hall (298 Central St., Saugus). Barrel covers must remain removed so that the leaves are visible.
  Plastic bags, cardboard boxes, branches, and brush will not be accepted. Please note that separate trucks collect the rubbish, recycling and leaves, so the leaves may be collected at a different time of day.
  "Missed pick-ups" will not be conducted. Please contact Lorna Cerbone at 781-231-4036 with any questions.
Buy a brick to honor a Saugus veteran
  The Saugus War Monument Committee once again is sponsoring the Buy A Brick Program to honor all those who have served their country. If you would like to purchase one in the name of someone who is presently serving or has served, in the memory of a loved one, or just for someone from your family, school, etc., the general pricing is $100 for a 4″ X 8″ brick (three lines) and $200 for 8″ X 8″ brick (five lines). Each line is a maximum of 15 characters.
  The improvement and upkeep of the monument on the corner of Winter and Central Streets rely on the generosity of donors through fundraising.
  The brick application must be in by Sept. 15 to ensure the bricks will be ready for Veterans Day. Please contact Corinne Riley at 781-231-7995 for more information and applications.
SHS Class of '62 plans 60th reunion
  Leaders of the Saugus High School Class of 1962 would like you to "SAVE THE DATE." Their 60th Class Reunion will be held on Saturday, Sept. 10, 2022, from 1 to 5 p.m. at Prince Pizzeria in Saugus. They are reaching out to contact fellow classmates as well as other alumni who would like to join them.
  The well-known 50s and 60s music group of Howie Conley will be there for musical enjoyment. Those of you who have heard them know what a performance they put on. There will be pizza and salad combinations plus soft drinks. The price includes all you can eat, tax and gratuities – plus Howie Conley's group – and is $29 per person. There is a bar available for wine, beer and mixed drinks.
  There is no need to purchase tickets at this time. Please let one of the following people know of your interest either by a phone call or a text message so that you can be easily reached when the time draws near. No commitment is necessary. They are just exploring the number of interested classmates.
  Donna "Cann" Olivera – 781-987-4308
  Jonni "Giantonio" Matrona – 781-439-4200
  Janice "Cristiano" Pomeroy – 617-512-2097
  Larry Seavers – 704-906-2606
Food pantry seeking driver volunteers
  The Saugus United Parish Food Pantry seeks volunteers to make food and bread pickups on Thursdays and Fridays from 7:30 to 9 a.m. Anyone who has the time and interest to help out should contact Jeff Hirtle at 781-922-0661. The food pantry operates out of the basement at Cliftondale Congregational Church at 50 Essex St. in Saugus.
Friday morning Legion Hall breakfasts
  Here's some great news for people who enjoy their Friday morning breakfasts at the Saugus American Legion Cpl Scott J. Procopio Post 210. Legion Hall, which is located at 44 Taylor St., will continue the Friday morning breakfasts through the last Friday in May of 2022. The buffet breakfast is served at 8:00 a.m. for a donation of $7.
  Bon appétit! And good luck to the Kitchen Crew.
Looking for book donations
  The New Friends of the Saugus Public Library are asking for donations of gently used adult hardcover and softcover fiction for the ongoing book sale in the Community Room. They would also appreciate donations of gently used children's books. Please limit donations at this time to only fiction and children's books; they do not have storage space for other genres or media. Please…clean and newer books only; no tattered pages, bad odors, stains or dirty covers!
  Books may be dropped off at the Main Circulation Desk during business hours. Please do not place donations in the outdoor book drops.
Want to be a Knight?
  The Knights of Columbus is looking for new members to join. If you are interested in becoming a member of this local organization, please call 781-233-9858.
Healthy Students-Healthy Saugus
  (Editor's Note: The following info is from an announcement submitted by Julie Cicolini, a member of the Board of Directors for Healthy Students-Healthy Saugus.)
  Who we are: Healthy Students-Healthy Saugus (HS2) is a nonprofit group of volunteers who are helping to offset food insecurity in households. HS2 provides students/families who enroll in the program a supply of nutritious food for when school lunches and breakfasts are unavailable to them on weekends.
  How HS2 can help you: HS2 bags are distributed at school on Fridays to take home. Bags include such items as peanut butter, jelly, a loaf of bread, canned meals/soups/tuna/vegetables, pasta/sauce, fruit cups, cereal, oatmeal, goldfish, pretzels and granola bars. To sign up go here to complete online form: https://forms.gle/gmMGguycSHBdziuE9.
  Want to partner with us: HS2 relies on donations to create take-home bags for a weekend full of meals. All food is provided to children free of charge. It is our hope these resources will support the health, behavior and achievement of every student who participates.
  We would love to partner with organizations, youth groups, PTOs, businesses and individuals to assist in feeding students of Saugus. To learn more about how you can partner with us, visit the Healthy Students-Healthy Saugus Facebook page or email us at HS2Saugus@gmail.com.
  Checks can also be sent directly to: Salem Five C/O Healthy Students-Healthy Saugus, 855-5 Broadway, Saugus, MA 01906. Online donations can also be made at https://givebutter.com/HealthySaugus.
Food Pantry still open
  The Saugus United Parish Food Pantry continues to remain open on Fridays between 9:30 a.m. and 11:00 a.m. despite concerns over the Coronavirus. They have made adjustments to protect their core of volunteers and the needy people who receive the food. For the protection of volunteers & clients, and to limit personal contact and crowding/gathering, the food pantry has been distributing prebagged groceries. Even though clients may receive items they don't want or need, food pantry organizers feel this is the best course of action to mitigate the potential spread of COVID-19.
  Those in need, even for short-term or one-time assistance, are encouraged to come. The food pantry is located in the basement of Cliftondale Congregational Church at 50 Essex St. in Saugus.
Let's hear it!
  Got an idea, passing thought or gripe you would like to share with The Saugus Advocate? I'm always interested in your feedback. It's been six years since I began work at The Saugus Advocate. I'm always interested in hearing readers' suggestions for possible stories or good candidates for "The Advocate Asks" interview of the week. Feel free to email me at mvoge@comcast.net.
  Do you have some interesting views on an issue that you want to express to the community? Submit your idea. If I like it, we can meet for a 15- to 20-minute interview over a hot drink at a local coffee shop. And I'll buy the coffee or tea. Or, if you prefer to continue practicing social distancing and be interviewed from the safety of your home on the phone or via email, I will provide that option to you as the nation recovers from the Coronavirus crisis.
  If it's a nice day and the temperature is 50 degrees or better, my preferred site for a coffee and interview would be the picnic area of the Saugus Iron Works.
CONTEST SKETCH OF THE WEEK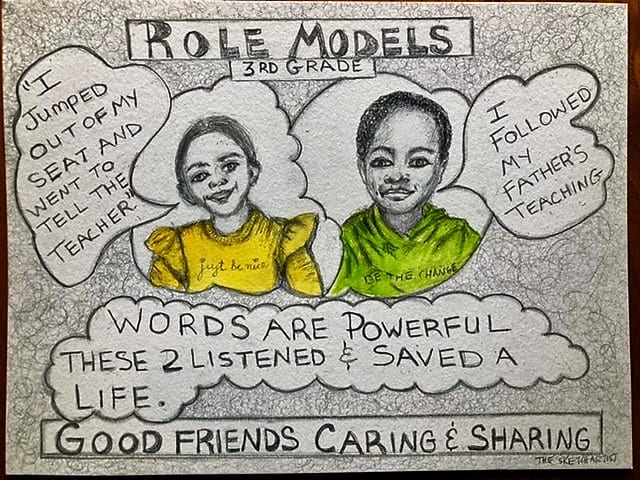 GUESS WHO GOT SKETCHED! If you know the right answer, you might win the contest. In this week's edition, we continue our weekly feature where a local artist sketches people, places and things in Saugus. Got an idea who was sketched this week? If you do, please email me at mvoge@comcast.net or leave a phone message at 978-683-7773. Anyone who between now and Tuesday at noon identifies the Saugonian sketched in this week's paper qualifies to have their name put in a green Boston Red Sox hat with a chance to be selected as the winner of a $10 gift certificate, compliments of Dunkin' in the Food Court at the Saugus Square One Mall. But you have to enter to win! Look for the winner and identification in next week's "The Sounds of Saugus." Please leave your mailing address in case you are a winner. (Courtesy illustration to The Saugus Advocate by a Saugonian who goes by the name of "The Sketch Artist")