Good morning, Saugus!
  Best wishes to everyone for a safe and happy Thanksgiving Day weekend. If you are traveling long distances on the highways over the holiday weekend, be careful out there.
  If you are looking forward to a family gathering or a get-together with friends, have a good time. But limit your alcohol consumption to two drinks. It's usually the third one that gets you in trouble. Better yet, have somebody who isn't drinking be the designated driver. The highways will be crowded enough without impaired drivers endangering motorists
  Tomorrow, Saugus, along with other communities across Massachusetts, will enjoy High School football rivalries. Saugus High will host the Peabody Tanners tomorrow (Thursday, Nov. 24) at 10 a.m. at the Christie Serino Jr. Memorial Stadium at the Saugus Middle/High School Complex.
  On its website this week, the administration of Saugus Public Schools is requesting that all spectators purchase tickets online to save time and money. Online sale ticket prices are as follows: $9, adults and $6, students/senior citizens. Cash sales will be available at the door; however, all tickets will cost $10. The School Department will also have the online purchase option available at the gate on game day at the reduced cost. For more information for the online tickets, check on the Saugus Public Schools website.
Counting our blessings
  Thanksgiving has always been one of my favorite holidays. Families and friends gather around a great meal after a High School football game rivalry. And many people count their blessings, reflecting on the positive things going on in their lives.
  This week, I asked selectmen to share their own thoughts on what they believe Saugus residents should count their blessings for (See story in this week's edition).
  I gave my own situation as editor of The Saugus Advocate for the last six and half-plus years some reflection. I am thankful that I'm healthy enough to continue working as the Editor of The Saugus Advocate as I observe my 50th year in newspaper journalism. I still enjoy the challenges of putting out a small community newspaper that comes out on Fridays – except on special holiday weeks. And I am blessed to have a supportive publisher backing me up and a cast of contributors who file interesting articles, photos and artwork on a regular basis which enhance the paper.
  So, I am very grateful to receive frequent contributions from Laura Eisner (Saugus Gardens), Jay DeMarco (Small Saves cartoon), Joanie Allbee, Bill Stewart (The Old Sachem), Janice Jarosz, Tom Sheehan and The Sketch Artist – to name a few.
  I also count my blessings that I met a wonderful lady that I enjoy being around, and she's a Saugus woman. I really, really, really like her so much that I gave her my high school graduation ring. Stay tuned.
A big night for Saugus coming up
  Plans are already in the works for one of the town's most popular community events – the annual tree lighting ceremony and holiday festivities, set for 7 p.m. Friday, Dec. 2.
Santa Claus will be coming to town. There will be some outside fun and games for kids – including the popular petting zoo. Santa Claus will make his arrival. This is a Saugus event that I always look forward to attending. It's a great family event. Stay tuned for details.
Special Town Meeting Monday night
  Just weeks after having one Special Town Meeting, town officials are gearing up for another.
  The key item on the warrant for a Special Town Meeting set for Nov. 28 is an article that would grant the town manager authority to research, develop and participate in a contract, or contracts, to aggregate the electricity load of the residences and businesses in the town.
  Another article on the agenda would authorize the Board of Selectmen to acquire title to the land and buildings located at 42 Jackson St. for public parking and other municipal purposes. Another article will permit the town to appropriate money for acquiring the land and buildings at 42 Jackson St. In addition, there are several fiscal housekeeping initiatives that will be considered at the meeting, which gets underway at 7:30 p.m. in the second floor auditorium at Saugus Town Hall.
Saugus Lions Club Toy Drive Saturday
  The Saugus Lions Club will hold its 3rd Annual Roaring Toy Drive 2022 Saturday (Nov. 26) at the Saugus Senior Center, from 10 a.m. to 2 p.m. at the Saugus Senior Center at 466 Central St.
  Because of last year and continuing this years' craziness, more families are hurting more than ever and are in need of help for Christmas. As we all know when times are tough, toys for the children may get overlooked. Retired Capt. Bill O'Malley of the Saugus Fire Department will be collecting the toys and delivering them to those families in need.
  Please share this information with your family, friends and co-workers.
  If we can all tell a handful of friends who have found themselves far luckier than most, to donate 1 extra toy, imagine all the toys we can collect.
  Let's all try to make Christmas of 2022 far better than the rest of the year. Together we can make a difference and help put some smiles on many faces.
This week's "Shout Outs"
Debora de Paula Hoyle, Administrative Assistant, at the Cliftondale Congregational Church, wants to publicly acknowledge and thank the folks and organizations who contributed to making the Thanksgiving Food Drive at the Saugus United Parish Food Pantry a successful event that will help about 100 needy families in the Saugus area have a decent Thanksgiving Day meal.
"We had the following entities host food drives for us: Saugus Public Library, Belmonte Middle School field hockey team, Saugus YMCA, Girl Scout Troop 67718, ATCK Fitness, Pioneer Charter School of Science II, Rockland Trust, Saugus Catholics," Debora wrote us in an email yesterday.
"We also received financial donations from the Elks and Kowalsky Insurance. Across the two days, we had volunteers from the other churches in Saugus, the community, Saugus High football team, M&T Bank, Salem Five Bank, Pioneer Charter School of Science II, Saugus YMCA, Bishop Fenwick High School (Peabody)," she continued.
"This is in addition to the many, many others who donated their time and resources–including those who do so anonymously and also our dedicated team of volunteers from across Saugus who help us every week."
  We received a second "Shout Out" from Precinct 10 Town Meeting Member Peter Manoogian:
  "Here is a shout out for BoH (Board of Health) member Maria Gangemi Tamagna who did a great job pointing out the ridiculous emission agreement the committee agreed to in by the sub committee . Kudos to her for pointing out that with agreed to improvements Saugus residents will be exposed to higher emissions from WIN than what other incinerators are able to achieve.
Want to "Shout Out" a fellow Saugonian?
  This is an opportunity for our paper's readers to single out — in a brief mention — remarkable acts or achievements by Saugus residents. Or, an act of kindness or a nice gesture. Just send an email (mvoge@comcast.net) with the mention in the subject line, "An Extra Shout Out." No more than a paragraph. Anything longer might lend itself to a story and/or a photo.
We have a winner!
  Congratulations to Bob Davis for making the right identification in last week's "Guess Who Got Sketched?" Contest. Bob is one of several readers answering correctly. But, he was the only one to have his name picked in a drawing from the green Boston Red Sox cap.
  Here's the correct answer, offered by the person who goes by the name of The Sketch Artist:
  The answer to last week's sketch is Captain David Savoie.
  As a Unit Chaplain/Recruiter with a genuine and enthusiastic personality, the shoes fits like a glove.
  David is a W.W. II ReEnactor who takes his Historical role serious and it shows .
  Without a flinch or hint of being uncomfortable from a May or July Day's heat he marches along like an authentic soldier going off to war.
  The Chaplain is often dressed in World war II gear from head to toe acting the character of a soldier worthy of a part in a W.W. II Movie role!
  David's Business card shows he is available for Re enactment Presentations and can be reached at
  CPT. David Savoie Unit Recruiter / Chaplain
  Living Historians – Living History
1-781-520-9963. DavidTSavoie@gmail.com
  David's charismatic warm approachable manner readily exposes his inner light for all to see.
  He brings realism to his acting role.
  Chaplain David Savoie your light shines such a warm glow even upon a stranger's chat .
  David is a happily married Saugonian who's often seen at Saugus Events and outreaches and supporting small businesses and restaurants .
  He is a member and big supporter of Veterans *David would be an excellent and interesting candidate for an "Advocate Asks " Interview column
  Yours truly ,
  The Sketch Artist
Garden Club News
  Laura Eisener submitted this information on recent and upcoming Saugus Garden Club activitie:
  The Saugus Garden Club held its popular Thanksgiving Centerpiece workshop at St. John's Church last Wednesday afternoon and 43 beautiful flower arrangements were made, including some for shut-ins who might like something to brighten up their surroundings!
There were ample refreshments, worthy of a Thanksgiving table, and a wonderful time was had by all. Volunteers prepared the containers in advance by attaching floral foam. Participants got a nice selection of ferns, varied chrysanthemum stems, purple statice, small carnations, wheat stalks, and plaid ribbon in fall colors to design their beautiful creations.
  The next Garden Club event will be wreath decorating on Saturday December 3 at 1 p.m. at St. John's Church. If you wish to attend, call Donna Manoogian at 617-240-9003. Reservations are required because space is limited.
Cemetery Cleanup Nov. 28
  The Town of Saugus Cemetery Department announces that fall grounds cleanup will begin at the Riverside Cemetery on Monday, Nov. 28. The Cemetery Commission asks members of the public to remove any personal and/or holiday /seasonal items from the grounds before the cleanup begins. The Cemetery Commission and Department are not responsible for any personal holiday/seasonal items that are not removed from the gravesites by the family on or before Nov. 28th.
  All Veterans flags will remain on gravesites until Monday, Nov. 28, upon which time they will be removed for the winter season. Flags will be placed back on the gravesites in May prior to Memorial Day.
  If you have questions regarding the Fall Cleanup, please call the Cemetery Department at 781-231-4170.
Legion breakfasts resume
  Saugus American Legion Post 210 is hosting its popular breakfasts again – from 8 – 9 a.m. on Fridays. The price is $8 for those who are looking for a delicious meal at Legion Hall. Bon appétit!
"Holly Jolly" coming to The Kowloon
  The Kowloon Restaurant announced the Holly Jolly Holiday Party with the Platters® Very Merry Christmas Show is slated for Friday, Dec. 16 at 8 p.m. Doors open at 6:30 p.m. Showtime is 8 p.m.
  The Platters are set to perform live in concert playing all their hits and holiday tunes. Tickets are $25 per person. All seats are reserved.
  The Platters, hailed a rock and roll, vocal, and Grammy® Halls of Fame group, will be joined by special guests Smokin' Joe and the Henchmen.
  Kowloon food and beverage services will be available. For tickets: online ordering, front desk
Fall Curbside Leaf Collection is underway
  The Town of Saugus has announced that fall curbside leaf collection will take place during the week of Nov. 28th – Dec. 2nd. Residents may dispose of leaves curbside on their regularly scheduled collection day. Leaves should be left outside by 7 a.m. on the appropriate days. Please ensure that leaf containers are physically separated from trash and recycling.
  Paper leaf bags are the preferred method of leaf disposal. If using barrels, however, they must be clearly-marked with yard waste stickers. Barrel covers must remain removed so that the leaves are visible. Plastic bags, cardboard boxes, branches, and brush will not be accepted.
Please note that separate trucks collect the rubbish, recycling and leaves, so the leaves may be collected at a different time of day. "Missed pick-ups" will not be conducted.
  Please contact Director of Solid Waste/Recycling Scott Brazis at 781-231-4036 with any questions. For more information about the Town of Saugus, visit www.saugus-ma.gov
Compost/Recycling Drop-Off Site Closing for Winter
  The Town of Saugus Compost/Recycling Drop-Off Site will close for the winter season on Saturday, Dec.10 at 2pm. The site will be open from 8 a.m. to 2 p.m. on December 10, prior to closing.
  The site will re-open for recycling on the third Saturday of the month January, February, and March weather permitting.
Please contact Scott Brazis, Director of Solid Waste/Recycling at 781-231-4036 with any questions.
What's happening at the Saugus Public Library
  For school children looking for interesting projects and programs to participate in this fall, there's plenty to do at the Saugus Public Library.
  Just Sew!
  Saugonians are welcome to join a new monthly sewing class for adults, which will be held the third Monday of each month from 6:30 to 7:30 p.m. in the Community Room of Saugus Public Library. The next meeting is Monday, Dec. 19.
  The class will cover basic topics like sewing buttons, hemming clothing, mending torn fabric and will move onto more advanced topics in the coming weeks.
  This class is free. (see sauguspubliclibrary.org)
  A neat, new teen group called Manga & Anime Club
  The New Manga & Anime Club began recently. And, from all accounts, it's a lot of fun for kids in Grades 6 and up. So, if you are curious, check out the Teen Room. Chat with friends! Make crafts! Try Japanese snacks! Club meetings will continue on Saturdays, through May, from 10-11 a.m.
  They will be held Dec 10, Jan 7, Feb 4, March 4, April 1, and May 13. Please sign up in advance, call 781-231-4168 or stop by the Reference Desk. https://www.sauguspubliclibrary.org/new-manga-anime-club…/
  Saugus Public Library 295 Central Street Saugus Mass.
  All About Crystals with Leeza Masia
  This event has been rescheduled to Thursday, Dec.1, from 5:30 to 6:30 p.m. in the Brooks Room. This is for fifth graders and up. Leeza will be showcasing some of her favorite crystals from her personal collection. She will talk about geological & metaphysical aspects of crystals, and how to cleanse and charge any stone. Learn which chakras particular crystals associate with, and how to make 2 types of crystal grids. There will be a crystal giveaway at the end of the workshop! Please sign up in advance. Call 781-231-4168, come by the Reference Desk, or sign up online from our events calendar. https://www.sauguspubliclibrary.org/events/
Christmas tree festival at the MEG
  The MEG Foundation has announced its schedule for the 12th Annual Christmas Tree Festival, which begins Saturday, Nov. 26, with the decoration of trees from 8 a.m. to 1 p.m. The festival dates are
2, & 3, from 3 to 8 p.m.
4, from 1 to 6 p.m.
9 & 10, from 3 to 8 p.m.
Santa arrives on Dec.10 for photos, from 4:30 to 6 p.m. There will also be a Petting Zoo on the front lawn, from 5 to 7 p.m.
11, winners can pick up trees at the MEG from 8 a.m. to 1 p.m.
  For more information, contact Linda Ross at 781-233-4607
First Baptist Church presents "Can We Talk…"
  The First Baptist Church Pastor Leroy Mahoney invites troubled people to join others in a special program called "Can We Talk … Community conversations on Trauma and Healing" the first Thursday of every month, from 6 to 7 p.m. at Rev. Isaac Mitchell Jr. Fellowship Hall, 105 Main St. in Saugus.
  "Join us as we gather in community to share our stories, thoughts and feelings about whatever you are going through," Rev. Mahoney writes in a written announcement.
  "As always, it is a safe space to come together in community," he says.
Wreaths Across America
  On Dec. 17th, at noon, the Parson Roby Chapter of the Daughters of the American Revolution (MA0136P) is sponsoring their second Wreaths Across America event, helping both Riverside Cemetery and the Old Burying Ground Cemeteries to remember and honor veterans by laying remembrance wreaths on the graves of our country's fallen heroes.
  To sponsor your wreath(s) at $15 each or to volunteer to help place wreaths on December 17th, please visit www.wreathsacrossamerica.org/MA0136P or use the QR code. There will be a brief ceremony at noon to honor all branches of the military followed by laying wreaths on our fallen heroes. Invite your friends and family to join us in honoring our servicemen and women. The cut-off date to order is Nov. 28th.
  2021 was our first year sponsoring this event, which had over 360 wreaths sponsored. The community really stepped up and we are grateful for all the support we received. However, there are more than 1500 veterans' graves in Riverside and we are hoping that between the community and businesses there will be enough sponsored wreaths to cover all those graves this year.
  The Daughters of the American Revolution's mission is to preserve American history and secure America's future through education and promoting patriotism. For more information on how to participate or "What We Do" email the Parson Roby Chapter DAR at parsonroby.saugusdar@gmail.com.
Healthy Students-Healthy Saugus Program Resumes for the 22-23 School Year
  (Editor's Note: The following is an announcement submitted by Julie Cicolini, a member of the Board of Directors for Healthy Students-Healthy Saugus, providing information about the return of the program for the new school year)
Who we are:
  Healthy Students-Healthy Saugus (HS2) is a non-profit group of volunteers that are helping to offset food insecurity in households. HS2 provides students/families that enroll in the program a weekend supply of nutritious food when school lunches and breakfasts are unavailable to them on weekends.
  How HS2 can help you:
  HS2 bags are distributed at Saugus Public schools on Fridays to take home. Bags include such items as peanut butter, canned meals/soups/tuna/vegetables, pasta, fruit cups, cereal, oatmeal, goldfish, pretzels and granola bars. All food is provided to children free of charge. It is our hope these resources will support the health, behavior, and achievement of every student who participates.
  To sign up go here to complete online form: https://forms.gle/gmMGguycSHBdziuE9
  Want to partner with us:
  We would love to partner with organizations, sports teams, youth groups, PTO's, businesses and individuals to assist in feeding students of Saugus. To learn more about how you can partner with us visit the Healthy Students-Healthy Saugus Facebook page or email us at HS2Saugus@gmail.com
  HS2 relies on donations to create take home bags with a weekend full of meals.
  Checks can also be sent directly to:
  Salem Five
  C/O Healthy Students-Healthy Saugus
  855-5 Broadway
  Saugus MA, 01906
  Online donations can also be made at: https://givebutter.com/HealthySaugus
Let's hear it!
  Got an idea, passing thought or gripe you would like to share with The Saugus Advocate. I'm always interested in your feedback. It's been six and a half years since I began work at The Saugus Advocate. I'm always interested in hearing readers' suggestions for possible stories or good candidates for The Advocate Asks interview of the week. Feel free to email me at mvoge@comcast.net.
  Do you have some interesting views on an issue that you want to express to the community? Submit your idea. If I like it, we can meet for a 15 to 20 minute interview over a hot drink at a local coffee shop. And, I'll buy the coffee or tea. Or, if you prefer to continue practicing social distancing and be interviewed from the safety of your home on the phone or via email, I will provide that option to you as the nation recovers from the Coronavirus crisis.
If it's a nice day, my preferred site for a coffee and interview would be the picnic area of the Saugus Iron Works National Historic Site..
CONTEST SKETCH OF THE WEEK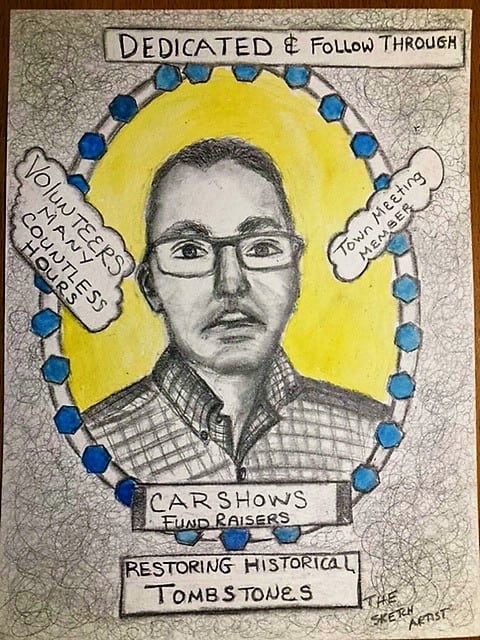 GUESS WHO GOT SKETCHED? If you know the right answer, you might win the contest. In this week's edition, we continue our weekly feature where a local artist sketches people, places and things in Saugus. Got an idea who's being sketched this week? If you do, please email me at mvoge@comcast.net or leave a phone message at 978 683-7773. Anyone who identifies the Saugonian sketched in this week's paper between now and Tuesday at Noon qualifies to have their name put in a green Boston Red Sox hat with a chance to be selected as the winner of a $10 gift certificate, compliments of Hammersmith Family Restaurant, 330 Central Street in Saugus. But you have to enter to win! Look for the winner and identification in next week's "The Sounds of Saugus." Please leave your mailing address in case you are a winner. (Courtesy illustration to The Saugus Advocate by a Saugonian who goes by the name of "The Sketch Artist")