Good morning, Saugus!
  I've been to six Christmas Tree Lighting events in Saugus since I became editor of The Saugus Advocate back in March of 2016. The 2020 event was postponed because of the pandemic.
  All things considered, I believe the one last Friday (Dec. 2) was the best one weatherwise. It was very comfortable, and my bare hands didn't go numb when I took photographs. So, it was relatively mild late autumn conditions, which proved to be favorable for the large crowd that turned out early.
  It was too bad that the public was not allowed to enter Town Hall and head upstairs to the second floor auditorium, which accommodated a lot of fun events that were once a regular fabric of the annual festivities until COVID-19 struck in March of 2020. I remember the Gingerbread House contests and face painting and plenty of warm space to accommodate those folks who came to see their children get photographed with Santa Claus. I didn't see any face-painting this year. And the Gingerbread House contest hasn't been part of the program for several years.
  Photo opportunities with Santa Claus are still a big draw. But Santa now poses for photos with children in a chair that was set up in front of the Central Street entrance to the Saugus Public Library. And there was an adjacent booth nearby in case it rained.
  All in all, it was a very nice event – well planned by the town's Youth & Recreation Department, the Department of Public Works, the Fire Department and other town agencies. I enjoyed myself, walking around in the crowd and soaking up the atmosphere.
  I spent some time hanging on the top steps of Town Hall, talking to Brian Cross, who served as this year's DJ for all of the Christmas music. Brian, a 2012 graduate of Saugus High School, was providing the music for his third tree lighting event. He's been coordinating the town's Christmas Eve Parade since 2014.
  "I've been coming down here my whole life. It's one of those yearly traditions that Saugus residents enjoy," he said.
  During the final 20 minutes of the night, I asked Brian as to whether he took requests. He told me he did, but it didn't seem like folks were taking advantage of that opportunity, so I peppered him with a few requests, just to see whether he knew his tunes and had an extensive collection. Well, I found out that even if he didn't know some tunes, he could easily find them if he received a song title.
  Brian played Nat King Cole's "The Christmas Song," one of my favorites that dates back to 1961. My other requests were Burl Ives' "Holly Jolly Christmas," "Believe" – the theme song for the animated Christmas movie "The Polar Express" – "The Little Drummer Boy" sung by Carrie Underwood and Josh Groban's "I'll Be Home For Christmas." Brian was able to get them all within seconds without any problems.
  So, for me, that was a special treat, in addition to hanging out at the petting zoo. Saugus Tree Lighting 2022 turned out to be a great night.
A "Shout Out" to Guy Moley
  We didn't receive any nominations from readers to recognize deserving candidates for "Shout Outs," so, using the editor's prerogative, I will go with Guy Moley – who had an extremely busy weekend. On Friday night, he was down at Saugus Center playing Santa Claus. Then, on a rainy Saturday night, Guy was working with Mom's Cancer Fighting Angels at Fuddruckers, trying to raise money for a great cause. Hats off to Guy Moley this week.
Want to "Shout Out" a fellow Saugonian?
  This is an opportunity for our paper's readers to single out – in a brief mention – remarkable acts or achievements by Saugus residents, or an act of kindness or a nice gesture. Just send an email (mvoge@comcast.net) with a mention in the subject line of "An Extra Shout Out." No more than a paragraph; anything longer might lend itself to a story and/or a photo.
We have a winner!
  Congratulations to Nicole Berger for making the right identification in last week's "Guess Who Got Sketched" Contest. Nicole is one of several readers answering correctly. But she was the only one to have her name picked in a drawing from the green Boston Red Sox cap.
  Here's the correct answer, offered by the person who goes by the name of The Sketch Artist:
  "The answer to last week's sketch is Pastor Joe Hoyle's wife Debora De Paula Hoyle.
  "Debbie is the Administrative Assistant of the Cliftondale Congregational Church.
  "Debbie does alot of behind the scenes administration tasks effortlessly and with a smile.
  "She helps the Saugus Food Pantry run smoothly and efficiently!
  "Debbie's quick to give praise and recognition to others. She is caring, sensitive and compassionate in her ways.
  "Saugus Advocate November 23, edition has the 'Counting Your Blessings in Saugus' by Mark E. Vogler Front Page and on page 2 Pastor Hoyle and Debbie are giving credit to others for their generosity and efforts.
  "Pastor Joe Hoyle and Debbie involve themselves with an array of outreaches from tending an information booth with gifts at the 411 Saugus Event to weekly 10:30 AM Wed Bible Studies at the Senior Center.
  "Thank you Debbie for all you do.
  "You shine with such hospitality and grace to others
  "Your hand is generously extended towards your fellow man.
  Yours Truly,
  "The Sketch Artist"
Saugus River Watershed Council Annual Meeting Monday
  This year's Annual Meeting and Dinner of the Saugus River Watershed Council (SRWC) features a keynote presentation by Cindy Lupi from Clean Water Action, where she coordinates community-based efforts to reduce pollution and promote a cleaner, more sustainable economy. The event is set for Monday, Dec. 12 from 6:30–9 p.m. at Spinelli's on Route 1 in Lynnfield. The Saugus River Watershed Council will also present River Stewardship Awards, highlight 2022 accomplishments and elect 2023 board members.
  Admission to the annual meeting of $35 per person includes the keynote presentation plus a delicious dinner buffet. Menu: roast beef, roasted potatoes, pasta, dinner rolls, salad and homemade dessert. A cash bar will be available. This event is handicap accessible and open to the public. Online registration and payment information is available under the events section at https://www.saugusriver.org/annualmeeting. Preregistration requested.
  This year's Steward Awards will be presented to Rep. Jeff Turco and Jonah Chiarenza. Debra Panetta, President of the SRWC, said in a press release, "Representative Turco continues to be an environmental champion for Saugus and Revere, and I am delighted that Jeff will be receiving this award." Mary Lester, Executive Director, is very excited for this award to be presented to Jonah Chiarenza from Bike to the Sea. She said this organization deserves so much for everything they have done for the Northern Strand and all the efforts put forth with bringing communities together.
  This year's event will also feature sale of holiday wreaths for $40 each. These handmade wreaths feature fresh woodland evergreens, pinecones and other decorative elements.
  They will also be having an online auction that will become live that night, raffles and a 50/50. All proceeds will benefit the Saugus River Watershed Council's environmental education, SRWC scholarship and river restoration programs. Vacations and more can be bid on here: https://srwc.betterworld.org/auctions/saugus-river-watershed-council-2.
  The Saugus River Watershed Council is a 501 (c) 3 nonprofit organization founded in 1991 to protect and restore the natural resources of the Saugus River watershed.
Friends of Breakheart notes
  The next event at Breakheart Reservation sponsored by the DCR is the First Day Hike on New Year's Day. It is a wonderful way to start the New Year. Please check newspapers and flyers for further updates.
  Other activities are being planned to include the famous Maple Sugaring event and a park clean up when the weather improves. If interested in getting involved with the Friends Group, please call 781-233-1855 X19.
  Happy Holidays and look forward to seeing you at the Park.
Superintendent's Virtual Coffee
  Saugus Public Schools Superintendent Erin McMahon announced recently on her website that she will be holding a series of coffee meetings this year to give parents and caregivers an opportunity to talk about issues impacting the district face-to-face. "But I've heard from some families that in-person meetings during the school day can be difficult, she said. "To accommodate more families, I am holding a virtual meeting on Thursday, Dec. 15 from 8:30 to 9:30 a.m. This is open to all families in the district. To join the virtual meeting, please use this link." [https://us06web.zoom.us/j/89828336986?pwd=eG44VGsrTnJMNnJnNlFxWWJIbXRHQT09#success]
  "As a reminder, if you have specific concerns about your child, please contact your child's teacher or principal. You may also contact my office at superintendent@saugus.k12.ma.us."
Legion breakfasts
  Saugus American Legion Post 210 is hosting its popular breakfasts from 8-9 a.m. on Fridays. The price is $8 for those who are looking for a delicious meal at Legion Hall. Bon appétit!
"Holly Jolly" coming to The Kowloon
  The Kowloon Restaurant announced that the Holly Jolly Holiday Party with The Platters® Very Merry Christmas Show is slated for Friday, Dec. 16 at 8 p.m. Doors open at 6:30 p.m. Showtime is 8 p.m. The Platters are set to perform live in concert – playing all their hits and holiday tunes. Tickets are $25 per person. All seats are reserved. The Platters – hailed a rock and roll, vocal, and Grammy® Halls of Fame group – will be joined by special guests Smokin' Joe & the Henchmen. Kowloon food and beverage services will be available.
  For tickets: online ordering, front desk.
Compost/Recycling Drop-Off Site closing for winter
  The Town of Saugus Compost/Recycling Drop-Off Site will close for the winter season on Saturday, Dec.10 at 2 p.m. The site will be open from 8 a.m. to 2 p.m. on December 10, prior to closing. The site will reopen for recycling on the third Saturday of the month in January, February and March, weather permitting.
  Please contact Scott Brazis, Director of Solid Waste/Recycling, at 781-231-4036 with any questions. For more information about the Town of Saugus, visit www.saugus-ma.gov.
What's happening at the Saugus Public Library
  For schoolchildren looking for interesting projects and programs to participate in this fall, there's plenty to do at the Saugus Public Library. There are also some very good programs offered for grownups, too.
  Adult Coloring Group: Come relax with our continuing Adult Coloring Group. It's a great opportunity to take time to unwind, be creative and have fun, no experience necessary! We have pencils and coloring pages ready and waiting… See you there! Space is limited; please call to register (781-231-4168 x 3106).
  When: Wednesday, December 14 at 10:00 a.m.
  Where: Saugus Public Library, 295 Central St., Saugus, Brooks Room (second floor).
  Just Sew! Saugonians are welcome to join a monthly sewing class for adults that will be held the third Monday of each month from 6:30 to 7:30 p.m. in the Community Room of Saugus Public Library. The next meeting is Monday, Dec. 19. The class covers basic topics like sewing buttons, hemming clothing and mending torn fabric and will move on to more advanced topics in the coming weeks. This class is free. (See sauguspubliclibrary.org.)
  A neat teen group called Manga & Anime Club: The Manga & Anime Club, from all accounts, is a lot of fun for kids in Grades 6 and up. So, if you are curious, check out the Teen Room. Chat with friends! Make crafts! Try Japanese snacks! Club meetings will continue on Saturdays, through May, from 10-11 a.m. They will be held on Dec. 10, Jan. 7, Feb. 4, March 4, April 1 and May 13. Please sign up in advance; call 781-231-4168 or stop by the Reference Desk. (https://www.sauguspubliclibrary.org/new-manga-anime-club…/); Saugus Public Library, 295 Central St., Saugus Mass.
First Baptist Church presents "Can We Talk…"
  First Baptist Church Pastor Leroy Mahoney invites troubled people to join others in a special program called "Can We Talk … Community conversations on Trauma and Healing" the first Thursday of every month, from 6 to 7 p.m. at Rev. Isaac Mitchell Jr. Fellowship Hall (105 Main St. in Saugus). "Join us as we gather in community to share our stories, thoughts and feelings about whatever you are going through," Rev. Mahoney states in a written announcement.
  "As always, it is a safe space to come together in community," he says.
Wreaths Across America
  On Dec. 17 at noon, the Parson Roby Chapter of the Daughters of the American Revolution (MA0136P) is sponsoring their second Wreaths Across America event, helping both Riverside Cemetery and the Old Burying Ground Cemetery to remember and honor veterans by laying remembrance wreaths on the graves of our country's fallen heroes.
  "To sponsor your wreath(s) at $15 each or to volunteer to help place wreaths on December 17th, please visit www.wreathsacrossamerica.org/MA0136P or use the QR code. There will be a brief ceremony at noon to honor all branches of the military followed by laying wreaths on our fallen heroes. Invite your friends and family to join us in honoring our servicemen and women. The cut-off date to order is Nov. 28th.
  "2021 was our first year sponsoring this event, which had over 360 wreaths sponsored. The community really stepped up and we are grateful for all the support we received. However, there are more than 1500 veterans' graves in Riverside and we are hoping that between the community and businesses there will be enough sponsored wreaths to cover all those graves this year.
  "The Daughters of the American Revolution's mission is to preserve American history and secure America's future through education and promoting patriotism. For more information on how to participate or 'What We Do' email the Parson Roby Chapter DAR at parsonroby.saugusdar@gmail.com."
Healthy Students-Healthy Saugus
  (Editor's Note: The following info is from an announcement submitted by Julie Cicolini, a member of the Board of Directors for Healthy Students-Healthy Saugus.)
  Who we are: Healthy Students-Healthy Saugus (HS2) is a nonprofit group of volunteers who are helping to offset food insecurity in households. HS2 provides students/families who enroll in the program a supply of nutritious food for when school lunches and breakfasts are unavailable to them on weekends.
  How HS2 can help you: HS2 bags are distributed at Saugus Public schools on Fridays to take home. Bags include such items as peanut butter, canned meals/soups/tuna/vegetables, pasta, fruit cups, cereal, oatmeal, goldfish, pretzels and granola bars. All food is provided to children free of charge. It is our hope these resources will support the health, behavior and achievement of every student who participates. To sign up go here to complete online form: https://forms.gle/gmMGguycSHBdziuE9.
  Want to partner with us: We would love to partner with organizations, sports teams, youth groups, PTOs, businesses and individuals to assist in feeding students of Saugus. To learn more about how you can partner with us, visit the Healthy Students-Healthy Saugus Facebook page or email us at HS2Saugus@gmail.com
  HS2 relies on donations to create take-home bags for a weekend full of meals. Checks can also be sent directly to: Salem Five C/O Healthy Students-Healthy Saugus, 855-5 Broadway, Saugus, MA 01906. Online donations can also be made at https://givebutter.com/HealthySaugus.
"Throwback Saturdays" at Kowloon
  The Kowloon Restaurant announces its December entertainment calendar with "Throwback Saturdays," featuring DJ RMC spinning hip-hop, top 40, dance, disco and Latin tunes in the Hong Kong Lounge on Saturdays at 7:30 p.m. Here's the December Comedy Show Lineup:
  Brad Mastrangelo: Dec. 9 & 10 –  "Comics Come Home" – Corey Manning and James Hamilton.
  Frank Santorelli: Dec. 17 – from "The Sopranos" – Matt Barry and Andrew Volpe.
  Comedy shows start at 8 p.m. Doors open at 6:00 p.m. Tickets are $20.00 per person. DJ music from 6:00 p.m. to 8:00 p.m. and 9:30 p.m. to 11:00 p.m.
  For tickets: online ordering, front desk or charge-by-phone; call the Kowloon Restaurant at 781-233-0077.
New Year's Eve at Kowloon
  Celebrate New Year's Eve at the Kowloon Restaurant with "the biggest and best and maybe the last" New Year's Eve party. Wildfire Band and Vinyl Groove will perform live in concert along with DJ RMC. Dine, dance and ring in the New Year with a light Kowloon buffet, Champagne toast and party favors. Doors open at 8 p.m., and entertainment kicks off at 9:00 p.m.
  Tickets are $75 per guest and $250 for tables of four guests. To order tickets, call 1-781-233-0077.
Let's hear it!
  Got an idea, passing thought or gripe you would like to share with The Saugus Advocate? I'm always interested in your feedback. It's been six and a half years since I began work at The Saugus Advocate. I'm always interested in hearing readers' suggestions for possible stories or good candidates for "The Advocate Asks" interview of the week. Feel free to email me at mvoge@comcast.net.
  Do you have some interesting views on an issue that you want to express to the community? Submit your idea. If I like it, we can meet for a 15- to 20-minute interview over a hot drink at a local coffee shop. And I'll buy the coffee or tea. Or, if you prefer to continue practicing social distancing and be interviewed from the safety of your home on the phone or via email, I will provide that option to you as the nation recovers from the Coronavirus crisis.
  If it's a nice day, my preferred site for a coffee and interview would be the picnic area of the Saugus Iron Works National Historic Site.
CONTEST SKETCH OF THE WEEK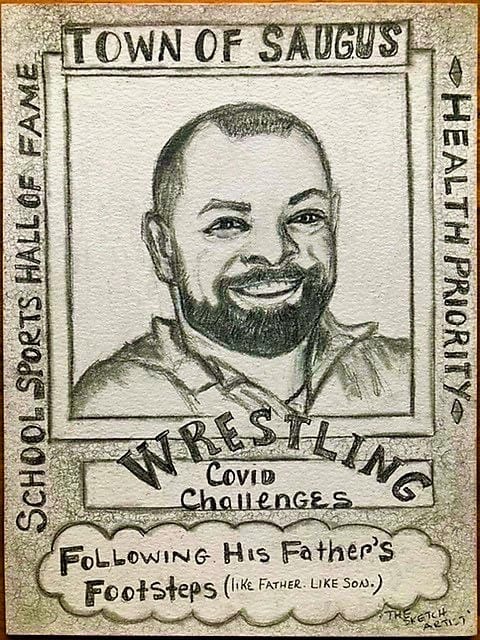 GUESS WHO GOT SKETCHED! If you know the right answer, you might win the contest. In this week's edition, we continue our weekly feature where a local artist sketches people, places and things in Saugus. Got an idea who was sketched this week? If you do, please email me at mvoge@comcast.net or leave a phone message at 978-683-7773. Anyone who between now and Tuesday at noon identifies the Saugonian sketched in this week's paper qualifies to have their name put in a green Boston Red Sox hat with a chance to be selected as the winner of a $10 gift certificate, compliments of Hammersmith Family Restaurant at 330 Central St. in Saugus. But you have to enter to win! Look for the winner and identification in next week's "The Sounds of Saugus." Please leave your mailing address in case you are a winner. (Courtesy illustration to The Saugus Advocate by a Saugonian who goes by the name of "The Sketch Artist")