Good Morning, Saugus!
  Anyone in town who was offended in September by the masked cowards who waved a banner with an antisemitic message to traffic on Route 1 in Saugus has a chance to send a message back to those hateful people at noon on Monday on the lawn in front of Saugus Town Hall. For the first time in recent memory, the town will host a Menorah lighting ceremony.
  The weather report at deadline yesterday (Thursday, Dec. 15) was calling for sunny weather with temperatures in the 40s. So if you are free and take great umbrage to those people who like to fan the flames of prejudice, join Rabbi Yossi Lipsker, executive director of Chabad of the North Shore – the one who will be presiding over the ceremony.
  Lighting the Menorah marks the beginning of Hanukkah and also stands as a symbol of the hard-fought freedom of Jewish people to practice their faith without worrying whether they will be persecuted.
  Board of Selectmen Chair Anthony Cogliano calls it "the start of another great tradition in Saugus."
  It's also a great opportunity for all segments of the community to come together in unity to support each other against the forces of prejudice and bigotry.
  Looking forward to seeing you on the Town Hall lawn on Monday.
Year in Review
  For the Dec. 30 edition of The Saugus Advocate, we plan to put together our annual "Year-In-Review" issue. In past years, we have invited the Board of Selectmen and the School Committee to pick what they think are the top stories of the year. We will still do that.
  But, at the same time, we welcome similar input from our readers. If you feel like weighing in on the year 2022 as it relates to Saugus, email us a letter to mvoge@comcast.net by Tuesday, Dec. 27. Tell us what you think was the top story of the year and offer a brief reason. And also list some runner-up stories that you think were major news in Saugus during 2022.
We're still evolving
  Since I began working as the editor of The Saugus Advocate in March of 2016, I've always approached my job as a local news magazine. News notices and announcements are of course the bread and butter of any local newspaper.
  While we try to avoid getting hung up on local government meeting coverage, we attend the Board of Selectmen meeting to monitor what's going on in the community. And we try to watch the reruns of School Committee meetings. We strive to achieve a balance in our coverage with some government stories, hard news stories, crime and court-related and fire stories, in addition to human interest features.
  We are a free weekly newspaper, published by Advocate Newspapers Inc. of Everett, Mass., and distributed in Saugus every Friday, except in a few holiday weeks when the paper comes out earlier. We are part of a small company of four weekly newspapers owned by Publisher James David Mitchell. The Saugus Advocate is the only newspaper that focuses solely on Saugus news and community events. We strive to be a public watchdog that tackles challenging and complex issues facing the town. We are equally committed to human interest and community news.
  A major component of the paper is "The Sounds of Saugus," a column that includes upcoming community events, the editor's observations of local politics and government and occasionally some anecdotes from his 50 years as a newspaper reporter and editor. Also featured in the paper is "Saugus Gardens in the Fall (or other seasons), an article and photos by landscape design consultant Laura Eisener, a Saugus native who offers a unique perspective as the president of the Saugus Historical Society and as an active Saugus Garden Club member. The paper includes the "Guess Who Got Sketched" contest by a local artist who likes to focus on the positive energy and contributions of people in the community – from average folks to movers and shakers in the community. The contest has become a centerpiece of this column. And readers often complain when "The Sketch Artist" takes a week off. We tend to function as a weekly news magazine, but monitor and report on town government and the school department, frequently offering in-depth articles. Our package also includes "Small Saves," a locally produced cartoon that centers on the life of a kid hockey goalie.
  As our title suggests, we play a role as an advocate in the community, embracing the right of readers to speak their minds on a wide array of local issues. Our main mission is to keep the public informed on important news, but we also provide readers a vehicle to participate in public debate and share information with others in the community. We welcome Letters to the Editor. We encourage a length of no more than 200 words. Longer letters would qualify for "A Reader's Perspective" column, an essay format which lends itself to public commentary on controversial and complex issues. Readers may request to be interviewed for our question and answer column, "The Advocate Asks," which involves a 15-20 minute interview over coffee or tea. We encourage readers to submit "shout outs" to publicly praise Saugonians for remarkable acts of kindness, achievements or nice gestures that lead to the betterment of Saugus. We can't cover every meeting or community event or accommodate every photo request, so we welcome press releases, news announcements, freelance articles and courtesy photos from the community. Our deadline is noon Wednesday. If you have a story idea, an article or photo to submit, please email me at mvoge@comcast.net or leave a message at 978-683-7773.
  Let us become your hometown newspaper. The Saugus Advocate is available in the Saugus Public Library, the Saugus Senior Center, Saugus Town Hall, local convenience stores and restaurants throughout town.
Wreaths Across America
  Tomorrow (Saturday, Dec. 17) at noon, the Parson Roby Chapter of the Daughters of the American Revolution (MA0136P) is sponsoring their second Wreaths Across America event, helping both Riverside Cemetery and the Old Burying Ground Cemeteries to remember and honor veterans by laying remembrance wreaths on the graves of our country's fallen heroes.
  "There will be a brief ceremony at noon to honor all branches of the military followed by laying wreaths on our fallen heroes. Invite your friends and family to join us in honoring our servicemen and women.
  "2021 was our first year sponsoring this event, which had over 360 wreaths sponsored. The community really stepped up and we are grateful for all the support we received. However, there are more than 1500 veterans' graves in Riverside and we are hoping that between the community and businesses there will be enough sponsored wreaths to cover all those graves this year.
  "The Daughters of the American Revolution's mission is to preserve American history and secure America's future through education and promoting patriotism. For more information on how to participate or "What We Do" email the Parson Roby Chapter DAR at parsonroby.saugusdar@gmail.com."
A "Shout Out" to Jim Harrington
  Janice Jarosz submitted the following "Shout Out":
  "The Cemetery Commission would like to place a Shout Out article in the Saugus Advocate to Mr. Jim Harrington for donating his time and energies in taking an aerial photograph of an area at the Riverside Cemetery. It was very helpful to the Commission. From all of us on the Commission, thank you Jim!"
Want to "Shout Out" a fellow Saugonian?
  This is an opportunity for our paper's readers to single out – in a brief mention – remarkable acts or achievements by Saugus residents or an act of kindness or a nice gesture. Just send an email (mvoge@comcast.net) with a mention in the subject line of "An Extra Shout Out." No more than a paragraph; anything longer might lend itself to a story and/or a photo.
Stumped by the Sketch artist!
  There were no winners for last week's "Guess Who got Sketched" Contest. It's happened a few times since The Saugus Advocate introduced the popular reader contest more than two years ago. But for readers to get stumped by a recycled sketch, that's a first.
  What strikes us as very surprising, is that none of our readers – including town officials who are eligible to participate – recognized Saugus Public Health Director John Fralick III, a very high-profile town official who appears at most Board of Health meetings videotaped and later broadcast by Saugus TV. Our sketch artist's sketch of John Fralick initially stumped our readers back in February. Last week, we decided to publish a recycled sketch to see if anyone would recognize the health director. But nobody did.
  Wonder if Saugus Advocate readers would be stumped again if we recycled the health director for a third time – perhaps if we tried it in early spring. Stay tuned.
  Here's the correct answer for last week's sketch, offered by the person who goes by the name of The Sketch Artist:
  "The answer to last week's sketch stands out because of his admiration for his father. The sketch is of John Fralick III. He is our Saugus Public Health Director.
  "John Fralick III is quoted from an answer he gave to Editor Mark E. Vogler in an Interview for The Saugus Advocate, July /31 2020 'The Advocate Asks.'
  "This is a thin slice that pretty much speaks volumes as to John's heart, attitude and approach for life's solutions:
  "Q: So, your dad became your mentor?
  "A: Yes. Essentially. And I look at the things that I've learned from him, not just with my career direction and everything … But, I look at some of the things that I've learned. Not so much that he's taught me directly. It's more the things that I emulate and the things that I have assimilated from him. He's been such a big influence in my life. He is somebody that I've looked up to my whole life.
  "John's dad is John Fralick, Jr., the Woburn Public Health Director for 35 plus years. John graduated with the Woburn High Class of 2003.
  "He played three sports, lacrosse, wrestling and football, and is somewhat a legend. (In 2018, John was inducted in the Woburn School Sports Hall of fame!)
  "John graduated from Bridgewater State University in 2008 with a Bachelor of Science Degree in Public Health. He was the Wrestling team Captain from 2005-2007. He served as Public Health Director in Stoneham for ten years before coming to us in the height of the pandemic of 2020. John being a wrestler loves a good challenge, so he stepped in the Saugus ring to fill a much needed empty seat!
  "As we clearly see; through his life's experiences, John is bringing a multi-faceted, wisdom-seeking, tackling approach to his Public Health Director's job.
  "John, we wish you much success and a 15 point lead wrestling the ongoing battle of pinning covid pandemic and health challenges to the floor for a major win!
  "May we see the light at the end of the tunnel as you lead us Saugonians to healthier ways. Thank You!
  "Yours truly,
  "The Sketch Artist"
Two weeks of holiday trash delays
  The Town of Saugus announces that trash and recycling collection will run on a one-day delay for the next two weeks in observance of Christmas and the New Year. Trash and recycling will not be collected on Monday, Dec. 26, due to the holiday. Collection will resume on a one-day delay on Tuesday, Dec. 27.
  The following week, trash and recycling will not be collected on Monday, Jan. 2, 2023, due to the holiday. Collection will resume on a one-day delay on Tuesday, Jan. 3.
  Residents are kindly asked to leave trash and recycling curbside by 7 a.m. the day after their normally scheduled collection day. The Town of Saugus would like to thank everyone for their cooperation.
  Please contact Solid Waste/Recycling Coordinator Scott A. Brazis at 781-231-4036 with any questions.
Friends of Breakheart notes
  The next event at Breakheart Reservation sponsored by the DCR is the First Day Hike on New Year's Day. It is a wonderful way to start the New Year. Please check newspapers and flyers for further updates. Other activities are being planned to include the famous Maple Sugaring event and a park clean up when the weather improves. If you are interested in getting involved with the Friends Group, please call 781-233-1855 x19.
  Happy Holidays and look forward to seeing you at the Park.
Legion breakfasts
  Saugus American Legion Post 210 is hosting its popular breakfasts from 8-9 a.m. on Fridays. The price is $8 for those who are looking for a delicious meal at Legion Hall. Bon appétit!
"Holly Jolly" coming to The Kowloon
  The Kowloon Restaurant announced that the Holly Jolly Holiday Party with the Platters® Very Merry Christmas Show is slated for today (Friday, Dec. 16) at 8 p.m. Doors open at 6:30 p.m. Showtime is 8 p.m. The Platters are set to perform live in concert, playing all their hits and holiday tunes. The Platters – hailed a rock and roll, vocal and Grammy® Halls of Fame group – will be joined by special guests Smokin' Joe & the Henchmen. Kowloon food and beverage services will be available.
  Tickets are $25 per person. All seats are reserved. For tickets: online ordering, front desk.
Compost/Recycling Drop-Off Site Closing for Winter
  The Town of Saugus Compost/Recycling Drop-Off Site closed for the winter season on Dec. 10. The site will reopen for recycling on the third Saturday of the month in January, February and March, weather permitting. Please contact Scott Brazis, Director of Solid Waste/Recycling, at 781-231-4036 with any questions. For more information about the Town of Saugus, visit www.saugus-ma.gov.
What's happening at the Saugus Public Library
  For schoolchildren looking for interesting projects and programs to participate in this fall, there's plenty to do at the Saugus Public Library. There are also some very good programs offered for grownups, too.
  T.A.B. Teen Advisory Board: Even if you are a student who is still in school, you have an opportunity to give some advice to administrators as to what you would like to see in the Saugus Public Library. It's called T.A.B. or the Teen Advisory Board, and meetings are scheduled for the first Tuesday of each month, for fifth-graders and up. The first meeting is set for Tuesday, January 3 at 6 pm in the Teen Room. Meet with the Teen Librarian once a month to talk about what you'd like for programs and materials at the library. Your opinion matters! Snacks provided!
  Adult Coloring Group: Come relax with our continuing Adult Coloring Group. It's a great opportunity to take time to unwind, be creative and have fun – no experience necessary! We have pencils and coloring pages ready and waiting. See you there! Space is limited; please call to register (781-231-4168 x 3106).
  When: Wednesday, December 14 at 10:00 a.m.
  Where: Saugus Public Library, 295 Central St, Saugus, Brooks Rm. (2nd floor).
  Just Sew! Saugonians are welcome to join a monthly sewing class for adults that is held the third Monday of each month from 6:30 to 7:30 p.m. in the Community Room of the Saugus Public Library. The next meeting is Monday, Dec. 19. The class will cover basic topics like sewing buttons, hemming clothing and mending torn fabric and will move on to more advanced topics in the coming weeks. This class is free.
  A neat teen group called Manga & Anime Club: The Manga & Anime Club, from all accounts, is a lot of fun for kids in Grades 6 and up. So, if you are curious, check out the Teen Room. Chat with friends! Make crafts! Try Japanese snacks! Club meetings will continue on Saturdays through May from 10-11 a.m. They will be held on Jan. 7, Feb. 4, March 4, April 1 and May 13. Please sign up in advance; call 781-231-4168 or stop by the Reference Desk (https://www.sauguspubliclibrary.org/new-manga-anime-club…/).
  Saugus Public Library, 295 Central St., Saugus Mass. – sauguspubliclibrary.org – 781-231-4168.
  An upcoming Virtual program: "The library will be offering a virtual program featuring Maureen Johnson (Nine Liars) in Conversation with Jennifer Lynn Barnes (The Final Gambit) on Wednesday, Jan. 4th, from 7 to 8 p.m. Please note this virtual program will take place via Zoom. Registrants will receive a link to access the Zoom Meeting via email…
  "Enjoy a special evening with two of the country's top young adult authors as Maureen Johnson (Nine Liars) is interviewed by Jennifer Lynn Barnes (The Final Gambit), in this ZOOM webinar. Johnson is the #1 New York Times and USA Today bestselling author of more than a dozen young adult novels, including the Truly Devious series, the Shades of London series, Suite Scarlett, and 13 Little Blue Envelopes. Her collaborative books include Ghosts of the Shadow Market (with Cassandra Clare), as well as Let It Snow (with John Green and Lauren Myracle), which was also a hit feature film on Netflix. Maureen's books have sold more than three million copies worldwide and have been published in more than thirty countries. She grew up in Philadelphia, graduated from the University of Delaware and has an MFA in Writing from Columbia University. Maureen lives in New York City with her husband and dog.
Jennifer. Lynn Barnes is the #1 New York Times bestselling author of more than twenty acclaimed young adult novels, including The Inheritance Games trilogy, Little White Lies, Deadly Little Scandals, The Lovely and the Lost, and The Naturals series. Jen is also a Fulbright Scholar with advanced degrees in psychology, psychiatry, and cognitive science. She received her Ph.D. from Yale University in 2012 and was a professor of psychology and professional writing for many years. Hosted by the Tewksbury Public Library, in collaboration with dozens of Massachusetts public libraries. Please note this program is open to both adults and teens.
  "NOTE: This program will be recorded. All registrants will receive the recording via email within 24 hours of the program. Please register in advance from our online Events Calendar, you will receive a ZOOM link via email once you've registered. sauguspubliclibrary.org"
First Baptist Church presents "Can We Talk…"
  The First Baptist Church Pastor Leroy Mahoney invites troubled people to join others in a special program called "Can We Talk … Community conversations on Trauma and Healing" the first Thursday of every month, from 6 to 7 p.m. at Rev. Isaac Mitchell Jr. Fellowship Hall (105 Main St. in Saugus). "Join us as we gather in community to share our stories, thoughts and feelings about whatever you are going through," Rev. Mahoney states in a written announcement.
  "As always, it is a safe space to come together in community," he says.
Healthy Students-Healthy Saugus
  (Editor's Note: The following info is from an announcement submitted by Julie Cicolini, a member of the Board of Directors for Healthy Students-Healthy Saugus.)
  Who we are: Healthy Students-Healthy Saugus (HS2) is a nonprofit group of volunteers who are helping to offset food insecurity in households. HS2 provides students/families who enroll in the program a supply of nutritious food for when school lunches and breakfasts are unavailable to them on weekends.
  How HS2 can help you: HS2 bags are distributed at Saugus Public schools on Fridays to take home. Bags include such items as peanut butter, canned meals/soups/tuna/vegetables, pasta, fruit cups, cereal, oatmeal, goldfish, pretzels and granola bars. All food is provided to children free of charge. It is our hope these resources will support the health, behavior and achievement of every student who participates. To sign up go here to complete online form: https://forms.gle/gmMGguycSHBdziuE9
  Want to partner with us: We would love to partner with organizations, sports teams, youth groups, PTOs, businesses and individuals to assist in feeding students of Saugus. To learn more about how you can partner with us, visit the Healthy Students-Healthy Saugus Facebook page or email us at HS2Saugus@gmail.com
  HS2 relies on donations to create take-home bags for a weekend full of meals. Checks can also be sent directly to Salem Five C/O Healthy Students-Healthy Saugus, 855-5 Broadway, Saugus, MA 01906. Online donations can also be made at https://givebutter.com/HealthySaugus
"Throwback Saturdays" at Kowloon
  The Kowloon Restaurant announced its December entertainment calendar with "Throwback Saturdays" featuring DJ RMC spinning hip-hop, top 40, dance, disco and Latin tunes in the Hong Kong Lounge on Saturdays at 7:30 p.m. Here's the December Comedy Show Lineup: Frank Santorelli: Dec. 17 – from "The Sopranos" – Matt Barry and Andrew Volpe. Comedy shows start at 8 p.m. Doors open at 6:00 p.m. Tickets are $20.00 per person. DJ music from 6:00 p.m. to 8:00 p.m. and 9:30 p.m. to 11:00 p.m.
  For tickets: online ordering, front desk or charge-by-phone; call the Kowloon Restaurant at 781-233-0077.
New Year's Eve at Kowloon
  Celebrate New Year's Eve at the Kowloon Restaurant with "the biggest and best and maybe the last" New Year's Eve party. Wildfire Band and Vinyl Groove will perform live in concert along with DJ RMC. Dine, dance and ring in the New Year with a light Kowloon buffet, Champagne toast and party favors. Doors open at 8 p.m., and entertainment kicks off at 9:00 p.m. Tickets are $75 per guest and $250 for a table of four guests. To order tickets, call 1-781-233-0077.
Let's hear it!
  Got an idea, passing thought or gripe you would like to share with The Saugus Advocate? I'm always interested in your feedback. It's been six and a half years since I began work at The Saugus Advocate. I'm always interested in hearing readers' suggestions for possible stories or good candidates for "The Advocate Asks" interview of the week. Feel free to email me at mvoge@comcast.net.
  Do you have some interesting views on an issue that you want to express to the community? Submit your idea. If I like it, we can meet for a 15-to-20-minute interview over a hot drink at a local coffee shop. And I'll buy the coffee or tea. Or, if you prefer to continue practicing social distancing and be interviewed from the safety of your home on the phone or via email, I will provide that option to you as the nation recovers from the Coronavirus crisis.
  If it's a nice day, my preferred site for a coffee and interview would be the picnic area of the Saugus Iron Works National Historic Site.
CONTEST SKETCH OF THE WEEK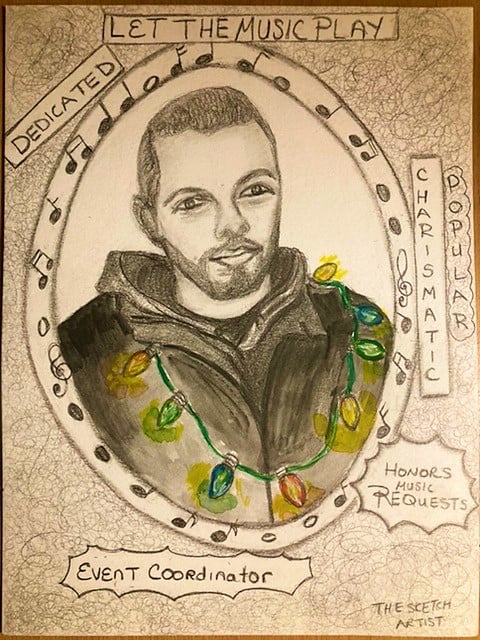 GUESS WHO GOT SKETCHED! If you know the right answer, you might win the contest. In this week's edition, we continue our weekly feature where a local artist sketches people, places and things in Saugus. Got an idea who was sketched this week? If you do, please email me at mvoge@comcast.net or leave a phone message at 978-683-7773. Anyone who between now and Tuesday at noon identifies the Saugonian sketched in this week's paper qualifies to have their name put in a green Boston Red Sox hat with a chance to be selected as the winner of a $10 gift certificate, compliments of Hammersmith Family Restaurant at 330 Central St. in Saugus. But you have to enter to win! Look for the winner and identification in next week's "The Sounds of Saugus." Please leave your mailing address in case you are a winner. (Courtesy illustration to The Saugus Advocate by a Saugonian who goes by the name of "The Sketch Artist")