Good Morning, Saugus!
  Best wishes to all our readers for a Happy New Year. And hopefully, you will fulfill most of your New Year's resolutions over the next 12 months.
  I've got a few of my own, a major one being the removal of clutter in my house and the removal of stuff that I no longer need or enjoy. I've got rooms full of stuff that can be given away, tossed out or recycled. This is something I've had on the radar screen for a long time. But I feel motivated to get it done this time and hopefully, I will.
  Health is another. Continue the walking and make adjustments in my diet to shed a few more pounds.
  In this week's issue, we allowed Saugus selectmen and School Committee members to sum up the major town news stories during 2022 and to talk about their top priorities for the New Year.
  I'm mulling over a few projects at The Saugus Advocate that will help to make the paper more relevant to our readers.
  This coming year is a town election year. All five School Committee and all five Board of Selectmen seats will be up for grabs, along with the 50 Town Meeting seats. I've thought about helping to organize a political forum or candidate's debate, particularly for the Board of Selectmen.
  That's the kind of thing that newspapers usually do. Stay tuned.
  In the coming weeks, you might notice a few changes in our weekly package.
  I think it's worth repeating what I told readers last week. As editor of The Saugus Advocate for six years and nine months now, I am making a renewed commitment to offer our readers an interesting and informative newspaper which always strives to be a force of good in the community – seeking to spotlight town people and events that lead to the betterment of Saugus. Our primary task is to provide useful information that keeps residents informed on important issues that affect the community as a whole and residents individually. We feel it's important to shine a light on town and local government – including public schools, the town's chief employer and the agency that affects the most lives in the community on a daily basis – when things break down and when the government needs to step up to address various challenges or problems.
  At the same time, we think it's important to shine a public light on the many great things that are happening here, whether by individuals or groups.
  I recently turned 70 and I'm finishing my 50th year as a newspaper journalist since I began my career during my junior year at the University of Massachusetts-Amherst, working weekends in the Northampton news bureau of The Springfield Union and filing stories I developed while living on campus during the week.
  My personal gift to the people of Saugus is that I will continue to work hard to provide Saugus a well-balanced and respected hometown newspaper as long as my publisher wants to keep me as the editor. I have no immediate plans to retire. I've told close friends and colleagues that I will continue reporting, writing stories and headlines, taking photos and editing stories relevant to Saugus as long as I am blessed with good health.
  Whether it's five to 10 more years – or longer – I plan to continue doing what I'm doing, as long as there's a place for a real newspaper (not online paper) in Saugus.
  We are Saugus' hometown newspaper. We are the only newspaper that covers Saugus people and events exclusively.
  Right now, I am blessed to have people like Laura Eisener ("Saugus Gardens"), Bill Stewart (the Old Sachem columnist who writes about sports), Joanie Allbee (photos/essays/articles), Jay DeMarco ("Small Saves" cartoon), Janice Jarosz (articles and photos), Tom Sheehan (articles) and "The Sketch Artist" as a core of nonpaid frequent contributors who help make "The Saugus Advocate" the paper that it is.
 And, of course, we have part-time staffers Tara Vocino (who takes photos and writes human interest stories) and Greg Phipps (who covers Saugus sports). And publisher Jim Mitchell oversees the paper as it's put to bed in Everett on Thursdays. So, a lot of hard work goes into putting out the paper every week.
  So, I feel honored to coordinate our coverage and collaborate with our paid staffers and unpaid contributors to put out the paper every week.
"First Day Hike" at Breakheart on Jan. 1
  The next event at Breakheart Reservation sponsored by the DCR is the First Day Hike on New Year's Day. It is a wonderful way to start the New Year. Please check newspapers and flyers for further updates.
  Other activities are being planned to include the famous Maple Sugaring event and a park clean up when the weather improves. If you are interested in getting involved with the Friends Group, please call 781-233-1855 x19.
  Happy Holidays and look forward to seeing you at the Park.
Another week of holiday trash delays
  The Town of Saugus announced that trash and recycling collection will run on a one-day delay in observance of the New Year. Trash and recycling will not be collected on Monday, Jan. 2, 2023, due to the holiday. Collection will resume on a one-day delay on Tuesday, Jan. 3.
  Residents are kindly asked to leave trash and recycling curbside by 7 a.m. the day after their normally scheduled collection day. The Town of Saugus would like to thank everyone for their cooperation. Please contact Solid Waste/Recycling Coordinator Scott A. Brazis at 781-231-4036 with any questions.
New Year's Eve at Kowloon
  Celebrate New Year's Eve at the Kowloon Restaurant with "the biggest and best and maybe the last" New Year's Eve party. WildFire and Vinyl Groove will perform live in concert along with DJ RMC. Dine, dance and ring in the New Year with a light Kowloon buffet, Champagne toast and party favors. Doors open at 8 p.m., and entertainment kicks off at 9:00 p.m. Tickets are $75 per guest and $250 for tables of four guests. To order tickets, call 1-781-233-0077.
Food Pantry schedule
  The Saugus United Parish Food Pantry will be closed today (Friday, Dec. 30) in observance of the holidays. The food pantry will then reopen on Friday, January 6 from 9:30-11 a.m.
"Shout Outs" to Santa Helpers
  The Jarosz family nominated "all the Santa Helpers" for this week's "Shout Outs." The family expressed "A very special thank you for volunteering your time and energies on one of the coldest Christmas Eves in decades."
  "To travel through the streets of Saugus spreading joy and excitement truly in the Christmas spirit! The 2022 Christmas Parade was just wonderful! Thank you."
Want to "Shout Out" a fellow Saugonian?
  This is an opportunity for our paper's readers to single out – in a brief mention – remarkable acts or achievements by Saugus residents or an act of kindness or a nice gesture. Just send an email (mvoge@comcast.net) with a mention in the subject line of "An Extra Shout Out." No more than a paragraph; anything longer might lend itself to a story and/or a photo.
We have a winner!
  Congratulations to Ann Marie Swanson for making the right identification in last week's "Guess Who Got Sketched" contest. Ann Marie is one of several readers answering correctly. But she was the only one to have her name picked in a drawing from the green Boston Red Sox cap.
  Here's the correct answer, offered by the person who goes by the name of The Sketch Artist:
  "The answer to last week's sketch was D.J. Brian Cross. Brian was front and center, playing tunes to add to the atmosphere of festivities at the Annual Tree Lighting Ceremony. This is Brian's third year as the D.J. However, he's been on the scene throughout his years as a Saugonian. Brian is a Saugus High Graduate of 2012. He can be seen as a helping hand in many Fundraising Events and volunteer efforts.
  "He has a charismatic personality befitting a D.J. Position. Brian has also been coordinating the Saugus Christmas Parade ceremony since 2014.
  "As Brian kept the music flowing forth, he was open to taking personal requests. His music was most enjoyable as people strolled about welcoming in the 2022 Christmas season.
  "Thank you for the music!
  "Yours Truly,
  "The Sketch Artist"
Host agreement negotiations continue
  Board of Selectmen Chair Anthony Cogliano announced at Tuesday's meeting (Dec. 27) that representatives of WIN Waste Innovations will be back at Town Hall on Jan. 10 at 7 p.m. in the second floor auditorium to offer another proposal to selectmen.
  Selectmen, back in October, approved a Host Community Agreement (HCA) with WIN Waste Innovations that enables the company to extend the life of the ash landfill adjacent to its trash-to-energy plant on Route 107 by two decades. But the amended HCA which selectmen supported by a slim 3-2 vote includes substantial changes – including a provision that the Town of Saugus receive free tipping fees for waste disposal over the life of the agreement.
  The town currently pays about $900,000 in annual tipping fees to WIN Waste Innovations.
But the annual savings to the town could be considerably more if the agreement receives the required backing of the Massachusetts Department of Environmental Affairs (MassDEP), the Board of Health and Town Manager Scott C. Crabtree.
Complaints about the complainer
  Patrick Higgins, the man who filed the recent complaint alleging Open Meeting Law violations about the Saugus Board of Selectmen, has been called a "prolific complainer of Open Meeting Law violations." He's also a former resident of my hometown – Swansea, Mass. And he once led the charge to have Penny – the beloved cat that lived in the Swansea Public Library – tossed out into the street.
  Higgins complained that the town and the library violated the Americans with Disabilities Act by allowing the cat to live in the library. He contended that the cat's presence in the library bothered people with allergies to cats. Higgins later withdrew the complaint, which became the subject of national news. For the most part, Swansea citizens supported Penny over Higgins.
  It's good that people embrace open government. But Higgins, who operates a group called Patrick Higgins and Associates isn't exactly a model citizen for the public good. He has felony convictions in Pennsylvania for falsely collecting unemployment while working in a fast-food restaurant.
  While selectmen were discussing Higgins' complaint, Plainville selectmen were meeting to discuss a complaint Higgins had filed against them.
  It's apparent that Higgins is spreading himself thin and is getting a little sloppy as he files his complaints. For instance, in the recent complaint filed against the Saugus Board of Selectmen, he lists Stanley Widak, Jr., as the chair and the person who committed the alleged violation. Widak doesn't even live in Saugus. He lives in Plainville and chairs that town's Board of Selectmen.
  My take on it: He doesn't really care about Saugus. How could he if he misidentifies people he's complaining about?
Legion breakfasts on Friday mornings
  Saugus American Legion Post 210 hosts its popular breakfasts from 8-9 a.m. on Fridays. The Legion requests a donation of $8 from those who are looking for a delicious meal at Legion Hall. The Legion also welcomes veterans who can't afford the meal to enjoy a free breakfast. Bon appétit!
Compost/Recycling Drop-Off Site winter schedule
  The Town of Saugus Compost/Recycling Drop-Off Site closed for the winter season on Dec. 10. The site will reopen for recycling on the third Saturday of the month in January, February, and March, weather permitting. The dates are Saturday, January 21, Saturday, February 18, and Saturday, March 18, 2023, from 8 a.m. to 2 p.m.
  Please contact Director of Solid Waste/Recycling Scott Brazis at 781-231-4036 with any questions. For more information about the Town of Saugus, visit www.saugus-ma.gov
What's happening at the Saugus Public Library
  For schoolchildren looking for interesting projects and programs to participate in this fall, there's plenty to do at the Saugus Public Library. There are also some very good programs offered for grownups, too.
  50+ Job Seekers Networking Group on Zoom
  (Editor's Note: This program is a series that begins in January, but folks should register as soon as possible if they wish to participate.)
  If you are unemployed and actively looking, underemployed, seeking a new career direction, re-entering the job market after a long employment gap, or recently retired and looking for your "Encore Career," this networking group program is perfect for you! Remember, 85% of jobs are found through networking!
  The Massachusetts Library Collaborative's 50+ Job Seekers Networking Group meets on Wednesday mornings via Zoom from 9:30 a.m. to 11:30 a.m. on the first and third week of each month, January–June 2023. For the convenience of those who cannot attend the morning sessions, the group will also meet on 2nd and 4th Wednesdays from 6:00 p.m. to 8:00 p.m. Register for either morning or evening sessions. By registering for one morning session, you will also be registered for all other morning sessions. The same is true for the evening sessions.
  Each biweekly meeting is facilitated by Deborah Hope, MBA, PCIC, an experienced executive career coach. Deborah is a former Fortune 500 executive, investment banker and entrepreneur and transitioned to executive coaching over 12 years ago. She has coached with Harvard Business School Executive Education programs and the Mass. Conference for Women., and she has been trained or certified in a variety of coaching models and assessment tools. Deborah has facilitated 50+ job seekers networking groups since 2016.
  The Tewksbury Library has partnered with libraries in Andover, Billerica, Chelmsford, Danvers, North Andover, Saugus, Shrewsbury, Westford and Wilmington (among others) to sponsor this group.
  Registrants will receive a link to access the Zoom Meeting via email. Please register in advance from our online Events Calendar.
  A Zoom conversation with young adult author Maureen Johnson: Wednesday, January 4, 7-8 p.m. Enjoy a special evening with two of the country's top young adult authors as Maureen Johnson ("Nine Liars") is interviewed by Jennifer Lynn Barnes ("The Final Gambit") in this Zoom webinar.
  Maureen Johnson is the #1 New York Times and USA Today bestselling author of more than a dozen young adult novels, including the Truly Devious series, the Shades of London series, "Suite Scarlett" and "13 Little Blue Envelopes." Her collaborative books include "Ghosts of the Shadow Market" (with Cassandra Clare) and "Let It Snow" (with John Green and Lauren Myracle), which was also a hit feature film on Netflix. Maureen's books have sold more than three million copies worldwide and have been published in more than 30 countries. She grew up in Philadelphia, graduated from the University of Delaware and has an MFA in Writing from Columbia University. Maureen lives in New York City with her husband and dog.
  Jennifer Lynn Barnes is the #1 New York Times bestselling author of more than 20 acclaimed young adult novels, including The Inheritance Games trilogy, "Little White Lies," "Deadly Little Scandals," "The Lovely and the Lost" and The Naturals series. Jen is also a Fulbright Scholar with advanced degrees in Psychology, Psychiatry and Cognitive Science. She received her Ph.D. from Yale University in 2012 and was a professor of Psychology and Professional Writing for many years.
  Hosted by the Tewksbury Public Library, in collaboration with dozens of Massachusetts public libraries – please note this program is open to both adults and teens. NOTE: This program will be recorded. All registrants will receive the recording via email within 24 hours of the program.
  Registrants will receive a link to access the Zoom Meeting via email. Please register in advance from our online Events Calendar.
  How do you make a catapult? Join us on Saturday, January 7 at 10:30 a.m. to meet local guy Derek Forestier, who will be at the Saugus Public Library to talk about how he and his four friends – all skilled craftsmen – came to be stars on the Netflix show "Making Fun," a show where kids ask the guys to make outrageous items.
  Some of the fun projects Derek helped create were a guitar boat, a 12-foot dinosaur that spit tacos and a unicorn bicycle with a glittery surprise. Derek will talk about how TV shows are made, how they built the crazy ideas and how he came to be a celebrity while having fun with his friends.
  This is a free program, but registration is required. Call 781-231-4168, ext. 3107 or visit our online Events Calendar.
  Join our Teen Advisory Board: first Tuesday of each month at 6 p.m. in the Teen Room. First meeting: Tuesday, January 3. Fifth grade and up. Meet with the Teen Librarian once a month to talk about what you'd like for programs and materials at the library. Your opinion matters! No registration required. Snacks provided! sauguspubliclibrary.org– 781-231-4168.
  Just Sew! Saugonians are welcome to join a monthly sewing class for adults that is held the third Monday of each month from 6:30 to 7:30 p.m. in the Community Room of Saugus Public Library. The next meeting is Monday, Jan. 16. The class will cover basic topics like sewing buttons, hemming clothing and mending torn fabric and will move on to more advanced topics in the coming weeks. This class is free. (See sauguspubliclibrary.org)
  A neat teen group called Manga & Anime Club: The Manga & Anime Club, from all accounts, is a lot of fun for kids in Grades 6 and up. So, if you are curious, check out the Teen Room. Chat with friends! Make crafts! Try Japanese snacks! Club meetings will continue on Saturdays through May from 10-11 a.m. They will be held on Jan. 7, Feb. 4, March 4, April 1 and May 13. Please sign up in advance; call 781-231-4168 or stop by the Reference Desk. https://www.sauguspubliclibrary.org/new-manga-anime-club…/ – Saugus Public Library, 295 Central St., Saugus, Mass.
First Baptist Church presents "Can We Talk…"
  First Baptist Church Pastor Leroy Mahoney invites troubled people to join others in a special program called "Can We Talk … Community conversations on Trauma and Healing" the first Thursday of every month from 6 to 7 p.m. at Rev. Isaac Mitchell Jr. Fellowship Hall (105 Main St. in Saugus). "Join us as we gather in community to share our stories, thoughts and feelings about whatever you are going through," Rev. Mahoney states in a written announcement.
  "As always, it is a safe space to come together in community," he says.
Healthy Students-Healthy Saugus
  (Editor's Note: The following info is from an announcement submitted by Julie Cicolini, a member of the Board of Directors for Healthy Students-Healthy Saugus.)
  Who we are: Healthy Students-Healthy Saugus (HS2) is a nonprofit group of volunteers who are helping to offset food insecurity in households. HS2 provides students/families who enroll in the program a supply of nutritious food for when school lunches and breakfasts are unavailable to them on weekends.
  How HS2 can help you: HS2 bags are distributed at Saugus Public schools on Fridays to take home. Bags include such items as peanut butter, canned meals/soups/tuna/vegetables, pasta, fruit cups, cereal, oatmeal, goldfish, pretzels and granola bars. All food is provided to children free of charge. It is our hope these resources will support the health, behavior and achievement of every student who participates. To sign up go here to complete online form: https://forms.gle/gmMGguycSHBdziuE9
  Want to partner with us: We would love to partner with organizations, sports teams, youth groups, PTOs, businesses and individuals to assist in feeding students of Saugus. To learn more about how you can partner with us, visit the Healthy Students-Healthy Saugus Facebook page or email us at HS2Saugus@gmail.com. HS2 relies on donations to create take-home bags for a weekend full of meals. Checks can also be sent directly to: Salem Five C/O Healthy Students-Healthy Saugus, 855-5 Broadway, Saugus, MA 01906. Online donations can also be made at https://givebutter.com/HealthySaugus
Some info about The Advocate
  We welcome press releases, news announcements, freelance articles and courtesy photos from the community. Our deadline is noon Wednesday. If you have a story idea, an article or photo to submit, please email me at mvoge@comcast.net or leave a message at 978-683-7773. Let us become your hometown newspaper. The Saugus Advocate is available in the Saugus Public Library, the Saugus Senior Center, Saugus Town Hall, local convenience stores and restaurants throughout town.
Let's hear it!
  Got an idea, passing thought or gripe you would like to share with The Saugus Advocate? I'm always interested in your feedback. It's been over six and a half years since I began work at The Saugus Advocate. I'm always interested in hearing readers' suggestions for possible stories or good candidates for "The Advocate Asks" interview of the week. Feel free to email me at mvoge@comcast.net.
  Do you have some interesting views on an issue that you want to express to the community? Submit your idea. If I like it, we can meet for a 15- to 20-minute interview over a hot drink at a local coffee shop. And I'll buy the coffee or tea. Or, if you prefer to continue practicing social distancing and be interviewed from the safety of your home on the phone or via email, I will provide that option to you as the nation recovers from the Coronavirus crisis.
  If it's a nice day, my preferred site for a coffee and interview would be the picnic area of the Saugus Iron Works National Historic Site. 
CONTEST SKETCH OF THE WEEK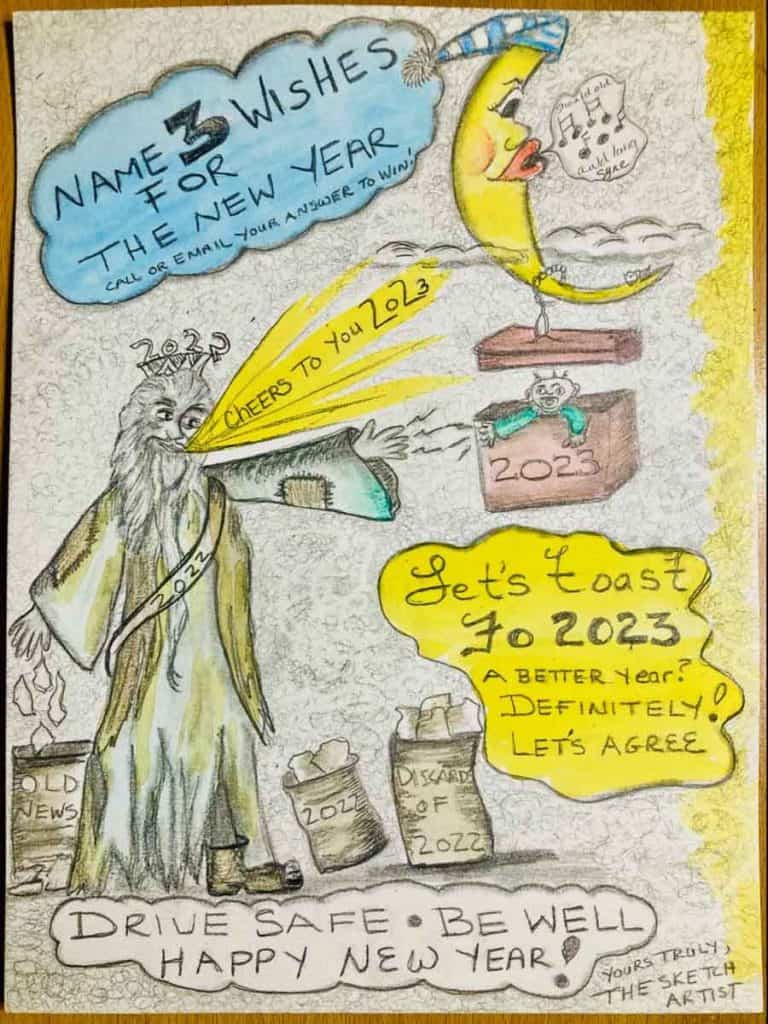 GUESS WHO GOT SKETCHED! If you know the right answer, you might win the contest. In this week's edition, we continue our weekly feature where a local artist sketches people, places and things in Saugus. Got an idea who was sketched this week? If you do, please email me at mvoge@comcast.net or leave a phone message at 978-683-7773. Anyone who between now and Tuesday at noon identifies the Saugonian sketched in this week's paper qualifies to have their name put in a green Boston Red Sox hat with a chance to be selected as the winner of a $10 gift certificate, compliments of Hammersmith Family Restaurant at 330 Central St. in Saugus. But you have to enter to win! Look for the winner and identification in next week's "The Sounds of Saugus." Please leave your mailing address in case you are a winner. (Courtesy illustration to The Saugus Advocate by a Saugonian who goes by the name of "The Sketch Artist")