Community Garden meeting tomorrow
  It was nearly a year ago that Rev. John T. Beach put the wheels in motion for a mission to transform the yard behind the St. John's Episcopal Church rectory into a community garden to help fight food insecurity in Saugus. That was quite an ambitious project that generated a lot of love and kindness in the community.
  "We were able to provide several hundred pounds of vegetables to the Saugus food pantry," he wrote in an email that caught my eye this week.
  "Thank you all for the help you have given last spring and summer in making the Saugus Community Garden such a success," Rev. Beach wrote.
  "It is my hope and expectation to plant the garden again this summer and would like to invite any interested and available persons to help. It is my hope that some among you might be able to grow some seeds in your homes as we wait for the warm weather to come," he said.
  Rev. Beach plans on having a brief organizational Zoom meeting tomorrow (Saturday, March 26) at 1 p.m. using the following link: https://us02web.zoom.us/j/89211864138.
  "If you are interested in helping but not able to attend this meeting, let me know," Rev. Beach said.
  "I am planning to have a follow up meeting in the near future," he said.
  What a wonderful project that is worth repeating. Hopefully, many more people will get involved in the project this year. If you want to help out, Rev. Beach can be reached by phone at 774-961-9881 or by email at revjbeach@gmail.com.
We have a winner!
  Congratulations to Jean Lyons for making the right identification in last week's "Guess Who got Sketched!" contest. She was one of several readers answering correctly, and the one who had her name selected from the green Boston Red Sox cap.
  Here's the correct answer, offered by the person who goes by the name of The Sketch Artist:
  "The answer to last week's sketch is Saugonian James Donovan, who was born in the old Saugus General Hospital. James Donovan recently retired as a Saugus Police Detective after 32 years!
  "In James' sketch, I tried to capture the essence of his attentive listening mode and depth of character. James is a Marine Veteran and holds a blackbelt in Karate, which is no easy accomplishment.
  "To obtain such a rank as blackbelt, one must achieve through white, orange, blue, yellow, green and brown belts and that usually takes five years, five hour exam, knowledge of the 3 creeds Courtesy, Integrity, perseverance, self control, indomitable spirit and many other teachings.
  "This takes a lot of hard work, high standards, and much practice endurance. Bruce Lee's Martial Arts movie star has never held a black belt to my understanding.
  "Editor Mark E. Vogler interviewed Detective Donovan in The Saugus Advocate 'The Advocate Asks' March 11, Front cover, page 5, 6, 7,8, 9, 22.
  "In the article, Detective Donovan states 'your job is basically to help people. Unfortunately, we have to do things sometimes people don't like. Nobody likes to hear a knock on the door from police officers. But we are there to help, whether it's a missing child, somebody with Alzheimer's who is out walking around – your job is to bring them back. If somebody gets hurt, you provide first aid. You help. Those are the good sides to what we do. Unfortunately, that doesn't make the papers that often. It's always the negative. But thank you for giving me the chance to share something about my field.' The article speaks volumes about Detective James' positive approach and attitude as a police officer.
  "James and his wife of 35 years (who recently passed) have two kids Paul (Boston Firefighter) & Rachel (Firefighter candidate) both are following in their Dad's footsteps in fields of Public service.
  "Deepest, empathetic condolences for the loss of your wife. Keep shining your bright light with your family's lights!
  "Thank you
  "Yours Truly,
  "The Sketch Artist"
A "Shout-Out" to Tracey Ragucci
  Precinct 6 Town Meeting Member Jeanie Bartolo, a prolific contributor to this column, offered high praise this week to a well-respected Saugus educator:
  "This 'Shout Out' for Tracey Ragucci, Principal of the Belmont STEAM Academy. It is sad she is stepping down as Principal, as she has accomplished so much for the school during her 8 years; renovating the Belmonte, implementing the STEAM curriculum, and getting the students through COVID Pandemic just to name a few. The upside of this is that she will be back in the classroom because all the kids love her! Best of luck Tracey!"
Want to "Shout-Out" a fellow Saugonian?
  This is an opportunity for our paper's readers to single out – in a brief mention – remarkable acts or achievements by Saugus residents or an act of kindness or a nice gesture. Just send an email (mvoge@comcast.net) with a mention in the subject line of "An Extra Shout-Out." No more than a paragraph; anything longer might lend itself to a story and/or a photo.
Buy a brick to honor a Saugus veteran
  The Saugus War Monument Committee once again is sponsoring the Buy A Brick Program to honor all those who have served their country. If you would like to purchase one in the name of someone who is presently serving or has served, in the memory of a loved one, or just from your family, school, etc., the general pricing is $100 for a 4″ X 8″ brick (three lines) and $200 for an 8″ X 8″ brick (five lines). Each line is a maximum of 15 characters.
  The improvement and upkeep of the monument on the corner of Winter and Central Streets rely on the generosity of donors through fundraising.
  The brick application must be in by Sept. 15 to ensure the bricks will be ready for Veterans Day. Please contact Corinne Riley (781-231-7995) for more information and applications.
Help the Vietnam Era vets roll to D.C.
  A group of area veterans leaders continue to organize an all-expenses-paid trip to the nation's capital in September for 45 veterans who served during the Vietnam War in all locations – not just in combat. A special fundraiser is set for Tuesday, March 29, from noon to 9 p.m. at the Dockside Restaurant at 1099 Main St. in Wakefield to help make that trip a reality for Vietnam Era veterans. Whether it's dine-in, take-out, order delivery or curbside at the Dockside, 10 percent of your bill will be donated to the Veterans Wall trip. There will be raffles for the cause.
  Money earned from this fundraiser will help to send 45 Vietnam Era vets from Melrose, Saugus and Wakefield on a five-day-four-night coach bus trip from Sept. 11-15.
Riverside Cemetery Spring Cleanup
  The Town of Saugus Cemetery Department announced that spring grounds cleanup will begin at the Riverside Cemetery on Monday, April 11. The Cemetery Commission kindly asks members of the public to remove any personal and/or holiday/seasonal items from the grounds before the cleanup begins.
  All Veterans flags will be placed back on gravesites in May, prior to Memorial Day. For more information, please contact the Cemetery Department at 781-231-4170 or email Stacy Billingsley at sbillingsley@saugus-ma.gov.
Capt. Cross to address Saugus Historical Society
  Fire Captain Billy Cross will be the speaker at the April 13 Meeting of the Saugus Historical Society. The brief business meeting starts at 7 p.m. followed by the program. The public is invited free of charge, and light refreshments will be served. The speaker, William Cross III, grew up in Saugus, attending the Evans School, Belmonte Junior High and Saugus High. He has been a firefighter in this town for 28 years and is the president of the Firefighters' Local 1003. Captain Cross is a 2008 recipient of the Medal of Valor for an off duty rescue. He has served as a Town Meeting member, and he is a longtime member of the Saugus retirement board. His father was a firefighter in Chelsea and his son Patrick is also a Saugus firefighter.
  He will be speaking about many aspects of fire service. The fire department responds to many kinds of events in town, including floods and weather emergencies as well as fires. This will be a very interesting and lively presentation.
An encore tribute for Mike Gaffney
  The Feb. 15 Board of Selectmen's meeting was supposed to be the last one for Saugus Advertiser Editor Michael Gaffney, who informed the board that night that he was calling it a career after 18 years of covering Saugus. On that night, selectmen called Mike to the lectern so they could individually thank him for nearly two decades of newspaper coverage. As it turned out, Mike delayed his departure a few weeks, so this past Tuesday night (March 29) actually became his final meeting.
  That gave selectmen time to give the soft-spoken and hard-working community journalist time for a more fitting tribute. Selectmen opened the meeting at 7 p.m. by presenting Mike with a citation in recognition of his years of covering the town. It is a rarity for newspaper journalists in this day and age to hang around as long as Mike has, researching and writing stories about the good times and bad times in one little town – including major news stories, human interest stories, local government events, police and fire – you name it. For 18 years, Mike has been a major source of public information for the people of Saugus.
  Presenting Mike with the citation on Tuesday night was a classy move by this Board of Selectmen. A rare tribute indeed to be bestowed upon a local reporter. But definitely, it was well-deserved, as few of us local journalists have focused their time and talents in one community for so long.
  Well done, Mike.
Lenten Bible Study at St. Johns
  St. John's Episcopal Church in Saugus will be spearheading a global Lenten Bible Study on a passage from the Book of Isaiah for members and friends of:
St. John's Episcopal Church, Saugus
All Saints Anglican Church, Rome, Italy
St. John's Vankleek Hill and other Churches in Eastern Ontario, Canada
The Church of the Annunciation, Chislehurst, London, UK
  For those who are interested, here is the info: March 31: Isaiah 42:1-9 (First Servant Song). This Gathering will take place on Zoom and will begin at noon Eastern Standard Time. Please contact The Rev. John Beach (revjbeach@gmail.com) to register – or by phone – 774-961 9881
Main attractions at the Saugus Public Library
  There's always something interesting or entertaining going on at the Saugus Public Library – for people of all ages – from young children to senior citizens. Here are some programs coming up at the Saugus Public Library in March that might be worth checking out.
  Please join the library for any or all of these programs. They're all free on Zoom, but registration is required for each program. See the library's website for registration links or follow the links below:
  Tuesday, March 29, at 7 p.m.: author Neal Thompson will discuss his new book, "The First Kennedys: The Humble Roots of an American Dynasty." The first American Kennedys – Patrick and Bridget – arrived as many thousands of others did following the Great Famine in Ireland: penniless and hungry. Patrick's sudden death left Bridget to raise their children singlehandedly. Her rise from housemaid to shop owner in the face of rampant poverty and discrimination kept her family intact, allowing her only son, P.J., to become a successful saloon owner and businessman. P.J. went on to become the first American Kennedy elected to public office – the first of many. Neal Thompson is a former newspaper reporter and the author of five highly acclaimed books.
  Register at https://us02web.zoom.us/webinar/register/1916448608456/WN_riegQrvSSAa_IOQXHZAiwg
  Wednesday, Mar 30, at 11 a.m.: Discover "The Joys of Bird Feeding" with the Mass Audubon Society. Stay connected to nature while stuck inside by feeding the birds. Sign up for this program to explore different feeder types, the best seed to put in them, the birds they'll attract, how to outsmart squirrels and other ways to encourage birdlife into your yard and community. The program is led by Scott Santino, the Education Manager and Teacher Naturalist at the Ipswich River Wildlife Sanctuary in Topsfield, where he has been leading nature education programs for Mass Audubon since 1999.
  Register at https://us02web.zoom.us/webinar/register/9316448635422/WN_WTYDSNQoQMG7H-1a2_jRPQ
  Wednesday, March 30, at 7 p.m.: When WBZ's Jordan Rich and court reporter Diane Godfrey discuss their true crime podcast "All Rise". Diane and co-host Jordan will give you a behind-the-scenes look at some of our state's craziest and most compelling cases and show you what goes into making a successful podcast. Diane Godfrey has had a 30-year career in courthouses throughout the Massachusetts Judicial System. Jordan Rich, the host of WBZ AM 1030 Radio's The Jordan Rich Show, has reached listeners across the nation and beyond.
  Register at https://us02web.zoom.us/webinar/register/3816448635585/WN_XEFytUF7QdS-ogP0cu1vMg
SHS Class of '62 plans 60th reunion
  Leaders of The Saugus High School Class of 1962 would like you to "SAVE THE DATE." Their 60th Class Reunion will be held on Saturday, Sept. 10, 2022, from 1 to 5 p.m. at Prince Pizzeria in Saugus. They are reaching out to contact fellow classmates as well as other alumni who would like to join them.
  The well-known 50's and 60's music group of Howie Conley will be there for musical enjoyment. Those of you who have heard them know what a performance they put on. There will be pizza and salad combinations plus soft drinks. The price includes all you can eat, tax and gratuities, plus Howie Conley's group, and is $29 per person. There is a bar available for wine, beer and mixed drinks.
  There is no need to purchase tickets at this time. Please let one of the following people know of your interest either by a phone call or a text message so that you can be easily reached when the time draws near. No commitment is necessary. They are just exploring the number of interested classmates.
Donna "Cann" Olivera – 781-987-4308
Jonni "Giantonio" Matrona – 781-439-4200
Janice "Cristiano" Pomeroy – 617-512-2097
Larry Seavers – 704-906-2606
SAVE announces 2022 Environmental Scholarship
  Saugus Action Volunteers for the Environment (SAVE) is very pleased to announce that it is offering a $1,000 Environmental Scholarship to Saugus residents of the Class of 2022. This is a scholarship for students who will be attending a two/four-year college or other educational institution and pursuing a degree in an area that would positively impact the environment.
  Applicants can download the SAVE 2022 Environmental Scholarship Application Form found at www.saugusSAVE.org. Together with the completed application form, please include a separate sheet (identified with your initials only) that provides a summary of any of your activities relating to the environment and describe how you feel your career choice will positively impact the environment. Please mail your application (postmarked by April 22, 2022) to: SAVE, P.O. Box 908, Saugus, MA 01906, or email your application (no later than midnight on April 22, 2022) to: SAVE Co-President Ann Devlin at adevlin@aisle10.net. Again, the deadline to submit your application is April 22, 2022.
A scholarship available to Saugus High seniors
  Greater Lynn Senior Services (GLSS) has announced it is accepting scholarship applications from Saugus High School (SHS) seniors through the Lique Human Services Scholarship. Two $5,000 scholarships will be awarded to students who have an interest in or are considering a career in human services and who have made an impact in their community or the world through community service. Completed scholarship applications are due to the SHS Guidance Office by Friday, April 1, 2022. The Lique Human Services Scholarship will be awarded to two seniors who attend one of the eight high schools located in GLSS' service area of Lynn, Lynnfield, Nahant, Saugus and Swampscott.
  The scholarship is named in memory of Vince Lique, the Agency's longtime Executive Director, who devoted his career to helping others, particularly vulnerable senior citizens and people of all ages with disabilities, demanding that all people be treated with dignity and respect. "Vince's legacy is firmly rooted in his compassion for people. He measured success by the quality of his service to and advocacy for others," said Kathryn C. Burns, MHA, GLSS' Chief Executive Officer. "I believe in Vince's theory that one's individual success is directly related to the benefits received by those around us. The Lique Human Services scholarship honors the man and his service by encouraging others to do the same."
  Application forms are available through the Saugus High School Guidance Office or on GLSS' website. For more information about GLSS, visit www.glss.net.
A rabies vaccination clinic in May
  Town Clerk Ellen Schena wants cat and dog owners to know about an upcoming rabies vaccination clinic that is set for Wednesday, May 4 from 4 to 6 p.m. This is for cats and dogs only. This will take place at the Animal Shelter at the rear of the DPW Building (515 Rear Main St. in Saugus). The vaccination costs $10 and can be paid by cash or check only.
  State law requires all dog owners to license their dogs
Food pantry seeking driver volunteers
  The Saugus United Parish Food Pantry seeks volunteers to make food and bread pickups on Thursdays and Fridays from 7:30 to 9 a.m. Anyone who has the time and interest to help out should contact Jeff Hirtle at 781-922-0661. The food pantry operates out of the basement at Cliftondale Congregational Church at 50 Essex St. in Saugus.
Friday morning Legion Hall breakfasts are back!
  Here's some great news for people who enjoy their Friday morning breakfasts at the Saugus American Legion Cpl Scott J. Procopio Post 210. Legion Hall, which is located at 44 Taylor St., resumed its Friday breakfasts and will continue through the last Friday in May of 2022. The buffet breakfast is served at 8:00 a.m. for a donation of $7.
  Bon appétit! And good luck to the Kitchen Crew.
Looking for book donations
  The New Friends of the Saugus Public Library are asking for donations of gently used adult hardcover and softcover fiction for the ongoing book sale in the Community Room. They would also appreciate donations of gently used children's books. Please limit donations at this time to only fiction and children's books; the library does not have storage space for other genres or media. Please…clean and newer books only. No tattered pages, bad odors, stains or dirty covers!
  Books may be dropped off at the Main Circulation Desk during business hours. Please do not place donations in the outdoor book drops.
Live Bingo at the Kowloon
  The Kowloon Restaurant will have Live Bingo on Wednesday, March 30, from 7 to 9 p.m. in the Hong Kong Lounge. Prizes will be given away each week with a grand prize set at the finale. A full Chinese gourmet spread is available during Bingo – featuring pupu platters, egg rolls, crab Rangoons, Saugus Wings, General Gau's chicken, lobster sauce, fried scallops, lo mein, moo shu pork, salt & pepper calamari and sushi – along with a full bar menu, including the signature mai tais.
  Call the Kowloon Restaurant at 781-233-0077 to reserve your table.
Jumpstart your Financial Future
  Just starting out? Join the final two segments of this virtual four-part program to acquire the skills for long-term financial prosperity and independence. Explore real-world financial situations to build lifelong strategies for budgeting, building credit, saving for retirement, and more.
  This is a free program for ages 17–30 presented in cooperation with The Babson Financial Literacy Project (BFLP), the Saugus Public Library and several local libraries. See sauguspubliclibrary.org to register for one session or both remaining ones.
  Decisions! Decisions! Tuesday, April 5, 7-8 p.m. – Matt Trogdon (presenter). Health Insurance? Retirement? Investing? Join to gain some important insights on how to make these essential decisions.
  Protecting You and Your Assets: Tuesday, April 19, 7-8 p.m. – Jennifer Bethel (presenter). This workshop will help you prepare for the financial challenges ahead.
  For more information, contact the Saugus Public Library at 295 Central St., Saugus, MA 01906. Or call 781-231-4168 or check out sauguspubliclibrary.org.
Want to be a Knight?
  The Knights of Columbus is looking for new members to join. If you are interested in becoming a member of this local organization, please call 781-233-9858.
Healthy Students-Healthy Saugus
  (Editor's Note: The following info is from an announcement submitted by Julie Cicolini, a member of the Board of Directors of Healthy Students-Healthy Saugus.)
  Who we are: Healthy Students-Healthy Saugus (HS2) is a nonprofit group of volunteers who are helping to offset food insecurity in households. HS2 provides students/families that enroll in the program a supply of nutritious food for when school lunches and breakfasts are unavailable to them on weekends.
  How HS2 can help you: HS2 bags are distributed at school on Fridays to take home. Bags include such items as peanut butter, jelly, a loaf of bread, canned meals/soups/tuna/vegetables, pasta/sauce, fruit cups, cereal, oatmeal, goldfish, pretzels and granola bars. To sign up go here to complete online form: https://forms.gle/gmMGguycSHBdziuE9.
  Want to partner with us: HS2 relies on donations to create take-home bags for a weekend full of meals. All food is provided to children free of charge. It is our hope these resources will support the health, behavior and achievement of every student who participates. We would love to partner with organizations, youth groups, PTOs, businesses and individuals to assist in feeding students of Saugus.
  To learn more about how you can partner with us, visit the Healthy Students-Healthy Saugus Facebook page or email us at HS2Saugus@gmail.com. Checks can also be sent directly to: Salem Five C/O Healthy Students-Healthy Saugus, 855-5 Broadway, Saugus, MA 01906. Online donations can also be made at https://givebutter.com/HealthySaugus.
Food Pantry still open
  The Saugus United Parish Food Pantry continues to remain open on Fridays between 9:30 a.m. and 11:00 a.m. despite concerns over the Coronavirus. They have made adjustments to protect their core of volunteers and the needy people who receive the food. For the protection of volunteers & clients, and to limit personal contact and crowding/gathering, the food pantry has been distributing pre-bagged groceries. Even though clients may receive items they don't want or need, food pantry organizers feel this is the best course of action to mitigate the potential spread of COVID-19. Those in need, even for short-term or one-time assistance, are encouraged to come.
  The food pantry is located in the basement of Cliftondale Congregational Church at 50 Essex St. in Saugus.
Clarifying some veterans issues
  Jay Pinette, the Veterans Services Officer for the Town of Saugus, wanted to pass along a few words to promote a better understanding of how his office works. "Veterans Service Officers (VSOs) are not VA employees and do not have direct access to VA systems or information," Jay wrote in an email to us. "Local VSOs are employees of their respective cities and towns. VSOs are generally able to assist veterans and eligible dependents with VA-related claims and benefits activities.
  "One of the primary duties of the VSOs is to administer a program for veterans and eligible dependents that is referred to as 'Chapter 115'. Under Chapter 115 of Massachusetts General Laws (M.G.L. CH. 115), the Commonwealth provides a uniform program of financial assistance for low income veterans and their dependents. Qualified veterans and their dependents who meet the income and asset eligibility criteria may receive monthly financial benefits that are intended to assist the veteran with housing and living expenses.
  "If local Veterans wish to enroll in VA healthcare and/or obtain a VA ID card, representatives from the VA Bedford will be on-site at the Lynn VA Clinic twice a month. The on-site enrollment will be held on the 1 st and 3 rd Tuesday of each month from 9:00 am to 3:00 pm. Appointments are advised and the dates and times are subject to change. The Lynn VA Clinic is located at 225 Boston Street, Suite 107. For more information or to schedule an appointment for enrollment, call 781-687-3348 or e-mail vabedoutreach@va.gov.
  "The Veterans Services Offices of Saugus and other surrounding communities have partnered with the Greater Boston Food Bank to hold monthly mobile food markets for veterans. With the closure of the Saugus Senior Center during the pandemic, the food market was moved to Melrose. We have now moved the food market back to the Saugus Senior Center. The veterans mobile food market is held on the third Wednesday of each month. Veterans and eligible dependents must sign up with the Saugus Veterans Service Office to determine eligibility. VSO Jay Pinette can be reached at 781-231-4010 or at jpinette@saugus-ma.gov. Or on the first floor of Saugus Town Hall at 298 Central Street, Saugus MA 01906."
Attention Veterans and Surviving Spouses
  Q: What is Chapter 115?
  A: Under Chapter 115 of Massachusetts General Laws (M.G.L. Ch. 115), the Commonwealth provides a uniform program of financial and medical assistance for veterans and their dependents. Qualifying veterans and their dependents receive necessary financial assistance in accordance with a formula that considers the number of dependents and income from all sources.
  Q: How do I find out if I'm eligible?
  A: By contacting the Veterans Services Officer in the town you live in. Here in Saugus, the Veterans' Services Office is located at the Saugus Town Hall and may be reached at 781-231-4010.
  Eligible veterans and/or their family members must meet certain income criteria, and their military experience must meet the Commonwealth's requirements. The Current Income Limit for single people is $2,147.00 (and $2,904.00 for married people). The Current Asset Limit for single people is $8,400.00 (and $16,600.00 for married people). Assets do not include your home or vehicle.
  Q: Are these benefits taxable?
  A: Chapter 115 benefits are not taxable income. You must report this income when applying for or renewing subsidized housing applications, Section 8 applications and SNAP applications.
Let's hear it!
  Got an idea, passing thought or gripe you would like to share with The Saugus Advocate? I'm always interested in your feedback. It's been six years since I began work at The Saugus Advocate. I'm always interested in hearing readers' suggestions for possible stories or good candidates for "The Advocate Asks" interview of the week. Feel free to email me at mvoge@comcast.net.
  Do you have some interesting views on an issue that you want to express to the community? Submit your idea. If I like it, we can meet for a 15- to 20-minute interview over a hot drink at a local coffee shop. And I'll buy the coffee or tea. Or, if you prefer to continue practicing social distancing and be interviewed from the safety of your home on the phone or via email, I will provide that option to you as the nation recovers from the Coronavirus crisis.
  If it's a nice day and the temperature is 50 degrees or better, my preferred site for a coffee and interview would be the picnic area of the Saugus Iron Works.
CONTEST SKETCH OF THE WEEK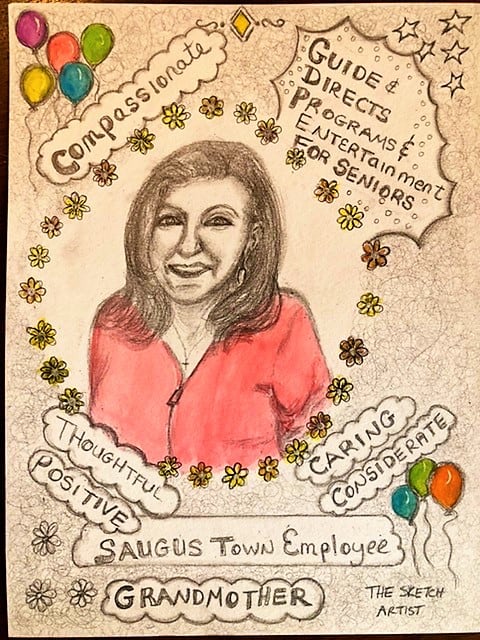 GUESS WHO GOT SKETCHED! If you know the right answer, you might win the contest. In this week's edition, we continue our weekly feature where a local artist sketches people, places and things in Saugus. Got an idea who was sketched this week? If you do, please email me at mvoge@comcast.net or leave a phone message at 978-683-7773. Anyone who between now and Tuesday at noon identifies the Saugonian sketched in this week's paper qualifies to have their name put in a green Boston Red Sox hat with a chance to be selected as the winner of a $10 gift certificate, compliments of Dunkin' in the Food Court at the Saugus Square One Mall. But you have to enter to win! Look for the winner and identification in next week's "The Sounds of Saugus." Please leave your mailing address in case you are a winner. (Courtesy illustration to The Saugus Advocate by a Saugonian who goes by the name of "The Sketch Artist")