Good Morning, Saugus!
  Hope your holidays and New Year were filled with good cheer and happy memories shared with friends and loved ones. And, hopefully, you have embarked on some challenging resolutions for the new year – like making a commitment to eating healthier and getting regular exercise to shed the weight. Got to love the spirit and the commitment of all those people who ventured outside on New Year's Day to begin their year with a nice, long walk. Just keep it up, and you will be pleased with the results.
Looking back on 2022
  Hopefully, readers will enjoy our photo spread that includes the top photos of each month during 2022. It's time-consuming, but fun to do this every year for our readers, following the Year-in-Review issue.
  I'd like to thank my good photojournalist buddy David Spink, who wrote about Saugus and took a lot of photos in town many years ago when he was a staff writer and photographer at North Shore Sunday. David has been a regular reader of The Saugus Advocate since I became editor in March of 2016. Each week, he helps me out with his photographic expertise by recommending which photo shots belong on page one and which ones don't.
  Here's David's take on this year's best photo, "Cruising to Fight Cancer," which appeared on the cover of our July 22, 2022, edition. "The couple in the red, white and blue is just begging to illustrate a year in review issue. You couldn't really order up better wild art for the job. They are looking good and have been preparing all year for this honor. 'Saugus, USA: 2022 Remembered' Slap the photo under the headline. Miller Time!"
Looking ahead to "Saugus Over Coffee"
  In a couple of weeks, I plan to go visit residents in each of the town's 10 Precincts and find out what's on their minds as a town election year commences. What are the specific issues that concern residents in each precinct? What are their town-wide concerns?
  I'm going to give these folks a chance to grab a cup of coffee or tea on me at a popular coffee shop in or near their precinct. In the meantime, I will be conferring with some of the 50 Town Meeting members about the most popular locations for folks to drink coffee in or around their respective precincts. If anyone in each of the precincts has a favorite coffee shop they would like to recommend, please email me at mvoge@comcast.net.
Please, police, be on the lookout!
  It's getting downright scary trying to drive into and around Saugus. I'm one of the minority who likes to drive at or below the speed limit. Not only am I afraid about hitting deer that could scamper in the path of my car, I am also concerned about folks in dark-colored clothes at night jaywalking in areas that are dangerous for pedestrians.
  A couple of days ago, somebody in dark clothes bolted right in front of my car, near the road entrance to the Saugus-Middle-High School. If I were driving above the speed limit, I may have hit the jaywalker.
  By the same token, it's too bad some of those solar-powered stop signs throughout town don't have cameras photographing the cars that don't observe pedestrians in the crosswalk. Whenever I walk the crosswalk on Hamilton Street toward the Public Safety Building, there's usually a 50-50 chance of cars stopping to let me get across the street. I have a similar problem trying to safely walk from the Saugus Public Library to Town Hall.
  So, sooner or later, something tragic is going to happen again. And we will see the stickers for "Citizens For a Safer Saugus resurface.
  Be careful out there, folks.
Wayne keeps losing (winning)
  I thank all of the readers who keep asking for an update on my older brother Wayne, who has already lost more than 100 pounds since his weight ballooned to 377 pounds on Oct. 5, 2020.
It's simply amazing how the collaboration of two good doctors – one who specializes in nutrition – have made a world of difference in Wayne's dramatic turnaround.
  Wayne, who is 71, resides in an assisted living home in Swansea, his hometown in Southeastern Massachusetts. He's a retired schoolteacher who got into some bad habits that led to a dangerous decline in his health back in 2019, when he wound up in the hospital for about a week, being treated for serious dehydration and cardiac-related problems. I regret that I had to get militant and get right up in his grill to motivate him to change his eating habits and the lifestyle which contributed to his health problems.
  Wayne sometimes growls at me and gives me some grief because he's my older brother. And younger brothers don't usually get away with telling older brothers what to do. But, in this case, I have the full backing and blessing of Wayne's longtime primary care physician – Dr. Mark A. Ringiewicz of Swansea. If Wayne gives me any guff during his quarterly visits to Dr. Ringiewicz, the good doctor backs me to the hilt. He's encouraged me to continue advocating in the fashion which I have been. And the results confirm the strategy is working.
  Wayne has also taken the initiative by doing regular walks in the area of the assisted living home. And he's eating better.
  But the turning point for Wayne and me was the day that I asked Dr. Ringiewicz to refer my brother to a specialist who could help him with his diet issues. Dr. Ringiewicz referred Wayne to Dr. Jessica Inwood of Fall River, a doctor who specializes in weight loss and diet issues. And she has worked wonders in helping Wayne to see the error of his ways as far as food choices.
  The two doctors have formed an incredible team. And although Wayne has already met our weight loss goal for him, there are new goals for him to shoot for. Dr. Ringiewicz has already said a 70-year-old man who is 5-foot-10.5 inches tall could stand to lose another 70 to 80 pounds. In Wayne's case, that would be under 200 pounds. The doctor said it would be realistic to see him in the 230-240 range this year – still heavy, but headed in the right direction, thanks to Dr. Ringiewicz and Dr. Inwood – and of course, Wayne, for dedicating himself to tackle the weight loss challenge.
  But there remains one big challenge ahead. Wayne has lost all of this weight, but he is still swimming in his old clothes. So, a very dear friend of mine has offered to go down to Swansea with me this weekend and get Wayne fitted for some new clothes. The friend said there's the real problem of Wayne regressing and putting weight back on because his clothes are so loose and he might feel comfortable overeating and getting into bad habits again.
  A lot of people who are weight conscious usually get motivated when their clothes get tight, especially around the waist line. But when you're swimming in your clothes, it's easy to develop a false sense of comfort. So, getting Wayne a new wardrobe is a top priority for me early this year.
  Stay tuned.
Let's try it again, contest participants!
  Nobody guessed the correct answer in last week's "Guess Who Got Sketched" contest. Actually, anyone who felt like sharing some of their wishes for the New Year would qualify to have their name put in the green Boston Red Sox cap. But nobody did. With the "Sketch Artist" taking some time off this week, we decided to run the New Year's-oriented sketch from last week again. C'mon folks! This one is easy.
Food Pantry notes:
  The Saugus United Parish Food Pantry reopens today (Friday, January 6) from 9:30-11 a.m. after being closed last Friday for the holidays.
"Shout Outs" to a bunch of good people
  Janice Jarosz and The MEG Foundation provided us with a mega "Shout Out" for this week's paper. It takes a village of volunteers and contributors to make fundraisers successful. Janice wanted to share this list with Saugus Advocate readers:
  The MEG Foundation Board Members would like to give a shout out to all those businesses, friends and families who sponsored our very successful 12th annual Christmas Tree Festival!
  Tree Festival Sponsors for 2023 were: Saugus Lions Club, Rossetti Insurance Agency, Friends of Breakheart, Patty and Buddy Staples, Pro Care, Lynda Torregrossa, Peter and Joyce Rossetti, Paparazzi, Mango Realty, the DeVine Family, Saugus Garden Club, North Shore Christian School, Partners in Rehab, Karen and Tony Speziale, Maison di Mer, Saugus Senior Center, Skylar Ross, Saugus Youth and Cheerleaders, Parson Roby DAR Chapter, Sharon's Sneaker Crew, Anthony Cogliano, Kathy Giannetta and Diane Deameliao, Cliftondale Congregational Church, Saugus Tree Committee, The Ross Family, The Line Family, Paula Walsh, Saugus Historical Society , Miss Rina's Little Rascals, Robert Nazzaro, and Center Development.
  Each sponsor purchased their own tree, their employees created a theme, purchased all the decorations, added gift cards, and brought everything to the MEG to put the finishing touches on their trees. I was amazed by how they were able to come up with unique and original ideas!
  A thank you to the MEG Tree Committee members Linda Ross, Patty Staples, Kathy Giannetta, Joyce Rossetti, Lynda Torregrossa, and Laurie Davis who worked together for several months planning a very successful and exciting Festival.
  A special thank you to our handsome Santa, who was so patient and kind to his little visitors and to professional Photographer Steve Bevacqua, also good looking, who created beautiful photos of children and friendly pets for their parents.
  And to all the wonderful families and friends who supported our fun filled Festival this year in the true spirit of Christmas.
  Thank you. Janice Jarosz
Want to "Shout Out" a fellow Saugonian?
  This is an opportunity for our paper's readers to single out – in a brief mention – remarkable acts or achievements by Saugus residents or an act of kindness or a nice gesture. Just send an email (mvoge@comcast.net) with a mention in the subject line of "An Extra Shout Out." No more than a paragraph; anything longer might lend itself to a story and/or a photo.
Host Agreement negotiations continue
  Board of Selectmen Chair Anthony Cogliano announced at Tuesday's meeting (Dec. 27) that representatives of WIN Waste Innovations will be back at Town Hall on Jan. 10 at 7 p.m. in the second floor auditorium to offer another proposal to selectmen.
  Selectmen, back in October, approved a Host Community Agreement (HCA) with WIN Waste Innovations that enables the company to extend the life of the ash landfill adjacent to its trash-to-energy plant on Route 107 by two decades. But the amended HCA, which selectmen supported by a slim 3-2 vote, includes substantial changes – including a provision that the Town of Saugus receive free tipping fees for waste disposal over the life of the agreement.
  The town currently pays about $900,000 in annual tipping fees to WIN Waste Innovations.
But the annual savings to the town could be considerably more if the agreement receives the required backing of the state Department of Environmental Affairs (MassDEP), the Board of Health and Town Manager Scott C. Crabtree.
Legion breakfasts on Friday mornings
  Saugus American Legion Post 210 hosts its popular breakfasts from 8-9 a.m. on Fridays. The Legion requests a donation of $8 from those who are looking for a delicious meal at Legion Hall. The Legion also welcomes veterans who can't afford the meal to enjoy a free breakfast. Bon appétit!
Compost/Recycling Drop-Off Site schedule
  The Town of Saugus Compost/Recycling Drop-Off Site closed for the winter season on Dec. 10. The site will reopen for recycling on the third Saturday of the month in January, February and March, weather permitting. The dates are Saturday, January 21, Saturday, February 18 and Saturday, March 18, 2023, from 8 a.m. to 2 p.m. Please contact Scott Brazis, Director of Solid Waste/Recycling, at 781-231-4036 with any questions. For more information about the Town of Saugus, visit www.saugus-ma.gov
What's happening at the Saugus Public Library
  For schoolchildren looking for interesting projects and programs to participate in this fall, there's plenty to do at the Saugus Public Library. There are also some very good programs offered for grownups, too.
  50+ Job Seekers Networking Group on Zoom
  (Editor's Note: This program is a series that begins in January, but folks should register as soon as possible if they wish to participate.)
  If you are unemployed and actively looking, underemployed, seeking a new career direction, re-entering the job market after a long employment gap, or recently retired and looking for your "Encore Career," this networking group program is perfect for you! Remember, 85% of jobs are found through networking!
  The Massachusetts Library Collaborative's 50+ Job Seekers Networking Group meets on Wednesday mornings via Zoom from 9:30 a.m. to 11:30 a.m. on the first and third week of each month, January–June 2023. For the convenience of those who cannot attend the morning sessions, the group will also meet on the second and fourth Wednesdays from 6:00 p.m. to 8:00 p.m. Register for either morning or evening sessions. By registering for one morning session, you will also be registered for all other morning sessions. The same is true for the evening sessions.
  Each biweekly meeting is facilitated by Deborah Hope, MBA, PCIC, an experienced executive career coach. Deborah is a former Fortune 500 executive, investment banker and entrepreneur and transitioned to executive coaching over 12 years ago. She has coached with Harvard Business School Executive Education programs and the Mass. Conference for Women., and she has been trained or certified in a variety of coaching models and assessment tools. Deborah has facilitated 50+ job seekers networking groups since 2016.
  The Tewksbury Library has partnered with libraries in Andover, Billerica, Chelmsford, Danvers, North Andover, Saugus, Shrewsbury, Westford and Wilmington (among others) to sponsor this group. Registrants will receive a link to access the Zoom Meeting via email. Please register in advance from the online Events Calendar.
  How do you make a catapult? Join us on Saturday, January 7 at 10:30 a.m. to meet local guy Derek Forestier, who will be at the Saugus Public Library to talk about how he and his four friends – all skilled craftsmen – came to be stars on the Netflix show "Making Fun!" – a show where kids ask the guys to make outrageous items. Some of the fun projects Derek helped create were a guitar boat, a 12-foot dinosaur that spit tacos, and a unicorn bicycle with a glittery surprise. Derek will talk about how TV shows are made, how they built the crazy ideas and how he came to be a celebrity while having fun with his friends. This is a free program, but registration is required. Call 781.231.4168, ext 3107 or visit our online Events Calendar.
  Join our Teen Advisory Board: first Tuesday of each month at 6 p.m. in the Teen Room; fifth grade and up. Meet with the Teen Librarian once a month to talk about what you'd like for programs and materials at the library. Your opinion matters! No registration required. Snacks provided! (sauguspubliclibrary.org – 781-231-4168)
  Just Sew! Saugonians are welcome to join a monthly sewing class for adults that is held the third Monday of each month from 6:30 to 7:30 p.m. in the Community Room of Saugus Public Library. The next meeting is Monday, Jan. 16. The class will cover basic topics like sewing buttons, hemming clothing and mending torn fabric and will move on to more advanced topics in the coming weeks. This class is free. (See sauguspubliclibrary.org)
  A neat teen group called Manga & Anime Club: The Manga & Anime Club, from all accounts, is a lot of fun for kids in Grades 6 and up. So, if you are curious, check out the Teen Room. Chat with friends! Make crafts! Try Japanese snacks! Club meetings will continue on Saturdays through May from 10-11 a.m. They will be held on Jan. 7, Feb. 4, March 4, April 1 and May 13. Please sign up in advance; call 781-231-4168 or stop by the Reference Desk. (https://www.sauguspubliclibrary.org/new-manga-anime-club…/ – Saugus Public Library, 295 Central St., Saugus, Mass.)
   Hey adults! Did you ever feel like going back to your childhood days and spending some time coloring? Come relax with our continuing Adult Coloring Group.  It's a great opportunity to take time to unwind, be creative, and have fun, no experience necessary!  We have pencils and coloring pages ready and waiting. See you there!  Spaces limited, please call to register 781-231-4168 X 3106.  When:10 a.m. Wednesday January 11.  Where: Saugus Public Library, 295 Central St, Saugus, Brooks Rm (2nd floor).
First Baptist Church presents "Can We Talk…"
  First Baptist Church Pastor Leroy Mahoney invites troubled people to join others in a special program called "Can We Talk … Community conversations on Trauma and Healing" the first Thursday of every month from 6 to 7 p.m. at Rev. Isaac Mitchell Jr. Fellowship Hall (105 Main St. in Saugus). "Join us as we gather in community to share our stories, thoughts and feelings about whatever you are going through," Rev. Mahoney states in a written announcement.
  "As always, it is a safe space to come together in community," he says.
Healthy Students-Healthy Saugus
  (Editor's Note: The following info is from an announcement submitted by Julie Cicolini, a member of the Board of Directors for Healthy Students-Healthy Saugus.)
  Who we are: Healthy Students-Healthy Saugus (HS2) is a nonprofit group of volunteers who are helping to offset food insecurity in households. HS2 provides students/families who enroll in the program a supply of nutritious food for when school lunches and breakfasts are unavailable to them on weekends.
  How HS2 can help you: HS2 bags are distributed at Saugus Public Schools on Fridays to take home. Bags include such items as peanut butter, canned meals/soups/tuna/vegetables, pasta, fruit cups, cereal, oatmeal, goldfish, pretzels and granola bars. All food is provided to children free of charge. It is our hope these resources will support the health, behavior and achievement of every student who participates. To sign up go here to complete online form: https://forms.gle/gmMGguycSHBdziuE9
  Want to partner with us: We would love to partner with organizations, sports teams, youth groups, PTOs, businesses and individuals to assist in feeding students of Saugus. To learn more about how you can partner with us, visit the Healthy Students-Healthy Saugus Facebook page or email us at HS2Saugus@gmail.com.
  HS2 relies on donations to create take-home bags for a weekend full of meals. Checks can also be sent directly to: Salem Five C/O Healthy Students-Healthy Saugus, 855-5 Broadway, Saugus, MA 01906. Online donations can also be made at: https://givebutter.com/HealthySaugus.
About The Saugus Advocate
  We welcome press releases, news announcements, freelance articles and courtesy photos from the community. Our deadline is noon Wednesday. If you have a story idea, an article or photo to submit, please email me at mvoge@comcast.net or leave a message at 978-683-7773. Let us become your hometown newspaper. The Saugus Advocate is available in the Saugus Public Library, the Saugus Senior Center, Saugus Town Hall, local convenience stores and restaurants throughout town.
Let's hear it!
  Got an idea, passing thought or gripe you would like to share with The Saugus Advocate? I'm always interested in your feedback. It's been six and a half years since I began work at The Saugus Advocate. I'm always interested in hearing readers' suggestions for possible stories or good candidates for "The Advocate Asks" interview of the week. Feel free to email me at mvoge@comcast.net.
  Do you have some interesting views on an issue that you want to express to the community? Submit your idea. If I like it, we can meet for a 15- to 20-minute interview over a hot drink at a local coffee shop. And I'll buy the coffee or tea. Or, if you prefer to continue practicing social distancing and be interviewed from the safety of your home on the phone or via email, I will provide that option to you as the nation recovers from the Coronavirus crisis. If it's a nice day, my preferred site for a coffee and interview would be the picnic area of the Saugus Iron Works National Historic Site. 
CONTEST SKETCH OF THE WEEK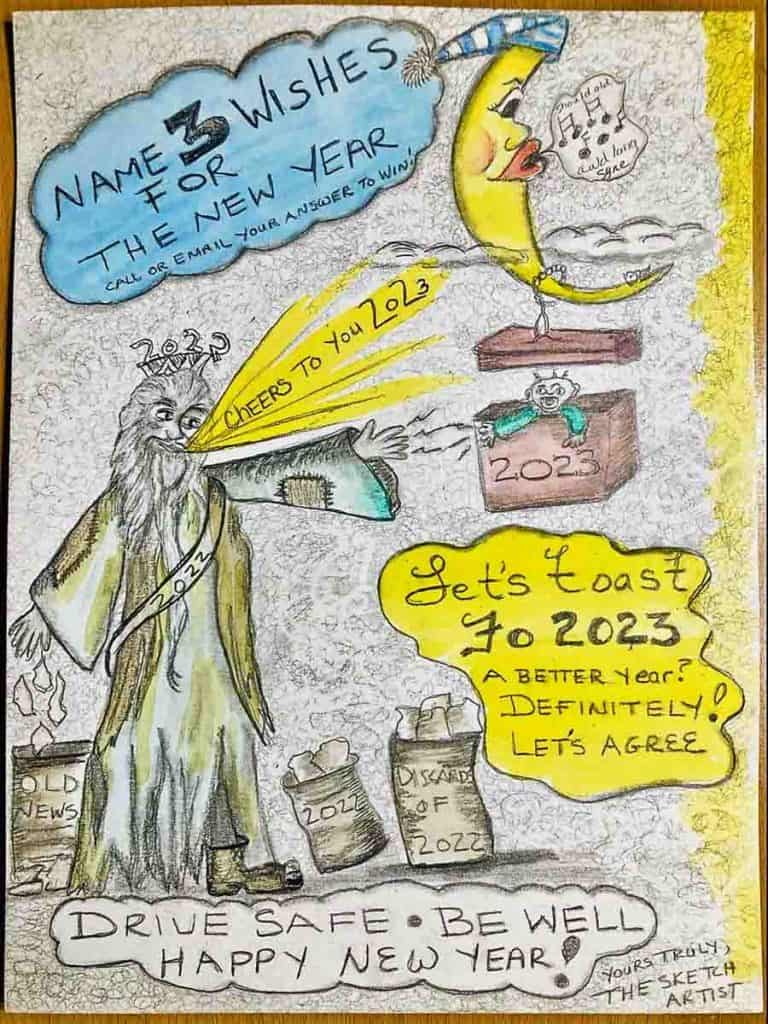 GUESS WHO GOT SKETCHED! If you know the right answer, you might win the contest. In this week's edition, we continue our weekly feature where a local artist sketches people, places and things in Saugus. Got an idea who was sketched this week? If you do, please email me at mvoge@comcast.net or leave a phone message at 978-683-7773. Anyone who between now and Tuesday at noon identifies the Saugonian sketched in this week's paper qualifies to have their name put in a green Boston Red Sox hat with a chance to be selected as the winner of a $10 gift certificate, compliments of Hammersmith Family Restaurant (330 Central St. in Saugus). But you have to enter to win! Look for the winner and identification in next week's "The Sounds of Saugus." Please leave your mailing address in case you are a winner. (Courtesy illustration to The Saugus Advocate by a Saugonian who goes by the name of "The Sketch Artist")