Good Morning, Saugus!
   Last night was one of those nights when a news reporter covering the Town of Saugus had to make a tough decision.
   Do you go cover the public hearing for the School Department budget for the 2024 fiscal year that begins July 1?
   Or, do you go to the Board of Selectmen's meeting in which the annual evaluation of Town Manager Scott C. Crabtree was the main order of business?
   It was indeed a tough call for Charlie McKenna, the staff reporter at The Daily Item of Lynn, who covers Saugus. Whatever meeting he decided to cover, he would have to watch the video from Saugus TV of the meeting he didn't.
   With Thursdays being a production day for The Saugus Advocate, both meetings happen hours after our editorial deadline and the time the paper is actually teased on The Advocate News Facebook page.
   I expect I will be watching video of both meetings some time over the weekend or early next week.
   Disturbing school administration reports.
   Early Wednesday afternoon, this shocking email came to my attention:
Have you heard that the Saugus Superintendent has been placed on administrative leave?
   Of course, it is the type of email that needs to be checked out. And I usually like to go through the front door and ask the main people involved whether there is any truth to such a report?
If Saugus Public Schools Superintendent Erin McMahon is on administrative leave, when did this happen and why did it happen. If the reports are accurate, the public deserves to know the answers.
   Because we were unable to verify the accuracy, what we've heard doesn't justify a story.
But given the lack of response – not even a denial from school officials – it is worth mentioning in this column, particularly since several selectmen we talked to said they heard the same reports about the superintendent being on administrative leave. And they mentioned some reasons. But at this time, it would be unfair to report them in this column.
   I exercise due diligence by reaching out to four School Committee members, the superintendent's public affairs person and the town manager. I received no response.
One of the School Committee members deferred to School Committee Chair Vincent Serino. I emailed my questions to him, also texted him and left a message on his phone.
   Nobody responded by deadline yesterday (Thursday, Jan. 19). Nobody will talk about it. If there weren't some truth to the reports, somebody would get back to me with a categorical denial – especially from the School Committee chair and the superintendent's public affairs person. End of story. Instead, there are rampant rumors about what has actually transpired. And the longer it takes for the School Department to dismiss or confirm the reports, the more folks speculate. Stay tuned.
Ten Days until "Saugus Over Coffee"
   We are 10 days away from the first of 10 public forums titled "Saugus Over Coffee," a series of meetings co-sponsored by The Saugus Advocate and the Saugus Public Library, which will be held in the library's Community Room, beginning at 6:30 p.m. on Monday, Jan. 30.
The purpose of the sessions is to give residents in each precinct a chance to talk about issues that concern them in their respective precincts. Residents in Precinct 1 will get crack at it on Jan. 30.
   At the outset of the forum, each of the five Town Meeting members will be invited to introduce themselves, talk about their background and share their concerns about top issues in their neighborhood. Then, anyone who is thinking about running will be allowed to speak.
Then, members of the public will be able to talk about their concerns.
We will try to keep a running tally of all of the concerns mentioned during the forum.
There is a possibility of the forums being aired on Saugus TV. So everything will be public.
People who don't want to be quoted or photographed can submit their concerns in writing at the forum or via email.
   I will ask one of the Town Meeting members to give an overview of the precinct, landmarks, historical sites, long established businesses, etc… Hopefully, we can get photos or drawings on the walls of the community room of the landmarks or familiar sites.
And one of the main benefits for the people who attend the forum, they will be able to enjoy coffee, tea or water and some other refreshment will get a chance to meet the Town Meeting members in their precinct. And the Town Meeting members will get some invaluable feedback from residents.
   It's been my observation in the past town election years that folks don't get to learn much about all of the candidates running for the 50 seats on the Annual Town Meeting – Saugus' very own Legislature.
   Now, they will. And all of those concerns up, the candidates running for selectmen of School Committee will get to hear the top neighborhood concerns of Saugus residents.
The first forum, focusing on issues in Precinct 1, will be held on Monday, Jan. 30 at 6:30 p.m. in the Community Room of The Saugus Public Library, 295 Central St., Saugus. Coffee and tea will be served. Precinct 2 residents will have a chance to express their views at a forum scheduled for 6:30 p.m. on Monday, Feb. 13.
Stay tuned.
Here is the complete schedule for upcoming Saugus Over Coffee forums.
Precinct 1 – Jan. 30
Precinct 2 – Feb. 13
Precinct 3 – March 13.
Precinct 4 – April 17
Precinct 5 – May 8
Precinct 6 – June 12
Precinct 7 – July 10
Precinct 8 – August 14
Precinct 9 – Sept. 11
Precinct 10 – Oct. 23
Please check with The Saugus Advocate or library for any changes in dates.
We have a winner
   Congratulations to Shirley Bogdan for making the right identification in last week's "Guess Who Got Sketched?" Contest. Shirley was one of several readers answering correctly. But, she was the only one to have her name picked in a drawing from the green Boston Red Sox cap.
   Here's the correct answer, offered by the person who goes by the name of The Sketch Artist:
   "The answer to last week's sketch is of a multifaceted genius and humanitarian. The man with streets and Holiday named after him; He is a man of great honor; American Baptist Minister, activist, Peaceful Civil Rights Leader Mr. Dr. Martin Luther King Jr.!
   There have been many books written about this man of great deeds, the books I found most astounding were his Biographies that revealed intricacies of Martin growing up. Martin's ideas formed as a young boy "trained up in the way he should go" and he obviously did "not part from it". As a child he showed wisdom and compassion beyond his years. Martin's brilliance was apparent growing up; he skipped 9th & 11th grade and entered Morehouse college in Atlanta at 15 years old in 1944.
   Martin was born January 15th, 1929 Atlanta Georgia and his life was taken abruptly from him April 4th, 1968 in Memphis TN…. a pause for a moment with tearful respect. He is at rest in Martin Luther King JR. National Historic Park.
   After graduating from Morehouse College, he went on to Crozer Theoretical Seminary (BDiv) then attended Boston University (Systematic Theology) earning a PHD. While in Boston King met Coretta, a student at New England Conservatory of Music. Martin and Coretta married in 1953, They had four children Martin lll, Yolanda, Dexter and Bernice.
   Martin Luther King's candle of light lit billions of great lights within the hearts and minds of Nations. A segregated world conquered through peace, Justice and truth. Martin's legacy lives on through shattered paradigms of ignorance and ignited freedoms of lights burning brightly in others.
   Martin's famous speech, "I have a dream"… spoken on the Lincoln Memorial steps in 1963, inspired millions to capture his hope and vision and bring it to fruition.
   A few of Dr. Martin's achievements are; Nobel Peace Prize (1964), Nobel Peace prize (posthumously 1977), Congressional Gold medal posthumously 2004
   A Luminesce with a warrior's peaceful heart for all mankind may the gentle giant rest in peace.
  "Yours truly,
   "The Sketch Artist"
Zoom Meeting on proposed Cliftondale zoning
   Precinct 2 Town Meeting Member Joe Vecchione said he plans to submit an article to this year's Annual Town Meeting that would create a zoning overlay in the Cliftondale district.
But before he files the article, Vecchione said he wants to get feedback from everyone in the 50-member chamber and involve them in the process. He plans to hold the first of several informal meetings at 7 p.m. Jan. 25 via "Zoom" video conferencing.
   "The goal is to get all Town Meeting members involved in the capacity they want to be and answer any questions any of you have prior to the ATM. I don't want anyone to feel like they haven't had a chance to raise questions, provide input, or have a chance to read the article in full," Vecchione wrote in an email that went out this week to all Town Meeting members and other town officials.
   "This is why I'll be conducting a series of forums both virtual and in person prior to the Annual Meeting in which this article will need to go through Town Counsel and the Planning Board prior to the ATM," he wrote.
   Since being elected to Town Meeting in 2019, Vecchione has become one of the town's top advocates for revitalizing the once vibrant business district which has been in decline for some 40 years. He's lobbied for municipal funding for the square including purchasing of available property, strongly advocated for grant applications be submitted for funding that applied to improve the square and its function, stressed the importance of Cliftondale as it relates to the Saugus 2035 Master Plan, and chaired the Cliftondale Revitalization Committee which took a comprehensive review of studies done over the past 30 years.
   "An overlay district will help mitigate the pressure points that plague the square where we have multiple underutilized commercial spaces that are not very flexible in their current states and also nothing to support it," Vecchione told The Saugus Advocate this week.
"Rezoning that permits a mix of uses that support and complement one another at a modest scale will give developers more flexibility and property owners more incentive to invest in their property. There is no reinvention of the wheel that needs to happen as there is an abundance of precedent of what works in small Main Street districts across the state and country that apply here," he said.
   In his email to Town Meeting members, Vecchione described the upcoming Jan. 25 meeting as "a loosely structured meeting where high-level zoning concepts and ideas can be floated and discussions can be had (i.e., how many floors should we allow, what kind of uses should we promote, how is parking being addressed, etc.)."
   "Whether you are for or against my personal or political views, regardless of your position on mixed use, parking, green space, or other relevant concepts, it's important to get everyone's perspective, particularly those who are responsible for voting for or against this article come May," Vecchione wrote his colleagues.
If members cannot attend the upcoming "zoom" meeting, Vecchione said there would be more similar meetings.
Here are the "Zoom" credentials for the Jan. 25 meeting
  Joe Vecchione – 7751 is inviting you to a scheduled Zoom meeting.
  One tap mobile: US: +13017158592 or +13052241968; (meeting id) 88299528864# (passcode) 905155#
  Meeting URL: https://bergmeyer.zoom.us/j/88299528864?pwd=MjVneDBuSm9ORU1HdC9wUEhDTUgzdz09
  Meeting ID: 882 9952 8864
  Passcode: 905155
  Join by Telephone: For higher quality, dial a number based on your current location.
  Dial:
  +1 301 715 8592 US (Washington, D.C.)
  +1 312 626 6799 US (Chicago)
  +1 646 876 9923 US (New York)
  Meeting ID: 882 9952 8864
  Passcode: 905155
Comedy at the Kowloon
  The Kowloon Restaurant has set its January comedy lineup with talent featuring Tony V. Here's the lineup: Paul D'Angelo, Friday, January 13; Harrison Stebbins, Friday, January 20; Tony V, Friday, January 27. Tickets are $20 and show time is 8 p.m. at the Kowloon Restaurant on Route 1 North in Saugus. For tickets, call the Kowloon Restaurant at 781-233-0077.
Bingo is back!
   The Kowloon Restaurant announces Bingo every Wednesday, 7 to 9 p.m. in the Hong Kong Lounge. Prizes will be given away each week with a grand prize set at the finale in March.
A full Chinese gourmet is available during bingo featuring pu pu platters, egg rolls, crab Rangoons, Saugus Wings, General Gau chicken, lobster sauce, fried scallops, lo mein, moo shi pork, salt and pepper calamari, sushi along with a full bar menu including the signature Mai Tais and Scorpion Bowls.
Craft Fair and Flea Market
  The Knights of Columbus Council 1829 will host an indoor craft fair and flea market on Saturday, Feb. 18 from 9 a.m. to 3 p.m. at 57 Appleton St., Saugus. A snow date has been set for Feb. 25. Vendors/Table cost: $25. There will be refreshments, a cash bar and raffles. To reserve a table or obtain more information, please call Paul Giannetta at 978-239-1392.
Food Pantry notes:
   The Saugus United Parish Food Pantry is open today (Friday, January 20) from 9:30-11 a.m.
"Shout Outs" to the Cliftondale Revitalization
   We didn't receive any nominations from readers this week, but we think it would be good to give a gigantic "Shout Out" to the many town officials, state officials, federal officials and Saugus citizen volunteers who were instrumental in the town receiving a $2.3-million federal grant for the revitalization of Cliftondale Square. Hats off, particularly to the members of the special Town Meeting Revitalization Committee who put a public focus on this long overdue project which has eluded the town for more than three decades.
Want to "Shout Out" a fellow Saugonian?
  This is an opportunity for our paper's readers to single out – in a brief mention – remarkable acts or achievements by Saugus residents or an act of kindness or a nice gesture. Just send an email (mvoge@comcast.net) with a mention in the subject line of "An Extra Shout Out." No more than a paragraph; anything longer might lend itself to a story and/or a photo
Legion breakfasts on Friday mornings
  Saugus American Legion Post 210 hosts its popular breakfasts from 8-9 a.m. on Fridays. The Legion requests a donation of $8 from those who are looking for a delicious meal at Legion Hall. The Legion also welcomes veterans who can't afford the meal to enjoy a free breakfast. Bon appétit!
Compost/Recycling Drop-Off Site Closing for Winter
  The Town of Saugus Compost/Recycling Drop-Off Site closed for the winter season on Dec. 10. The site will reopen for recycling on the third Saturday of the month in January, February and March, weather permitting. The dates are Saturday, January 21, Saturday, February 18, and Saturday, March 18, 2023, from 8 a.m. to 2 p.m. Please contact Director of Solid Waste/Recycling Scott Brazis at 781-231-4036 with any questions. For more information about the Town of Saugus, visit www.saugus-ma.gov
What's happening at the Saugus Public Library
  For schoolchildren looking for interesting projects and programs to participate in this fall, there's plenty to do at the Saugus Public Library. There are also some very good programs offered for grownups, too.
  Bean Doodling Workshop: Learn how to create a cartoon! Play sketching games, work together to make interesting characters and settings and explore how to build a narrative. This special workshop for 5th graders and up is set for Tuesday, Jan. 24 at 6 p.m. in the Community Room. No experience necessary. To register call 781-231-4168 or visit http://www.eventkeeper.com/code/ekform.cfm?curOrg=SAUGUS&curName=2023/01/24_Doodling_Workshop
50+ Job Seekers Networking Group on Zoom:
  (Editor's Note: This program is a series that began in January, but folks should register for it as soon as possible if they wish to participate.)
  If you are unemployed and actively looking, underemployed, seeking a new career direction, re-entering the job market after a long employment gap or recently retired and looking for your "Encore Career," this networking group program is perfect for you! Remember, 85% of jobs are found through networking!
  The Massachusetts Library Collaborative's 50+ Job Seekers Networking Group meets on Wednesdays via Zoom from 9:30 a.m. to 11:30 a.m. in the first and third week of each month, January–June 2023. For the convenience of those who cannot attend the morning sessions, the group will also meet on the second and fourth Wednesdays from 6:00 p.m. to 8:00 p.m. Register for either morning or evening sessions. By registering for one morning session, you will also be registered for all other morning sessions. The same is true for the evening sessions.
  Each biweekly meeting is facilitated by Deborah Hope, MBA, PCIC, an experienced executive career coach. Deborah is a former Fortune 500 executive, investment banker and entrepreneur and transitioned to executive coaching over 12 years ago. She has coached with Harvard Business School Executive Education programs and the Mass. Conference for Women, and she has been trained or certified in a variety of coaching models and assessment tools. Deborah has facilitated 50+ job seekers networking groups since 2016.
  The Tewksbury Library has partnered with libraries in Andover, Billerica, Chelmsford, Danvers, North Andover, Saugus, Shrewsbury, Westford and Wilmington (among others) to sponsor this group. Registrants will receive a link to access the Zoom Meeting via email. Please register in advance from our online Events Calendar.
Join our Teen Advisory Board: First Tuesday of each month at 6 p.m. in the Teen Room; fifth grade and up. Meet with the Teen Librarian once a month to talk about what you'd like for programs and materials at the library. Your opinion matters! No registration required. Snacks provided! sauguspubliclibrary.org – 781-231-4168
  Just Sew! Saugonians are welcome to join a monthly sewing class for adults that is held on the third Monday of each month from 6:30 to 7:30 p.m. in the Community Room of the Saugus Public Library. The next meeting is Monday, Jan. 16. The class will cover basic topics like sewing buttons, hemming clothing and mending torn fabric and will move on to more advanced topics in the coming weeks. This class is free. (See sauguspubliclibrary.org)
  A neat teen group called Manga & Anime Club: The Manga & Anime Club, from all accounts, is a lot of fun for kids in Grades 6 and up. So, if you are curious, check out the Teen Room. Chat with friends! Make crafts! Try Japanese snacks! Club meetings will continue on Saturdays, through May, from 10-11 a.m. They will be held on Feb. 4, March 4, April 1 and May 13. Please sign up in advance; call 781-231-4168 or stop by the Reference Desk. https://www.sauguspubliclibrary.org/new-manga-anime-club…/ – Saugus Public Library, 295 Central St., Saugus, Mass.
First Baptist Church presents "Can We Talk…"
The First Baptist Church Pastor Leroy Mahoney invites troubled people to join others in a special program called "Can We Talk … Community conversations on Trauma and Healing" the first Thursday of every month, from 6 to 7 p.m. at Rev. Isaac Mitchell Jr. Fellowship Hall, 105 Main St. in Saugus. "Join us as we gather in community to share our stories, thoughts and feelings about whatever you are going through," Rev. Mahoney writes in a written announcement.
   "As always, it is a safe space to come together in community," he says.
Healthy Students-Healthy Saugus
  (Editor's Note: The following info is from an announcement submitted by Julie Cicolini, a member of the Board of Directors for Healthy Students-Healthy Saugus.)
  Who we are: Healthy Students-Healthy Saugus (HS2) is a nonprofit group of volunteers who are helping to offset food insecurity in households. HS2 provides students/families who enroll in the program a supply of nutritious food for when school lunches and breakfasts are unavailable to them on weekends.
  How HS2 can help you: HS2 bags are distributed at Saugus Public schools on Fridays to take home. Bags include such items as peanut butter, canned meals/soups/tuna/vegetables, pasta, fruit cups, cereal, oatmeal, goldfish, pretzels and granola bars. All food is provided to children free of charge. It is our hope these resources will support the health, behavior and achievement of every student who participates. To sign up go here to complete online form: https://forms.gle/gmMGguycSHBdziuE9
  Want to partner with us: We would love to partner with organizations, sports teams, youth groups, PTOs, businesses and individuals to assist in feeding students of Saugus. To learn more about how you can partner with us, visit the Healthy Students-Healthy Saugus Facebook page or email us at HS2Saugus@gmail.com
  HS2 relies on donations to create take-home bags for a weekend full of meals. Checks can also be sent directly to: Salem Five C/O Healthy Students-Healthy Saugus, 855-5 Broadway,
Saugus, MA 01906. Online donations can also be made at: https://givebutter.com/HealthySaugus
Let's hear it!
  Got an idea, passing thought or gripe you would like to share with The Saugus Advocate? I'm always interested in your feedback. It's been six and a half years since I began work at The Saugus Advocate. I'm always interested in hearing readers' suggestions for possible stories or good candidates for "The Advocate Asks" interview of the week. Feel free to email me at mvoge@comcast.net.
  Do you have some interesting views on an issue that you want to express to the community? Submit your idea. If I like it, we can meet for a 15- to 20-minute interview over a hot drink at a local coffee shop. And I'll buy the coffee or tea. Or, if you prefer to continue practicing social distancing and be interviewed from the safety of your home on the phone or via email, I will provide that option to you as the nation recovers from the Coronavirus crisis. If it's a nice day, my preferred site for a coffee and interview would be the picnic area of the Saugus Iron Works National Historic Site.
CONTEST SKETCH OF THE WEEK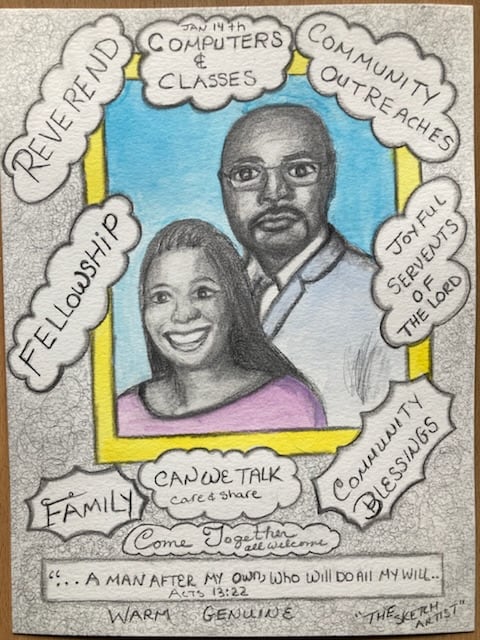 GUESS WHO GOT SKETCHED? If you know the right answer, you might win the contest. In this week's edition, we continue our weekly feature where a local artist sketches people, places and things in Saugus. Got an idea who's being sketched this week? If you do, please email me at mvoge@comcast.net or leave a phone message at 978 683-7773. Anyone who identifies the Saugonian sketched in this week's paper between now and Tuesday at Noon qualifies to have their name put in a green Boston Red Sox hat with a chance to be selected as the winner of a $10 gift certificate, compliments of Hammersmith Family Restaurant, 330 Central Street in Saugus. But you have to enter to win! Look for the winner and identification in next week's "The Sounds of Saugus." Please leave your mailing address in case you are a winner. (Courtesy illustration to The Saugus Advocate by a Saugonian who goes by the name of "The Sketch Artist")