It's budget time again
  The 2023 Fiscal Year Budget season is officially underway in Saugus. Town Manager Scott C. Crabtree kicked it off on Monday – the final day of February – when he met with the Board of Selectmen for nearly two and a half hours in the first floor conference room at Saugus Town Hall. There, Crabtree briefed selectmen on his $120.4 million spending plan for the fiscal year that begins July 1.
  This coming Wednesday (March 9), the Finance Committee will commence its detailed analysis of the budget at 7 p.m. in the second floor conference room. Committee members plan to initiate the first of many Wednesday night sessions between now and the first Monday in the month of May when the Annual Town Meeting convenes in the upstairs auditorium. On the agenda for Wednesday night's FinComm session is an update and review of revenue and expenses of the FY 2022 (for the current budget year ending June 30) operational budget.
  Then, in the following weeks, committee members will grill town department heads on the budget variances. The nights of most interest include the meetings involving the Saugus Public Schools, the Police Department, the Fire Department, the Department of Public Works, the Northeast Regional Vocational School District and the Water Enterprise Fund and the Sewer Enterprise Fund. Besides the respective department heads and staff related to the particular budgets being reviewed, those attending will include mostly Town Meeting members who want to do their homework on the budget they will eventually vote on.
  The financial articles that encompass the town budget will all receive recommendations – both favorable and unfavorable – from the FinCom. And there will be adjustments crafted by Crabtree and his top financial people right into the new fiscal year on July 1, as revenue estimates become more predictable or actual figures.
  As in past years, The Saugus Advocate will cover the FinCom proceedings and report on the highlights in that Friday's paper.
  I admire the Town Meeting members who show up with their budget package and notebooks, trying to develop a fiscal understanding of how the town budget process works.
  My first experience covering a town Finance Committee came in 1976 with The North Adams Transcript when I got to cover the Williamstown Finance Committee in the community that loved to call itself "The Village Beautiful," which is also the home of Williams College.
  During my time as the paper's Williamstown bureau chief, I wrote a story with a screaming headline across the front page: "One out of four on welfare in the Village Beautiful." Of course, it was a story that irked many of the town fathers, who felt it was a frontal assault on their image as a beautiful, wealthy college town.
Trash pick up still running on one-day delay
  JRM Hauling & Recycling Services of Peabody canceled last Friday's (Feb. 25) collection because of the snowstorm, prompting trash and recycling collection to run on a delayed schedule. That one-day delay continues into this week. JRM will be collecting trash and recycling materials initially scheduled for today (Friday, March 4) during tomorrow (Saturday, March 5) instead. Residents should make sure trash and recycling is accessible and make sure a path is shoveled through the snow if necessary.
  The compost/recycling site will be closed until Saturday, March 19, from 8 a.m. to 2 p.m.
  The Town of Saugus would like to thank everyone for their cooperation. Please contact Solid Waste/Recycling Coordinator Lorna Cerbone at 781-231-4036 with any questions.
Town Democrats will caucus on Sunday
  The Saugus Democratic Town Committee issued the following press release this week:
  The Saugus Democratic Town Committee will hold their caucus on March 6, 2022 at 7 p.m. to elect delegates and alternates to the 2022 Massachusetts Democratic State Convention. The caucus will take place virtually on Zoom.
  Registered Democrats who wish to participate virtually may register in advance for this meeting at https://us02web.zoom.us/meeting/register/tZ0rdOqqrT8vG9V3WpMDeO9W6baYceppTnx8
  You will receive a personalized link and passcode to the Zoom caucus in an email, which you'll need to keep. Our virtual doors will open at 6:30 p.m. We encourage registrants to arrive early before the 7 p.m. start time. Everyone who is in the waiting room by 7:15 p.m. will be admitted.
  The caucus is open to all registered and pre-registered Democrats in Saugus. Pre-registered Democrats who were 16 by Feb. 4, 2022 will be allowed to participate and run as a delegate or alternate. Saugus can elect 12 delegates and two alternates to the convention.
  Youth, minorities, people with disabilities, and LGBTQ+ individuals who are not elected as a delegate or alternate are encouraged to apply to be add-on delegates at the caucus or by visiting massdems.org/caucus.
We have a winner!
  Congratulations to Bryan Nadeau for making the right identification in last week's "Guess Who got Sketched!" Contest. He was one of several readers answering correctly, and the one who had his name selected from the green Boston Red Sox cap.
  Here's the correct answer, offered by the person who goes by the name of The Sketch Artist:
  "The answer to last week's sketch is a lady who is almost famous for her Angel Food cakes! The woman is Lee Dyment. Lee is a warm, inviting woman with many social graces of hospitality.
  "Lee is from Fana, Norway; Janice K. Jarosz had written a compelling article about Lee and her family's skillful survival under The 1940's German Invasion & Occupancy. Lee Skauhellen, 21 years old, arrived in Boston Ma. on Dec. 4, 1950 via Ship from Norway. Lee came to stay with her Aunt in Melrose. Suddenly, life seemed to open like a book of wonderful surprises for Lee.
  "A little over a week later, she turned 22, and in January 1951 met the man she was destined to marry (although not smitten at first) and she was on TV! Lee was on Bride and Groom CBS TV Show & Lee won an all expenses paid wedding & Honeymoon. Lee, 24, and Alton Neil, had a Honeymoon at a Dude Ranch in New York.
  "In 1952, Lee won her Betty Crocker Cookbook that she still uses today in 2022 to make her signature Angel Food cakes! Lee and Alton Dyment bought their Saugus home in 1961.
  "Lee, this lovely Saugonian, resides there today. Lee's husband passed away in 1995. The Dyment's have two children who went on to Graduate Saugus High and participate in various Saugus activities and create wonderful giving lives of their own. Lee is a Garden Club Member, MEG Foundation Board Member & avid swimmer since a child.
  "Recently, Lee appeared on "What's Cookin' (Saugus Cable TV Channel 8) and talked about some of her history and had her wedding pictures & CBS Bride and Groom pictures on display.
  "Lee's pastries are absolutely delicious and distinct. Having had the privilege of tasting them as many Saugonians have, they are very light & airy yet dense and full of cream! Lee was a regular swimmer at Melrose YMCA till the pandemic struck.
  "Hoping as things resume to a more normalcy, Lee will once again, get her strokes and pool laps in!
  "Lee, you're an amazingly strong woman and a star to anyone who has been graced by your presence! Keep shining
  "Yours Truly,
  "The Sketch Artist"
A "Shout-Out" to Detective Jimmy Donovan
  Board of Selectmen Chair Anthony Cogliano, Sr. offered an extra special "Shout Out this week" to longtime Saugus Police Detective James "Jimmy" Donovan, who officially retired this week after 32 years on the town's Police Department.
  "On behalf of The Board of Selectmen, I would like to recognize Detective James Donovan of the Saugus Police Department and thank him for his 32 years of dedicated service to our Town. We wish him nothing but the best in his retirement and all future endeavors. Thank you, Jimmy," Cogliano wrote in a text message to The Saugus Advocate.
  Cogliano also had a special citation from the Board of Selectmen to recognize his service to the town. Earlier in the week, State Rep. Donald H. Wong (R-Saugus) and State Rep. Jessica Giannino (D-Revere) made a point of presenting Donovan with legislative commendations for his service to the community.
Bravo, Stop & Shop workers!
  We received another "Shout-Out" nomination this week, this one from loyal Saugus Advocate reader Sue Fleming. She advocated "A big shout out to the employees at Stop and Shop. They have been renovating for several weeks now and we all know how hard it is to shop when things have been relocated."
  "I was there this morning [Wednesday, March 2] and asked questions three times of different employees about where something was located. They were all very helpful and cheerful. It must be difficult for them too but they were all very upbeat and friendly while helping me. Very much appreciated."
Want to "Shout-Out" a fellow Saugonian?
  This is an opportunity for our paper's readers to single out – in a brief mention – remarkable acts or achievements by Saugus residents or an act of kindness or a nice gesture. Just send an email (mvoge@comcast.net) with a mention in the subject line of "An Extra Shout-Out." No more than a paragraph; anything longer might lend itself to a story and/or a photo.
Biggio will talk about his World War II book
  The first 2022 meeting of the Saugus Historical Society will be at 7 p.m. next Wednesday (March 9) at 30 Main St. in Saugus, the headquarters of the Saugus Historical Society and Saugus Cable Television. Light refreshments will be served. The meeting is free and open to the public and will feature a program by local author Andrew Biggio about his new book.
  Andrew Biggio is the author of "The Rifle: Combat Stories from America's Last WWII Veterans, Told Through an M1 Garand," which was published in 2021. Biggio, the former Veterans Service officer from Saugus, is currently a Boston Police Officer. He served as a Marine in Iraq and Afghanistan. He founded the "Wounded Veterans Run" and is president of the "New England Wounded Veterans, Inc.," a nonprofit organization. To gather material for the book, Biggio interviewed Army, Navy, Air Corps and Marine veterans from around the country, bringing an M1 Garand rifle to trigger memories of their experiences. Two hundred veterans signed the rifle, and the book includes personal experiences of many of them. Among them is the last Marine Medal of Honor recipient, Hershel "Woody" Williams.
Irish Night on March 10
  The Saugus-Everett Elks will host their annual Irish Night on Thursday, March 10. Cocktails will be served at 6:30 p.m. as well as a traditional corned beef and cabbage dinner at 7:30 p.m., followed by presentations to their Person of the Year Honoree, Town Moderator Steve Doherty.
  Tickets are $15 per person. Contact Theresa at 617-771-8297 to reserve individual tickets or a table of 10. But don't wait – always a great meal and a lot of laughs – this event is usually a sellout.
Prostate Cancer Awareness on March 16
  Here's a public health announcement from Peter Manoogian:
  Due to the overwhelming success and positive feedback from attendees of the first Prostate Cancer Awareness meeting held at the Saugus Senior Center on January 19, a second meeting will be held on Wednesday, March 16 at 10 a.m. Because of the number of participants at the first meeting, the March 16 meeting will be held in the large meeting room at the center. It is our hope to have a respected urologist as guest speaker on that date.
  Please call the senior center at 781 -231-4178 to register. We encourage men and their partners, ages 40 and above, to attend. Refreshments will be provided. We look forward to seeing you.
Lenten Bible Study at St. John's
  St. John's Episcopal Church in Saugus will be spearheading a global Lenten Bible Study on a passage from the Book of Isaiah for members and friends of:
  St. John's Episcopal Church, Saugus, Mass.
  All Saints Anglican Church, Rome, Italy
  St. John's Vankleek Hill and other Churches in Eastern Ontario, Canada
  The Church of the Annunciation, Chilslehurst in London, UK
  For those who are interested, here is the schedule:
  March 10: Isaiah 1:1-20 (Come, Let us Argue)
  March 17: Isaiah 6:1-13 (When Ordinary Words Won't Do)
  March 24: Isaiah 40:1-10 (Call of the Prophet)
  March 31: Isaiah 42:1-9 (First Servant Song)
These Gatherings will take place on Zoom and will begin on each of the Thursdays at noon Eastern Standard Time.
  Please contact The Rev. John Beach at revjbeach@gmail.com to register or call 774-961-9881.
Future firefighters getting screened
  Nineteen potential candidates for the four new firefighter positions at the Saugus Fire Department picked up application packets at the Central Fire Station recently. Of those, 16 returned them. The field should be narrowed over the next few weeks, as Saugus takes a closer look at the field of aspiring firefighters.
Fire education for kids and seniors
  The Saugus Fire Department has been awarded more than $8,000 in grant funding to support fire safety and education programs. A grant of $5,175 from the state Massachusetts Department of Fire Services will support the Student Awareness of Fire Education (S.A.F.E.) program in Saugus Public Schools, while the Senior S.A.F.E. program received $3,055.
  The funding gives fire departments the opportunity to work directly with students and senior citizens to educate them about fire safety. The safety lessons include fire and life safety presentations and what to do if a fire alarm goes off. Each program is tailored to the common issues of each age group, including general fire prevention reminders and safe practices in the home. The lessons taught in the school-based program are in line with the standards of both the Department of Elementary and Secondary Education Health Curriculum Frameworks and the state Department of Fire Services Curriculum Planning Guidebook.
  Twenty-six years after the introduction of the S.A.F.E program within schools, the rate of annual child fire deaths has decreased by 78%, according to the state's Department of Fire Services, which created and runs the program.
SHS Class of '62 plans 60th reunion
  Leaders of the Saugus High School Class of 1962 would like you to "SAVE THE DATE." "Their 60th Class Reunion will be held on Saturday, Sept. 10, 2022, from 1 to 5 p.m. at Prince Pizzeria in Saugus. They are reaching out to fellow classmates as well as alumni of other years who would like to join them.
  The well-known 50s and 60s music group of Howie Conley will be there for their musical enjoyment. Those of you who have heard them know what a performance they put on. There will be pizza and salad combinations plus soft drinks. The price includes all you can eat, tax and gratuities, plus Howie Conley's group, and it is $29 per person. There is a bar available for wine, beer and mixed drinks.
  There is no need to purchase tickets at this time. Please let one of the people listed below know of your interest either by a phone call or a text message so that you can be easily reached when the time draws near. No commitment is necessary. They are just exploring the number of interested classmates.
  Donna "Cann" Olivera – 781-987-4308
  Jonni "Giantonio" Matrona – 781-439-4200
  Janice "Cristiano" Pomeroy – 617-512-2097
  Larry Seavers – 704-906-2606
SAVE announces 2022 Environmental Scholarship
  Saugus Action Volunteers for the Environment (SAVE) is very pleased to announce that it is offering a $1,000 Environmental Scholarship to Saugus residents of the Graduating Class of 2022. This is a scholarship for students who will be attending a two/four-year college or other educational institution and pursuing a degree in an area that would positively impact the environment.
  Applicants can download the SAVE 2022 Environmental Scholarship Application Form found at www.saugusSAVE.org. Together with the completed application form, please include a separate sheet (identified with your initials only) that provides a summary of any of your activities relating to the environment and describe how you feel your career choice will positively impact the environment. Please mail your application (postmarked by April 22, 2022) to: SAVE, P.O. Box 908, Saugus, MA 01906, or email your application (no later than midnight on April 22, 2022) to: SAVE Co-President Ann Devlin at adevlin@aisle10.net. Again, the deadline to submit your application is April 22, 2022.
A scholarship available to Saugus High seniors
  Greater Lynn Senior Services (GLSS) has announced it is accepting scholarship applications from Saugus High School (SHS) seniors through the Lique Human Services Scholarship. Two $5,000 scholarships will be awarded to students who have an interest in or are considering a career in human services and who have made an impact in their community or the world through community service. Completed scholarship applications are due to the SHS Guidance Office by Friday, April 1, 2022. The Lique Human Services Scholarship will be awarded to two seniors who attend one of the eight high schools located in GLSS's service area of Lynn, Lynnfield, Nahant, Saugus and Swampscott.
  The scholarship is named in memory of Vince Lique, the Agency's long-time Executive Director who devoted his career to helping others, particularly vulnerable senior citizens and people of all ages with disabilities, demanding that all people be treated with dignity and respect. "Vince's legacy is firmly rooted in his compassion for people. He measured success by the quality of his service to and advocacy for others," said Kathryn C. Burns, MHA, GLSS's Chief Executive Officer. "I believe in Vince's theory that one's individual success is directly related to the benefits received by those around us. The Lique Human Services scholarship honors the man and his service by encouraging others to do the same."
  Application forms are available through the Saugus High School Guidance Office or on GLSS's website. For more information about GLSS, visit www.glss.net.
A Rabies Vaccination Clinic in May
  Town Clerk Ellen Schena wants cat and dog owners to know about an upcoming rabies vaccination clinic that is set for Wednesday, May 4 from 4 to 6 p.m. This is for cats and dogs only. This will take place at the Animal Shelter at the rear of the DPW Building (515 Rear Main St.) in Saugus. The vaccination costs $10 and can be paid by cash or check only.
  State Law requires all dog owners to license their dogs.
Food pantry seeking driver volunteers
  The Saugus United Parish Food Pantry seeks volunteers to make food and bread pickups on Thursdays and Fridays, from 7:30 to 9 a.m. Anyone who has the time and interest to help out should contact Jeff Hirtle at 781-922-0661. The food pantry operates out of the basement at Cliftondale Congregational Church at 50 Essex St. in Saugus.
Friday morning Legion Hall breakfasts are back!
  Here's some great news for people who enjoy their Friday morning breakfasts at the Saugus American Legion Cpl Scott J. Procopio Post 210. Legion Hall, which is located at 44 Taylor St., recently resumed its Friday breakfasts and will continue through the last Friday in May of 2022. The buffet breakfast is served at 8:00 a.m. for a donation of $7.
  Bon appétit! And good luck to the Kitchen Crew.
Looking for book donations
  The New Friends of the Saugus Public Library are asking for donations of gently used adult hardcover and softcover fiction for the ongoing book sale in the Community Room. They would also appreciate donations of gently used children's books. Please limit donations at this time to only fiction and children's books; they do not have storage space for other genres or media. Please…clean and newer books only. No tattered pages, bad odors, stains or dirty covers!
  Books may be dropped off at the Main Circulation Desk during business hours. Please do not place donations in the outdoor book drops.
Live Bingo at the Kowloon
  The Kowloon Restaurant will continue with Bingo every Wednesday through March 30 from 7 to 9 p.m. in the Hong Kong Lounge. Prizes will be given away each week with a grand prize set at the finale. A full Chinese gourmet spread is available during Bingo – featuring pupu platters, egg rolls, crab Rangoons, Saugus Wings, General Gau's chicken, lobster sauce, fried scallops, lo mein, moo shu pork, salt & pepper calamari and sushi – along with a full bar menu, including the signature mai tais.
  Call the Kowloon Restaurant at 781.233.0077 to reserve your table.
Comedy shows back at Kowloon
  The Kowloon Restaurant (Route 1 North in Saugus) brings back their Kowloon Komedy weekends with Boston's best funny men and women. Here is the March lineup:
  Kelly MacFarland – AXS Gotham Comedy Live, Last Comic Standing; Friday, March 4, 8 to 9 p.m.; with Steve Scarfo and Jimmy Cash; $20.
  Paul D'Angelo – Showtime's "Godfathers of Comedy"; Friday, March 11, 8 to 9 p.m.; Mark Scalia and Matt Misci; $20; must be 18 or older to attend.
Town posts Compost Site Winter Schedule
  The Town of Saugus announced that the community's compost site and recycling center will be open to residents the third Saturday of the month during the winter months. The site will be open on March 19 from 8 a.m. to 2 p.m. The site is located behind the Department of Public Works at 515 Main St.
  Yard waste must be disposed of in brown compost bags or open containers. The Town of Saugus will accept grass clippings, leaves and brush. As in years past, no branches or limbs larger than three inches in diameter are permitted. At this time residents will not need a compost site sticker to access the site.
  Residents may call Lorna Cerbone at the Solid Waste and Recycling Department at 781-231-4036 with questions or for more information.
Jump-start your Financial Future
  Just starting out? Join the final three segments of this virtual four-part program to acquire the skills for long-term financial prosperity and independence. Explore real-world financial situations to build lifelong strategies for budgeting, building credit, saving for retirement, and more.
  This is a free program for ages 17–30 presented in cooperation with The Babson Financial Literacy Project (BFLP), the Saugus Public Library and several local libraries. See sauguspubliclibrary.org to register for one session or all three remaining ones.
  Managing Your Money to Build Your Best Life: Tuesday, March 15, 7-8 p.m. – Jennifer Bethel (presenter). This workshop will help you learn how to budget your money and start saving for your future.
  Decisions! Decisions! Tuesday, April 5, 7-8 p.m. – Matt Trogdon (presenter). Health Insurance? Retirement? Investing? Join us to gain some important insights on how to make these essential decisions.
  Protecting You and Your Assets: Tuesday, April 19, 7-8 p.m. – Jennifer Bethel (presenter). This workshop will help you prepare for the financial challenges ahead.
  For more information, contact the Saugus Public Library at 295 Central St., Saugus, MA 01906. Or call 781-231-4168 or check out sauguspubliclibrary.org.
Want to be a Knight?
  The Knights of Columbus is looking for new members to join. If you are interested in becoming a member of this local organization, please call 781-233-9858.
Healthy Students-Healthy Saugus
  (Editor's Note: The following info is from an announcement submitted by Julie Cicolini, a member of the Board of Directors for Healthy Students-Healthy Saugus.)
  Who we are: Healthy Students-Healthy Saugus (HS2) is a nonprofit group of volunteers who are helping to offset food insecurity in households. HS2 provides students/families that enroll in the program a supply of nutritious food for when school lunches and breakfasts are unavailable to them on weekends.
  How HS2 can help you: HS2 bags are distributed at school on Fridays to take home. Bags include such items as peanut butter, jelly, a loaf of bread, canned meals/soups/tuna/vegetables, pasta/sauce, fruit cups, cereal, oatmeal, goldfish, pretzels and granola bars. To sign up go here to complete an online form: https://forms.gle/gmMGguycSHBdziuE9.
  Want to partner with us: HS2 relies on donations to create take-home bags for a weekend full of meals. All food is provided to children free of charge. It is our hope these resources will support the health, behavior and achievement of every student who participates. We would love to partner with organizations, youth groups, PTOs, businesses and individuals to assist in feeding students of Saugus. To learn more about how you can partner with us, visit the Healthy Students-Healthy Saugus Facebook page or email us at HS2Saugus@gmail.com.
  Checks can also be sent directly to: Salem Five c/o Healthy Students-Healthy Saugus, 855-5 Broadway, Saugus, MA 01906. Online donations can also be made at https://givebutter.com/HealthySaugus.
Food Pantry still open
  The Saugus United Parish Food Pantry continues to remain open on Fridays between 9:30 a.m. and 11:00 a.m. despite concerns over the Coronavirus. They have made adjustments to protect their core of volunteers and the needy people who receive the food. For the protection of volunteers & clients, and to limit personal contact and crowding/gathering, the food pantry has been distributing pre-bagged groceries. Even though clients may receive items they don't want or need, food pantry organizers feel this is the best course of action to mitigate the potential spread of COVID-19. Those in need, even for short-term or one-time assistance, are encouraged to come.
  The food pantry is located in the basement of Cliftondale Congregational Church at 50 Essex St. in Saugus.
Clarifying some veterans' issues
  Jay Pinette, the Veterans Service Officer for the Town of Saugus, wanted to pass along a few words to promote a better understanding of how his office works.
  "Veterans Service Officers (VSOs) are not VA employees and do not have direct access to VA systems or information," Jay wrote in an email to us.
  "Local VSOs are employees of their respective cities and towns. VSOs are generally able to assist veterans and eligible dependents with VA-related claims and benefits activities.
  "One of the primary duties of the VSOs is to administer a program for veterans and eligible dependents that is referred to as 'Chapter 115'. Under Chapter 115 of Massachusetts General Laws (M.G.L. CH. 115), the Commonwealth provides a uniform program of financial assistance for low income veterans and their dependents. Qualified veterans and their dependents who meet the income and asset eligibility criteria may receive monthly financial benefits that are intended to assist the veteran with housing and living expenses.
  "If local Veterans wish to enroll in VA healthcare and/or obtain a VA ID card, representatives from the VA Bedford will be on-site at the Lynn VA Clinic twice a month. The on-site enrollment will be held on the 1 st and 3 rd Tuesday of each month from 9:00 am to 3:00 pm. Appointments are advised and the dates and times are subject to change. The Lynn VA Clinic is located at 225 Boston Street, Suite 107. For more information or to schedule an appointment for enrollment, call 781-687-3348 or e-mail vabedoutreach@va.gov.
  "The Veterans Services Offices of Saugus and other surrounding communities have partnered with the Greater Boston Food Bank to hold monthly mobile food markets for veterans. With the closure of the Saugus Senior Center during the pandemic, the food market was moved to Melrose. We have now moved the food market back to the Saugus Senior Center. The veterans mobile food market is held on the third Wednesday of each month. Veterans and eligible dependents must sign up with the Saugus Veterans Service Office to determine eligibility. VSO Jay Pinette can be reached at 781-231-4010 or at jpinette@saugus-ma.gov. Or on the first floor of Saugus Town Hall at 298 Central Street, Saugus MA 01906."
A smoke alarm alert for seniors
  The state Fire Marshal's Office has launched a new Public Service Announcement (PSA) campaign that is geared toward encouraging smoke alarm awareness among senior citizens – the people who are at greater risk of dying in a fire. And this should be of particular interest to Saugus residents who may recall the house fire that killed two elderly people on Richard Street last July. Fire investigators found no evidence of smoke alarms or carbon monoxide alarms in the home.
  The "Dear Grandma / Querida Abuela" campaign began this month on television and radio stations in the Boston, Worcester and Springfield media markets. Recorded in both English and Spanish, it features a granddaughter writing a letter to her grandmother about all the things she looks forward to doing together, interspersed with messages about the importance of having working smoke alarms and replacing alarms after 10 years.
  "In Massachusetts and nationwide, people over 65 have a disproportionately high risk of dying in a fire," state Fire Marshal Peter J. Ostroskey said in a press release. "Everyone should have working smoke alarms in their homes, but we developed this PSA to reach older adults in particular because of the higher statistical risk they face. Installing smoke alarms on every floor of the home, checking them regularly, and replacing them after 10 years can dramatically reduce that risk."
  Nationwide, about 60 percent of fatal fires occur in homes without working smoke alarms. And in Massachusetts, people 65 and older comprise about 17 percent of the population but about 50 percent of last year's fatal fire victims.
  "Working smoke alarms are often the first line of defense against injury and tragedy in a fire," Ostroskey said. "We invite our partners in the fire service, family members, caregivers, and social service providers to share these PSAs and emphasize the importance of working smoke alarms, especially among seniors."
  Last year when Louis Gallo, 78, and his sister Rosemarie Naples, 80, died in a three-alarm house fire on Richard Street, fire officials stressed that working smoke alarms in your home can double your chances of survival if a fire occurs. Home fire deaths have been cut in half since the early 1970s, when smoke alarms were first marketed, and about 40 percent of fire deaths in the U.S. take place in the 4 percent of homes without smoke alarms.
  People should install smoke alarms throughout their home, test them monthly, and replace the batteries when they change their clocks. If your smoke alarm is more than 10 years old, it should be replaced, according to fire officials.
  The PSAs are available for distribution through the Department of Fire Services (DFS). They can be downloaded at the DFS webpage and can be linked or shared from the DFS YouTube channel. They complement the DFS Senior SAFE program, which provides grant funding for local fire departments to provide fire and life safety education for older adults.
Let's hear it!
  Got an idea, passing thought or gripe you would like to share with The Saugus Advocate? I'm always interested in your feedback. It's been six years since I began work at The Saugus Advocate. I'm always interested in hearing readers' suggestions for possible stories or good candidates for "The Advocate Asks" interview of the week. Feel free to email me at mvoge@comcast.net.
  Do you have some interesting views on an issue that you want to express to the community? Submit your idea. If I like it, we can meet for a 15- to 20-minute interview over a hot drink at a local coffee shop. And I'll buy the coffee or tea. Or, if you prefer to continue practicing social distancing and be interviewed from the safety of your home on the phone or via email, I will provide that option to you as the nation recovers from the Coronavirus crisis.
  If it's a nice day and the temperature is 50 degrees or better, my preferred site for a coffee and interview would be the picnic area of the Saugus Iron Works.
CONTEST SKETCH OF THE WEEK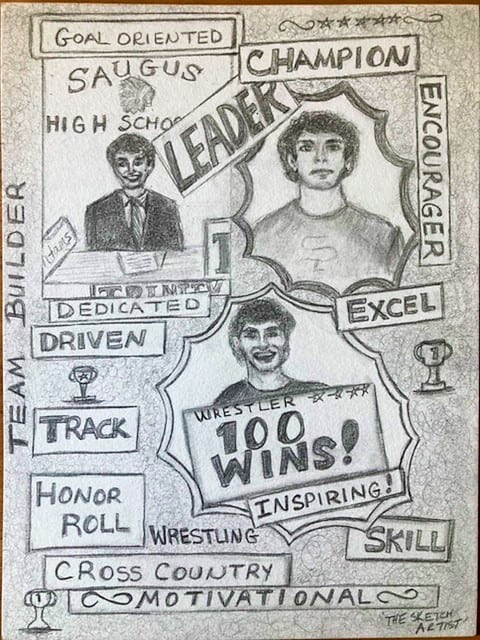 GUESS WHO GOT SKETCHED! If you know the right answer, you might win the contest. In this week's edition, we continue our weekly feature where a local artist sketches people, places and things in Saugus. Got an idea who was sketched this week? If you do, please email me at mvoge@comcast.net or leave a phone message at 978-683-7773. Anyone who between now and Tuesday at noon identifies the Saugonian sketched in this week's paper qualifies to have their name put in a green Boston Red Sox hat with a chance to be selected as the winner of a $10 gift certificate, compliments of Dunkin' in the Food Court at the Saugus Square One Mall. But you have to enter to win! Look for the winner and identification in next week's "The Sounds of Saugus." Please leave your mailing address in case you are a winner. (Courtesy illustration to The Saugus Advocate by a Saugonian who goes by the name of "The Sketch Artist")