Good morning, Saugus!
  "The first of 10 Monday nights of Saugus Over Coffee" debuted this past Monday (June 30) in the Community Room of the Saugus Public Library, leading off with Precinct 1.
  There were both positive and negative takeaways for the first forum, which drew about a dozen people and lasted about 40 minutes. On the plus side, the people who attended seemed to be very enthused about the fact that this precedent-setting forum – cosponsored by The Saugus Advocate and the Saugus Public Library – is providing residents of all 10 precincts an opportunity to get acquainted with key issues and challenges in precincts all over town. The forum, of course, also provides residents of all precincts the opportunity to meet their Town Meeting Members and hear what they have to say. Residents also have a chance to get up to the microphone and speak their mind in a constructive and positive fashion (without being interrupted) about major concerns and issues. With town elections set for November, voters in every precinct will be better informed on the issues and where candidates stand in the respective Town Meeting races.
  One encouraging thing I observed was that several residents in other precincts came to watch out of curiosity. Some of them said they wanted to get an idea about the forum format before attending their own forum.
  Town Meeting Members Susan C. Dunn and Mark J. Bell sat at the front table and led off with opening statements before Precinct 1 residents in the audience were allowed to speak from the lectern. Dunn and Bell both welcomed the opportunity to share their views with residents in their precinct. Precinct 5 Town Meeting Member Ronald Wallace and Board of Selectmen Vice Chair Debra Panetta also sat in on the forum and were allowed to speak after the residents had their chance.
  Also a very positive aspect of Monday night's forum is that folks who couldn't attend can still view Vimeo Saugus TV on Channel 8 via a computer at any time during the day. You can also watch it on cable television. The first scheduled airing will be Sunday (Feb. 5) at 11 a.m. Residents will be able to watch "Saugus Over Coffee" again on Wednesday (Feb. 8) at 12:30 p.m.
  On the downside, it was disappointing that three of the Town Meeting members didn't attend. Anthony Arone told me he couldn't make it because he was involved in firefighting training. Sue Paloma texted just before the forum to let me know that she couldn't make it because of an illness. And Christopher Jones also missed the forum. He didn't respond to invitations mailed and emailed to him in advance. It was also disappointing that there were more residents from outside Precinct 1 attending than those living in the precinct.
  But as the election season draws nearer, expect to see larger precinct audiences and greater participation by Town Meeting member. Stay tuned.
  Here is the remaining schedule:
  Precinct 2 – Feb. 13
  Precinct 3 – March 13.
  Precinct 4 – April 17
  Precinct 5 – May 8
  Precinct 6 – June 12
  Precinct 7 – July 10
  Precinct 8 – Aug. 14
  Precinct 9 – Sept. 11
  Precinct 10 – Oct. 23
  Please check with The Saugus Advocate or library for any changes in dates. Residents can check the programming guide on the station's website (www.saugustv.org) for dates and times. A video of the forum will also be available for viewing on the station's Vimeo page within a day or two after the event (www.vimeo.com/saugustelevision).
Comedy at the Kowloon
  The Kowloon Restaurant set its latest comedy lineup featuring Robbie Printz on Feb. 3 at 8 p.m. Here's the rest of this month's lineup:
  Feb. 10: Frank Santorelli – 8 p.m. – $20
  Feb. 17: Paul Gilligan – 8 p.m. – $20
  Feb. 24: Mike Donovan – 8 p.m. – $20
  Here's the comedy lineup for March:
  MARCH 3: Paul D'Angelo – 8 p.m. – $20
  MARCH 10: Corey Rodrigues – 8 p.m. – $20
  MARCH 24: Jimmy Dunn – 8 p.m. – $20
  Tickets are $20 and show time is 8 p.m. at the Kowloon Restaurant (Route 1 North in Saugus). For tickets, call the Kowloon Restaurant at 781-233-0077.
Bingo is back!
  The Kowloon Restaurant announces Bingo every Wednesday from 7 to 9 p.m. in the Hong Kong Lounge. Prizes will be given away each week with a grand prize set at the finale in March. A full Chinese gourmet spread is available during Bingo – featuring pupu platters, egg rolls, crab Rangoons, Saugus Wings, General Gau's chicken, lobster sauce, fried scallops, lo mein, moo shi pork, salt and pepper calamari and sushi – along with a full bar menu, including the signature mai tais and scorpion bowls.
Celebrating the Saugus High band
  The Saugus Historical Society is planning its spring season of programs and a new exhibit that will open in March. The exhibit will feature Saugus High School Band memorabilia from several time periods and some color day posters recently donated to the society. Anyone who was a band member at any time, or who had an ancestor who was a band member, is invited to share some of their memories. Please call Saugus Historical Society President Laura Eisener at 781-231-5988 to share your story.
  "We are looking for some anecdotes and stories from people involved in Saugus High School Band at any time," Laura said.
  "The Historical Society is putting together a display of band uniforms, parents' jackets, photos etc. which will be ready by the first meeting in the Spring," she said.
  Laura can be reached at 781-231-5988.
Craft Fair and Flea Market
  The Knights of Columbus Council 1829 will host an indoor craft fair and flea market on Saturday, Feb. 18 from 9 a.m. to 3 p.m. at 57 Appleton St. in Saugus. A snow date has been set for Feb. 25. Vendors/Table cost: $25. There will be refreshments, a Cash Bar and Raffles. To reserve a table or obtain more information, please call Paul Giannetta at 978-239-1392.
Food Pantry notes:
  The Saugus United Parish Food Pantry is open today (Friday, January 27) from 9:30-11 a.m.
Two "Shout Outs"
  It's always great to have multiple "Shout Outs." We had two this week.
  Sue Fleming offered the first one: "I would like to give a Shout Out to Laura Eisener for her very enjoyable and informative gardening column each week. The photos are fantastic and she always gives some interesting information on the plants and flowers she writes about. It reminds us that even though it is winter right now there is still a lot of beauty in our world!"
  "The Sketch Artist" offered the second "shout out": "Hello I'd Love to give a nice loud shout out to Hammersmith Family Restaurant 330 Central Street Saugus, Ma. 01906 (1-781-233-8089) for sponsoring the winner's prize $10.00 Gift Certificates for the 'Guess Who Got Sketched Contest'. Debbie, your food is prepared excellent and of top quality! Hammersmith is a wonderful place for enjoyable lunches & hearty breakfasts in a welcoming atmosphere surrounded in the midst of neighbors and friends.
  "THANKYOU!!!"
Want to "Shout Out" a fellow Saugonian?
  This is an opportunity for our paper's readers to single out – in a brief mention – remarkable acts or achievements by Saugus residents or an act of kindness or a nice gesture. Just send an email (mvoge@comcast.net) with a mention in the subject line of "An Extra Shout Out." No more than a paragraph; anything longer might lend itself to a story and/or a photo.
We have a winner!
  Congratulations to Carole Drake for making the right identification in last week's "Guess Who Got Sketched" contest. Carole was one of several readers answering correctly. But she was the only one to have her name picked in a drawing from the green Boston Red Sox cap. Here's the correct answer offered by the person who goes by the name of The Sketch Artist:
  "Almost ten years later, and this man proudly keeps the torch his wife once held burning brightly.
  "Last week's sketch is of a promise keeper and wind beneath her wings. Mr. Bill Leuci.
  "Mr. Leuci met his wife Janet, in a Woburn School where they both taught. One day he invited her out for coffee and they knew they were meant for each other. Four kids later and a passion for her fantastic Italian cooking and they still found the time to be a voice for Saugus and achieve many wins for the betterment of Saugus.
  "Bill and Janet supported one another with efforts to advocate for Saugus against happenings that negatively affected residents. One such … was the blasting that was causing problems to surrounding neighborhoods. Through meetings in their home, being a strong voice, a leader to many, they made a huge difference to suffering Saugonians.
  "Together as a team with Bill's wife as a trusted leader and Town Meeting Member they assisted and protected neighborhoods from the Trimont/Aggregate Industries blasting that was affecting nearby houses. Although humble, Janet was known as a voice for the voiceless.
  "Janet loved walks through Breakheart Reservation and spending times with family and Grandchildren and cooking gravies and large spreads of old fashioned home Italian cooking!
  "Bill Leuci was a giving, generous, encouraging man to his wife's talents and gifts encouraging her to shine. Bill who is talented, accomplished and humble in his many outreaches, preferred to step back and let this brilliant light beam Janet, shine her radiance throughout Saugus.
  "Janet was a caring voice on several organizations; including Saugus Actions Volunteers for the Environment.
  "Janet passed away in 2013 after living with and losing a battle to cancer. Janet's Legacy continues; a few years later, on a windy Sunday, a building was dedicated in memory of Janet M. Leuci. A Moon Glow juniper tree was planted at … 91 Denver Street at the Janet M. Leuci Residence in memory of Janet and all she had done to save the environment. It's been ten years since Janet passed…and in 2023 Bill faithfully keeps his promise and serves on the Conservation Commission and keeps Janet's Saugus Town Meeting Member Precinct Four seat filled with her essence and his presence. If one were to add the times together Janet and Bill served in this seat, it would be for over three decades.
  "Having had the privilege one day to listen to a glimpse of this man's journey, one could feel the genuine warmth. Mr. Bill Leuci exuded a boyish charm (which I tried to capture in the sketch lol) … he was polite to conversation and open to discussing his wife's accomplishments. Kept thinking of the song, 'Wind Beneath (Her) Wings' …
  "Thankyou
  "Yours truly,
  "The Sketch Artist
  "P.S. The New Sponsor for the next FIVE winners will be JIMMY'S STEER HOUSE, at 114 Broadway (RT. 1 North) in Saugus."
Getting it straight:
  We have a couple of corrections to make for last week's paper. In our story on Saugus Public Schools Superintendent Erin McMahon being placed on unpaid leave, we reported incorrectly that the previous School Committee had voted unanimously in approving a five-year contract with a starting salary of $196,000. Former School Committee member Arthur Grabowski, while supportive of the hiring, was the lone member opposing the 5-year pact.
  "I strenuously objected to a five year term.  And voted against it, citing a three year term would not bind the town for an extra two years should things not work out," Grabowski wrote in an email. "How prophetic of me…thanks. Please correct your story."
  In this column last week, we reported incorrectly that "the Sketch Artist" had stumped The Saugus Advocatereaders. Ron Tamulonis had guessed correctly. But apparently his winning answer left in voicemail was overlooked. He was the only reader to recognize First Baptist Church Reverend Leroy Mahoney and First lady Natavia Mahoney. Ron did receive a $10 gift certificate after we discovered the glitch in our voice mail answering system.
Legion breakfasts on Friday mornings
  Saugus American Legion Post 210 hosts its popular breakfasts from 8-9 a.m. on Fridays. The Legion requests a donation of $8 from those who are looking for a delicious meal at Legion Hall. The Legion also welcomes veterans who can't afford the meal to enjoy a free breakfast. Bon appétit!
Compost/Recycling Drop-Off Site schedule
  The Town of Saugus Compost/Recycling Drop-Off Site closed for the winter season on Dec. 10. The site will reopen for recycling on the third Saturday of the month in February and March, weather permitting. The dates are Saturday, February 18, and Saturday, March 18, from 8 a.m. to 2 p.m.
  Please contact Scott Brazis, Director of Solid Waste/Recycling, at 781-231-4036 with any questions.
What's happening at the Saugus Public Library
  For schoolchildren looking for interesting projects and programs to participate in this fall, there's plenty to do at the Saugus Public Library. There are also some very good programs offered for grownups, too.
  Dragon Eye: On Tuesday, Feb. 7, from 4:00 to 5:30 p.m. in the Community Room, children in Grades 5 and up will be able to sculpt a dragon eye that's fierce or friendly, using a glass eye, air dry clay and metallic paint – and, if time allows, make a dragon egg. Please register in advance. Call 781-231-4168 or visit the Events Calendar (http://www.eventkeeper.com/code/ekform.cfm?curOrg=SAUGUS&curName=2023/02/07_Dragon_Eye)
  Join our Teen Advisory Board: First Tuesday of each month at 6 p.m. in the Teen Room; Grades 5 and up; meet with the Teen Librarian once a month to talk about what you'd like for programs and materials at the library. Your opinion matters! No registration required. Snacks provided! sauguspubliclibrary.org – 781-231-4168
  Just Sew! Saugonians are welcome to join a monthly sewing class for adults that is held the third Monday of each month from 6:30 to 7:30 p.m. in the Community Room of Saugus Public Library. The next meeting is Monday, Feb. 20. The class will cover basic topics like sewing buttons, hemming clothing and mending torn fabric and will move on to more advanced topics in the coming weeks. This class is free. (See sauguspubliclibrary.org)
  A neat teen group called Manga & Anime Club: The Manga & Anime Club, from all accounts, is a lot of fun for kids in Grades 6 and up. So, if you are curious, check out the Teen Room. Chat with friends! Make crafts! Try Japanese snacks! Club meetings will continue on Saturdays through May from 10-11 a.m. They will be held on Feb. 4, March 4, April 1 and May 13. Please sign up in advance; call 781-231-4168 or stop by the Reference Desk. https://www.sauguspubliclibrary.org/new-manga-anime-club…/ – Saugus Public Library, 295 Central St., Saugus, Mass.
  Adult Coloring Group: Come relax with the continuing Adult Coloring Group. It's a great opportunity to take time to unwind, be creative and have fun, no experience necessary!
We have pencils and coloring pages ready and waiting. See you there! Space is limited; please call to register: 781-231-4168 X 3106. When: Wednesday, February 8, 2023, at 10 a.m. Where: Saugus Public Library, 295 Central St., Saugus, Brooks Room on the second floor.
  Book Sale Special continues: Library Director Alan Thibeault offered the following announcement:
  "Due to popular demand, the New Friends of the Saugus Public Library are extending their January Book Sale special – $4 for a bag of books – through the month of February.
  "Come to the ongoing Book Sale in the Saugus Public Library's Community Room and bring your own bag (or purchase one of ours) and fill 'er up for just $4.
  "Also…we are still accepting donations of adult fiction and children's books – in excellent condition only, of course. We regret that we cannot accept non-fiction titles, encyclopedias, text books, workbooks, instruction manuals etc. And, please…no yellowing, mold, mildew, excessive wear & tear, stains, or unpleasant odors.
  "Proceeds from the Book Sale benefit the New Friends who support programs and other offerings here at the Library."
First Baptist Church presents "Can We Talk…"
  First Baptist Church Pastor Leroy Mahoney invites troubled people to join others in a special program called "Can We Talk … Community conversations on Trauma and Healing" the first Thursday of every month, from 6 to 7 p.m. at Rev. Isaac Mitchell Jr. Fellowship Hall (105 Main St. in Saugus). "Join us as we gather in community to share our stories, thoughts and feelings about whatever you are going through," Rev. Mahoney states in a written announcement.
  "As always, it is a safe space to come together in community," he says.
Scholarship available to Saugus High students
  Greater Lynn Senior Services (GLSS) is accepting applications from high school seniors through the Lique Human Services Scholarship. Two $5,000 scholarships will be awarded to students who have an interest in or are considering a career in human services and who have made an impact in their community or the world through community service. The Lique Human Services Scholarship will be awarded to two seniors who attend one of the eight high schools located in GLSS' service area – including Saugus High School.
  The scholarship is named in memory of Vince Lique, the Agency's long-time Executive Director, who devoted his career to helping others, particularly vulnerable senior citizens and people of all ages with disabilities, demanding that all people be treated with dignity and respect.
  "Vince's legacy is firmly rooted in his compassion for people. He measured success by the quality of his service to and advocacy for others," said Kathryn C. Burns, GLSS' Chief Executive Officer. "I believe in Vince's theory that one's individual success is directly related to the benefits received by those around us. The Lique Human Services scholarship honors the man and his service by encouraging others to do the same."
  Applications are available through each high school's guidance office or can be completed online at www.glssnet/LiqueScholarship. Completed applications are due on or before Friday, April 7.
Local author publishes on Amazon
  Brunislaw (Benji) Wozniak, a Lynn resident and member of Sharon Sneaker Crew out of Saugus, recently published a book on Amazon. His book – "Hodge Podge: Short Stories and Poems" – centers around historical locations in Lynn, such as Dungeon Rock.
Healthy Students-Healthy Saugus
  (Editor's Note: The following info is from an announcement submitted by Julie Cicolini, a member of the Board of Directors for Healthy Students-Healthy Saugus.)
  Who we are: Healthy Students-Healthy Saugus (HS2) is a nonprofit group of volunteers who are helping to offset food insecurity in households. HS2 provides students/families who enroll in the program a supply of nutritious food for when school lunches and breakfasts are unavailable to them on weekends.
  How HS2 can help you: HS2 bags are distributed at Saugus Public schools on Fridays to take home. Bags include such items as peanut butter, canned meals/soups/tuna/vegetables, pasta, fruit cups, cereal, oatmeal, goldfish, pretzels and granola bars. All food is provided to children free of charge. It is our hope these resources will support the health, behavior and achievement of every student who participates. To sign up go here to complete online form: https://forms.gle/gmMGguycSHBdziuE9
  Want to partner with us: We would love to partner with organizations, sports teams, youth groups, PTOs, businesses and individuals to assist in feeding students of Saugus. To learn more about how you can partner with us, visit the Healthy Students-Healthy Saugus Facebook page or email us at HS2Saugus@gmail.com
  HS2 relies on donations to create take-home bags for a weekend full of meals. Checks can also be sent directly to: Salem Five C/O Healthy Students-Healthy Saugus, 855-5 Broadway, Saugus, MA 01906. Online donations can also be made at https://givebutter.com/HealthySaugus
About The Saugus Advocate
  We welcome press releases, news announcements, freelance articles and courtesy photos from the community. Our deadline is noon Wednesday. If you have a story idea or an article or photo to submit, please email me at mvoge@comcast.net, or leave a message at 978-683-7773. Let us become your hometown newspaper. The Saugus Advocate is available in the Saugus Public Library, the Saugus Senior Center, Saugus Town Hall, local convenience stores and restaurants throughout town.
Let's hear it!
  Got an idea, passing thought or gripe you would like to share with The Saugus Advocate? I'm always interested in your feedback. It's been six and a half years since I began work at The Saugus Advocate. I'm always interested in hearing readers' suggestions for possible stories or good candidates for "The Advocate Asks" interview of the week. Feel free to email me at mvoge@comcast.net.
  Do you have some interesting views on an issue that you want to express to the community? Submit your idea. If I like it, we can meet for a 15- to 20-minute interview over a hot drink at a local coffee shop. And I'll buy the coffee or tea. Or, if you prefer to continue practicing social distancing and be interviewed from the safety of your home on the phone or via email, I will provide that option to you as the nation recovers from the Coronavirus crisis.
  If it's a nice day, my preferred site for a coffee and interview would be the picnic area of the Saugus Iron Works National Historic Site.
CONTEST SKETCH OF THE WEEK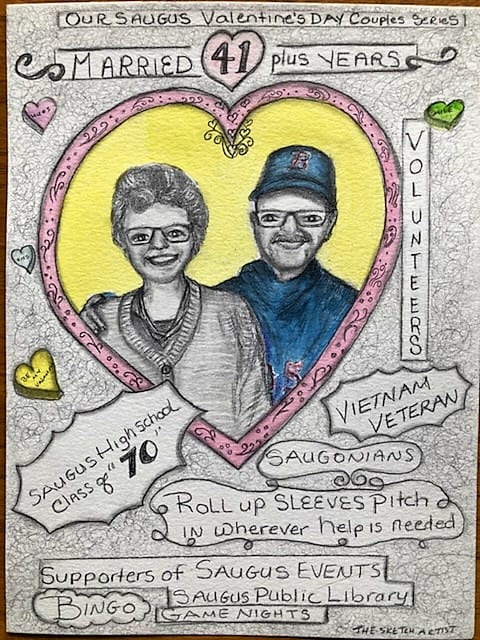 GUESS WHO GOT SKETCHED! If you know the right answer, you might win the contest. In this week's edition, we continue our weekly feature where a local artist sketches people, places and things in Saugus. Got an idea who was sketched this week? If you do, please email me at mvoge@comcast.net or leave a phone message at 978-683-7773. Anyone who between now and Tuesday at noon identifies the Saugonian sketched in this week's paper qualifies to have their name put in a green Boston Red Sox hat with a chance to be selected as the winner of a $10 gift certificate, compliments of JIMMY'S STEER HOUSE, 114 Broadway (RT. 1 North) in Saugus. But you have to enter to win! Look for the winner and identification in next week's "The Sounds of Saugus." Please leave your mailing address in case you are a winner. (Courtesy illustration to The Saugus Advocate by a Saugonian who goes by the name of "The Sketch Artist")