Good Morning, Saugus!
  The town elections aren't until November. But we already have a couple hot potato issues to surface less than two months into the new year.
  Board of Selectmen Chair Anthony Cogliano – the most popular vote-getter in the last two town elections (2019 and 2021) – already sparked some controversial debate late last year in an "Advocate Asks" interview when he mentioned he would devote time this year to laying the foundation for a Charter change that he hoped would see the Town of Saugus become a city with a mayor. Last week, Cogliano became the focus of more political controversy when federal court papers revealed that last summer he assisted WIN Waste Innovations by securing the names of people who lived near the trash-to-energy plant on Route 107 who didn't experience any quality of life problems with the plant.
  Cogliano also admitted in a deposition that was released with the court papers that he signed documents – instead of the residents named in declarations – that would be used as evidence to help WIN defend itself in a pending class-action lawsuit. WIN later directed Cogliano to drive into the East Saugus neighborhood to get actual signatures of the people he signed for.
  East Saugus residents and two of Cogliano's colleagues on the board have already raised questions about the ethics and optics of the situation – how can the chair of the Saugus Board of Selectmen who is also co-chair of a subcommittee assembled to work on issues related to WIN Waste Innovations be acting as an agent of the company while representing the town?
  For his part, Cogliano insists that he did nothing ethically wrong or improper and takes great umbrage with anyone suggesting that he did.
  He plans to run for reelection this fall. And he's already linked to two hot-button issues in a town election campaign that traditionally doesn't heat up until the summer. It should be an interesting election year.
Saugus over coffee
  In case you were curious about how the latest edition of "Saugus Over Coffee" turned out, check out https://vimeo.com/saugustelevision or tune in to Channel 8.
  The Saugus Advocate and the Saugus Public Library are cosponsoring this special series of forums which will spotlight one precinct a month through October. Precinct 2 was the focus of last Monday night's forum.
  As the moderator of the forums, here's my take on how things went:
  The best part: All five Town Meeting members appeared and offered their views of what they see as top issues affecting the neighborhoods they represent.
  Also a very positive aspect of Monday night's forum is that folks who can't attend can still view Vimeo Saugus TV on Channel 8 via a computer at any time during the day or week. And, clearly, from the feedback I've been getting, there are more folks at home who will tune in to the program instead of going down to the library to watch the event live. So, making arrangements with SaugusTV to televise all 10 of the forums was a great idea.
  The most disappointing part: that less than a handful of Precinct 2 residents showed up. And only one Precinct 2 resident – Selectman Corinne Riley – got up and spoke during the public feedback period. Here's an opportunity for residents of Precinct 2 to meet their Town Meeting members and share a conversation over coffee. Yet, more people from other precincts showed up than Precinct 2 residents.
  Public feedback: We received this email from Sue Fleming: "I watched the Precinct 2 presentation today and found it very informative. I had planned on attending but life got in the way and I couldn't make it. My husband and I have been residents of Precinct 2 for over 35 years. It was good to hear the Town Meeting members speak about the concerns, specifically Cliftondale Square. It would be great to see some small businesses in the square. Thank you for coordinating these presentations for each section of Saugus."
  We still have eight more forums to go over the next eight months before the town elections. But it's pretty clear that a disappointing turnout out in the Community Room at the library doesn't detract from the overall success of the forums. Civic-minded Saugonians who are interested in what their Town Meeting members have to say on the issues always have the option to checkout SaugusTV and watch a video of the forum.
  Here is the remaining schedule:
  Precinct 3 – March 13
  Precinct 4 – April 17
  Precinct 5 – May 8
  Precinct 6 – June 12
  Precinct 7 – July 10
  Precinct 8 – Aug. 14
  Precinct 9 – Sept. 11
  Precinct 10 – Oct. 23
  Please check with The Saugus Advocate or library for any changes in dates. Residents can check the programming guide on the station's website (www.saugustv.org) for dates and times.   A video of the forum will also be available for viewing on the station's vimeo page within a day or two after the event (www.vimeo.com/saugustelevision).
  Stay tuned for more information as "Saugus Over Coffee" continues.
One-day trash pickup delay
  The Town of Saugus announces that trash and recycling collection will run on a one-day delay next week for the Presidents' Day Holiday. Trash and recycling will not be collected on Monday (Feb. 20) due to the holiday. Collection will resume on a one-day delay on Tuesday (Feb. 21). Residents are kindly asked to leave trash and recycling curbside by 7 a.m. the day after their normally scheduled collection day.
  The Town of Saugus would like to thank everyone for their cooperation. Please contact Solid Waste/Recycling Coordinator Scott A. Brazis at 781-231-4036 with any questions.
Town Hall closed Monday
  Saugus Town Hall, other municipal buildings – including the Saugus Public Library – and Saugus Public Schools will be closed on Monday (Feb. 20) in observance of Presidents' Day. The holiday kicks off February vacation week for local students.
Seeking Hall of Fame nominations
  Do you know of a former Saugus High School athlete who deserves to be inducted into the Saugus High School Sports Hall of Fame? If you do, nominations are open for the Hall of Fame from now until March 28.
  Previously, there have been 263 athletes inducted since the Hall of Fame's inception (1987).
The hall's first class included Arthur Spinney, a Saugus High football great who played for two NFL championship teams with the Baltimore Colts in 1958 and 1959.
  A Saugus High athlete has to be out of school for at least 10 years before he or she can be nominated. Anyone looking to nominate a former Saugus High athlete can mail their letter of nomination to Barbara Wall at 28 Pleasant St., Saugus, MA 01906.
Comedy at the Kowloon
  The Kowloon Restaurant has set its latest comedy lineup featuring Paul Gilligan on Feb. 17 at 8 p.m. Here's the rest of the February lineup: Feb. 24: MIKE DONOVAN – 8 p.m. – $20.
  Here's the comedy lineup for March:
  March 3: PAUL D'ANGELO – 8 p.m. – $20.
  March 10: COREY RODRIGUES – 8 p.m. – $20.
  March 24: JIMMY DUNN – 8 p.m. – $20.
  Tickets are $20 and show time is 8 p.m. at the Kowloon Restaurant (Route 1 North in Saugus). For tickets, call the Kowloon Restaurant at 781-233-0077.
Bingo is back!
  The Kowloon Restaurant announces Bingo every Wednesday from 7 to 9 p.m. in the Hong Kong Lounge. Prizes will be given away each week with a grand prize set at the finale in March.
A full Chinese gourmet spread is available during Bingo – featuring pupu platters, egg rolls, crab Rangoons, Saugus Wings, General Gau's chicken, lobster sauce, fried scallops, lo mein, moo shi pork, salt and pepper calamari, and sushi – along with a full bar menu, including the signature mai tais and scorpion bowls.
Celebrating the Saugus High band
  The Saugus Historical Society is planning its spring season of programs and a new exhibit which will open in March. The exhibit will feature Saugus High School band memorabilia from several time periods and some Color Day posters recently donated to the society. Anyone who was a band member at any time, or who had an ancestor who was a band member, is invited to share some of their memories. Please call Saugus Historical Society President Laura Eisener at 781-231-5988 to share your story.
  "We are looking for some anecdotes and stories from people involved in Saugus High School Band at any time," Laura says. "The Historical Society is putting together a display of band uniforms, parents' jackets, photos etc. which will be ready by the first meeting in the
Spring," she said.
Craft Fair/Flea Market tomorrow
  The Knights of Columbus Council 1829 will host an indoor craft fair and flea market tomorrow (Saturday, Feb. 18) from 9 a.m. to 3 p.m. at 57 Appleton St. in Saugus. A snow date has been set for Feb. 25. Vendors/table cost: $25. There will be refreshments, a cash bar and raffles.
  To reserve a table or obtain more information, please call Paul Giannetta at 978-239-1392.
Help this Eagle fly
  It sounds like Jake D'Eon has a great public service project in pursuit of his Eagle Scout Badge. His project is doing picnic tables at Pinetops at Breakheart Reservation.
  But Jake is appealing to the public for a little help in getting the supplies he needs for his project. If you want to help Jake out while also enjoying a night of a few good laughs, then check out the Pizza and Comedy Show set for Prince Pizzeria on March 9 at 6:30 p.m. There will be basketball raffles for adults. Tickets cost $35. All proceeds go to Jake's picnic table project.
  Check it out!
Food Pantry notes:
  The Saugus United Parish Food Pantry is open today (Friday, Feb. 17) from 9:30-11 a.m.
"Shout Outs"
  We received nominations from our readers for two Saugus residents deserving of "Shout Outs" for their respective contributions for the betterment of Saugus: Kenney and Margaret Young made the following nomination: "We would like to thank our Precinct One Town Meeting member, Mark Bell for his followup regarding the unsafe conditions, specifically the pot holes, that exist at the Hamilton Street Plaza.
  "The issue was raised at Precinct One's "Saugus Over Coffee" get together at the library on Monday,1/30/2023. The condition improved somewhat after the asphalt patching due to Mark contacting the landlord and subsequently the maintenance contractor. Many thanks."
  Precinct 6 Town Meeting Member Jeanie Bartolo – our most prolific "shout out" contributor and the reader who initiated the idea to this column several years ago – offered the following praise: "I have a "Shout Out" for Michael Hashem for stepping up to the plate as School Superintendent. Thank you Mike for once again coming to the rescue!"
  She was referring to Hashem's willingness to accept the role as acting superintendent while Saugus Public Schools Superintendent Erin McMahon remains on paid leave pending the outcome of an investigation into alleged misconduct. In 2016, Hashem stepped aside as Saugus High School principal to assume the role as an interim superintendent.
Want to "Shout Out" a fellow Saugonian?
  This is an opportunity for our paper's readers to single out – in a brief mention – remarkable acts or achievements by Saugus residents or an act of kindness or a nice gesture. Just send an email (mvoge@comcast.net) with a mention in the subject line of "An Extra Shout Out." No more than a paragraph; anything longer might lend itself to a story and/or a photo.
Stumped by "The Sketch Artist"
  We had no winners this past week. With "The Sketch Artist" taking a break this week, we decided to run last week's sketch. Anyone who identifies the Saugonian sketched in this week's paper between now and Tuesday at noon qualifies to have their name put in a green Boston Red Sox hat with a chance to be selected as the winner of a $10 gift certificate, compliments of JIMMY'S STEER HOUSE, 114 Broadway (RT. 1 North) in Saugus.
Legion breakfasts on Friday mornings
  Saugus American Legion Post 210 hosts its popular breakfasts from 8-9 a.m. on Fridays. The Legion requests a donation of $8 from those who are looking for a delicious meal at Legion Hall. The Legion also welcomes veterans who can't afford the meal to enjoy a free breakfast. Bon appétit!
Shakespeare play hits Saugus stage
  The Theatre Company of Saugus (TCS) presents "The Comedy of Errors," one of William Shakespeare's most popular plays. Performances are the first two weekends of March 2023.
  "The Comedy of Errors" is a farce about two sets of identical twins who were separated in a shipwreck shortly after birth. Now adults, Antipholus of Syracuse and his servant, Dromio of Syracuse, arrive in the town of Ephesus, which happens to be where their long-lost twins, Antipholus of Ephesus and Dromio of Ephesus, live. When the Syracusan twins encounter the friends and families of their siblings, a series of mishaps based on mistaken identity result in wrongful beatings, a near-seduction, the arrest of the Ephesian twins and false accusations of infidelity, theft, madness and demonic possession. Eventually it all gets sorted out!
  TCS is pleased to have Waltham resident Francine Davis as the director of the show and a troupe of talented actors from all over the North Shore of Massachusetts. TCS welcomes some performers new to the group: Reading resident Bryan Deroo as Antipholus of Syracuse, Ryan Marchant from Arlington as Antipholus of Ephesus, Amanda Flicop of Malden as Adriana, David Lee Vincent of Newburyport as the Duke, Roland "Boot" Boutwell of Winchester as Egeon, Shelove Duperior of Malden as the Courtesan and Olga Karasik-Updike of Newbury as the Foreign Merchant. TCS welcomes some returning veterans of its stage to the show: Billy Jenkins of Stoneham as Dromio of Ephesus, Vi Patch of Wakefield as Dromio of Syracuse, John Leonard of Andover as the Map Seller, Kaycee Renee Wilson of Brighton as Luciana, Kathy Rapino of Saugus as the Abbess, Larry Segel of Winthrop as Angelo and Sherri Wilcauskas of Middleton as Nell. Lauren Lyon of Natick is the stage manager.
  Performances of "The Comedy of Errors" are on March 3-4-5 and 10-11-12, 2023, on Fridays and Saturdays at 8 p.m. and at Sunday matinees at 2 p.m. Tickets purchased at the door are $22-$24. Tickets purchased in advance are $19-$21 – online at TCSaugus.org/tickets.
  The venue is the American Legion Post 210 at 44 Taylor St. in Saugus, Mass. The performance space is not wheelchair accessible, but it does feature a bar serving alcoholic and soft drinks. Snacks and raffle tickets are available for purchase before the show and during intermission. For more information, see the TCS website at TCSaugus.org.
Compost/Recycling Drop-Off Site open tomorrow
  The Town of Saugus Compost/Recycling Drop-Off Site is closed for the winter season. The site will reopen for recycling on the third Saturday of the month in February and March, weather permitting. The dates are Saturday, February 18, and Saturday, March 18, 2023, from 8 a.m. to 2 p.m.
  Please contact Scott Brazis, Director of Solid Waste/Recycling, at 781-231-4036 with any questions.
What's happening at the Saugus Public Library
  For schoolchildren looking for interesting projects and programs to participate in this fall, there's plenty to do at the Saugus Public Library. There are some very good programs offered for grownups, too.
  Join our Teen Advisory Board: first Tuesday of each month at 6 p.m. in the Teen Room; Grades 5 and up; meet with the Teen Librarian once a month to talk about what you'd like for programs and materials at the library. Your opinion matters! No registration required. Snacks provided! sauguspubliclibrary.org – 781-231-4168.
  Just Sew! Saugonians are welcome to join a monthly sewing class for adults that is held the third Monday of each month from 6:30 to 7:30 p.m. in the Community Room of Saugus Public Library. The next meeting is Monday, Feb. 20. The class will cover basic topics like sewing buttons, hemming clothing and mending torn fabric and will move on to more advanced topics in the coming weeks. This class is free. (See sauguspubliclibrary.org)
  A neat teen group called Manga & Anime Club: The Manga & Anime Club, from all accounts, is a lot of fun for kids in Grades 6 and up. So, if you are curious, check out the Teen Room. Chat with friends! Make crafts! Try Japanese snacks! Club meetings will continue on Saturdays through May from 10-11 a.m. They will be held on March 4, April 1 and May 13. Please sign up in advance; call 781-231-4168 or stop by the Reference Desk (https://www.sauguspubliclibrary.org/new-manga-anime-club…/) – Saugus Public Library, 295 Central St., Saugus, Mass.)
  Adult Coloring Group: Come relax with the continuing Adult Coloring Group. It's a great opportunity to take time to unwind, be creative and have fun – no experience necessary! There are pencils and coloring pages ready and waiting. See you there! Space is limited; please call 781-231-4168 x 3106 to register. When: Wednesday, March 8, at 10 a.m. Where: Saugus Public Library, 295 Central St., Saugus, Brooks Room on the second floor.
  Book Sale Special continues: Library Director Alan Thibeault offered the following announcement: "Due to popular demand, the New Friends of the Saugus Public Library are extending their January Book Sale special – $4 for a bag of books – through the month of February.
  "Come to the ongoing Book Sale in the Saugus Public Library's Community Room and bring your own bag (or purchase one of ours) and fill 'er up for just $4.
  "Also…we are still accepting donations of adult fiction and children's books – in excellent condition only, of course. We regret that we cannot accept non-fiction titles, encyclopedias, text books, workbooks, instruction manuals etc. And, please…no yellowing, mold, mildew, excessive wear & tear, stains, or unpleasant odors.
  "Proceeds from the Book Sale benefit the New Friends who support programs and other offerings here at the Library."
First Baptist Church presents "Can We Talk…"
  First Baptist Church Pastor Leroy Mahoney invites troubled people to join others in a special program called "Can We Talk … Community conversations on Trauma and Healing" the first Thursday of every month from 6 to 7 p.m. at Rev. Isaac Mitchell Jr. Fellowship Hall (105 Main St. in Saugus). "Join us as we gather in community to share our stories, thoughts and feelings about whatever you are going through," Rev. Mahoney states in a written announcement.
  "As always, it is a safe space to come together in community," he says.
Scholarship available to Saugus High students
  Greater Lynn Senior Services (GLSS) is accepting applications from high school seniors through the Lique Human Services Scholarship. Two $5,000 scholarships will be awarded to students who have an interest in or are considering a career in human services and who have made an impact in their community or the world through community service. The Lique Human Services Scholarship will be awarded to two seniors who attend one of the eight high schools located in GLSS' service area – including Saugus High School.
  The scholarship is named in memory of Vince Lique, the Agency's long-time Executive Director, who devoted his career to helping others, particularly vulnerable senior citizens and people of all ages with disabilities, demanding that all people be treated with dignity and respect.
  "Vince's legacy is firmly rooted in his compassion for people. He measured success by the quality of his service to and advocacy for others," said Kathryn C. Burns, GLSS' Chief Executive Officer. "I believe in Vince's theory that one's individual success is directly related to the benefits received by those around us. The Lique Human Services scholarship honors the man and his service by encouraging others to do the same."
  Applications are available through each high school's guidance office or can be completed online at www.glssnet/LiqueScholarship. Completed applications are due on or before Friday, April 7.
Healthy Students-Healthy Saugus
  (Editor's Note: The following info is from an announcement submitted by Julie Cicolini, a member of the Board of Directors for Healthy Students-Healthy Saugus.)
  Who we are: Healthy Students-Healthy Saugus (HS2) is a nonprofit group of volunteers who are helping to offset food insecurity in households. HS2 provides students/families who enroll in the program a supply of nutritious food for when school lunches and breakfasts are unavailable to them on weekends.
  How HS2 can help you: HS2 bags are distributed at Saugus Public schools on Fridays to take home. Bags include such items as peanut butter, canned meals/soups/tuna/vegetables, pasta, fruit cups, cereal, oatmeal, goldfish, pretzels and granola bars. All food is provided to children free of charge. It is our hope these resources will support the health, behavior and achievement of every student who participates. To sign up go here to complete online form: https://forms.gle/gmMGguycSHBdziuE9
  Want to partner with us: We would love to partner with organizations, sports teams, youth groups, PTOs, businesses and individuals to assist in feeding students of Saugus. To learn more about how you can partner with us, visit the Healthy Students-Healthy Saugus Facebook page or email us at HS2Saugus@gmail.com
  HS2 relies on donations to create take-home bags for a weekend full of meals. Checks can also be sent directly to: Salem Five C/O Healthy Students-Healthy Saugus, 855-5 Broadway, Saugus, MA 01906. Online donations can also be made at https://givebutter.com/HealthySaugus
About The Saugus Advocate
  We welcome press releases, news announcements, freelance articles and courtesy photos from the community. Our deadline is noon Wednesday. If you have a story idea or an article or photo to submit, please email me at mvoge@comcast.net or leave a message at 978-683-7773. Let us become your hometown newspaper. The Saugus Advocate is available in the Saugus Public Library, the Saugus Senior Center, Saugus Town Hall, local convenience stores and restaurants throughout town.
Let's hear it!
  Got an idea, passing thought or gripe you would like to share with The Saugus Advocate? I'm always interested in your feedback. It's been six and a half years since I began work at The Saugus Advocate. I'm always interested in hearing readers' suggestions for possible stories or good candidates for "The Advocate Asks" interview of the week. Feel free to email me at mvoge@comcast.net.
  Do you have some interesting views on an issue that you want to express to the community? Submit your idea. If I like it, we can meet for a 15- to 20-minute interview over a hot drink at a local coffee shop. And I'll buy the coffee or tea. Or, if you prefer to continue practicing social distancing and be interviewed from the safety of your home on the phone or via email, I will provide that option to you as the nation recovers from the Coronavirus crisis.
  If it's a nice day, my preferred site for a coffee and interview would be the picnic area of the Saugus Iron Works National Historic Site.
CONTEST SKETCH OF THE WEEK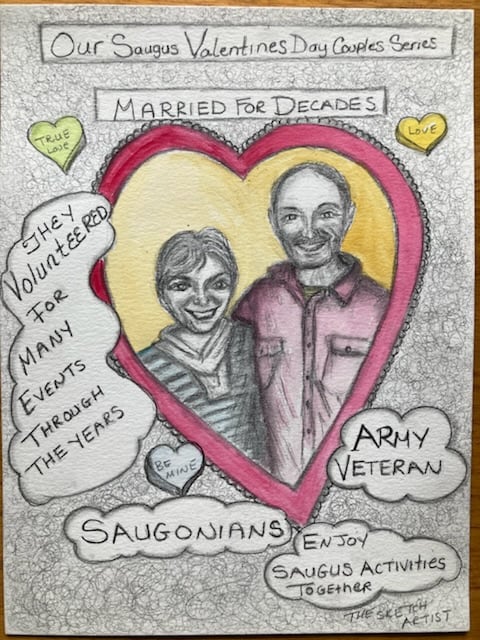 GUESS WHO GOT SKETCHED! If you know the right answer, you might win the contest. Got an idea who's being sketched this week? If you do, please email me at mvoge@comcast.net or leave a phone message at 978-683-7773. Anyone who answers correctly between now and Tuesday at noon qualifies to have their name put in a green Boston Red Sox hat with a chance to be selected as the winner of a $10 gift certificate, compliments of JIMMY'S STEER HOUSE at 114 Broadway (RT. 1 North) in Saugus. But you have to enter to win! Look for the winner and identification in next week's "The Sounds of Saugus." Please leave your mailing address in case you are a winner. (Courtesy illustration to The Saugus Advocate by a Saugonian who goes by the name of "The Sketch Artist")