Good Morning, Saugus!
  As this week's deadline approached early yesterday (Thursday, March 2), I was approaching the end of my seventh year as editor of The Saugus Advocate. I turned 70 last December, and I'm at an age where the vast majority of my journalism peers from the college class of 1974 have long since retired or gotten out of the newspaper business.
  We're also at a point in history where many prominent and well-respected newspapers throughout the country have either cut back to publishing fewer days a week or shut down their presses and have gone totally online. Many good newspapers throughout the country have gone out of business in the wake of the COVID-19 pandemic three years ago. And, of course, the growth of the Internet had already put some newspapers out of business.
  I'm now in my 51st year of journalism. And I'm at the point whether the changing technology, the economy or health issues will determine the end of my journalism career. It's about this time every year since I began working for Publisher Jim Mitchell and Advocate Newspapers, Inc. that I decide whether I will go at least one more year.
  This year's decision was fairly easy. I'm in pretty good health to the point I could walk five miles on any given day and also work 50-plus hours a week, putting out this weekly newspaper. This is also a town election year in Saugus. And I have already made the commitment to moderate the 10-part series of public forums, titled "Saugus Over Coffee," a project that is being cosponsored by The Saugus Advocate and the Saugus Public Library. In each of the monthly forums, which are being filmed and broadcast by SaugusTV, we spotlight all 10 of the town precincts, giving residents and the five Town Meeting members in each precinct an opportunity to talk about what makes their precinct special and the top issues facing the people in the respective precincts. So, I will be good – God willing – at least through the duration of "Saugus Over Coffee" and until the Town Elections in November. And then next March, I will decide whether to go another year.
  Of course, it's possible that circumstances beyond my control – the economy and the overall business environment affecting all newspapers – will determine when I have to call it a career in newspapering.
  The Saugus Advertiser was our weekly competitor up until last May, when it essentially ceased to exist (it merged with the Melrose Free Press and Observer to become the Free Press & Advertiser). The Advocate continues to hang in there as the town's free weekly newspaper. And it's a credit to the Mitchell family that the paper continues to publish in a very tough, not-so-friendly newspaper environment. At a time when communities are losing daily newspapers, it's also a blessing to the people of Saugus that they have an exclusive community newspaper that's still kicking and ticking.
  I'm inspired to keep going as long as my health holds up. I'm also motivated to continue serving Saugus Advocate readers as long as I can, because I believe the people of this town deserve a newspaper. Right now, they are fortunate enough to have a weekly newspaper that covers Saugus exclusively and a daily newspaper, The Lynn Daily Item, which has a reporter covering Saugus.
  I have spent more than a dozen years reporting and writing stories in Saugus. I spent five and a half years during the late 1980s and early 1990s covering Saugus for North Shore Sunday, when the magazine-style alternative weekly with a 110,000 free circulation covered 11 cities and towns on the North Shore. North Shore Sunday was considered a "must read" in those days because of its investigations.
  I worked on a few of them in Saugus. More on that on another day.
  I had a great rapport with then-Town Manager Norm Hansen. On his final day of work, he treated me to lunch at The Hilltop. He knew I wouldn't accept the meal while he was still employed, because of the optics of the situation: Reporters shouldn't be treated to meals by public officials.
  So Norm waited til he was a civilian. And then he treated me to a lobster pie.
Saugus over coffee
  "All of us here were elected by default."
  Precinct 2 Town Meeting Member Joe Vecchione must have raised a few eyebrows with that comment during the Feb.13 taping of "Saugus Over Coffee" by SaugusTV. I know that a few people who were in attendance that night in the Community Room of the Saugus Public Library were a little upset, because they feel that lack of interest in a political race shouldn't reflect them.
  But Vecchione did make a sobering point about the lack of interest in Saugus residents running for a seat on the 50-member Town Meeting, which serves the important function of the town's Legislature. Town Meeting has the responsibility for voting on various zoning ordinances in addition to approving the town's municipal budget.
  But Precinct 2 wasn't the only precinct in Saugus where a paucity of candidates assured that everyone on the ballot would be elected. Precincts 1, 3, 6 and 7 also only had just five candidates running for the five seats. In half of the town's 10 precincts, there was no alternative for Town Meeting candidates.
  One of my hopes in developing the "Saugus Over Coffee" forums was that they just might spur interest in each of the respective precincts, influencing new candidates to get involved. The town needs new blood. And Town Meeting seats often serve as a springboard for civic and politically minded residents who want to run for the Board of Selectmen or School Committee one day.
  Hopefully, at minimum, each of the forums stirs interest among citizens who are then motivated to bring new and important issues forward which affect residents in their precincts. Stay tuned for more information as "Saugus Over Coffee" continues.
  Here is the remaining schedule:
  Precinct 3 – March 13
  Precinct 4 – April 17
  Precinct 5 – May 8
  Precinct 6 – June 12
  Precinct 7 – July 10
  Precinct 8 – Aug. 14
  Precinct 9 – Sept. 11
  Precinct 10 – Oct. 23
  Please check with The Saugus Advocate or library for any changes in dates. Residents can check the programming guide on the station's website (www.saugustv.org) for dates and times. A video of the forum will also be available for viewing on the station's vimeo page within a day or two after the event: www.vimeo.com/saugustelevision.
Maple Sugarin' at Breakheart
  Experience the process of maple sugarin' – from tapping a tree to sampling maple syrup – on Saturday, March 11, from 10 a.m. to 2 p.m. at Breakheart Reservation. Go to the Christopher P. Dunne Visitor Center (177 Forest St., Saugus). This program is cosponsored by the state Department of Natural Resources and the Friends of Breakheart Reservation. Enjoy some refreshments inside the Visitor Center for a $5.00 donation to the Friends of Breakheart Reservation ($20 for family of 5-6) and then join us for a free tour of the maple sugarin' process.
  Tour includes: History of maple sugaring, tree identification & tapping, wood splitting and the evaporator! For more information, please call 781-233-0834.
The Breakheart/Benjamin Newhall Johnson legacy
  On Wednesday, March 8, the Saugus Historical Society will hold a program on Breakheart Reservation and the Legacy of Benjamin Newhall Johnson. It will be held at 30 Main St., the headquarters of the Saugus Historical Society and Saugus Cable Television. Doors open at 6:45 p.m. and light refreshments will be served. The meeting will begin at 7 p.m. The team of experts on Johnson and Breakheart will include Brett Power, head ranger of Breakheart Reservation; Doug Heath and Alison Simcox, who count among their books "Breakheart Reservation" and "Murder at Breakheart Hill Farm"; and Ron Wallace, who has recently restored Johnson's tombstone at Riverside Cemetery.
  Benjamin Newhall Johnson was born on June 19, 1856, in Lynn but grew up in Saugus. He became a prominent Lynn businessman and in 1891 teamed up with two other Lynn businessmen to operate a hunting lodge in the woods of Saugus. They moved a log building from Maine to the site and created two ponds and a rhododendron garden on the site. In 1881 he married Ida Oliver of Saugus, and they had two children. After her death he married Virginia Vernon Newhall and they had three children. His second wife also predeceased him. Johnson died on February 19, 1932.
  The 600-acre wooded site of their hunting lodge was sold by the heirs to the Metropolitan District Commission, and it eventually became the state park operated by the Department of Conservation & Recreation that we know as Breakheart Reservation. Breakheart has been a popular recreational site in Saugus for generations with its popular beach and wooded scenic trails. The park has endured last summer's drought, fires and other challenges, but the citizens look forward to enjoying it for generations to come.
Seeking Hall of Fame nominations
  Do you know of a former Saugus High School athlete who deserves to be inducted into the Saugus High School Sports Hall of Fame? If you do, nominations are open for the Hall of Fame from now until March 28.
  There have been 263 athletes inducted since the Hall of Fame's inception (1987). The Hall of Fame's first class included Arthur Spinney, a Saugus High football great who played for two NFL championship teams with the Baltimore Colts in 1958 and 1959.
  A Saugus High athlete has to be out of school for at least 10 years before he or she can be nominated. Anyone looking to nominate a former Saugus High athlete can mail their letter of nomination to Barbara Wall at 28 Pleasant St., Saugus, MA 01906.
Library joins Boston Bruins PJ Drive
  The Saugus Public Library and the Boston Bruins are teammates again. From now through March 15, the library will be accepting donations of pajamas for the Boston Bruins PJ Drive to benefit the Wonderfund of the Department of Children and Families (DCF) and Cradles to Crayons. The Saugus Public Library's goal is to collect 100 pairs of new pajamas, according to Amy Melton, Head of Children's Services. Many of the pajamas donated will benefit local homeless kids and teens, she said.
  Melton said there are two ways to donate: This year you can donate either by making a monetary donation directly to the pajama drive or by shopping for them yourself. The library is collecting new pairs of pajamas for children and teens: size 2T through adult medium. The library asks that people not donate holiday pajamas.
  The most-needed sizes:
Girls: 5/6–18/20 or adult S.
Boys: 7/8–18/20 or adult M.
  There is a collection bin at the library.
SAVE 2023 Environmental Scholarship
  Saugus Action Volunteers for the Environment (SAVE) is very pleased to announce that it is offering a $1,000 Environmental Scholarship to Saugus residents of the Graduating Class of 2023 or to Saugus residents who are currently first-year college attendees. This is a scholarship for students who will be or are attending a two/four-year college or other educational institution and pursuing a degree in an area that would positively impact the environment.
  Applicants can download the SAVE 2023 Environmental Scholarship Application Form found at www.saugusSAVE.org. Together with the completed application form, please include a separate sheet (identified with your initials only) that provides a brief summary of any of your activities relating to the environment and describe how you feel your career choice will positively impact the environment. Please email (preferred method) your application – no later than midnight on April 21, 2023 – to: SAVE Co-President Ann Devlin at adevlin@aisle10.net or mail your application (postmarked by April 21, 2023) to: SAVE, P.O. Box 908, Saugus, MA 01906. Again, the deadline to submit your application is April 21, 2023.
Comedy at the Kowloon
  The Kowloon Restaurant has its latest comedy lineup set, and this week will feature Paul D'Angelo today (Friday, March 3) at 8 p.m. Here's the rest of this month's lineup:
  March 10: COREY RODRIGUES – 8 p.m.-$20.
  March 24: JIMMY DUNN – 8 p.m.-$20.
  Tickets are $20 and show time is 8 p.m. at the Kowloon Restaurant (Route 1 North in Saugus). For tickets, call the Kowloon Restaurant at 781-233-0077.
Bingo is back!
  The Kowloon Restaurant announces Bingo every Wednesday from 7 to 9 p.m. in the Hong Kong Lounge. Prizes will be given away each week with a grand prize set at the finale in March.
A full Chinese gourmet spread is available during Bingo – featuring pupu platters, egg rolls, crab Rangoons, Saugus Wings, General Gau's chicken, lobster sauce, fried scallops, lo mein, moo shi pork, salt and pepper calamari, and sushi – along with a full bar menu, including the signature mai tais and scorpion bowls.
Celebrating the Saugus High band
  The Saugus Historical Society is planning its spring season of programs and a new exhibit that will open in March. The exhibit will feature Saugus High School Band memorabilia from several time periods and some Color Day posters recently donated to the society. Anyone who was a band member at any time, or who had an ancestor who was a band member, is invited to share some of their memories. Please call Saugus Historical Society President Laura Eisener at 781-231-5988 to share your story.
  "We are looking for some anecdotes and stories from people involved in Saugus High School Band at any time," Laura says.
  "The Historical Society is putting together a display of band uniforms, parents' jackets, photos etc. which will be ready by the first meeting in the Spring," she said.
Help this Eagle fly
  It sounds like Jake D'Eon of Saugus Boy Scout Troop 62 has a great public service project in pursuit of his Eagle Scout Badge – scouting's highest honor. His project involves the construction of eight new picnic tables that are handicap accessible at Pinetops picnic area at Breakheart Reservation.
  "My project will improve access for people with disabilities to this area of Breakheart," Jake wrote in a recent letter to selectmen, inviting them to attend a special fundraiser.
  Jake is also appealing to the public for a little help in getting the supplies he needs for his project: lumber, paint and other materials. If you want to help Jake out while also enjoying a night of a few good laughs, then check out the Pizza and Comedy Show in the Giggles Comedy Club at Prince Pizzeria on March 9 at 6:30 p.m. There are basketball raffles for adults. Tickets cost $35. All proceeds go to Jake's picnic table project. Check it out!
  Jake, 16, has spent a decade in scouting, beginning with the local Cub Scout pack.
  Being an Eagle Scout myself (Troop 26 of Swansea, Mass., back in 1968), I love to shine a public spotlight on these outstanding young men who accomplish something achieved by about only six percent of the boys involved in scouting.
  I interviewed Jake about four years ago when he was a 12-year-old tenderfoot scout competing in a Pinewood Derby race. And I remember him expressing high aspirations to one day become an Eagle Scout. Well, this project should help put him in that elite category that will serve him well as he embarks on his college education and his chosen career.
  It was in scouting that I earned a journalism merit badge for articles I wrote about troop activities for local newspapers, and that planted the seeds for a 50-year career as a newspaperman.
  "Quite an impressive young man," Selectmen Jeffrey Cicolini said at a selectmen's meeting. He hailed Jake's Eagle Scout public service project – "a Herculean effort."
Food Pantry notes:
  The Saugus United Parish Food Pantry is open today (Friday, March 3) from 9:30-11 a.m.
We have a winner!
  Congratulations to Annette Slocomb for making the right identification in last week's "Guess Who Got Sketched" contest. There were several winners. But Annette was the lucky reader to have her name drawn from the green Boston Red Sox cap. Annette wins a $10 gift certificate, compliments of JIMMY'S STEER HOUSE at 114 Broadway (Rt. 1 North) in Saugus. Here's the correct answer offered by the person who goes by the name of The Sketch Artist:
  "The answer to last week's Valentine's Series sketch is Fred and Lorraine Lewis. They have been celebrating a marriage over 65 years, married September 22, 1957.
  "It seems foolish not to ask in the face of such success what makes something so successful?
  "So Fred and Lorraine, what made your marriage a longevity of success?
  "Fred and Lorraine said they had set major goals for themselves before they got married. Fred and Lorraine … said it was important for both of them to work together as a team to buy a home. Next on their list was, if they had children, they made a promise to each other to educate their children as far as their children had wanted to go after High-school.
  "Years later, they highly succeeded in achieving these two zenith goals.
  "Fred and Lorraine offered the advice of 'Have A-lot of fun together' do things you love. (Lorraine and Fred were Lifelong members of a Yacht Club and enjoyed many fun loving weekends on their boat.) They also shared, 'Have a Great sense of humor' Lorraine expressed smiles of delight in her husband's sense of humor. 'Enjoy the company of great friends' and 'Enjoy family life'
  "Fred and Lorraine have two daughters, Karen and Loren and three Grandchildren and two Great Grandchildren. Thank you for the advice!
  "Fred and Lorraine are a popular couple to many and were often seen as a team through the years always in the background silently orchestrating events (with little or no credit.)
  "Many saw how they would pitch in and cover the left out details; also volunteering and overseeing preparations in many ventures and often covering expenses behind the scenes as several have mentioned.
  "Lorraine, with her gift of hospitality and mathematics, provided many years of her expertise and culinary skills and logistics to those seeking assistance. Lorraine is very knowledgeable to make buffets and special events memorable. As a team, they were always eager to lend a hand then often enough silently slipped back into the background.
  "Lorraine's and Fred's volunteer work was from a generous giving heart that these two have in common. Often this team would volunteer and assist many neighbors in need through the years.
  "Lorraine smiles friendly and offers pleasurable hospitality and Fred's welcoming and charming with his warm sense of humor.
  "Wishing you many more fun joyous times of family togetherness.
  "Fred and Lorraine are a delightful couple to chat with and often they finish one another's sentences or thoughts. They are very close and it's a beautiful thing to see. Thank you for such a gracious visit
  "Congratulations on your Successes.
  "We ALL Thank you for ALL you do!
  "Yours Truly,
  "The Sketch Artist"
"Shout Outs" to the Castrabertis
  We didn't receive any reader nominations for "shout outs" this week. So, we will use our editorial discretion in coming up with a worthy candidate.
  A press release crossed our desk from the people at Care Dimensions, the state's largest hospice and palliative care provider. It cited "a generous donation from Steven and Trisha Castraberti, owners of the iconic Prince Pizzeria in Saugus."
  The press release is worth repeating. So, here we go, as we give an explanation for this week's public recognition of a noble deed:
  "Their donation, in the form of restaurant gift cards, will be given to patients and families who could benefit from a prepared meal during their hospice journey," the press release went on to say.
  "My mother was in hospice last year," said Trisha. "I remember there were days when she wasn't eating, and so I was forgetting to eat. It's important to have food around, so that you have the strength to support your loved one on their journey."
  "Steven's mother was cared for in 2001 at the Kaplan Family Hospice House in Danvers, which is operated by Care Dimensions. He remembers the exceptional compassionate care they received, and said it was important to find a way to help other families who are caring for those at end of life.
  "We were lucky in that we were able to take time off to spend time with our loved ones towards the end," said Steven. "But we know a lot of people can't do that. We hope this donation will help ease that burden a little bit by providing a meal       and giving them one less thing to worry about."
  "As a non-profit organization, Care Dimensions mission is to provide a quality end of life experience to everyone. The Care Dimensions Family Fund is an existing program, which is funded through donations and benefits patients who are struggling financially. It helps to pay for non-medical needs such as food, clothing, and utilities. This donation will further advance that effort.
  "We can't thank Trisha and Steven enough for this amazing donation to our patients and families and we look forward to working with them in the future," said Dr. Stephanie Patel, Care Dimensions President & CEO. "These families are going through so much and a complimentary meal means they can spend more quality time with their loved one."
Want to "Shout Out" a fellow Saugonian?
  This is an opportunity for our paper's readers to single out – in a brief mention – remarkable acts or achievements by Saugus residents or an act of kindness or a nice gesture. Just send an email (mvoge@comcast.net) with a mention in the subject line of "An Extra Shout Out." No more than a paragraph; anything longer might lend itself to a story and/or a photo.
Run For a Cause, Run with the Y
  Join the Saugus Family YMCA's Not a Walk in the Park 5k and help support your community. This family-friendly run/walk takes you through the beautiful scenery of Breakheart Reservation in Saugus. Registration includes post-race refreshments and prizes for runners in every age category. All proceeds support the YMCA of Metro North Annual Fund to provide access to YMCA child care, camp and health and wellness programs to everyone.
  Race Details: Saturday, April 22, 8:30 a.m. race start. Packet pick-up for preregistered runners: 7:00 a.m. Race day registration: 7:00 a.m. Where: Breakheart Reservation – 177 Forest St., Saugus.
  Packet Pick-up: Friday, April 21, 3:00 p.m.-6:00 p.m., Saugus Family YMCA, 298 Main St., Saugus.
  Race Features: Chip Timing by Bay State Race Services; post-race refreshments; awards to the top finishers in each age group; T-shirt guaranteed to those who register prior to April 7.
  The YMCA of Metro North Road Race Series raises funds for a variety of charitable activities that benefit our community. Participants in their four unique 5k races run or walk to support the YMCA of Metro North Annual Fund and raise money to provide access to YMCA child care, camp and health and wellness programs for everyone. In 2022 the YMCA of Metro North provided more than 1.6 million dollars in financial aid – providing all children, adults and families with opportunities to develop a healthy spirit, mind and body regardless of income.
Legion breakfasts on Friday mornings
  Saugus American Legion Post 210 hosts its popular breakfasts from 8-9 a.m. on Fridays. The Legion requests a donation of $8 from those who are looking for a delicious meal at Legion Hall. The Legion also welcomes veterans who can't afford the meal to enjoy a free breakfast. Bon appétit!
Compost/Recycling Drop-Off Site
  The Town of Saugus Compost/Recycling Drop-Off Site is closed for the winter season. But the site will reopen for recycling, weather permitting, on Saturday, March 18, 2023, from 8 a.m. to 2 p.m. Please contact Scott Brazis, Director of Solid Waste/Recycling, at 781-231-4036 with any questions.
What's happening at the Saugus Public Library
  For schoolchildren looking for interesting projects and programs to participate in this fall, there's plenty to do at the Saugus Public Library. There are some very good programs offered for grownups, too.
  Join our Teen Advisory Board: first Tuesday of each month at 6 p.m. in the Teen Room; Grades 5 and up; meet with the Teen Librarian once a month to talk about what you'd like for programs and materials at the library. Your opinion matters! No registration required. Snacks provided!
  Just Sew! Saugonians are welcome to join a monthly sewing class for adults that is held the third Monday of each month from 6:30 to 7:30 p.m. in the Community Room of Saugus Public Library. The class covers basic topics like sewing buttons, hemming clothing and mending torn fabric and will move on to more advanced topics in the coming weeks. This class is free. (See sauguspubliclibrary.org)
  A neat teen group called Manga & Anime Club: The Manga & Anime Club, from all accounts, is a lot of fun for kids in Grades 6 and up. So, if you are curious, check out the Teen Room. Chat with friends! Make crafts! Try Japanese snacks! Club meetings will continue on Saturdays through May from 10-11 a.m. They will be held on March 4, April 1 and May 13. Please sign up in advance; call 781-231-4168 or stop by the Reference Desk (https://www.sauguspubliclibrary.org/new-manga-anime-club…/)
  Adult Coloring Group: Come relax with the continuing Adult Coloring Group. It's a great opportunity to take time to unwind, be creative and have fun – no experience necessary! There are pencils and coloring pages ready and waiting. See you there! Space is limited; please call 781-231-4168 x 3106 to register. When: Wednesday, March 8, at 10 a.m. Where: Saugus Public Library, 295 Central St., Saugus, Brooks Room on the second floor.
  Bento Boxes presented by Table for Two. Learn how to make lunch the Japanese way! Why is using five colors of food important? What does it mean to eat with your eyes? Join us to make two Japanese rice balls, one traditional triangle shape and one cute penguin. Turn cherry tomatoes into hearts and cucumbers into quick pickles. You will get your very own bento box to take home. When: Thursday, March 23, 4:30-6 p.m. in the Community Room. Age 11 and up. Please sign up in advance; call or register online from our Event Calendar(https://www.sauguspubliclibrary.org/events/).
  Saugus Public Library, 781-231-4168, 295 Central St., Saugus, Mass., www.sauguspubliclibrary.org
First Baptist Church presents "Can We Talk…"
  First Baptist Church Pastor Leroy Mahoney invites troubled people to join others in a special program called "Can We Talk … Community conversations on Trauma and Healing" the first Thursday of every month from 6 to 7 p.m. at Rev. Isaac Mitchell Jr. Fellowship Hall (105 Main St. in Saugus). "Join us as we gather in community to share our stories, thoughts and feelings about whatever you are going through," Rev. Mahoney states in a written announcement.
  "As always, it is a safe space to come together in community," he says.
Scholarship available to Saugus High students
  Greater Lynn Senior Services (GLSS) is accepting applications from high school seniors through the Lique Human Services Scholarship. Two $5,000 scholarships will be awarded to students who have an interest in or are considering a career in human services and who have made an impact in their community or the world through community service. The Lique Human Services Scholarship will be awarded to two seniors who attend one of the eight high schools located in GLSS' service area – including Saugus High School.
  The scholarship is named in memory of Vince Lique, the Agency's long-time Executive Director, who devoted his career to helping others, particularly vulnerable senior citizens and people of all ages with disabilities, demanding that all people be treated with dignity and respect.
  "Vince's legacy is firmly rooted in his compassion for people. He measured success by the quality of his service to and advocacy for others," said Kathryn C. Burns, GLSS' Chief Executive Officer. "I believe in Vince's theory that one's individual success is directly related to the benefits received by those around us. The Lique Human Services scholarship honors the man and his service by encouraging others to do the same."
  Applications are available through each high school's guidance office or can be completed online at www.glssnet/LiqueScholarship. Completed applications are due on or before Friday, April 7.
Healthy Students-Healthy Saugus
  (Editor's Note: The following info is from an announcement submitted by Julie Cicolini, a member of the Board of Directors for Healthy Students-Healthy Saugus.)
  Who we are: Healthy Students-Healthy Saugus (HS2) is a nonprofit group of volunteers who are helping to offset food insecurity in households. HS2 provides students/families who enroll in the program a supply of nutritious food for when school lunches and breakfasts are unavailable to them on weekends.
  How HS2 can help you: HS2 bags are distributed at Saugus Public schools on Fridays to take home. Bags include such items as peanut butter, canned meals/soups/tuna/vegetables, pasta, fruit cups, cereal, oatmeal, goldfish, pretzels and granola bars. All food is provided to children free of charge. It is our hope these resources will support the health, behavior and achievement of every student who participates. To sign up go here to complete online form: https://forms.gle/gmMGguycSHBdziuE9
  Want to partner with us: We would love to partner with organizations, sports teams, youth groups, PTOs, businesses and individuals to assist in feeding students of Saugus. To learn more about how you can partner with us, visit the Healthy Students-Healthy Saugus Facebook page or email us at HS2Saugus@gmail.com
  HS2 relies on donations to create take-home bags for a weekend full of meals. Checks can also be sent directly to: Salem Five C/O Healthy Students-Healthy Saugus, 855-5 Broadway, Saugus, MA 01906. Online donations can also be made at https://givebutter.com/HealthySaugus
About The Saugus Advocate
  We welcome press releases, news announcements, freelance articles and courtesy photos from the community. Our deadline is noon Wednesday. If you have a story idea or an article or photo to submit, please email me at mvoge@comcast.net or leave a message at 978-683-7773. Let us become your hometown newspaper. The Saugus Advocate is available in the Saugus Public Library, the Saugus Senior Center, Saugus Town Hall, local convenience stores and restaurants throughout town.
Let's hear it!
  Got an idea, passing thought or gripe you would like to share with The Saugus Advocate? I'm always interested in your feedback. It's been over six and a half years since I began work at The Saugus Advocate. I'm always interested in hearing readers' suggestions for possible stories or good candidates for "The Advocate Asks" interviewof the week. Feel free to email me at mvoge@comcast.net.
  Do you have some interesting views on an issue that you want to express to the community? Submit your idea. If I like it, we can meet for a 15- to 20-minute interview over a hot drink at a local coffee shop. And I'll buy the coffee or tea. Or, if you prefer to continue practicing social distancing and be interviewed from the safety of your home on the phone or via email, I will provide that option to you as the nation recovers from the Coronavirus crisis.
  If it's a nice day, my preferred site for a coffee and interview would be the picnic area of the Saugus Iron Works National Historic Site. 
CONTEST SKETCH OF THE WEEK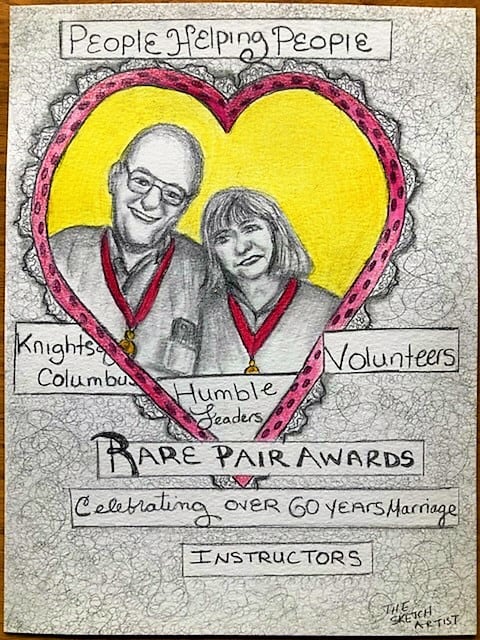 GUESS WHO GOT SKETCHED! Got an idea who was sketched this week? If you do, please email your name, address and the answer to mvoge@comcast.net or leave a phone message at 978-683-7773. Anyone who answers correctly between now and Tuesday at noon qualifies to have their name put in a green Boston Red Sox hat with a chance to be selected as the winner of a $10 gift certificate, compliments of JIMMY'S STEER HOUSE at 114 Broadway (Rt. 1 North) in Saugus. (Courtesy illustration to The Saugus Advocate by a Saugonian who goes by the name of "The Sketch Artist")