A true Christmas "Shout-Out"
  Avid Saugus Advocate reader Sue Fleming embodied the holiday spirit in her nomination for this week's "Shout-Out":
  "I would like to give a Shout Out to everyone who worked so hard organizing the Tree Lighting at Town Hall. It was so good to see so many families gathered. Also a Shout Out to Town Manager Scott Crabtree for playing it safe and having everything outside. You can never be too careful!
  "The center of Saugus and Cliftondale look beautiful for the Christmas season. Thank you to everyone involved!"
Want to "Shout-Out" a fellow Saugonian?
  This is an opportunity for our paper's readers to single out – in a brief mention – remarkable acts or achievements by Saugus residents or an act of kindness or a nice gesture. Just send an email (mvoge@comcast.net) with a mention in the subject line of "An Extra Shout-Out." No more than a paragraph; anything longer might lend itself to a story and/or a photo.
A few more days for toy drive
  Kevin Andrews has a couple of more days to play Santa Claus. Andrews and his elves will be teaming up with Sachem Friends for one more collection night – next Tuesday (Dec. 21), from 6 to 8 p.m. at the MEG Building, 54-58 Essex St., Saugus.
  Andrews is still looking for help from the community – people who want to donate new unwrapped toys, sponsor a family wish list or provide gift card donations. If you want to help, he asks that you message his group at SaugusFriends@gmail.com. This organization includes me, Julie Cicolini, Jeannie Meredith, Terry O'soro and Tara Stackhouse. For logistical reasons, Andrews asks that people not wrap the gifts they are donating.
  The toy drive will once again operate in a corner out of the MEG Building. It is home of the Marleah Elizabeth Graves (MEG) Foundation, a 501 (c) (3) nonprofit organization dedicated to the preservation and restoration of the historic Cliftondale School.
A chance for children participation
  The Rev. John Beach of St. John's Episcopal Church has offered a wonderful invitation to the children of Saugus: Come participate in the Christmas Eve pageant the church has planned. (Please see story in this week's edition: "A holiday invitation to Saugus: Celebration of Christmas with Children.")
  Rev. Beach is encouraging the town's children to come and participate in the reenacting of the Nativity of Jesus. In the spirit of Christmas, he has also invited all adults in the community "who enjoy (or would like to enjoy) a childlike heart" to come and watch this Christmas Eve pageant at 5 p.m. on Dec. 24. For those kids who want to perform, the young actors will be gathering at the church at 3 p.m. for the distribution of costumes and a brief rehearsal.
  If you are interested, please contact The Rev. John Beach at St. John's Episcopal Church (8 Prospect Street, Saugus). You can email him at revjbeach@gmail.com. Or call him at the church office phone: 781 233 1242.
We have a winner!
  Congratulations to Emily Grant for making the right identification in last week's "Guess Who got Sketched!" Contest and then being the one selected from among several readers whose names were entered into the green Boston Red Sox cap. Here's the correct answer, offered by the person who goes by the name of The Sketch Artist:
  "The answer to last week's sketch is Crystal Cakounes. She is the Program Coordinator and Interim Director of the Youth & Recreation Department for our Town of Saugus.
  "Crystal has high energy and serves the Youth in a very warm and enthusiastic manner.
  "Crystal is an encouraging Leader with a good positive attitude. Crystal said of the tree lighting ceremony we were able to do this year after absence due to such hardships and trials of the pandemic …'We picked up where we left off' Crystal added the positive statement of 'Everything turned out really well.'
  "Crystal has been coordinating and arranging all kinds of fun events for our Saugus Youth as Program Coordinator. There are many fun surprises along the way! In the past they even had helped set up with Adam Sandler – the popular actor, comedian and filmmaker – as he was getting ready to shoot Grown Ups 2 at Stackpole Field (back in 2012).
  "As Coordinator and Interim Director Crystal puts together and organizes Children's events from Sports track, field, gym, rainy day arts and crafts, to movies! The creativeness in projects and adventures for the youth keeps growing Crystal strives to keep the Youth involved and interested in growing and learning new things.
  "Crystal is a third generation Saugonian, who continues to live in her hometown. And she has quite an impressive resume. She is a 2000 graduate of Saugus High School. She received her Bachelor of Science degree in Earth Science and Psychology from Bridgewater State College (2004) and her Masters of Education degree in Middle School Education from Salem State College (2006).
  "She started out her career as an educator in 2001 as a substitute teacher. After graduating from Bridgewater State College, she became a 7th grade teacher in 2005, working as a Science teacher at the Belmonte Middle School. She later taught nearly three years in the Stoneham Public Schools as the Earth Science and Meteorology Teacher.
  "Crystal switched professional careers in August of 2010 when she applied for an opening in the town's Youth & Recreation Department for programs coordinator, a position she's held since then. In her position, she develops and runs numerous children's and teen programs. She supervises and directs the part time summer employees. She performs all of the secretarial and clerical work that goes with running the office, including maintaining the website and keeping the community informed of recreational activity for Saugus youth. She organizes and runs the annual Founders Day celebration.
  "You will have to tune in to the 'Saugus Youth and Recreation Newsletter' to keep informed of what's next! Crystal is known for doing many behind the scenes organizing of special compassionate acts such as starting a 'Go Fund Me' page in Memory of Greg Nickolas – Youth and Recreation Program Director for his family. Her heart is as big as her beautiful smile that greets everyone and anyone so freely!
  "Thankyou Crystal , you sure do shine with that megawatt smile and all you do – keep smiling!
  "Yours Truly,
  "The Sketch Artist"
Breakheart's "First Day Hike"
  So, have you resolved to lose some weight for the new year and engage in a more healthy life? If so, start off the New Year with an invigorating "First Day Hike" and make a resolution to burn off those extra holiday calories.
  The state Department of Conservation & Recreation and the Friends of Breakheart Reservation are cosponsoring "Breakheart Reservation First Day Hike" again. A flier issued recently by both groups notes "We will have two guided hikes through the paved loops of Breakheart.
  "Be prepared for cold weather – dress in layers and wear winter boots. Bring your friends and family and afterwards warm up with a cup of hot chocolate by the fire pit outside."
  Jot this down on your calendar folks: Jan. 1, 2022. Hike starts at 10 a.m. Meet outside the Visitor's Center of Breakheart Reservation (177 Forest St. in Saugus). The center will remain open until noon. For more information, call 781-233-0834.
No 2022 Historical Society calendars
  It's been a couple of years since Saugus native George Brown organized the production of those nice, large calendars for the Saugus Historical Society. George had been in charge of the calendar project for close two decades. There was no calendar last year. And George and his wife have recently moved to Danvers.
  Not sure why the calendar project stopped, as it was a great project. And I enjoyed the large size and the fascinating old photos and postcards that were showcased. I love those calendars – and I can't wait 'til the society starts producing them again.
  "I have been getting questions about whether they will be available this year, and unfortunately the answer is no, not this Year," says Saugus Historical Society President Laura Eisener.
  "People have been asking about the Saugus Calendars usually produced by the Saugus Historical Society. While we do enjoy putting them together and are considering resuming them in 2023, they do take many months to put together and we were not able to determine earlier in the season whether we would have sufficient sponsors, time to prepare them, and places (like the library, senior center, and town hall offices) to distribute them," Laura said.
  "We are also still unpacking and getting organized from the major construction that took place in 2019 and 2020. While we have filled one of the vacant board positions, we still have an opening if anyone has an interest in local history and a desire to contribute to the community," she said.
  The Society's phone is still not functioning, so if you are interested in serving on the board or have other questions about the Historical Society, please call Laura Eisener on her home phone at 781-231-5988.
Snow couldn't stop this story
  Most young and budding newspaper reporters that I've run into during career travels, for some reason, always longed to cover the big front-page murder story. Young men and women that I met would jump for the chance of byline on a grizzly, gory story that would be the most-read article in any given day's edition.
  Frankly, the murder story was never my cup of tea. I had a knack for always breaking a decent story when assigned to cover the cop beat at the various papers I've worked. But, frankly, I would yield if somebody else wanted to do the story.
  As a reporter working part-time for The Springfield Union out of the Northampton news bureau while a full-time journalism student at UMass-Amherst, I did get a kick out of writing front-page stories one weekend on the murder of a female student at Smith College – probably just because of the novelty of getting a couple of front-page bylines in a large Massachusetts daily newspaper. But my next murder story, a couple of years later, wasn't much fun. For starters, I got a call at about 4 a.m. from my managing editor, Al Edmonds, that there was a murder overnight in Williamstown, and I had to drive the 11 miles from Adams to Williamstown to cover it – including a court arraignment of the man charged in the murder that morning.
  Okay, who likes getting called into work at 4 a.m.? Nobody. But if you're a reporter, it's no big deal and goes with the territory. So, I get myself dressed and get ready to hop in my car – except I'm snowed in from the blizzard that hit overnight. My long dirt driveway would have to wait for later in the day to shovel out.
  I went back inside my trailer house to get my snow boots on, and I trudged through the snow to Route 8 and hailed a taxi to The North Adams Transcript newspaper office. Once there, I was able to connect with the photographer who was headed out to Williamstown that morning to take scene photos and later shoot photos of the suspect at his arraignment. As murder stories go, this one was memorable in that I was able to get to my destination in the middle of a snowstorm despite not having my car available. I still got the job done and filed a story that pleased my editors.
  North Adams was always a place of enchantment during the winter months when I was there. It was postcard picturesque in the snow – just beautiful scenery – but it was also treacherous and terrifying for those who didn't respect the territory and its dangers, like the infamous hairpin turn that greeted motorists as they traveled down the steepest part of Route 2 and the Mohawk Trail into downtown North Adams.
  One wintry Monday, I remember locking my brother and his friend in my trailer house in Adams so they wouldn't venture out early onto the slippery roads, particularly the hairpin turn. They were mad at me that I was prolonging their weekend visit when they wanted to get home to Southeastern Massachusetts. But I was actually looking out for them.
  Traveling on the hairpin turn can be a scary thing, even in the best of weather. In wintertime with a coating of ice on the road, it's downright dangerous.
Flashbacks of hazardous duty
  It was indeed sad and depressing watching the TV news film footage of the devastating tornadoes that leveled entire towns in Kentucky and Indiana over the weekend while killing dozens of people. It was too tragic and terrifying for the average New Englander who never experienced a tornado to relate to. For me, it revived my greatest fears of getting the cops and weather assignment during the tornado season when I was a reporter at The San Angelo Standard Times in West Texas back in the late 1970s.
  If you were unlucky enough to draw the cops and weather assignment, you hoped and prayed that you wouldn't get to see any funnel-shaped clouds on your shift. Fortunately, I never did get to experience that during my days in West Texas. But the possibility of actually covering a tornado could strike fear in any reporter's heart. Some of the grizzled newspaper veterans that I ran into during my time in Texas would often talk about the 1970 Lubbock, Texas, tornado that killed 26 people, injured more than 1,500 and caused more than $1.6 billion worth of damage.
  The closest I ever came to experiencing a tornado was during the few months I worked as a reporter at The Odessa American. A tornado had been spotted headed toward Odessa – in the western part of the state, 350 miles west of the Dallas/Fort Worth area and 350 east of El Paso. Olin Ashley, the paper's editor, asked for my camera to get up on the roof of the newspaper's air-conditioning unit and see if I could snap some photos of the funnel-shaped clouds if the tornado stayed on course.
  Luckily for me, it didn't. It went off course and wound up leaving a path of knocked down telephone poles in an area of the county near the outskirts of the city. I did an interview that afternoon with a tornado spotter who worked for the city. He drove me around so I could take photos of the damage. He said the people of Odessa were fortunate that the tornado veered about a half mile off course.
  That was good news.
COVID-19 halts Friday breakfasts
  Concerns about COVID-19 have led to a temporary shutdown of the Friday morning breakfasts at the Saugus American Legion Cpl Scott J. Procopio Post 210 Legion Hall located at 44 Taylor St.
  Last week we received the following email from Debra Dion Faust, Building Manager of American Legion Post 210:
  "Be aware that, due to a loss of one of our members to Covid (He caught it at a family wedding, not at the Legion itself.) we shut down the breakfast the Friday before Thanksgiving, intending to re-open tomorrow, December 3.
  "However, concerns about the new Omicron variant, the fact that the rather unseasonably warm weather actually works against us, and the fact that the success of the breakfast means that the numbers who come make it difficult to 'socially distance,' we took a poll of those breakfast-goers who have given us their email addresses to make notifications possible, and have made the decision to shut down the breakfast for the month of December.
  "We plan to re-open on Friday, January 7. (We hope by that time to have had a truly hard freeze to help short-circuit transmission fears.) Thanks for your support. Have a good holiday season and a Happy New Year."
  We will keep you posted on any developments affecting the Friday breakfasts at Legion Hall.
Compost/Recycling Drop-Off Site closing
  The Town of Saugus Compost/Recycling Drop-Off Site closed for the winter season on Dec. 11. However, the site will reopen from 8 a.m. to 2 p.m. on the third Saturday of the month in January, February and March, weather permitting.
  Please contact Solid Waste/Recycling Coordinator Lorna Cerbone at 781-231-4036 with any questions.
Please remember Saugus's fallen heroes
  Honor those who serve and teach our children the value of freedom. On Dec. 18 at noon, the Parson Roby Chapter, National Society Daughters of the American Revolution (NSDAR, MA0136P), will be sponsoring their first "Wreaths Across America Project": helping Riverside Cemetery to remember and honor our veterans by laying remembrance wreaths on the graves of our country's fallen heroes. Please help us honor and remember as many fallen heroes as possible in several ways: sponsoring remembrance wreaths, volunteering on Wreaths Day or inviting your family and friends to attend with you. All are welcome!
  Please forward this article to friends that may be willing to also join us in honoring our servicemen and women. To learn more about the "Wreaths Across America Project,"' go to http://www.wearthsacrossameria.org/MA0136P.
  Thank you for supporting our newly formed Parson Roby Chapter, NSDAR, Saugus, MA. For further information contact Regent Charlotte Line at linejj@comcast.net.
Want to be a Knight?
  The Knights of Columbus is looking for new members to join. If interested in becoming a member of this local organization, please call 781-233-9858.
Healthy Students-Healthy Saugus program
(Editor's Note: The following info is from an announcement submitted by Julie Cicolini, a member of the Board of Directors of Healthy Students-Healthy Saugus, providing information about the program.)
  Who we are: Healthy Students-Healthy Saugus (HS2) is a nonprofit group of volunteers who are helping to offset food insecurity in households. HS2 provides students/families that enroll in the program a supply of nutritious food for when school lunches and breakfasts are unavailable to them on weekends.
  How HS2 can help you: HS2 bags are distributed at school on Fridays to take home. Bags include such items as peanut butter, jelly, a loaf of bread, canned meals/soups/tuna/vegetables, pasta/sauce, fruit cups, cereal, oatmeal, goldfish, pretzels and granola bars. To sign up, go here to complete an online form: https://forms.gle/gmMGguycSHBdziuE9.
  Want to partner with us: HS2 relies on donations to create take-home bags for a weekend full of meals. All food is provided to children free of charge. It is our hope these resources will support the health, behavior and achievement of every student who participates.
  We would love to partner with organizations, youth groups, PTOs, businesses and individuals to assist in feeding students of Saugus. To learn more about how you can partner with us, visit the Healthy Students-Healthy Saugus Facebook page or email us at HS2Saugus@gmail.com.
  Checks can also be sent directly to: Salem Five c/o Healthy Students-Healthy Saugus, 855-5 Broadway, Saugus, MA 01906. Online donations can also be made at https://givebutter.com/HealthySaugus.
Let's hear it!
  Got an idea, passing thought or gripe you would like to share with The Saugus Advocate? I'm always interested in your feedback. It's been over five and a half years since I began work at The Saugus Advocate. I'm always interested in hearing readers' suggestions for possible stories or good candidates for "The Advocate Asks" interview of the week. Feel free to email me at mvoge@comcast.net.
  Do you have some interesting views on an issue that you want to express to the community? Submit your idea. If I like it, we can meet for a 15- to 20-minute interview over a hot drink at a local coffee shop. And I'll buy the coffee or tea. Or, if you prefer to continue practicing social distancing and be interviewed from the safety of your home on the phone or via email, I will provide that option to you as the nation recovers from the Coronavirus crisis. If it's a nice day, my preferred site for a coffee and interview would be the picnic area of the Saugus Iron Works.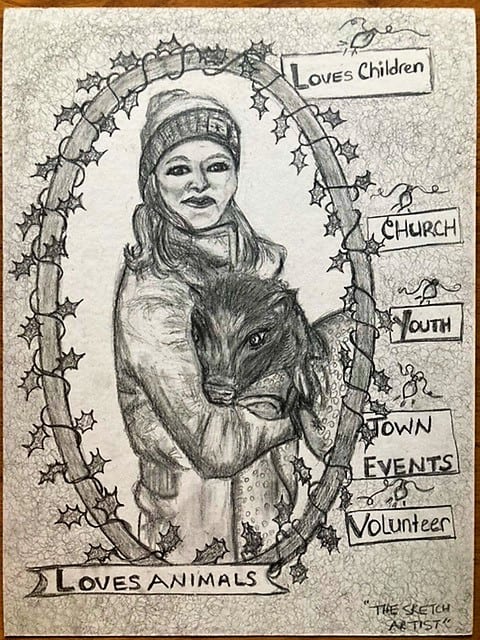 GUESS WHO GOT SKETCHED! In this week's edition, we continue our weekly feature where a local artist sketches people, places and things in Saugus. Got an idea who was sketched this week? If you do, please email me at mvoge@comcast.net or leave a phone message at 978-683-7773. Anyone who between now and Tuesday at noon correctly identifies the Saugonian being sketched qualifies to have their name put in a green Boston Red Sox hat with a chance to be selected as the winner of a $10 gift certificate, compliments of Dunkin' at the 1204 Broadway, Saugus, location on Route 1 North. But you have to enter to win! Look for the winner and identification in next week's "The Sounds of Saugus." Please leave your mailing address in case you are a winner. (Courtesy illustration to The Saugus Advocate by a Saugonian who goes by the name of "The Sketch Artist")